Three circuits, two continents and three top-10 finishes. As the 2022 season reaches its conclusion, Rory McIlroy, Seamus Power and Leona Maguire finished in fine fashion with a hint of more to come in 2023. 
DP WORLD TOUR
 A fourth-place finish in the Tour Championship in Dubai afforded McIlroy enough points to remain atop the Tour rankings and take home the Harry Vardon Trophy for the fourth time. 
 McIlroy finished four strokes off the winning number posted by Jon Rahm. An opening 71 pretty much assured McIlroy of being in rally mode thereafter. He was six strokes off the pace set by Matthew Fitzpatrick and Tyrrell Hatton. Through 15 holes on Friday, there was no indication of any change in those prospects. But McIlroy finished birdie-birdie-eagle for 68, although now seven strokes behind the top duo. 
 Mixed signals were relayed on Saturday as McIlroy began his round bogey-eagle-bogey. There was nothing mixed about his play from then on, however, as he plastered seven birdies onto his card without giving up a stroke. He was especially dialed in on his approach shots, which gave him many looks at birdie. 
 Rahm had now become the one to catch going into Sunday. McIlroy, playing in the group ahead of Rahm, could only take one stroke off par leading into the turn, while the Spaniard put another couple strokes between them. Three backside birdies weren't enough to allow McIlroy to press Rahm, who enjoyed a two-stroke victory over Hatton and Alex Noren, with McIlroy another stroke behind. 
 "I don't think I played as consistent in my entire career as I'm doing right now," McIlroy said. "It's been a fantastic year both sides of the pond. So, great way to end the year, and it's been busy for a lot reasons, and looking forward to some downtime."
 Shane Lowry never really got untracked here. Rounds of 73, 70, 71 and 71 left him 17 strokes behind Rahm, and lodged in 23rd place with four others. 

PGA TOUR
 Seamus Power had another effective week, working out a share of fifth place in the RSM Classic in St. Simons Island, Ga. Although he finished the first round four strokes off the lead, Power indicated that he would be a threat. 
Power got on a roll on the front nine, dropping a birdie putt from eight feet at the sixth hole. At the seventh, a 58-footer for eagle skipped over the cup; he tapped in for birdie. He then sank a nine-foot birdie putt at the next hole. On the backside, birdie putts from 20 and 18 feet were successful. 
 Friday's round featured three eagles, including a pair back-to-back at 15 and 16, although Power gave one of those back with double bogey at 17. A somewhat quiet round on Saturday – three birdies, no bogeys – left him three strokes off the lead. 
Power closed to within a stroke of the lead, however, on Sunday after piling up birdies at the fourth, fifth, sixth and seventh holes. Bogeys at 15 and 18 stood between him and medalist Adam Svensson, a first-time winner on this circuit. 
Power earned enough FedEx Cup points to remain atop the pack there. He also climbed two rungs on the Official World Golf Rankings ladder, from 30th to 28th.
"A little disappointed with my finish there, it could have been a little bit better, but that's golf sometime," Power said. "This week was a little struggle with my long game, but everything's been pretty decent. I've become more and more comfortable in these situations and it becomes a little easier to make a putt that maybe I wouldn't have a couple years ago."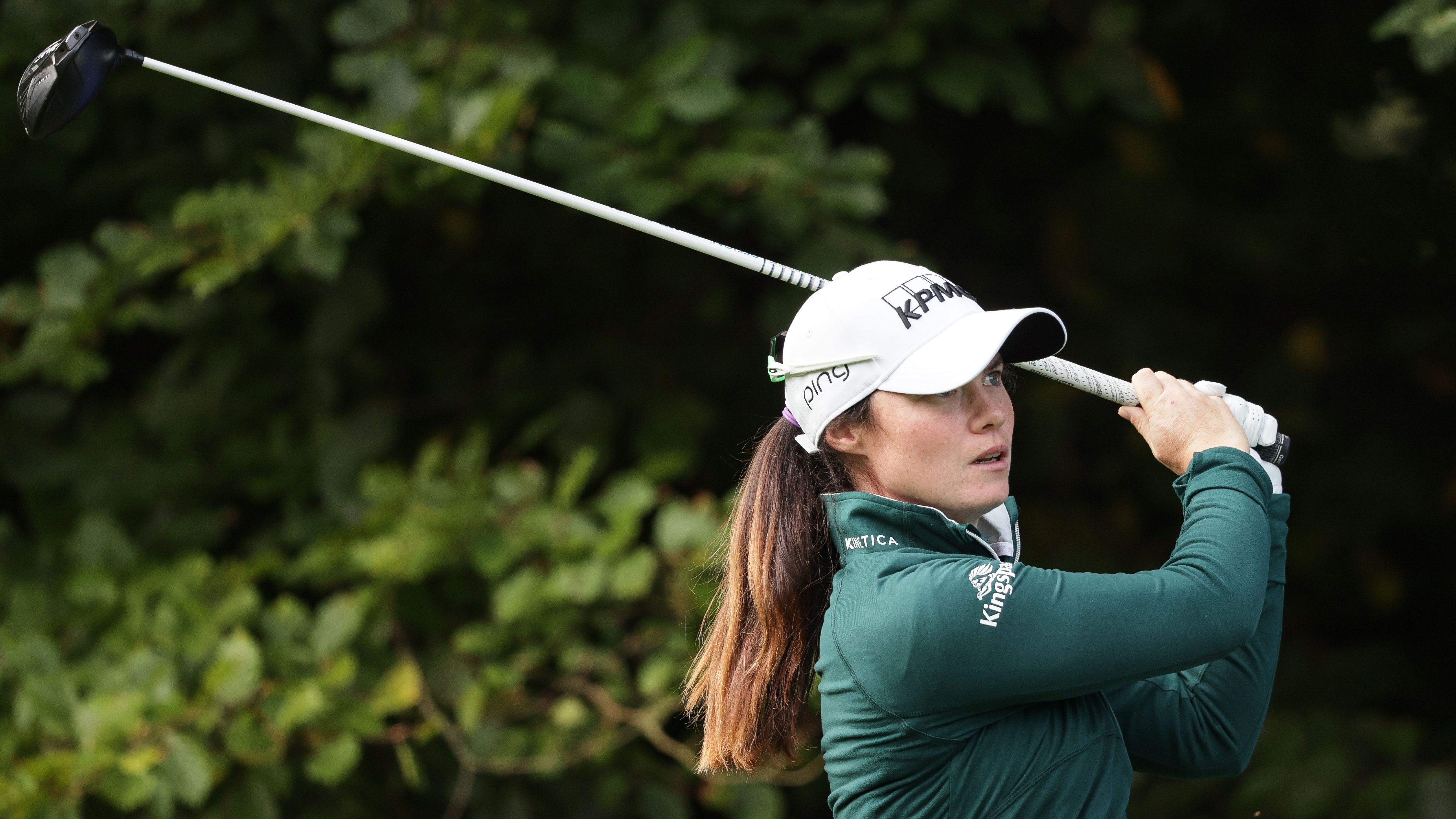 Leona Maguire. [Photo by Ben Brady]

LPGA TOUR
 Leona Maguire concluded a breakthrough year on the LPGA Tour with a second-place finish in the Tour Championship at Tiburon in Naples, Fla. 
 Lydia Ko, who won this event by two strokes over Maguire, appeared to be in position to run away with the tournament over the first two rounds as she posted scores of 65 and 66. That left Maguire seven strokes behind her, a margin that melted away on Saturday. 
Maguire birdied the first and third holes, then went into something of a holding pattern, playing the next four holes to par. But she then took off like a rocket, with birdie at each of the next four holes. 
 Ko, meanwhile, was struggling with the wind, just barely staying below par for her round. Maguire reached Ko atop the leaderboard when she rolled in a birdie putt from about 30 feet that looked momentarily as if it would circle the cup only to get rejected. But the ball was reminiscent of Amy Irving being pulled into the ground by the arm of Carrie. 
 Maguire briefly had the lead to herself after blasting out of a greenside bunker to about two feet from the cup, leading to a successful birdie putt. Ko, soon thereafter, had her own birdie at 17 to reclaim a share of top honors and set up a match play situation on Sunday. 
 Blustery conditions on Sunday affected play, which turned into a seesaw battle between Maguire and Ko. There were five lead changes on the front nine, after which Ko led by a stroke. A Ko birdie at the par-3 16th pretty much sealed the victory for the New Zealander. 
 Although Maguire had to settle for a minor share, her attitude was anything but downcast.
 "It was an incredible week," Maguire said. "A really great way to finish off the season. If you had offered me second at the start of the week, I would have grabbed it with both hands.
 "It would have been nice to play a bit better today, but it was really tough out there today. The wind was strong. It was cold. Pins were tricky. Had some really key up and downs to keep me in it and keep a little pressure on Lydia, but she played really solid all day today and she's a deserving winner."
 Maguire will play this week's Tour Championship on the Ladies European Tour in Spain before calling it a year.  

DP WORLD TOUR Q-SCHOOL
 Gary Hurley and John Murphy will join Tom McKibbin as rookies on the former European Tour by virtue of finishing in the top 25 at Infinitum in Tarragona, Spain. 
 Seventeen-under-par 411 turned out to be the magic number, which Hurley cleared quite comfortably at 19-under 409 (70-65-70-65-70-69). He staked out a position in qualifying territory early on and never faltered. He had no more than three bogeys in any of his six rounds and no fewer than four birdies. 
 Murphy, meanwhile, was under pressure after the fifth round, at which point he was four strokes off the projected qualifying score. A third-round 73, nestled amidst rounds of 68, 69 and 67, 69, in that order, augured another year on the Challenge Tour. 
 Four frontside birdies saw Murphy go out in 31 in the final round. He kept his card clean throughout and birdie at 18 allowed him to squeeze in with a final round of 65. 
 Fortune was less kind to Jon Caldwell, Paul Dunne and Cormac Sharvin, who will try to regain their form on the Challenge Tour in 2023. They all fell by the wayside after the 72-hole cut. 
 McKibbin and Murphy will get right down to the task at hand by teeing off in this week's Joburg Open in South Africa. Hurley, however, will take the week off.