If there's a spring in Greg McQuaid's step as he gathers the latest band of day-trippers for his renowned San Francisco walking tour it's probably because steps are his bread and butter.
In fact, before his famed Hidden Stairways walking tour is over, he will have inveigled, coaxed and enthused an eclectic group of visitors to climb hundreds of steps in the City by the Bay. 
Of course, only a loquacious Irishman — as much a showman and steps dancer as a tour guide — could make a walking tour up steep stairways a top tourist attraction. In fact, Airbnb rate it their number one walking tour in San Fran.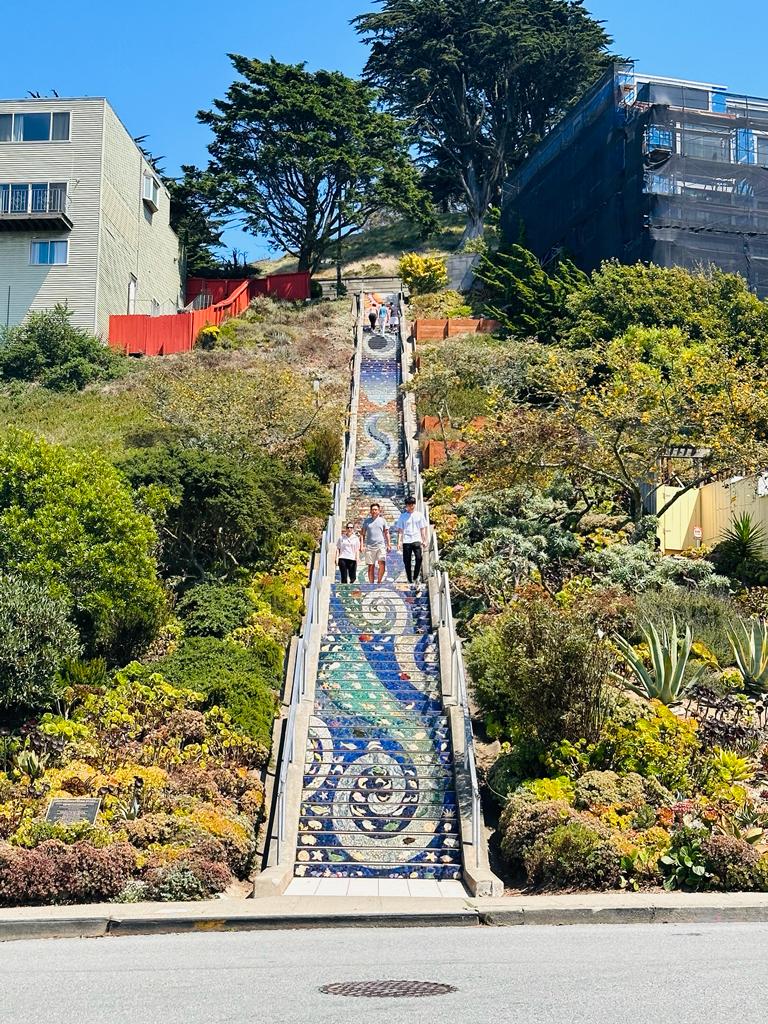 But then McQuaid is a performer with pedigree - before departing Ireland, he played drums with Dublin band Peach and for a decade and more hosted his own radio show in his adopted city. It was when the radio gig folded, that he found his very own stairway to heaven.
"Every day is different," he told this volunteer flaneur for his unique and bracing walking tour. "Indeed, that's the fun of it. It also pays the bills though I'm hardly going to get rich at it."
Gift certificates now available for the Hidden Stairways of San Francisco, the top rated Airbnb experience in the Bay Area. The perfect present for the outdoorsy people in your life! $25 a head (25% discount) now through Xmas. Shoot me a DM to get yours! #SmallBusinessSaturday pic.twitter.com/YtapRvuJtd

November 27, 2021
Bouncing back from the collapse of his radio role, McQuaid was intrigued by the story of the five stairways in San Francisco's Inner Sunset area which had been transformed into elaborate tiled mosaics by artists Aileen Barr (a native of Donegal) and Colette Crutcher. Journalist Katy Atchison tells how the pair met when they submitted competing proposals to the 16th Avenue neighbors who wanted to transform the dull concrete stairways into a community treasure. The community body suggested they work together on the project - thus launching a friendship and a joint career.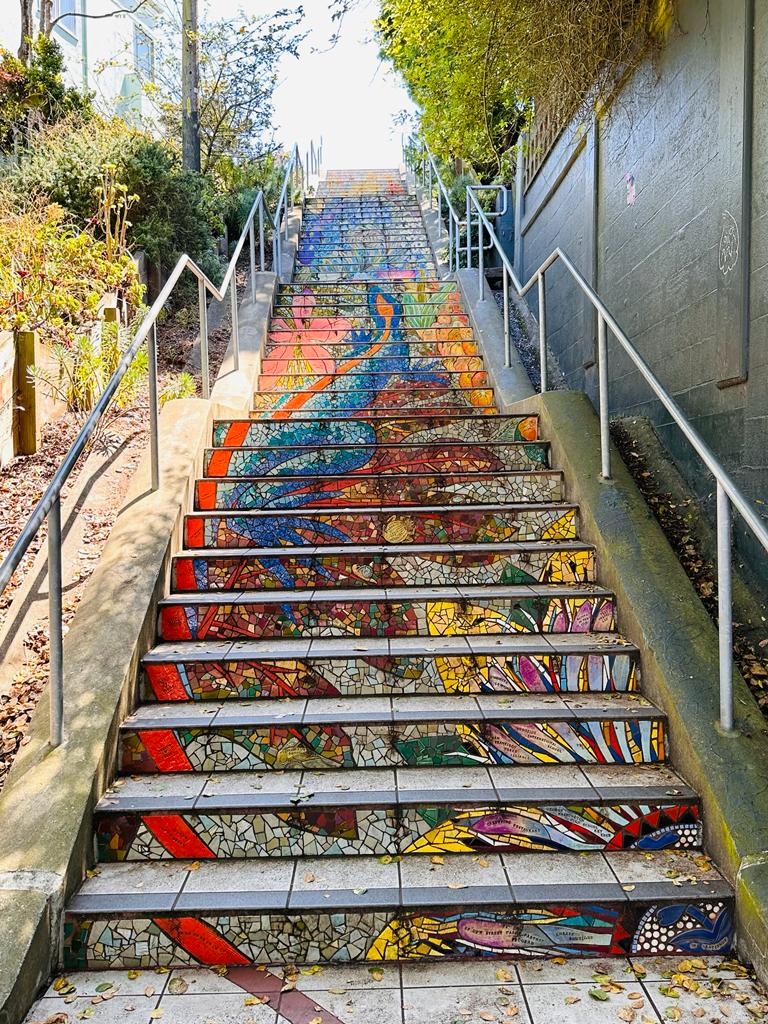 Barr told Atchison: "The 16th Ave Tiled steps has a Sea to Sky theme. Beginning at the bottom steps you see an underwater scene with fish and sea creatures in swirls of blue representing the ocean. As you move up the stairways, the colors gradually change and the design transforms from the sea to a river. The riverbank teems with birds and small creatures. Climbing upwards the river becomes narrower as it flows from the mountains. Above the mountains, the sky appears and then fades darker to the moon with its contrasting mirror. At the very top flight of the steps, the sun shines with a yellow, orange, and red tile mosaic. The project was mainly funded by the local community through donor tiles. You can see the names of the donors on the handmade tile depicting fish, shell, bird and animals, each one unique."
Hidden Stairways of San Francisco tour with (former KFOG) @IrishGreg FTW! https://t.co/0fnouFuKqi via @WeekendSherpa pic.twitter.com/82h9ot2HUt

— Rich Schwerin 🚵‍♂️ (he/him/his) (@Greencognito) August 25, 2022
For McQuaid, the stairways led to a new career.
"I did my research into the stairways and really loved the community element. The costs of the artworks were largely covered by the local community who continue to maintain the steps and the adjoining gardens. I had been told that tourists love the idea of visiting something which sounds like it is off-the-beaten-track; a real discovery. So I called the tour the Hidden Stairways of San Francisco and that really struck a chord. Of course, they're not hidden at all and a visitor could do this walk on their own but I provide historical context and a running commentary."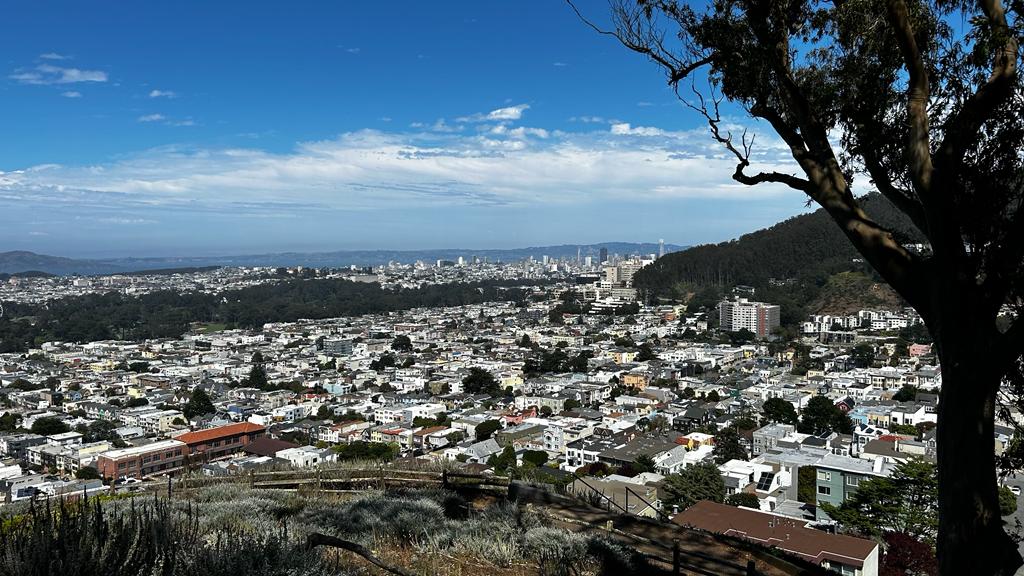 In fact, McQuaid does more than that - he has props to hand, including maps of San Franciso of yesteryear and iPad videos, to enliven his account of the city's history on (welcome) stops at the top of each flight of stairs. He is full-on, moving between taking snaps of his trusty group at his favourite stairway spot, doling out sunscreen on the rare days, including when the author signed up, that the sun breaks through the San Francisco fog and demonstrating a magician's ability to produce endless bottles of water from his backpack. 
Míle buíochas. Big thnx to Dub Greg McQuaid - based in these parts since '94 - for astounding tour of hidden stairs of San Fransisco - marvels of art & community created by Irish artist Aileen Barr & her colleague Colette Crutcher. #hiddenstairssf pic.twitter.com/svTK96CfZk

— Máirtín Ó Muilleoir (@newbelfast) August 20, 2023
McQuaid's Californian chapter opened in 1994 when he went west seeking work. Though raised in Dublin, he had been born in Philadelphia and possessed that most valuable aid to the emigrant Irish - a US passport. "I arrived in Los Angeles the day of the O.J. Simpson police chase," he recalls. "The place was locked down and my brother couldn't get to the airport to pick me up. I thought, 'wow, welcome to the USA'. About 18 months later, I made my way up to San Francisco where I got an introduction to the world of radio which ended up in a producer's job. That was something I could never have done in Ireland. Things just happened easily here in a way which wasn't true in Ireland. I was all-in on the American dream. I know I'm speaking with the perspective of a privileged white person but at a time when Dublin was depressed, dysfunctional and grey, there was an everything is possible spirit here."
15 "crazy" years with K-FOG, where he got to meet Joe Strummer, Paul McCartney and other music legends, came to an abrupt end in 2016 when the station "fell apart". 
The idea for McQuaid's new career came, of course, when he was out for a dander. "I live in the Inner Sunset and was out walking the dog when I came on the reimagined stairways," he explains. "I had heard about Airbnb experiences and thought this could be a new opening for me. Luckily, on one of my first-ever tours, a senior executive from Airbnb came along (the company is headquartered in the city) and he gave the tour a real boost internally"
Now a 25-year-resident of San Francisco, McQuaid truly has left his heart there. "San Francisco takes a beating nationally and internationally for its many problems, including homelessness, and those criticisms are not without merit," he says. "But I'm immensely proud of this city. It's beautiful and I love that I get to show it off."
He plans to continue his walking tours as long as the paying public turns up — and he's doing his bit to ensure the stairways continue to prosper by making an annual contribution to their upkeep. "I respect the community who created and maintain the stairways and, at a time when art is so often priced out by commerce, I'm delighted to have found a job which allows me to showcase these astounding artworks."
Irish Echo readers who find themselves in the Bay Area can book the Hidden Stairways tours via Airbnb.