County Wicklow ticks all the boxes when it comes to its place in Ireland's Ancient East: it's one of the three coastal counties, along with Wexford and Waterford, that make up the "Viking Triangle," places where significant Viking influence can be found. It's home to Glendalough, a monastic settlement founded by St. Kevin in the sixth century. And it's full to the brim with Anglo-Irish "big houses" and gardens like Russborough (Blessington), Kilruddery (Bray), Avondale (Rathdrum), and Powerscourt (Enniskerry). So many houses . . .so little time!
For my two-night relaxing stay here, I checked in to Powerscourt Hotel in Enniskerry, just one of the many wonderful reasons to visit the 1000-acre Powerscourt Estate. The 198-room hotel (including 92 suites; powerscourthotel.com) was built in 2007 in the Palladian style — a nod to the "big houses" in the area — and doesn't disappoint in design, food, service, or other amenities you'd expect at a 5-star property. Rooms and suites with a view of the Sika Mountains line the rear of the hotel, mine included, making the relaxation factor even greater — you could, literally, sit for hours simply watching the changes in the color of the sky! But first, lunch in the Sika Restaurant (Duck Leg Confit Salad), and later, afternoon tea in the Sugar Loaf Lounge and dinner at the Sally Gap Restaurant (Salmon Gravlax and Citrus Salad). I resisted the ESPA spa experience (20 treatment rooms, hydrotherapy pool, and fitness center) for a full afternoon outdoors.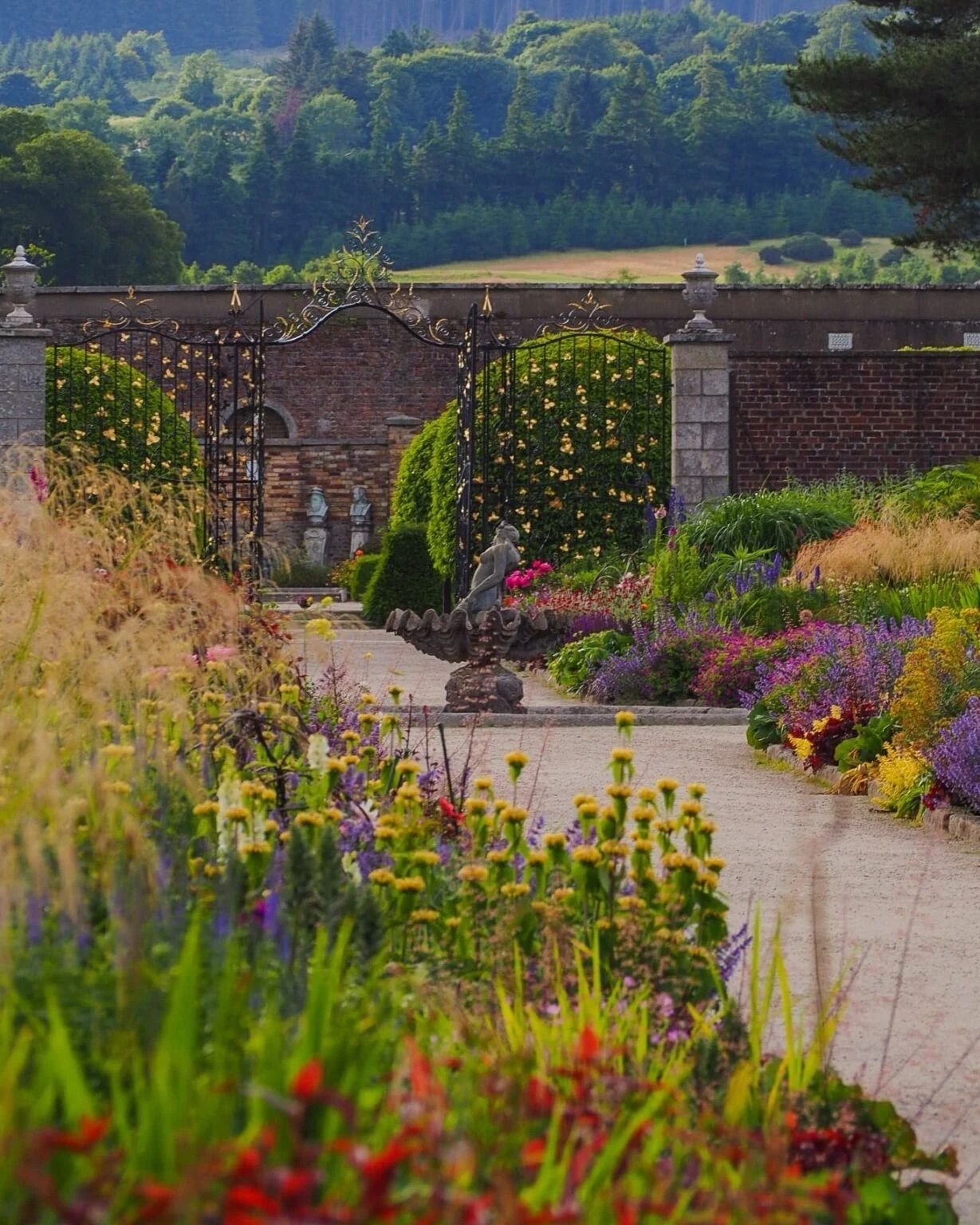 I started at Powerscourt House & Gardens, voted Number 3 in the World's Top 10 by National Geographic, just a short stroll along the wooded avenue from the hotel. The house and gardens (totaling 47 acres) were laid out over a period of 150 years and designed to create a garden that was a stunning complement to the grand 68-room mansion. Originally a thirteenth-century castle, the house was extensively altered in the eighteenth century by German architect Richard Cassels. When Powerscourt House was completed in 1741, an architectural historian said of the mansion that it had the "massive dignity of a great Italian Renaissance villa." 
The house remained in the Wingfield family for the next 350 years until the Slazenger family bought it in 1961. A fire in 1974 left the house lying as a shell until it was renovated and reopened in 1996. Today it's home to the best of Irish design in gifts, clothes and furniture: the extremely popular Avoca Terrace Café; a garden center; and distillery, home to Fercullen Irish Whiskey. The distillery is open for tours, tasting, and a most unusual whiskey and food pairing experience with resident food historian Santina Kennedy who takes visitors on a food adventure pairing the signature range of Fercullen Irish whiskeys with local artisanal foods with (booking is essential: powerscourtdistillery.com).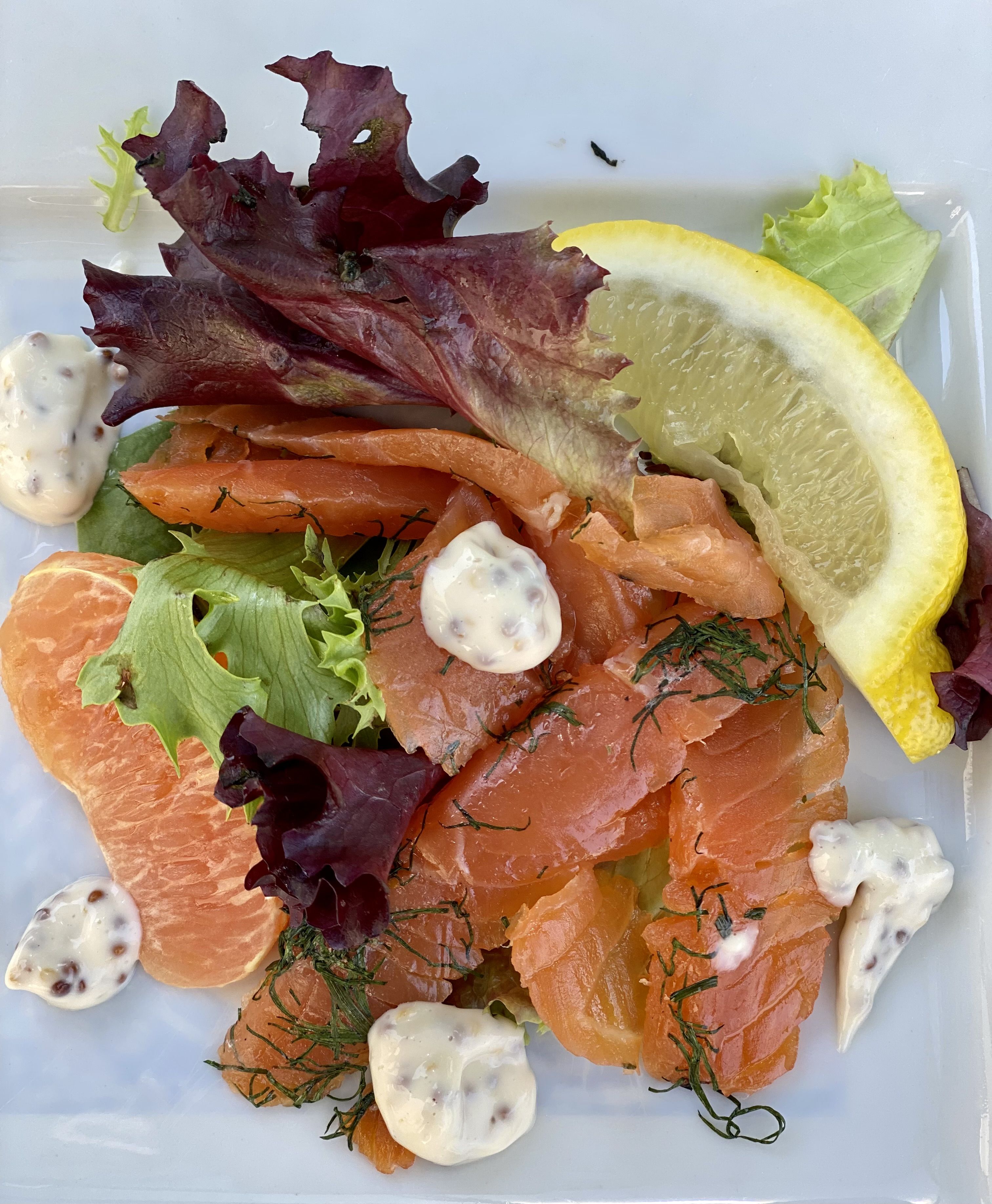 SALMON GRAVLAX WITH CITRUS
SALAD & MUSTARD DILL SAUCE
SERVES 2
Gravlax is the Scandinavian-style cold-cured salmon that's a lovely alternative to Irish smoked salmon. It's generally served, thinly sliced, as an appetizer with a mustard-dill sauce, as in this recipe from the Sally Gap Restaurant, where the chef pairs it with a citrus salad for an impressive starter.
One 8-ounce salmon fillet
1 teaspoon coriander seeds
Small bunch dill, stems removed, plus more for garnish
2 pieces orange zest
1 piece lime zest
1 piece lemon zest
1 cup sea salt
1 cup demerara sugar
For the salad
Mixed salad greens
5 orange segments
3 grapefruit segments
1. Make the gravlax. Remove pin bones from the salmon. In a spice grinder, combine coriander, dill, orange, lime, and lemon zests; pulse 3 to 4 times, or until lightly ground. Combine the mixture with the salt and sugar. 
2. Place 2 pieces of plastic wrap on a work surface, slightly overlapping. Spread half the salt mixture into the center; lay the salmon side down on top. Place the fish into a glass dish. Put a small cutting board of plate on top. Top with a few cans to weight down the fish. Refrigerate for 12 hours or up to one day.
3. Remove salmon from dish. Rinse well in cold water; pat dry with paper towels. Lay the salmon on a cutting board. With a long thin knife, thinly slice the salmon, leaving the skin behind.
4. To serve, lay slices of the salmon on a serving plate. Surround with mixed greens, orange, and grapefruit segments. Drizzle with mustard dill sauce; garnish with dill.
MUSTARD DILL SAUCE
In a blender, combine 1 egg yolk, 1 tablespoon red wine vinegar, 1 tablespoon (packed) light brown sugar, and 1 tablespoon Dijon mustard; blend for about 2 minutes. Slowly add 1/2 cup extra virgin olive oil and 1/2 cup canola oil; blend until mixture emulsifies. Transfer to a lidded jar; stir in 1/2 tablespoon wholegrain mustard, 1/2 teaspoon pepper, and 1/2 tablespoon chopped fresh dill. Shake until blended and smooth. Refrigerate until ready to serve.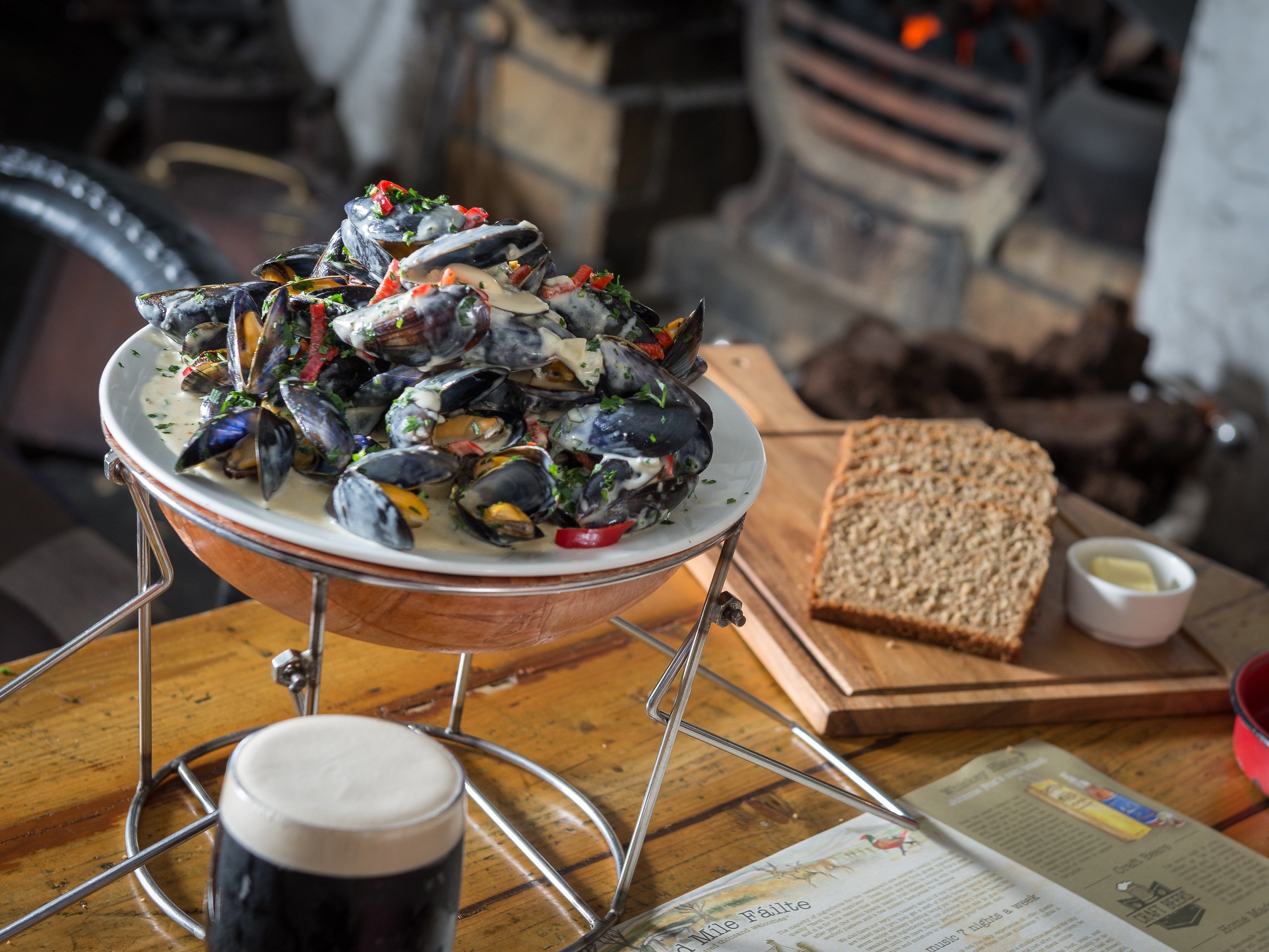 JOHNNIE FOX'S WILD IRISH MUSSELS
SERVES 2
While not technically in County Wicklow, Johnnie Fox's Pub in Glencullen, County Dublin, is only a 10-minute drive from Enniskerry and thought to be a "must visit." It's one of Ireland's oldest (1798) traditional pubs and renowned for being "the highest pub in the country." This dish of cider-steamed wild mussels is one of its most popular dishes.
1 1/4 cups dry cider, such as Bulmer's brand
1 1/2 cups dry white wine, divided
1 onion, chopped
2 bay leaves
4 tablespoons mixed fresh herbs 
6 teaspoons minced garlic 
1 teaspoon red pepper flakes
1 fish stock cube, such as Knorr brand
5 cups heavy (whipping) cream 
Cornstarch, as need to thicken (optional)
Salt
Ground black pepper 
2 1/4 pounds mussels, scrubbed and de-bearded
1 cup water
Chopped fresh flatleaf parsley, for garnish
Brown soda bread, for serving
1. In a large stockpot, bring the cider, 1 cup of the wine, onion, bay leaves, mixed herbs, garlic, and red pepper flakes to a boil. Reduce heat to simmer; cook for 10 to 15minutes, or until reduced by half. Add stock cube and cream; return to boil. Add the remaining ¼ cup wine. (Thicken with a mixture of cornstarch whisked with water if you prefer a thicker sauce). Season with salt and pepper
2. In a large stockpot over medium heat, steam the mussels in salted water for 6 to 10 minutes, or until they open (discard any that do not open). With a slotted spoon, add the mussels to stock.
3. To serve, ladle the mussels into shallow bowls; garnish with parsley and lemon wedges. Serve with brown bread.