Tipperary, also known as the "Golden Vale," is the largest inland county in Ireland and a food lover's paradise, thanks in part to its lush, fertile landscape and to the people who work the land and promote what's grown here. Known collectively as "The Tipperary Food Producers," this community of food and beverage producers includes cheesemakers and beekeepers, fruit farmers and cider makers, butchers and bakers, and sauce and jam makers. During my recent visit to the county, I had the good fortune to visit a few of the nearly 40 artisan producers who have grown food tourism here to an unprecedented level. For a delicious taste of Tipperary, I'm happy to share some recipes that showcase local foods. For a list of all the tastemakers, including details on how to visit the homes and farms of some of the producers, visit tipperaryfoodproducers.ie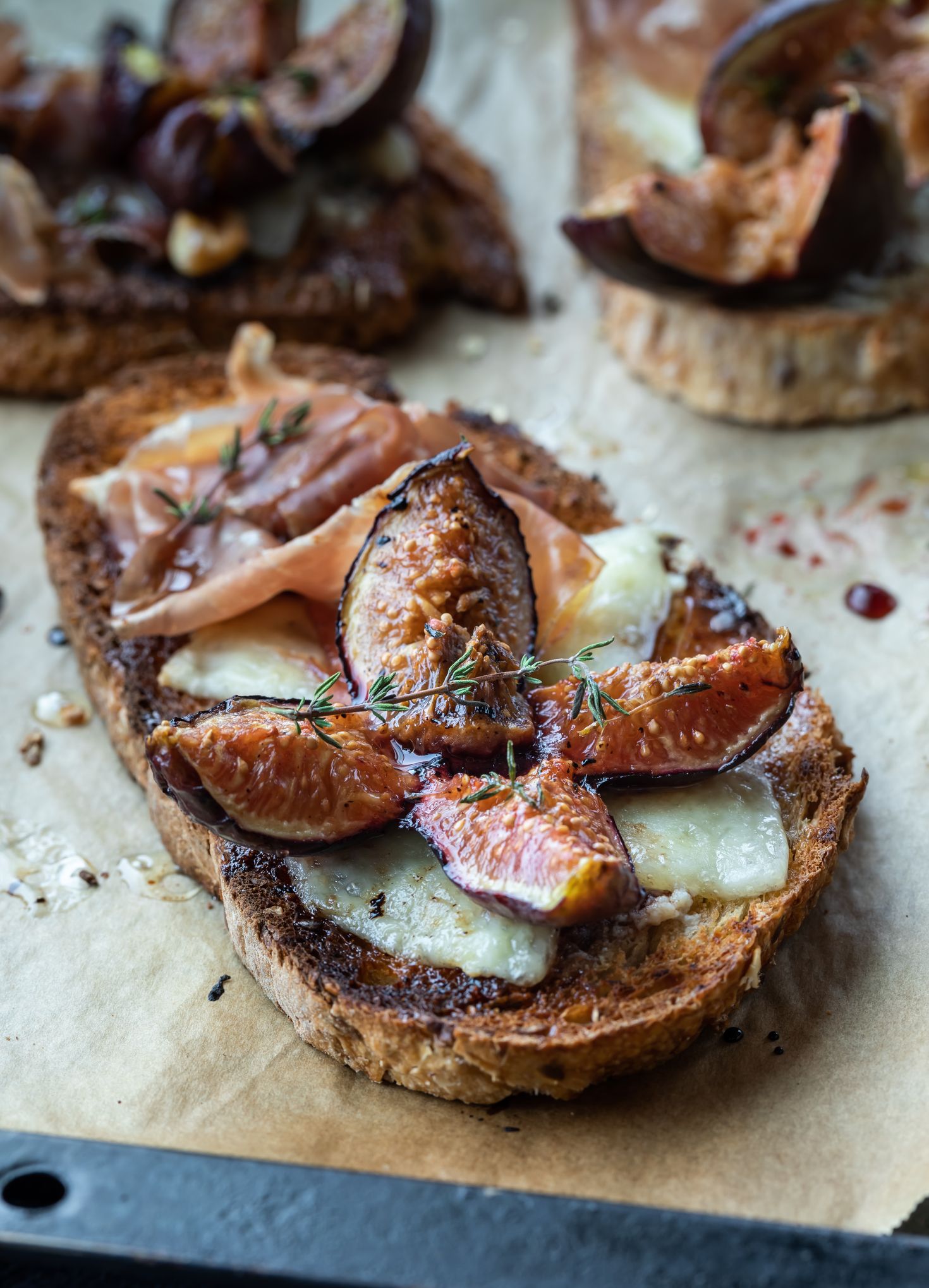 ROASTED FIGS, PARMA & CASHEL BLUE TARTINE
SERVES 4
Cashel Blue, produced by the Grubb family in Fethard since 1984, is Ireland's first farmhouse blue. It's recognized for its creamy texture, buttery color, and distinctive flavor. Lucky for us, it's imported to the U.S. by Kerrygold, making it widely available in cheese shops and supermarkets here. The recipe for this tartine, a chic open-faced sandwich, requires good bread, preferably sourdough, and is delicious served with a side salad tossed with walnut vinaigrette. For a vegetarian option, omit the Parma.
For the figs
4 fresh figs, quartered
1 tablespoon brown sugar
1 tablespoon fresh thyme
For the tartine
4 slices sourdough bread
2 tablespoons extra virgin olive oil
6 ounces Cashel Blue cheese
4 slices Parma ham, cut half (optional)
1 1/2 tablespoon honey
Thyme sprigs, for garnish
Handful watercress or mixed greens (optional)
Walnut vinaigrette (optional)
1. Roast the figs. Preheat the oven to 350°F. Line a baking dish with parchment paper. Place figs in prepared pan; sprinkle with brown sugar and thyme. Roast for 20 minutes.
2. Make the tartine. Heat a griddle pan over medium-high heat. Grill bread slices for about 2 minutes on each side, or until toasted. Remove each to a serving plate; drizzle with olive oil. Roughly spread Cashel Blue on one side of each toast.
3. To serve, arrange 4 fig quarters on top of cheese; tuck in pieces of Parma. Drizzle with honey; garnish with thyme. Toss watercress with vinaigrette; serve alongside each tartine, if desired.
WALNUT VINAIGRETTE: In a lidded jar, combine 4 tablespoons walnut oil, 1 tablespoon white wine vinegar, 1 teaspoon Dijon mustard, salt, and pepper; shake to blend.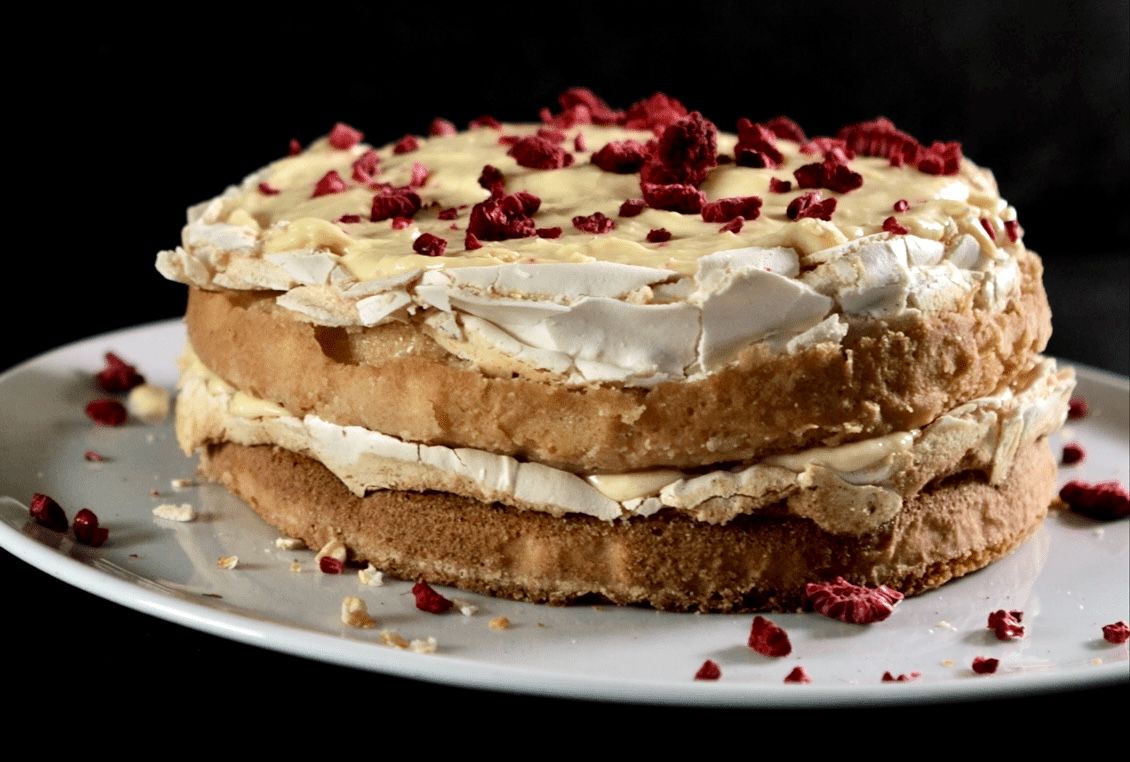 LEMON CURD MERINGUE CAKE
SERVES 6 to 8
            Barbara Russell is one of the Ireland's premier caterers. A member of Tipperary Food Producers since 2008, Ms. Russell provides premium bespoke catering services, including custom menus using locally produced artisan foods and events that offer a theatrical visual experience. She tops this delightful cake with freeze-dried fruit from Vera Miklas, a fellow member of Tipperary Food Producers, but you can substitute fresh berries, if you wish.
For the cake
5 ounces butter, at room temperature
1 cup sugar
4 large eggs
2 cups flour
1 teaspoon baking powder
For the meringue
2 large egg whites
1/2 cup superfine sugar
For the lemon curd
2 ounces butter
1/2 cup sugar
Juice and zest of 2 lemons
2 large eggs
1 large egg yolk
4 ounces crème fraiche
Blueberries or raspberries, for garnish
Whipped cream, for topping (optional)
1. Make the cake. Preheat the oven to 350°F. Brush two 9-inch cake pans with melted butter; dust with flour. Line the base of each pan with a round of parchment.
2. In a large bowl, beat the butter and sugar with an electric mixer on medium speed for 3 to 4 minutes, or until pale and soft. Add the eggs, one at a time, beating well after each addition.
3. In a separate bowl, whisk together the flour and baking powder. Gradually stir into butter mixture; stir in milk until smooth. Transfer batter to prepared pans.
4. Make meringue. In a large clean bowl, whip egg whites with an electric mixer on medium-high speed for 4 to 5 minutes, or until soft peaks form. Gradually add sugar until dry peaks form. With an offset spatula, spread meringue over each cake layer.
5. Bake for 20 to 25 minutes, or until a skewer inserted into the center of cakes comes out clean and meringue is lightly browned. Let cakes cool in pans on a wire rack for about 5 minutes. Run a knife around edges of pans. Invert onto rack; remove parchment. Return to upright; let cool completely. 
6. Make the lemon curd. In a medium saucepan over medium heat, melt butter. Whisk in sugar, juice, and zest until smooth. 
7. In a small bowl, beat eggs and yolk; whisk into butter mixture. Continue to whisk until mixture thickens and coats the back of a spoon. Pour into a small bowl (curd will thicken as it cools).
8. To assemble, spread half the lemon curd over top of one layer, spreading to edge. Top with second layer. Mix remaining curd with crème fraiche; spread on top. Garnish with blueberries or raspberries.
9. To serve, cut cake into slices; serve with whipped cream, if desired.
THREE FRUIT MARMALADE CAKE
SERVES 6 TO 8
            Crossogue Preserves, under the direction of owner Veronica Molloy, produces small-batch preserves, chutneys, and marmalades at her farm in Ballycahill, near Thurles. Her three-fruit marmalade, made with lemon, orange, and grapefruit, is the key ingredient in this lovely tea cake, both spooned into the cake and spread on top.
1 cup self-rising flour, sifted
1 teaspoon baking powder
4 ounces butter, at room temperature
1/2 cup sugar
2 large eggs
1 tablespoon hot water
5 tablespoons Crossogue Three Fruit Marmalade, divided
Thinly sliced orange peel, for garnish (optional)
Slivered almonds, for garnish (optional)
1. Preheat the oven to 350°F. Butter an 8-inch baking pan; line pan with parchment.
2. In a large bowl, beat flour, butter, sugar, eggs, water, and 3 tablespoons marmalade with an electric mixer on medium speed for 2 to 3 minutes, or until blended. Transfer batter to prepared pan.
3. Bake for 35 to 40 minutes, or until a skewer inserted into center comes out clean. Let cool on wire rack for 15 minutes. Invert cake onto rack; peel off paper. Return cake to upright; let cool for 1 hour. 
4. Warm remaining 2 tablespoons marmalade; spread over top of cake. Garnish with orange peel and almonds, if desired. 
LAMB STEW HOT POT
SERVES 6
            James Whelan Butchers (in Clonmel and 11 other locations in Ireland) is one of Ireland's most recognized food retailers. Today, Pat Whelan leads the fifth generation of butchers who have their own farm, their own abbatoir, their own shops to offer the finest quality and cuts of Irish meat, and two cookbooks, The Irish Beef Cookbook and An Irish Butcher Shop. This recipe calls for shoulder of lamb, but you can also use neck of lamb or gigot chops (center-cut chops from the lamb leg) to make this popular, nutritious one-pot meal.
4 tablespoons flour
2 1/2 pounds shoulder of lamb, trimmed and cut into bite-sized pieces
Salt
Ground pepper
1 1/2 teaspoons fresh thyme
1 small onion, sliced
1 large leek, white part only, washed and sliced
2 large carrots, sliced
1/2 pound turnip, cut into 1-inch cubes
2 1/2 cups chicken stock or low-sodium canned broth
2 1/2 pounds evenly sized waxy potatoes
2 tablespoons butter, melted
Chopped fresh flat-leaf parsley, for sprinkling
1. Preheat the oven to 350°F. Dredge the lamb in flour; season with salt and pepper. 
2. Arrange half the lamb in bottom of an oven-proof casserole dish; sprinkle with 1/2 teaspoon thyme. Scatter onion, leek, carrots, and turnip over lamb; sprinkle with another 1/2 teaspoon thyme. Arrange remaining lamb over vegetables; sprinkle with remaining thyme. Pour in enough stock or broth to cover lamb; cover.
3. Cook for about 1 hour, or until lamb and vegetables are just tender and stock has thickened slightly.
4. Cook potatoes in boiling salted water for 5 minutes. Reduce heat to simmer; cook for 10 minutes, or until potatoes are slightly tender. Drain. When cool enough to handle, slice potatoes into 1/2-inch-thick slices. Arrange potatoes, overlapping slightly, on top of meat; brush with butter. Season with salt and pepper.
5. Return casserole to oven; cook for another 40 minutes, or until potatoes are browned and stew is bubbling.
6. To serve, ladle stew into shallow bowls and sprinkle with parsley.