There was a time when Buffalo's moniker - The Queen City - reflected its glory as burgeoning transit hub for transatlantic trade and gateway to New York and the Eastern seaboard of America.
Today its many repurposed mansions, resplendent government buildings, obligatory park designed by the Olmsted brothers and the presence of major philanthropic funds, seeded by the Buffalo industrialists of yesteryear, all pay testament to its storied past. 
But today's Buffalo boosters have much latter-day progress to boast of too - the city's core is being repopulated with residents after decades of suburban flight while the City of Good Neighbours is now home to bluechip multinationals like Citi, Harmac Medical Devices (a major employer also in Roscommon) and Bridgestone. 
Our latest for Sullivan's Brewery.@KilkennyArts #Beer #Art pic.twitter.com/kllO0y7h7u

— 1803Productions (@1803Productions) August 5, 2021
Chief among those boosters is Irish American banker Michael Meade who has returned to his native city on a mission set to bring benefits to his hometown and to the homeland of his ancestors. For the former Citi trader is the driving force behind the revival of Sullivan's Brewing Company which can trace its brewing origins to Kilkenny in 1702 (for the record, a full half-century before Arthur Guinness set up shop in St James's Gate). 
The fall from grace of the Sullivan family, once owners of Ireland's largest commercial brewery, is a story of excess, a horse course gamble gone wrong and old-fashioned business ineptitude, all of which culminated in the acquisition of the brand by the rival Smithwick family. Unsurprisingly, the Smithwicks swiftly buried the Sullivan brand to leave the market clear for their own amber brew.
In 1965, the Smithwick family sold their business to Diageo who shuttered the Kilkenny brewery and moved production to the home of Guinness, St James's Gate. However, the Smithwick family never completely shook the brewing bug and now family scion Paul has teamed up with Meade to raise a glass to a new era for Irish brewing.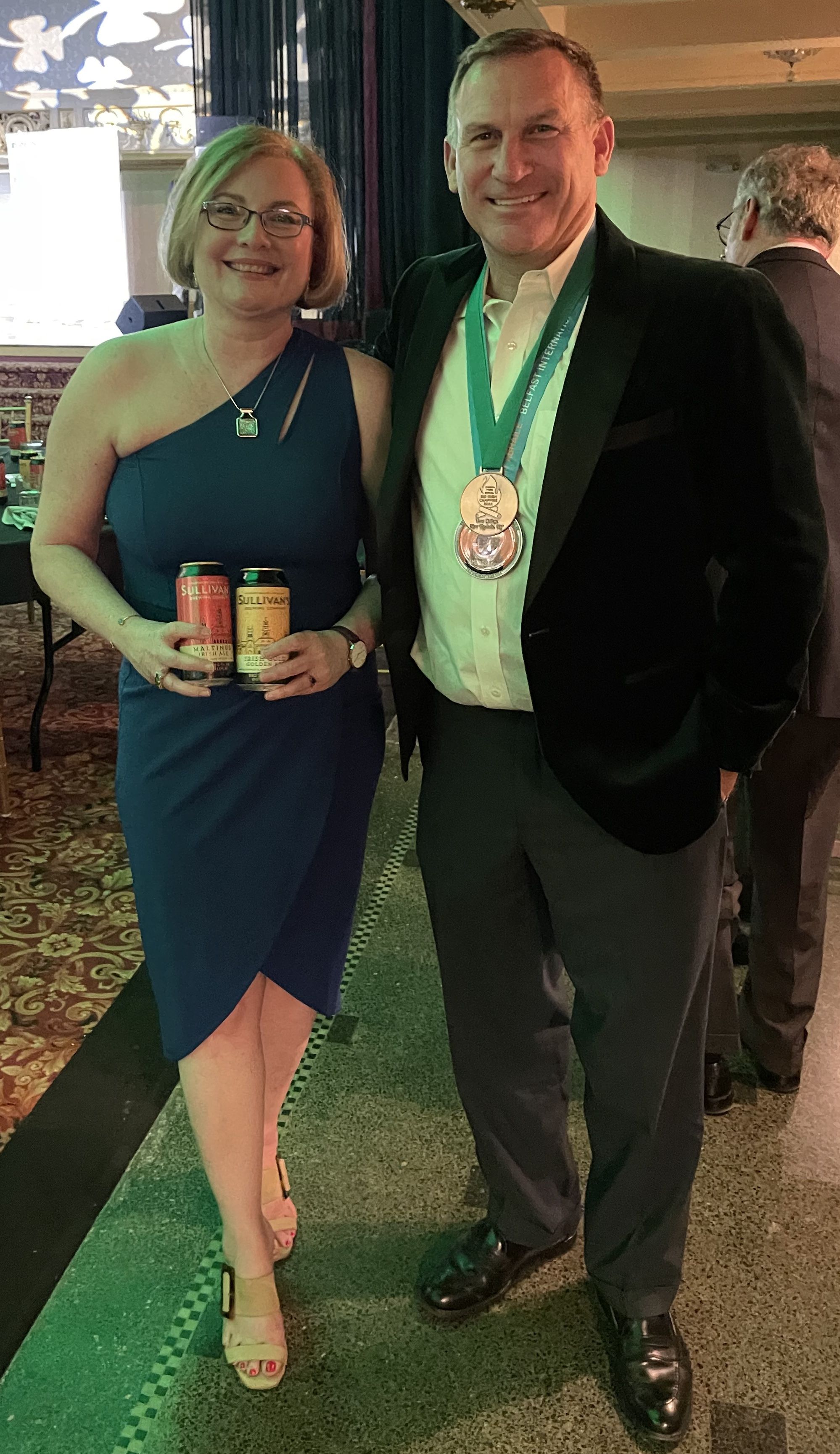 And as revivals go, Sullivan's is right up there with Lazarus. Now available in 15 countries, the brand, perhaps unsurprisingly, established its first bridgehead in the US in Buffalo. Today, it is available across the nation.
And Meade's ambitions don't stop there - he told the Irish Arts Awards audience in Buffalo on 28 April that his goal is to be "the next great Irish export company". He has a ways to go but is keen to stress that this isn't a retired investment banker's plaything. "I am the CEO," he says, "this is being run as a business with all the focus and determination that requires."
Sullivan's is brewed in relatively small volumes at their taproom in Kilkenny (probably enough to serve the Republic of Ireland market) but the bulk of their product for export is brewed in partner breweries — including the new SpadeTown brewery in Lurgan, Co Armagh — which rent out their facilities to the company for a defined period.
All that is about to change however, with audacious plans to turn the first sod on a new brewery in Kilkenny in February 2024. "It feels pretty good to be bringing brewing back to Kilkenny, once the capital of Irish beer production," says Meade. That bespoke operation in Kilkenny will be complemented by an industrial scale brewery in the Midlands, which has just been granted planning permission. "That's a 37,000 sq ft facility with the capability of serving our growing international markets," explains Meade. 
Not just Sullivan's Brewery, Kilkenny's brewery 🍻The team @SullivansBrewCo have something special going globally ❤️ pic.twitter.com/gjpeA4Zku1

— Neil O. Sands (@neilosands) October 30, 2022
Building a global beer business is thirsty business, for sure, but it's also expensive. Meade tapped his own network to establish the fledgling company back in 2016 but for the next stage of capital investment and expansion he is eyeing a capital raise of €3.5m The increased production means identifying more bars, especially in America, who will open their doors to his label. "We are always looking for brand ambassadors," says Meade. "I love to say to Irish bar owners - 'you are doing all this work to promote an Irish image, why not sell a genuinely Irish beer as well?' It's a compelling pitch and we are getting a positive response in the cities where the Irish remain a strong presence."
In the hand of the Creator: Ian's 5.2% Irish Gold Ale, today at Dundalk Bay. @SullivansBrewCo pic.twitter.com/d902p35RaQ

— Dan Smithwick (@smithwick_dan) April 17, 2020
Meade's new mission finds him in Ireland about one week in every six but his heart remains very much in Buffalo where he and his wife Nelly have lovingly restored one of the city's famed Delaware Avenue brownstones — which this author had the pleasure of visiting post-arts awards.
"We very much want to be part of the Buffalo renaissance and restoring this brownstone, for us, is part of our giving back to the city," adds Meade as he poses for a picture outside his Irish Tricolor-adorned home.
The Irish who built Buffalo most likely sipped the odd pint of Sullivan's — the company still has records of its 18th century exports to the US market via Boston. Micheal Meade is very much in that same proud tradition — with the small difference that where his Queen City ancestors would have raised a glass or two to Ireland, he's raising an entire brewery.