Attorney, lobbyist, political aide to Chuck Schumer, former political candidate, author, adjunct faculty member at his alma mater Canisius College, husband, father. Jack O'Donnnell's resume makes for impressive reading, especially when you consider that he was recently named one of the top 50 political strategists in New York State and a Western New York Power 100.
The 48-year-old Buffalo native spoke to the Irish Echo by phone recently and explained how it all happened.
"I worked in politics and government for a number of years," O'Donnell began. "Worked for a long time for Chuck Schumer, worked on his first Senate campaign. And then in his office, I helped open the office in Buffalo. And then I was the director of Intergovernmental Affairs out of New York City and supervised all the regional offices. So I've worked in a lot of politics and government, you know, campaigns for people like Hillary Clinton, Bill Clinton, Kathy Hochul and kind of everyone in between."
JACK O'DONNELL MONDAY MORNING MEMO: We begin in Albany where Joint Legislative Budget Hearings are in full swinghttps://t.co/JBlzbKBQaS

— EMPIRE REPORT (@EMPIREREPORTNY) February 13, 2023
O'Donnell did put himself forward as a candidate for Erie County Legislature in 2001 and although the consummate behind the scenes man came out on the losing end, O'Donnell brings only positives away from the attempt. "It was a great experience," he said.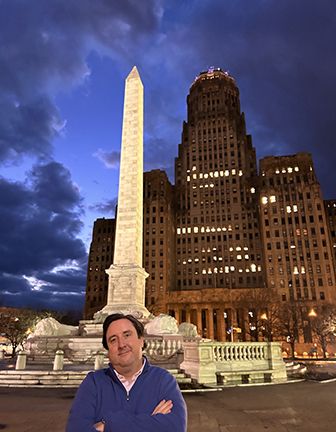 New Yorkers remember only too well that Election Day, September 11, 2001 and will recall that the election was postponed. O'Donnell said, "obviously, being in Erie County it (the terrorist attacks) didn't have the same impact. I had just moved back from New York City to run. The election was called off and then rerun again, two weeks later. So I lost, but it was a really good experience. And the best result of it was that I got it out of my system."
With all of that experience in his locker, O'Donnell was well placed to open his own practice, focused on public affairs work, bringing about O'Donnell and Associates. 
According to the firm's website O'Donnell and Associates provides a one stop shopping service for anyone looking to do business with the government of New York State.
Quoting from the site, O'Donnell and Associates, "offers clients a unique understanding of the intersection of politics and policy. That knowledge—together with years of experience—form the basis of intelligent, strategic plans and their dynamic execution, delivering results for New York's most successful leaders, entrepreneurs, advocates, and activists."
One side of aisle
Based on O'Donnell's experience working with top tier Democratic politicians like the Clintons, Schumer, and Governor Hochul, the question arose, does O'Donnell strictly work one side of the aisle?
"I am a Democrat and I worked for Democratic candidates," O'Donnell responded, "but I have relationships that transcend any party. I sometimes explain to people that I'm a Democrat from Buffalo, which is sometimes a little different than Democrats from Brooklyn. But, you know, we've had good relationships with most of our elected officials across the state."
Strong Museum Of Play
Rochester, NY#Rochester #RochesterNY #StreetPhotography pic.twitter.com/pevHeHuaLv

— (Matt) The Bearded Photog 🦬 (@beardedphotog24) January 30, 2023
Lawyer and lobbyist. In these fractured times I asked O'Donnell does he ever feel the need to explain himself?
"Absolutely," O'Donnell admitted. "Look, I'm a lawyer and a lobbyist. I can get a lot of grief. But, you know, I think when we talk about who we represent and what we do for them, people feel a lot better about it."
Indeed, O'Donnell's clients range from Fortune 200 companies, to nonprofits, biotech start-ups, and labor unions.
O'Donnell mentioned the Strong Museum of Play in Rochester, New York as a recent project that his company was proud to be involved in. A family museum, The Strong bills itself as, "a highly interactive, collections-based museum devoted to the history and exploration of play."
"We have helped them from start to, we're not quite finished, but to get money from the city and the state and the federal government towards a major expansion project."
For O'Donnell,"this idea is that we're advocates, we're advocates for people who maybe don't know how government works or don't have the time to devote their whole life to try to make things happen. You know, it's having that depth of understanding that I think really makes a difference to me. Look, people hire an accountant to do their taxes. They hire specialists in a lot of areas, especially if they're really important to them. And I found that the same thing is true about lobbying and government relations."
An issue of great importance to O'Donnell is the Transplant Miracles Foundation, a non-profit organization he founded that provides support to transplant recipients. For such a personal project let's allow O'Donnell to tell us about how this came about. 
Gift of life
"15 and a half years ago, I got really sick, really quickly and needed a transplant to save my life. So I was incredibly fortunate and incredibly blessed to receive that gift of life. And so my family and my friends and I wanted to give something back to other people going through that same thing. We have raised money over the years, both to benefit other people who are waiting for transplants, and supported a lot of research towards advances in transplant technology. We've also done some things to bring transplant recipients together and to just try to give a little something back, since I was so blessed to receive that gift of life." 
Also of importance to O'Donnell are his Irish roots.
"I think I would be remiss if I didn't mention to The Irish Echo that I was an Irish studies minor in college. And that my father's people come from Dingle and my mother's people come from Connacht. And you know, my Irish heritage has been part of growing up."
Senator Tim Kennedy ⁦@SenKennedy⁩ gives a rousing speech invoking the solidarity felt by the great abolitionist Frederick Douglass with the Irish on the occasion of Quill Connolly Day at the union hall. ⁦@transportworker⁩ pic.twitter.com/vABoBZbuVW

— TWU Local 100 (@TWULocal100) March 15, 2022
"I've got a friend here," O'Donnell concludes, "Senator Kennedy, who likes to call Buffalo, the capital of Irish America. And it's important to who we are here, and we're really excited about supporting the Irish Echo Irish Arts Awards, and having them in Buffalo later this year."