Part Three, Irish Food Icons
West Cork, the area stretching (west to east) from the Beara Peninsula to Kinsale, is filled to the brim with candy-colored villages, rugged landscapes, deserted beaches, small harbors, lush gardens, and countless artisan producers and restaurateurs who have achieved iconic status in the Irish food world. In my recent ramblings around the area, I visited three: Sally Barnes at her Woodcock Smokery, the Clonakilty Black Pudding Experience, and Denis Cotter at Paradiso, his vegetarian restaurant in Cork City. 
WOODCOCK SMOKERY
Sally Barnes smokes "only and always wild fish" at her Woodcock Smokery in Castletownshend. She started traditional smoke-curing in 1979 as a way to preserve the fish she caught in the waters off the coast of West Cork. She continues that tradition using only sustainable quantities of fish from local boats taken during the very brief wild salmon season in late spring. A life-long preservationist and stalwart of small-scale independent business, Barnes offers master classes on salmon-smoking, leads coastal produce and mushroom foraging, and hosts a tasting menu of her smoked products for guests to enjoy in The Keep, the space at her smokery where she shares the near-lost art of preserving wild food. She was gracious enough to host me for a chat about her devotion to "wild, wild, wild" produce, even giving me peek into her salmon "vault" where she freezes the prized catch before smoking. For details on her products or events, visit woodcocksmokery.com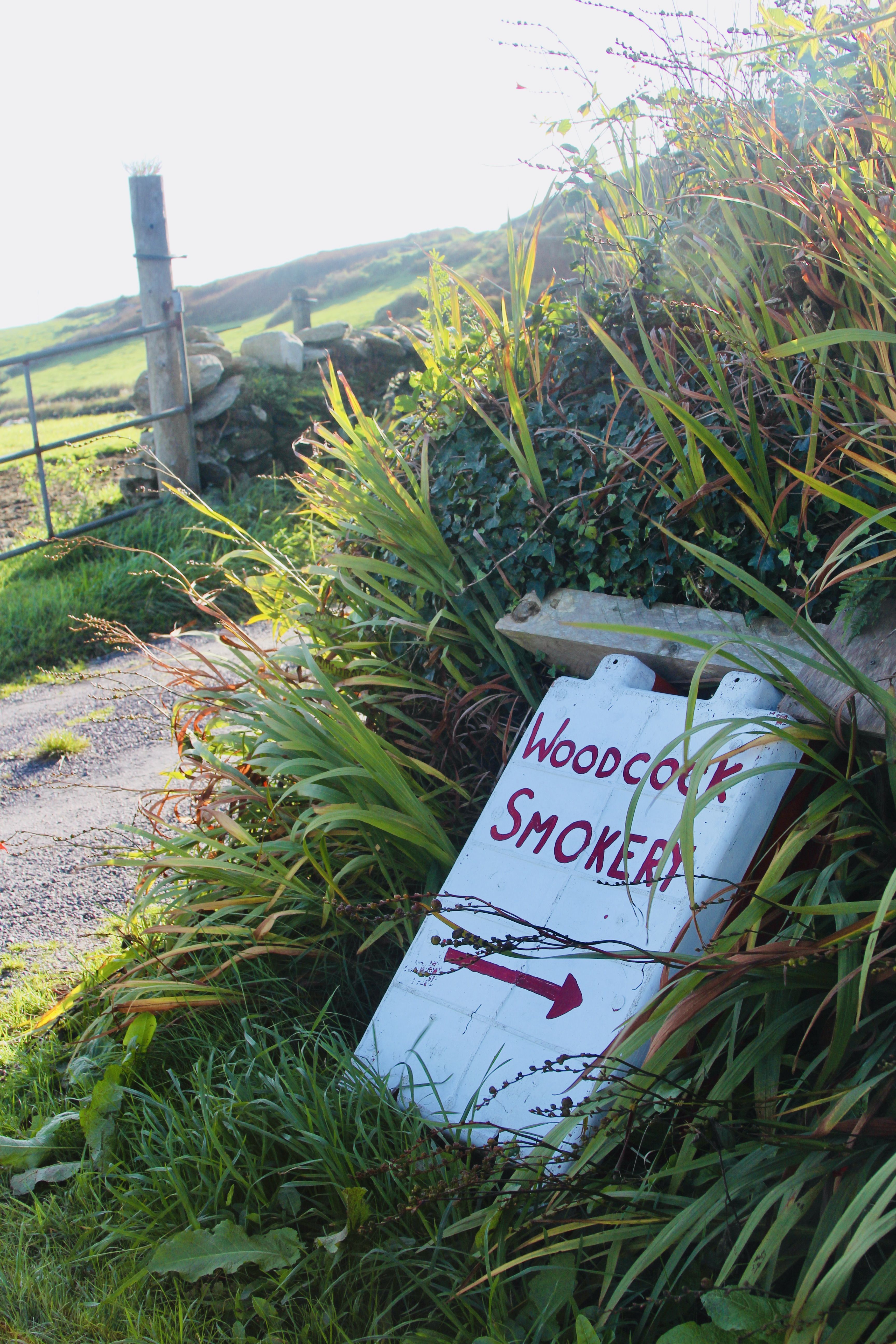 CLONAKILTY FOOD COMPANY 
 The town of Clonakilty is synonymous with black and white puddings, the famous foods that have been part of an Irish breakfast for more than a century. Devotees of Clonakilty Blackpudding (all one word when specific to this brand, two words when it's generic) will want to visit Edward Harrington's original butcher shop at 16 Sovereign Street (now Pearse Street) in the heart of the town, but for a full and fascinating take on the iconic Cork food, a visit to the Clonakilty Visitor Centre on Western Road is a must. The purpose-built production facility includes a museum-of-sorts, a self-guided and interactive audio tour that chronicles the history of black pudding and the secret spice recipe that dates to the 1880s. Harrington devised the recipe to flavor the puddings, and generations of his family continued to make them until the business, including the secret recipe, was eventually sold to Edward Twomey in 1976. His family further developed the brand into its current iconic status, with Colette Twomey now the sole keeper of the unique secret spice mix. During a visit guests have a chance to try to "crack the code" of the secret mix and sample some of the puddings. The visitor center is open daily. For further details, visit clonakiltyvisitorcentre.ie 
PARADISO 
[A shorter version of this text was posted on irishecho.com on Friday. For the recipe and a photo -- click here]
Chef Denis Cotter founded Paradiso (16 Lancaster Quay, Cork City) in 1993, as one of Ireland's first vegetarian restaurants. I met him in Kinsale a few years later when he was signing copies of his Café Paradiso Cookbook and again in September, a few months after his newest book, Paradiso (Nine Beans Row, Cork), was released. It's already getting rave reviews, including one from the Irish Times that suggests Cotter "seems to have created dishes in an absolute vacuum, as if a world with meat never existed . . . [it's a place] where the food revels in its own worth." Paradiso serves some of the most imaginative vegetarian and vegan dishes in Ireland, created most often by adding layers of flavor and texture to one ingredient, like this recipe featuring asparagus. At Paradiso they're topped with a sumptuous Cork-made Cheddar sauce (you can substitute Kerrygold's Mature or Reserve Cheddar), nutty crumb, and tangy capers. Make the crumb (Cotter calls it the "crunchy stuff" because it delivers a "flavor hit" to vegetarian dishes) and fry the capers in advance. File this recipe under "perfect for the holidays." Enjoy!
Margaret Johnson's "Recipes" page now includes "Ireland Hopping: Adventures in Food, Drink, and Travel." For further details on her work, including how to order her cookbooks, visit irishcook.com.