The twelfth day of Christmas, January 6, officially marks the end of the Christmas season. In Ireland, it's also one of the most important days on the calendar after Christmas Day itself, celebrated as the Christian Feast of the Epiphany and as the traditional celebration known as Nollaig na mBan (Women's Christmas). The latter is a day when Irish women who had worked tirelessly for weeks to prepare Christmas for their families had the day completely to themselves. The men of the house would take over the running of the household for the day, cleaning, preparing meals, and looking after the children, leaving the women to socialize with female relatives and friends and to gather for tea 
Irish folklore scholar Kevin Danaher mentioned the date in his 1970s book "The Year in Ireland: A Calendar," when he suggested that the name "Women's Christmas" is explained by the assertion that "Christmas Day was marked by beef, whiskey, and men's fare, while on 'Little Christmas Day' the dainties preferred by women — cake, tea and wine — were more in evidence." It became a day for women "to go visiting in the afternoon, eat a slice of currant loaf, have a cup of tea, a chat, and a well-deserved rest."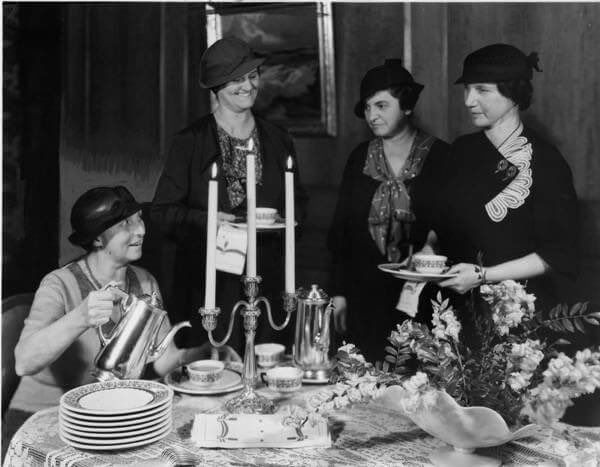 Over time, many Nollaig na mBan customs have faded away, but in recent years the tradition has been revived a bit, shifting to a day of celebration with many women's groups marking the day with charitable events or with donations to organizations that support women's causes. Many restaurants, hotels, and bars around the country host Nollaig na mBan celebrations, such as afternoon tea — often with a bit of bubbly — a tradition you might want to start this year yourself. If you'd rather have a gathering at home, here are a few easy recipes — final reminders that the Christmas season is over — to get the celebration started!
FRUITCAKE COOKIES
MAKES ABOUT 4 DOZEN COOKIES
 These cookies will satisfy your yearning for one last taste of holiday fruitcake, and they're delicious with a cup of tea. 
4 ounces butter
1 cup granulated sugar
1 egg
1 3/4 cup plus 2 tablespoons flour 
1/2 teaspoon salt 
1/2 teaspoon soda 
1/4 cup buttermilk 
1 cup candied cherries, chopped 
1 cup chopped dates 
1/2 cup fruit and peel mix
3/4 cup chopped pecans 
1. Preheat oven to 400°F. Line 2 baking sheets with parchment paper. 
2. In a medium bowl, beat butter and sugar with an electric mixer on medium speed until light and fluffy. Beat in egg until blended. 
3. In a small bowl, whisk together 1 3/4 cup flour, salt, and baking soda. Stir flour mixture into butter mixture, alternating with buttermilk.
4. Toss cherries, dates and fruit and peel mix with the remaining 2 tablespoons flour; fold into batter. Fold in chopped pecans. 
5. Drop by spoonsful onto prepared baking sheets, spacing 1 1/2 to 2 inches apart. 
Bake for 8 to 13 minutes (depending on size of cookies) until cookies are firm. Let cool on wire rack. Store in an airtight container for up to 5 days.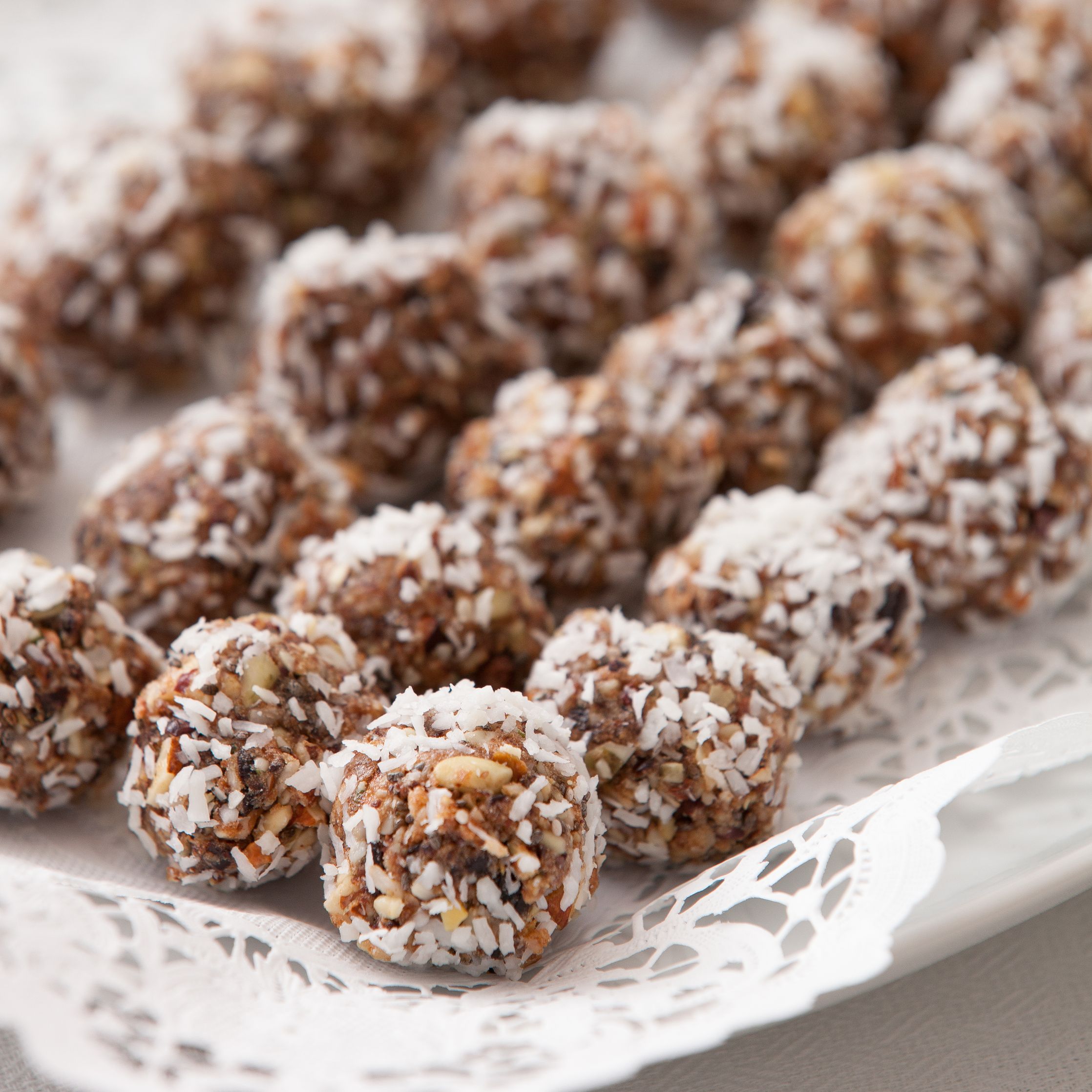 CHRISTMAS PUDDING BITES
MAKES 20
 This is a variation of a recipe that originally used leftover Christmas pudding. 
1 cup pitted dates 
1/2 cup pecans
1/2 cup mixed dried fruit, such as raisins, golden raisins, figs or cranberries
1/4 cup cocoa powder
1 cup flaked coconut, plus extra for rolling
1/3 cup coconut oil, melted 
1/2 teaspoon vanilla 
1/2 teaspoon allspice
1. Soak dates in hot water for 15 minutes; drain. 
2. Combine pecans, mixed fruit, cocoa powder, and 1 cup coconut in a food processor. Pulse 4 to 5 times. Add dates, coconut oil, vanilla, and allspice; process until blended. Transfer mixture to a large bowl.
3. Line a baking sheet with parchment paper. Place remaining 1 cup coconut on a large plate. With a small cookie scoop or tablespoon, scoop or spoon out portions of fruit mixture; form into balls. Dredge in coconut. Place balls on prepared baking sheet; refrigerate for 2 hours or until balls are firm. Store in an airtight tin for up to 5 days.
APPLE-SPICE CAKELETS
MAKES 24 MINI CAKES
 If you have a mini Bundt pan, by all means bake these little cakes in it; if not, use a cupcake pan.
For the cakes
3 cups flour
1 1/2 teaspoon ground cinnamon
1/4 teaspoon ground nutmeg
1/2 teaspoon ground cloves
1/2 teaspoon ground cardamom
1 teaspoon baking soda
1/2 teaspoon salt
1 1/4 cups canola oil
2 cups sugar
3 large eggs
3 1/2 cups chopped apples
3 tablespoons brandy
For the sauce
2 ounces butter
2 tablespoons (packed) light brown sugar
6 tablespoons granulated sugar
2 tablespoons heavy (whipping) cream
Confectioners' sugar, for sprinkling
1. Make cakes. Preheat oven to 300°F. Coat a 16-well mini-Bundt or muffin pan with nonstick cooking spray. In a large bowl, whisk together flour, cinnamon, nutmeg, cloves, cardamom, soda, and salt; set aside.
2. In another large bowl, whisk together oil and sugar. Add eggs, one at a time; whisk until smooth. Stir in apples and brandy; spoon batter into prepared pan
3. Bake for 40 to 45 minutes, or until a skewer inserted into center comes out clean. Remove from oven; let cool on wire rack for 10 minutes.
4. Make sauce. In small saucepan over medium heat, melt butter; stir in sugars. Add brandy and cream. Bring to a boil, and then reduce heat. Simmer for 2 to 3 minutes, or until smooth. 
Spoon warm sauce over cakes; sprinkle with confectioners' sugar.
 Margaret Johnson's "Recipes" page also includes "Ireland Hopping: Adventures in Food, Drink, and Travel." For further details on her work, or to order a signed copy of any of her cookbooks, visit irishcook.com