Serious tea drinkers and wellness enthusiasts celebrate "National Hot Tea Month" in January. During the month, many extol the virtues of tea drinking for health reasons: studies show that drinking tea can counteract tiredness and benefit work performance; can support cardiovascular health; and can reduce blood pressure in hypertensive individuals. Others celebrate the rich culture and history of tea, its many diverse types, and its soothing qualities, noting that "drinking tea is the perfect way to start the New Year with a sound mind and body." None of this comes as a surprise to Irish tea lovers, whom some say have a relationship with tea that "transcends the ordinary" — hyperbole, perhaps, but given that the average person in Ireland drinks four to six cups a day, perhaps not!" Here are a few recipes for you to enjoy with a cuppa in January and beyond! You'll find these and many others in my cookbook Teatime in Ireland. To order a signed copy, visit irishcook.com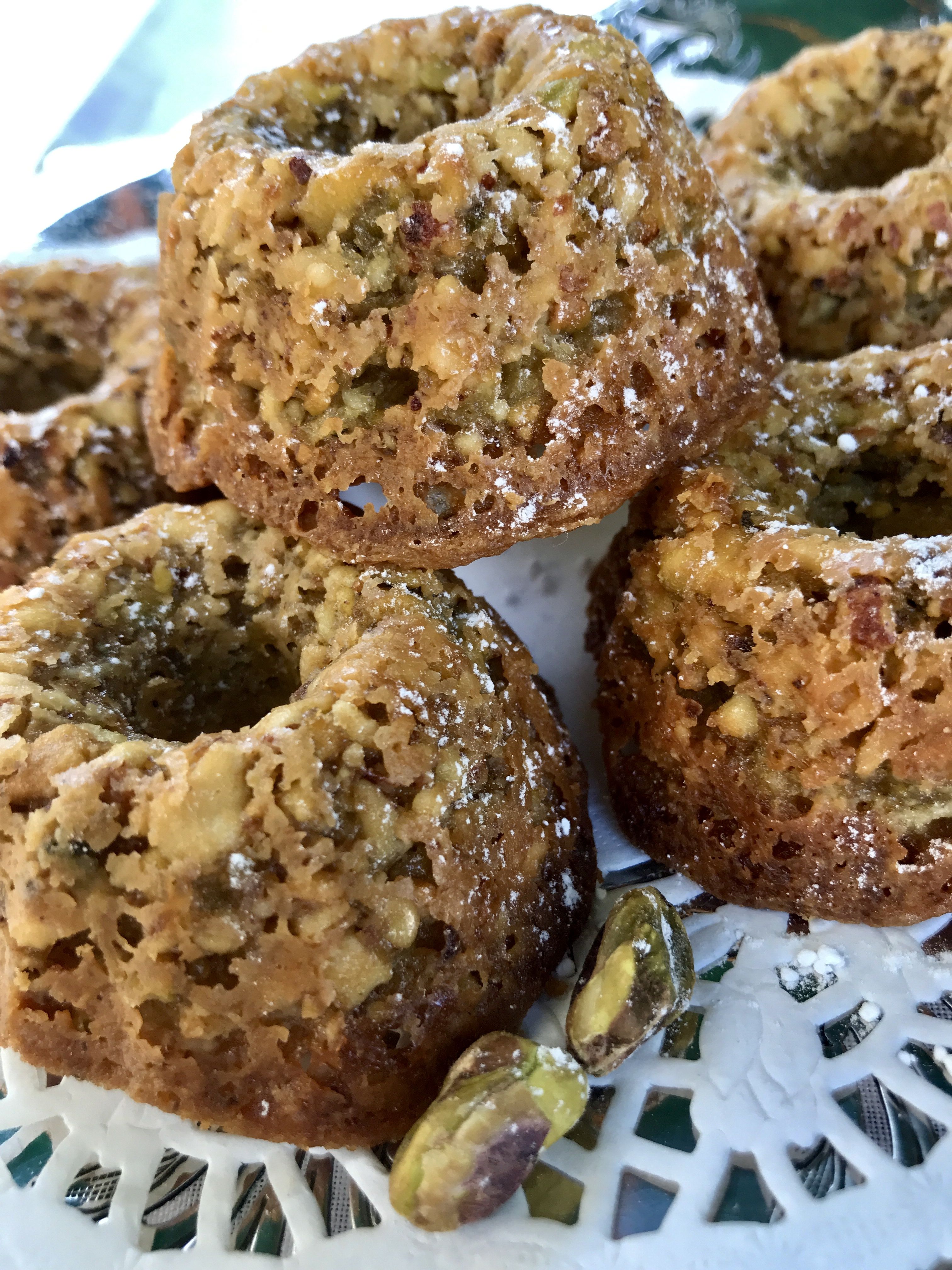 PISTACHIO TEA CAKES
MAKES 24 CAKES
Nutty, flourless, and moist, these little tea cakes are showstoppers! Serve them simply dusted with confectioners' sugar.
5 ounces almonds
3 ounces unsalted pistachios
8 ounces butter, at room temperature
2 cups sugar
3 tablespoons pistachio paste
5 large eggs
Confectioners' sugar, for dusting
1. Preheat oven to 325°F. Coat two mini fluted Bundt pans with nonstick baking spray with flour.
2. Combine almonds and pistachios in a food processor; process for 30 to 40 seconds, or until nuts are finely ground.
3. In a medium bowl, beat butter, sugar, and pistachio paste with an electric mixer on medium speed until light and fluffy. Slowly add ground nuts, alternating with eggs; beat until blended and smooth. Spoon mixture into prepared pans, filling half full; let rest for 10 minutes to ensure mixture settles into wells.
4. Bake for 25 to 28 minutes, or until a skewer inserted into center comes out clean. Remove pans from oven and let cool on a wire rack for 10 minutes. Loosen cakes from sides of pan with a small knife; invert onto rack and tap gently to remove cakes. Cool completely. Sprinkle with confectioners' sugar. 
LEMON-GINGER DROP SCONES
MAKES 10 to 12  
This recipe breaks from the traditional round scone shape and requires no kneading, rolling, or cutting. Simply mix up the dough and drop onto a baking sheet. Another break from tradition, the recipe uses yogurt instead of either buttermilk, milk, or cream; crystallized ginger chips add a bit of zing!                  
2 cups flour
1/2 teaspoon salt
1/4 cup sugar
1 tablespoon baking powder
3 ounces cold butter, cut into pieces
3/4 cup golden raisins, chopped
1/4 cup crystallized ginger, chopped
1 tablespoon lemon zest
2 large eggs, beaten
1/4 cup vanilla yogurt
1 teaspoon vanilla bean paste
1/2 teaspoon almond extract
Milk, for brushing tops
Sparkling sugar, for sprinkling
Softened butter, for serving 
Clotted cream and lemon curd, for serving (optional)
1. Preheat oven to 375°F.  Line a baking sheet with parchment paper.
2. In a large bowl, whisk together flour, salt, sugar and baking powder. With a pastry blender, two knives, or your fingers, cut or work in butter until mixture resembles coarse crumbs; stir in raisins, ginger, and lemon zest.
3. In a medium bowl, whisk together eggs, yogurt, vanilla bean paste, and almond extract. Make a well in center, and with a wooden spoon, stir into dry ingredients until mixture forms soft dough. With a cookie dough scoop or large spoon, drop dough onto prepared pan leaving about 2 inches between each. Brush each scone with a little milk and sprinkle with sparkling sugar. 
 4. Bake for 20 to 24 minutes, or until lightly browned. Remove from oven and let cool on a wire rack for 10 minutes. Serve spread with butter; top with clotted cream and lemon curd, if desired.
TO FREEZE: After step 2, place dough rounds on a baking sheet lined with parchment paper; brush with milk and sprinkle with sugar. Freeze until solid. Transfer to a resealable plastic bag; store in freezer for up to 1 month. 
TO BAKE FROM FROZEN: Place frozen rounds, sugar side up, on a large baking sheet. Bake at 375°F for 20 to 25 minutes or until scones are lightly browned.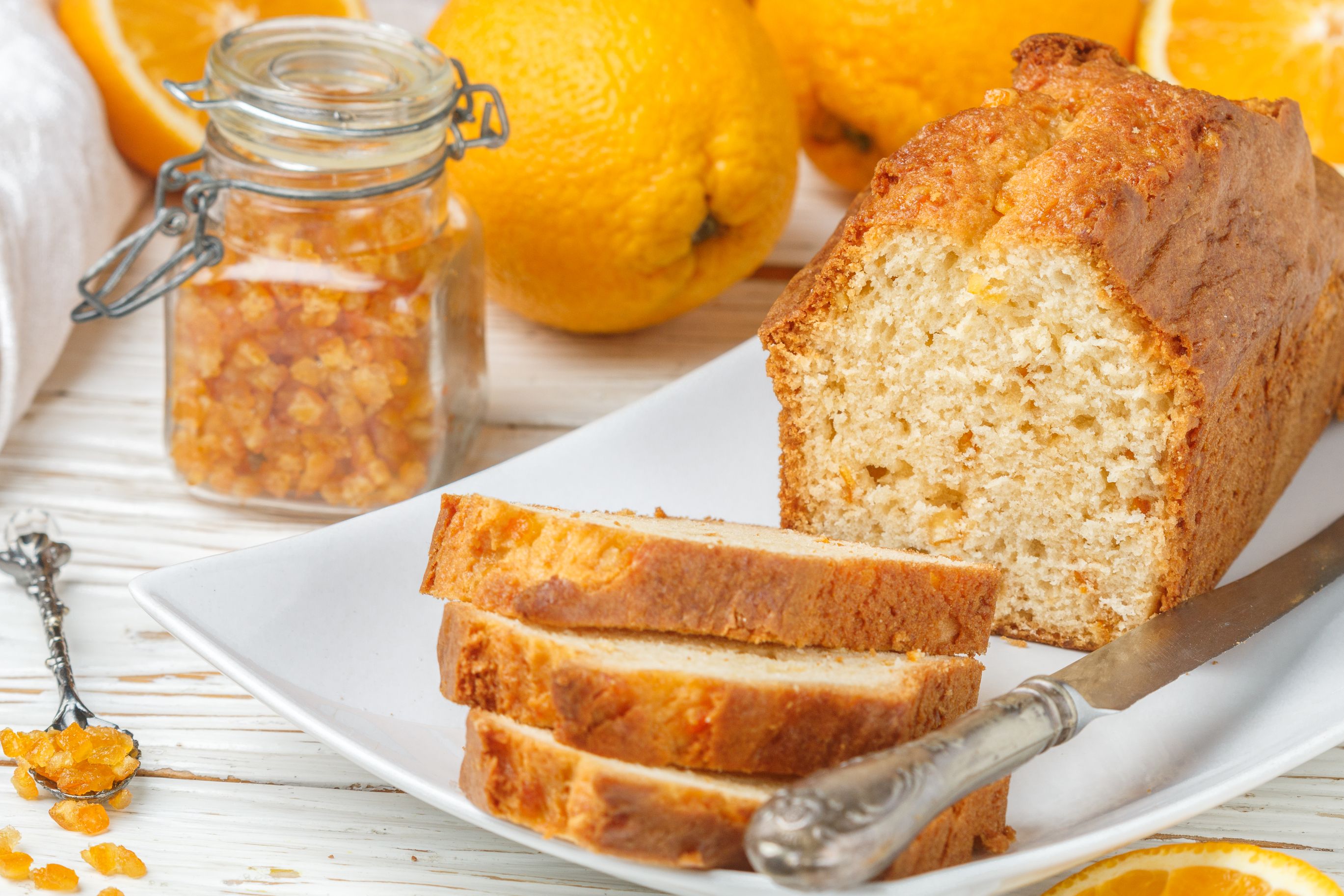 MARMALADE TEA LOAF
Makes 2 loaves
   Even though marmalade was "invented" by Scotsman James Keiller, the Irish have a great fondness for this delicious orange preserve, whether it's used to spread on breads and scones or baked in tea breads and cakes. For a little kick, you might be tempted to use one of Ireland's delicious whiskey-flavored marmalades in this teatime bread. 
1 cup sugar
1 cup milk
1/2 cup golden raisins
1/2 cup orange marmalade
4 ounces unsalted butter
2 cups self-rising flour 
1/2 teaspoon baking soda
1 teaspoon pumpkin pie spice or Mixed Spice (see Note)
1/4 teaspoon salt
1 large egg, beaten
Softened butter, for serving
1. In a medium saucepan over medium heat, bring sugar, milk, raisins, marmalade, and butter to boil; stir well. Remove from heat; let cool completely.
2. Preheat oven to 350°F. Coat a 9-inch loaf pan with nonstick baking spray with flour.
3. With a wooden spoon, stir flour, baking soda, pumpkin pie or Mixed Spice, salt, and egg into marmalade mixture. Transfer mixture to prepared pan.
4. Bake for 55 to 60 minutes, or until top is golden and a skewer inserted into center comes out clean.
5. Remove from oven; let cool in pan on wire rack for 5 minutes. Invert breads onto rack, return to upright. Let cool completely. 
6. To serve, cut into slices and spread with butter, if desired.
Note: To make Mixed Spice, in a small bowl, combine, 1 tablespoon ground allspice, 1 tablespoon ground cinnamon, 1 tablespoon ground nutmeg, 2 teaspoons ground mace, 1 teaspoon ground cloves, 1 teaspoon ground coriander, and 1 teaspoon ground ginger. Stir to blend; store in a sealed jar.
    Margaret Johnson's "Recipes" page also includes "Ireland Hopping: Adventures in Food, Drink, and Travel." For further details on her work, or to order a signed copy of any of her cookbooks, visit irishcook.com