It snowed in parts of Ireland last week, closing schools and causing havoc on roadways, especially in the west of the country. Weather like this is a photographer's dream though — what's more beautiful that a snow-covered thatched cottage — and the perfect excuse for a cook to serve a hearty soup or stew. Soups, casseroles, one-pot wonders are the meals we're looking for when the temperature dips and the snow falls, and these recipes are so good you'll want to serve them even when the weather cooperates a little bit more.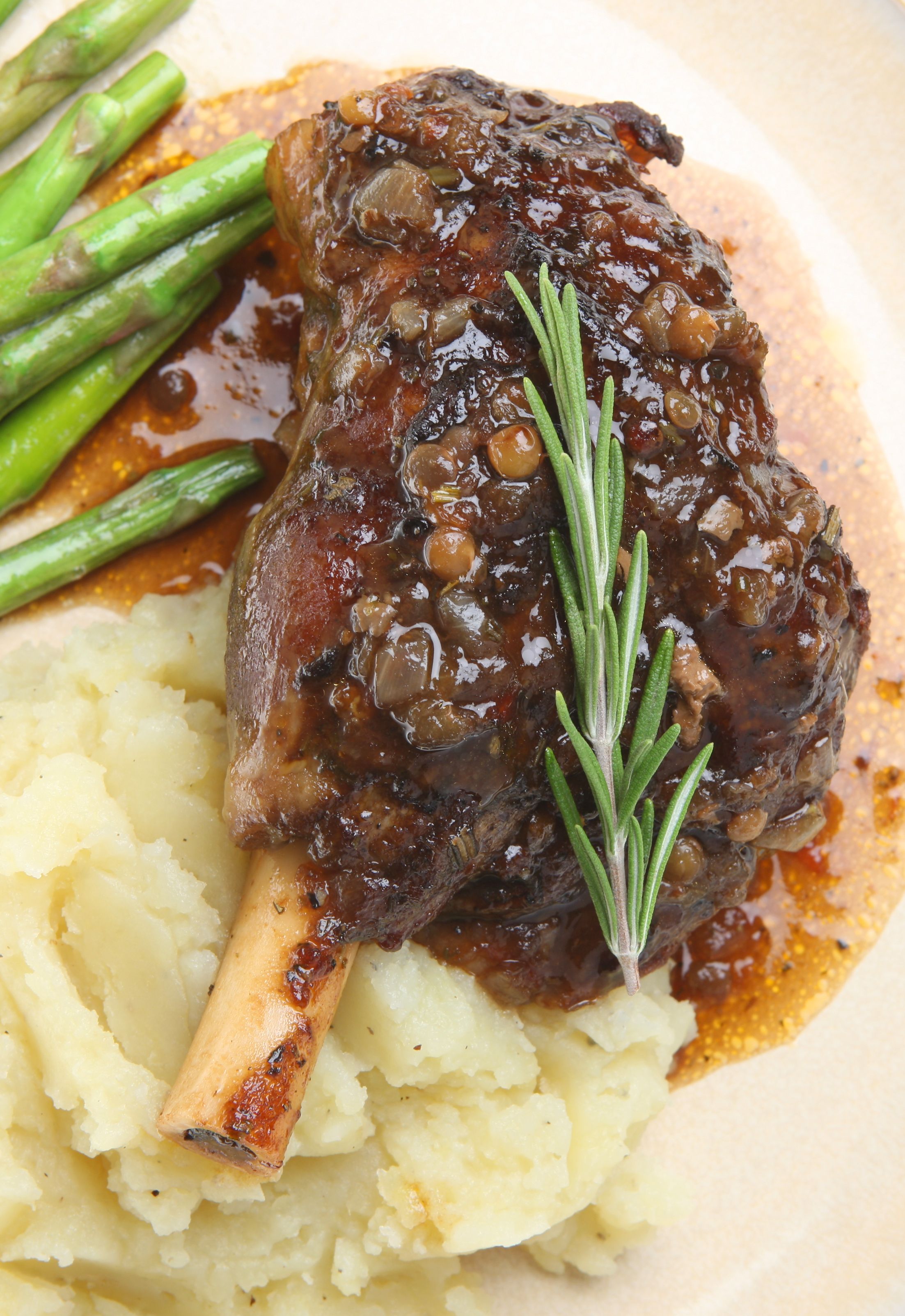 BRAISED LAMB SHANKS 
SERVES 4
            For this recipe, braise lamb shanks in red wine and tomatoes and serve them with mashed potatoes, colcannon, or champ.
3 tablespoons olive oil
4 lamb shanks 
1 large carrot, chopped
1 large onion, chopped
1 stalk celery, chopped
1/2 cup dry red wine
1/2 cup chopped tomatoes
4 sprigs thyme
1 bay leaf
1 garlic clove, chopped
1 cup water
Salt 
Ground black pepper 
Rosemary sprigs, for garnish
Mashed potatoes, for serving
1. In a large skillet over medium heat, heat oil. Cook lamb on all sides for 5 to 8 minutes, or until browned. Transfer to a heavy ovenproof casserole.
2. Add carrot, onion, and celery to skillet; cook for about 5 minutes, stirring to scrape up browned bits from bottom of pan. Stir in wine.
3. Transfer vegetables and pan juices to casserole. Add tomatoes, thyme, bay leaf, garlic, water, salt, and pepper. Cover; simmer for about 2 hours, or until lamb is tender. Transfer lamb to a platter. Cover; keep warm. 
4. Strain sauce through a fine sieve into a clean saucepan, pressing vegetables through with back of a spoon. Cook over low heat for 5 to 7 minutes, or until sauce thickens.
5. To serve, divide potatoes onto serving plates; put a lamb shank on top. Spoon sauce over; garnish with rosemary.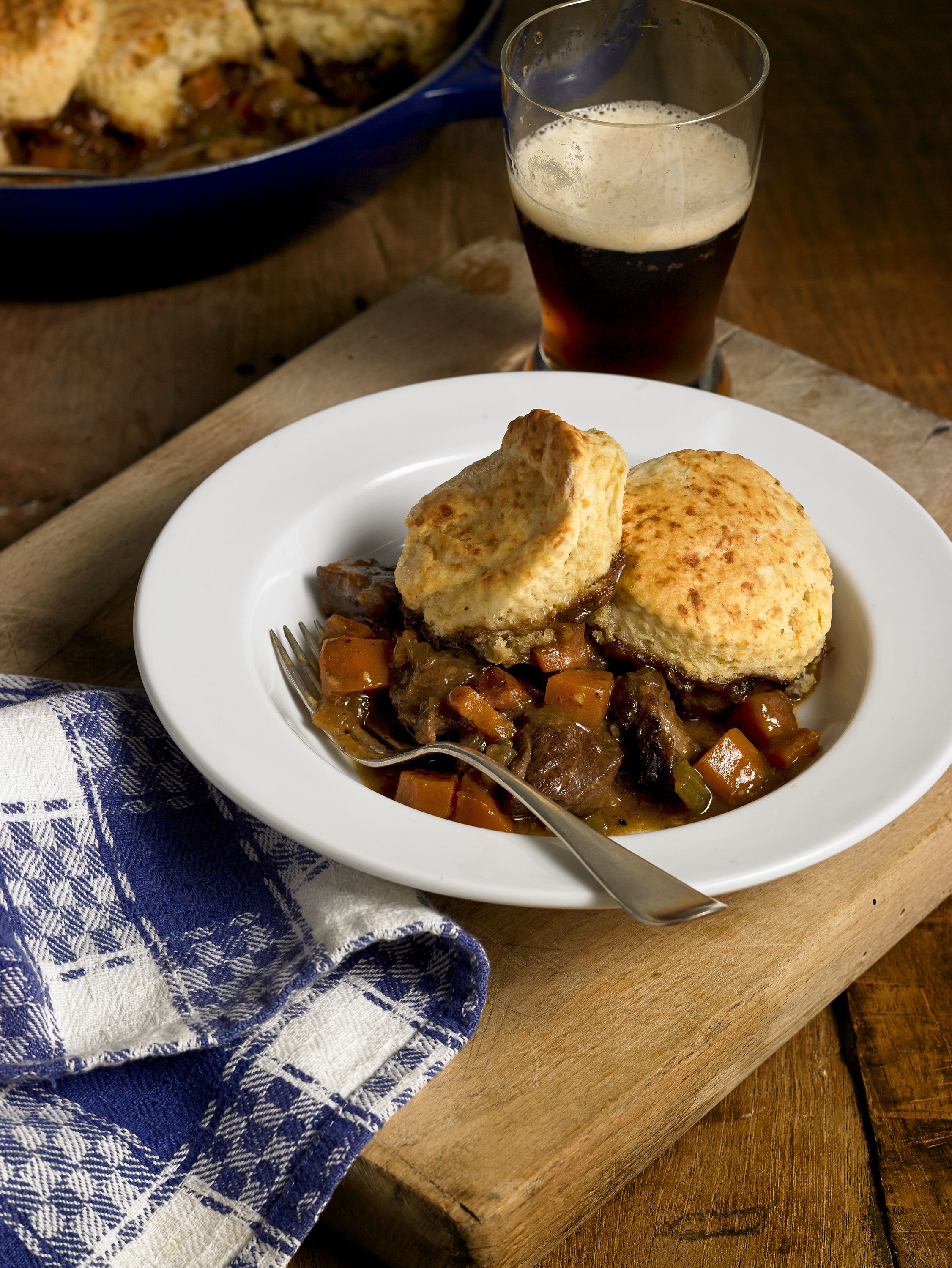 BEEF IN ALE WITH CHEESE COBBLER
SERVES 6
           This beef casserole, made with Irish ale, is a lighter version of the beef dish made with Guinness, and it comes with a cobbler topping made with Dubliner cheese. The casserole can be prepared in advance and left at room temperature with the cobbler added just before baking. 
For the casserole 
2 tablespoons all-purpose flour
Salt 
Ground black pepper
1 1/2 pounds beef chuck or round, cut into cubes
2 tablespoons olive oil
1 medium onion, peeled and diced
1 garlic clove, minced
2 carrots, peeled and diced
3 stalks celery, diced
1 bottle (12 ounces) Irish ale, such as Smithwick's 
2 cups homemade beef stock or canned low-sodium beef broth
1 tablespoon tomato paste
1 tablespoon Worcestershire sauce
1 sprig fresh thyme
For the cobbler
2 cups self-rising flour
1/2 teaspoon dry mustard
Salt 
Ground black pepper 
3 tablespoons cold butter, cut into small pieces
1 cup shredded Dubliner cheese
1/2 teaspoon Tabasco sauce
2/3 cups water
1 tablespoon milk, for brushing tops
1. Make casserole. In a large re-sealable plastic bag, combine flour, salt, and pepper. Dredge beef in the flour mixture; set aside.
2. In a large ovenproof skillet or 12-inch braising pan, heat oil over medium heat. Add onion and garlic; cook for 2 to 3 minutes, or until soft but not browned.
3. Add beef cook for 3 to 5 minutes, or until browned on all sides. Add carrots and celery; stir to coat.
4. Stir in ale, stock or broth, tomato purée, Worcestershire sauce, and thyme; bring to a boil. Reduce heat to low. Cover; simmer for 30 minutes. Uncover; cook for 15 to 20 minutes longer, or until meat and vegetables are tender and sauce starts to thicken. Remove from heat.
5. Make cobbler. Preheat oven to 350ºF.
6. Sift flour and mustard into a food processor; add salt and pepper. Add butter; pulse 4 to 5 times, or until mixture resembles coarse crumbs. Add cheese, Tabasco, and water. Process for 8 to 10 seconds, or until soft dough forms (add more water, if needed).
7. Transfer dough to a floured surface. Roll it out to 1/2-inch thickness. With a 3-inch cookie cutter, cut out 7 to 8 rounds. Reroll; cut out more rounds to make 12. Arrange on top of casserole, overlapping in a decorative pattern. Brush top of rounds with milk. 
8. Bake for 30 to 35 minutes, or until cobbler is golden and mixture is bubbling. Remove from oven; serve immediately.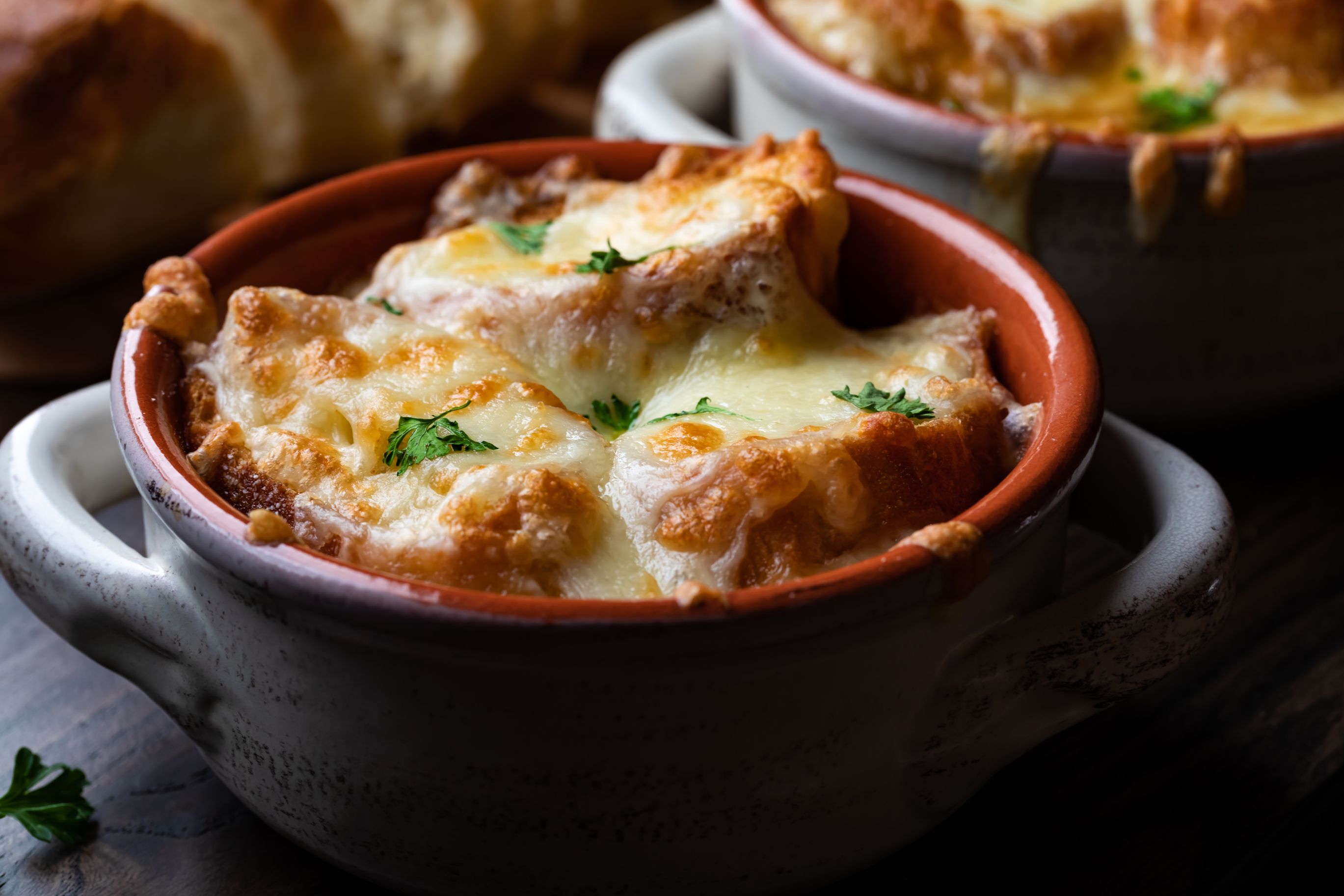 THREE CHEESE ONION SOUP WITH BLUE CHEESE CROÛTES
SERVES 8 
            Onion soup is a surefire hit on anyone's winter menu. Instead of using only yellow onions, this soup uses three — yellow, red, and shallots — and tops it with hearty, thick-cut croûtes and blue cheese — Cashel Blue preferred! 
For the soup
4 ounces unsalted butter
3 large yellow onions, peeled and sliced
2 large red onions, peeled and sliced
4 shallots, minced
1 garlic clove, minced
2 bay leaves
1 teaspoon dried basil
1 teaspoon dried thyme
1 tablespoon dark brown sugar
3 cups homemade beef stock or canned low-sodium beef broth
1 cup Guinness 
Salt 
Ground black pepper 
For the croûtes 
Eight 1-inch-thick slices sourdough bread 
2 tablespoons olive oil
1 cup crumbled Cashel Blue cheese
1 tablespoon minced fresh flat-leaf parsley
1 tablespoon minced fresh chives
1. Make soup. In a large saucepan over medium heat, melt butter. Add onions, shallots, and garlic; cook for 12 to 15 minutes, or until soft but not browned. Add bay leaves, basil, thyme, brown sugar, stock or broth, and Guinness; bring to a boil. Reduce heat to low; simmer, covered, for 25 to 30 minutes, or until onions are tender. Season with salt and pepper.
2. Make croûtes. Preheat oven to 425º F. Brush bread slices with olive oil. Spread out on a rimmed baking sheet; bake for about 10 minutes, or until golden and crisp. Remove from oven.
3. Preheat broiler. Arrange 8 flameproof crocks on a baking sheet. Ladle soup into crocks. Top with croutes; sprinkle with blue cheese. Place under broiler 4 inches from heat source; broil for 1 to 2 minutes, or until cheese melts and browns. Remove from oven; sprinkle with parsley and chives. Using oven mitts to protect your hands, place a crock in the center of a serving plate. Serve immediately. 
    Margaret Johnson's "Recipes" page also includes "Ireland Hopping: Adventures in Food, Drink, and Travel." For further details on her work, or to order a signed copy of any of her cookbooks, visit irishcook.com.