It's safe to say, I never met a tomato I didn't like — red, yellow, green, plum, beef stake, big boy, grape, cherry, heirloom — the list is endless. Whether you toss them in a salad, bake them in a tart or quiche, or layer them in a soufflé, tomatoes are the quintessential late summer vegetable. Grab them while you can and use them in one or more of these yummy recipes.
CHERRY TOMATO TART
SERVES 4 TO 6
            I make this tart in a 13 3/4 x 14 1/4 rectangular tart pan with a removable bottom, but you can also bake it in a round tart pan. If you prefer the taste of roasted tomatoes, follow the directions in the Roasted Tomato and Goat's Cheese Charlotte (below).  
About 15 multi-colored cherry tomatoes, cut in half
Sea salt, for sprinkling
1 puff pastry sheet, such as Pepperidge Farm, thawed according to package directions
3/4 cup ricotta cheese
1/2 cup shredded mozzarella cheese
1/3 cup grated Parmesan cheese
3 tablespoons extra virgin olive oil 
1 small red onion, sliced (optional)
Ground pepper
Sprigs of fresh thyme, for topping
Chopped fresh basil, for topping
1. Sprinkle cut side of tomatoes with salt and then place, cut side-down, on paper towel to drain excess moisture. Leave for 30 minutes.
2. Preheat oven to 400°F. On a floured surface, roll out puff pastry to fit rectangular tart pan; trim edges. Line pastry with parchment paper and fill with pie weights or dried beans. Bake for 25 minutes. Remove from oven; remove pie weights and parchment paper. Let cool on wire rack.
3. Reduce oven temperature to 375°F. In a medium bowl, whisk together ricotta, mozzarella, Parmesan and 1 tablespoon olive oil. 
4. Spread cheese mixture evenly over bottom of cooled tart. Decoratively arrange tomatoes, cut side-down, on top of cheese mixture. Add red onion slices, if using. Drizzle with remaining olive oil and sprinkle with pepper and a few sprigs of thyme.
5. Bake for 35 to 40 minutes, or until cheese is bubbling and tomatoes are slightly wilted. Transfer to a wire rack to cool slightly; sprinkle with fresh basil. Remove tart from pan and cut into slices or squares.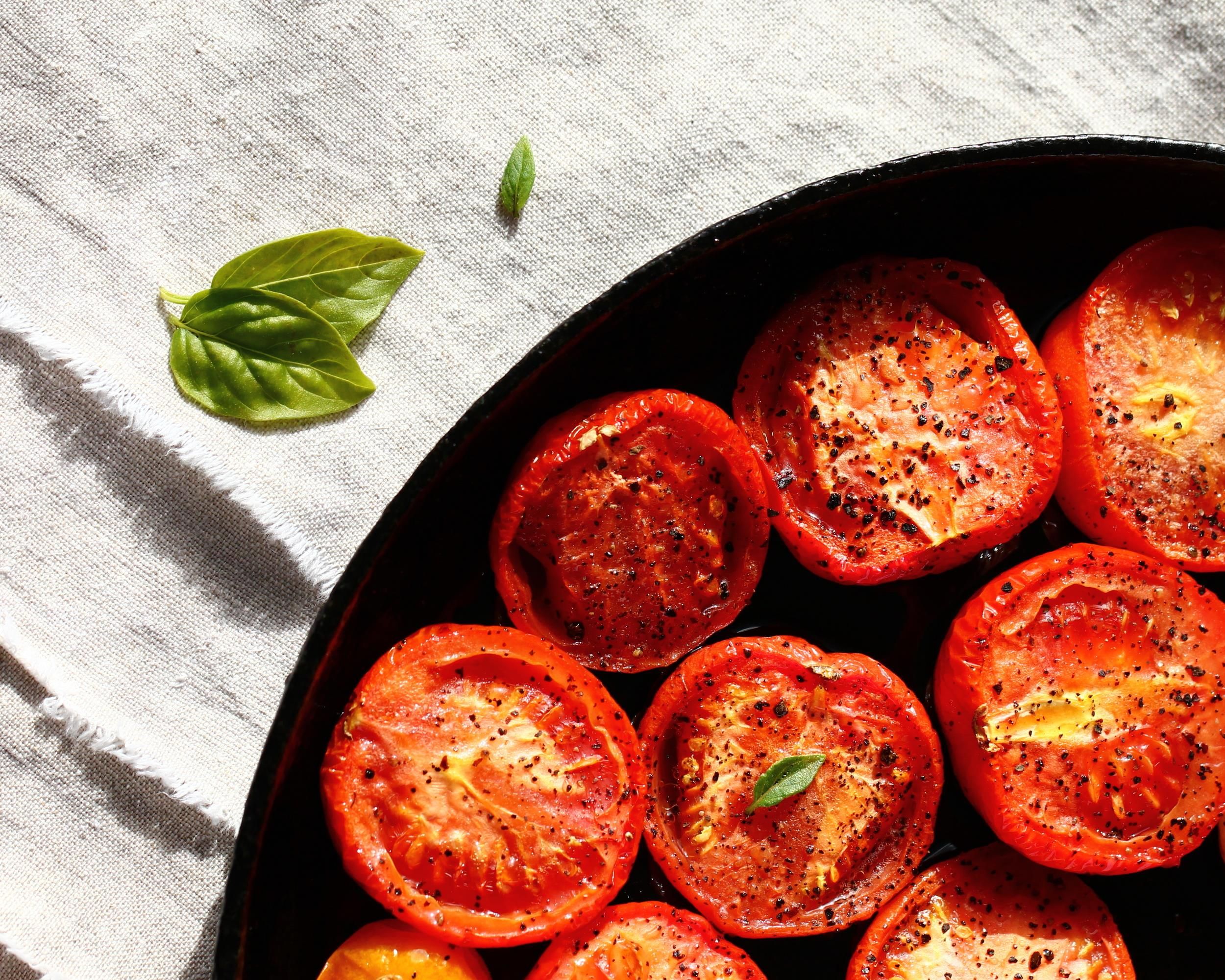 CRAB AND CHAMP BAKE WITH TOMATO-WATERCRESS DRESSING
SERVES 4
            This three-step dish takes some of Ireland's best-known ingredients and transforms them into a tasty and sophisticated dish that's perfect as a starter or for lunch.
For the champ
2 pounds boiling potatoes, peeled and cut into 2-inch pieces
1/2 cup half and half
6 tablespoons butter
1 cup chopped fresh chives or scallions
Salt and freshly ground pepper to taste
For the crab filling 
1 1/4 cups light cream
1/2 cup fish stock
1/4 teaspoon grated lemon rind
1 tablespoon flour
8 ounces fresh crabmeat
Salt 
Ground pepper 
Dash of Tabasco sauce
1/2 cup grated cheddar cheese
For the tomato-watercress dressing
4 tablespoons olive oil
1 teaspoon wholegrain mustard
1 teaspoon sugar
4 tablespoons cider vinegar
Salt and freshly ground pepper to taste
1 tomato, skinned, deseeded, and diced
Small bunch watercress, washed and roughly chopped, plus more for garnish
1. Make champ. In a large saucepan, cook potatoes, covered, in boiling salted water for 12 to 15 minutes, or until tender; drain and mash.
2. In a medium saucepan over low heat, combine half and half and butter. Heat for 2 to 3 minutes, or until butter melts. Add chives or scallions, reduce heat to simmer, and cook for 2 to 4 minutes, or until chives or scallions are soft. Add to potatoes, season with salt and pepper, and stir until blended; set aside.
3. Make filling. In a small saucepan over medium heat, combine cream, fish stock, and lemon rind. Bring gently to boil and then whisk in flour. Cook for 2 to 3 minutes, or until mixture thickens. Remove from heat and stir in crabmeat; season with salt, pepper, and Tabasco.
4. Preheat oven to 400° F. Butter 4 (6-ounce) ramekins. Put dishes on a baking sheet and divide champ into dishes. Spoon crab mixture over top and bake for about 15 minutes, or until filling is bubbling and set; remove from oven.
5. Preheat broiler. Sprinkle dishes with grated cheese and broil, 4 inches from heat source, for 2 to 3 minutes, or until tops are brown and cheese is bubbling.
6. Make dressing. In a small bowl whisk together oil, mustard, sugar and vinegar until smooth; stir in tomato and watercress.
7. To serve, run a sharp knife around sides of ramekins to loosen and then lift out and arrange on salad plates. Drizzle dressing around and garnish with additional watercress.
ROASTED TOMATO AND GOAT'S CHEESE CHARLOTTE
SERVES 6                
            Slow-roasting tomatoes gives them a rich flavor that adds depth to salads, tarts, and to this soufflé-like dish made with goat's cheese. Serve with a side salad of mixed greens dressed with your favorite vinaigrette or Tomato-Watercress Dressing.
To roast the tomatoes
6 large beefsteak tomatoes
Sea salt 
Ground pepper
Olive oil for brushing
For the filling
3 garlic cloves
16 ounces goat's cheese, at room temperature
8 ounces cream cheese, at room temperature
2 large eggs
3 large egg whites
1/3 to 1/2 cup half-and-half
4 to 5 fresh basil leaves, chopped, plus more for garnish
Ground pepper 
Mixed greens, for serving
1. Roast tomatoes. Preheat oven to 250° F. Lightly brush 2 baking sheets with olive oil.
Cut each tomato horizontally into 3 thick slices. Place on prepared pans, season with salt and pepper, and brush with olive oil. Roast, turning once, for 60 to 75 minutes, or until partly dried and slightly caramelized; remove from oven.
2. Make filling. Increase oven temperature to 375° F. Butter 6 (8-ounce) ramekins and line bottom with a round of wax paper.
3. Combine garlic, goat cheese, cream cheese, and eggs in a food processor; process for 1 to 2 minutes, or until smooth. With machine running, add egg whites, 1 at a time, and process for 30 seconds, or until blended. Transfer mixture to a medium bowl and stir in enough half-and-half for a thick pouring consistency; stir in basil and pepper.
4. Put a tomato slice into bottom of each ramekin and top with a tablespoon of cheese mixture; repeat process twice to make 3 layers in each ramekin.
5. Place dishes in a roasting pan filled with enough hot water to come halfway up sides of dishes. Bake for 35 to 40 minutes, or until set in center. Remove pan from oven and let dishes sit in the pan for 5 minutes.
6. To serve, run a sharp knife around sides of dishes to loosen and then lift out and arrange on 6 salad plates. Garnish with basil and serve immediately with mixed greens.
    Margaret Johnson's "Recipes" page expands this year to "Ireland Hopping: Adventures in Food, Drink, and Travel." For further details on her work or to order a signed cookbook, visit www.irishcook.com