A new exhibition features the works of one of Ireland's greatest living artists, Colin Davidson. The multi-award-winning painter is celebrated for his large-scale canvases of famous faces  not only in Ireland, but around the world. Davidson's fans have  long clamored for  a retrospective that shows his multi-dimensional talent as an artist, so The F.E. McWilliam Gallery & Studio of Banbridge, Co. Down, has opened "Colin Davidson: Selected Paintings 1986 – 2022," a show that will run through Sept. 10. 
"The two things that make Colin stand out for me," said co-curator Riann Coulter, "are his dedication to this place and his refusal to rest on his laurels. Like so many before him, he could have easily jumped ship and made his career in London or New York painting portraits of the rich and famous but instead he has dedicated so much of his time to his home and the people who live here."
  President of the Royal Ulster Academy since 2012, Davidson was born in South Belfast in 1968, and educated at Methodist College and the University of Ulster's College of Art, where he graduated in 1991 with a first-class honors degree in graphic design.  His father, the renowned figurative painter Rowland Davidson, created a very artistic home life for young Colin, which absorbed him from an early age. Davidson was just 7 years old when he made his first drawing in crayon of an old farmhouse and, when complete, sat back and wondered where it had come from. "I do wonder constantly," he muses, "if I am always trying to get that feeling back again – that childlike feeling of wonder." The retrospective includes a Belfast street scene he painted while still at school, at age 17. "You can see it's been rolled up. It was never designed to be framed and put up in an exhibition but that's what I love about it being there. You can draw a thread very much from that."
 Belfast has been a continual source of artistic inspiration for Davidson. "So often we go searching for inspiration," he stated, "thinking it's going to come from out of the blue ,"but growing up in Belfast during the dark days here, nobody was really painting it. It was being used for Troubles work, to illustrate what was happening on the streets." Davidson, however, saw the city as an animate thing he wanted to capture on canvas:
"So, there's a psychological, spiritual aspect to those Belfast paintings. Here's my hometown as a living, breathing entity that has gone through decades of trauma starting to emerge, to show its true self, to be hopeful after 1998. But there was also the formal aspect where you were looking topographically at the face of the city changing as well. Those are the important things to me, as an artist, those formal qualities of pattern, light, space, color, all coming together in one piece and then the psychological aspect of a city that I can see kind of emerging." 
Kim Mawhinney, National Museums NI's senior curator of art, wanted this exhibition to reflect  Davidson's  artistic journey. "As an artist who is now best known for his portraits, we can see here how his earlier 'Cityscapes' and 'Reflection' series of paintings influenced the landscape-like surfaces he applies to his portraits in the contours of the face and the deep reflective quality to the eyes."
 Davidson garnered worldwide attention with a group of paintings entitled  "Silent Testimony," his  Northern Irish Troubles series. The canvases reveal the pain of 18 people who are connected by their individual experiences of loss through the Troubles. "Silent Testimony" portrays people whose faces reflect suffering that no one deserves.  The artist said, "Something very unwelcome and toxic and traumatic has been thrust upon them and that has defined them." Co-curator Coulter commented  on the significance of the series, "'Silent Testimony' is the most powerful manifestation of that dedication but even the decision to paint Belfast rather than rural landscapes is a statement of commitment and the belief that the city is a fitting subject for art." 
 Writer Glenn Patterson, who opened the exhibition, and attended  Finaghy primary school and Methodist College with Davidson, said: 
"His 'Silent Testimony' portraits will stand as one of the defining works of a period we are all agreed it would have been better we had never had to live through but have never until now found a way collectively to, well, face. It has been inspiring, and heartening, to hear Colin Davidson in recent years adding his voice to the debates on how we do behave reasonably, decently, fairly to one another and for one another in this society. Colin is one of those artists, with a public profile and platform, who has chosen to exercise the opportunity to speak up, speak out."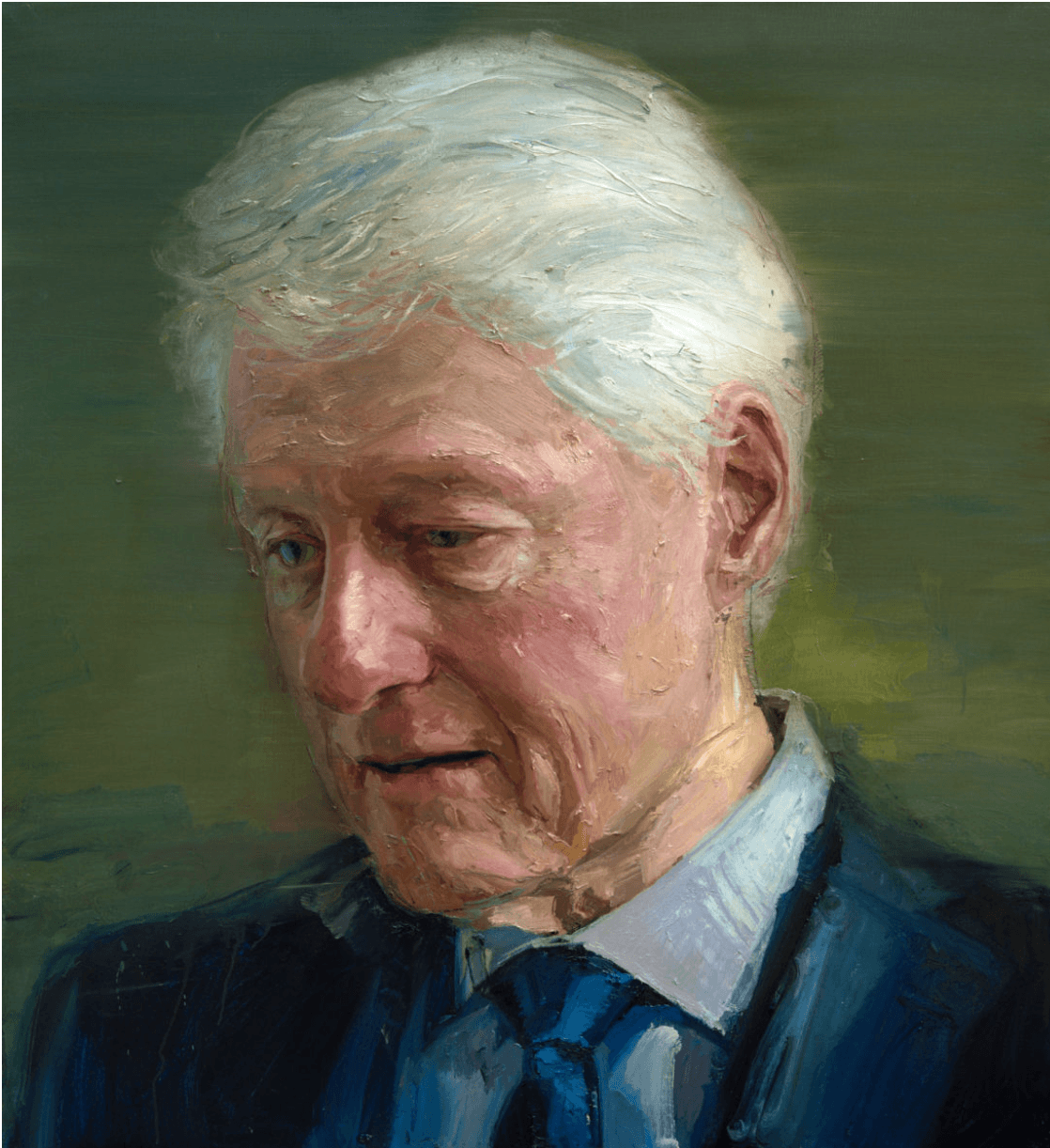 "William Jefferson Clinton."
  Davidson said, "I put the energy of the trauma that I was hearing about and that I was feeling back into the work and I feel that is evident. In that sense, it's very personal. Picasso said — and I think it's so right — that every painting has an element of self-portrait to it." "Silent Testimony" was first shown at the Ulster Museum in Belfast in 2015, then in Paris, Dublin Castle, Derry, UN headquarters in New York and the National Memorial Arboretum in Staffordshire, England, before returning to the Ulster Museum last year.
 The exhibition features  a seminal early work: Davidson's  massive portrait of his friend Peter Wilson, the singer Duke Special. Davidson said, "It's funny, I'd never been a fan of bigger than life-size head paintings. But painting Duke at the start, I needed to make him that size. And so, every painting I've done since has been that size. If you're painting something at life-size, it doesn't often have the opportunity to become something else in the process. Bigger than life-size can become landscape, big abstract passages of paint." 
Since 2010, he has focused on painting grand-scale portraits, which have won widespread recognition and many international awards. His success has permitted him to paint a number of large-scale portraits of celebrities from the worlds of politics, the arts and show business, among them former U.S. president Bill Clinton, Nobel Laureate Seamus Heaney, former First Minister Ian Paisley and pop singer Ed Sheeran, along with a Who's Who of Irish icons, including Heaney, Edna O'Brien, Kenneth Branagh, Liam Neeson and Christy Moore. In 2012, his show at Belfast's Lyric theatre became the backdrop for the first private handshake between the Queen and Martin McGuinness, after which Davidson talked the unlikely couple around his exhibition. 
On June 27, 2022, as reported last week, Davidson unveiled his portrait of former First Minister David Trimble at Queen's University at an event attended by the former politician and law lecturer, who died four weeks later.
A portrait of singer Glen Hansard for the cover of his 2012 album "Rhythm & Repose," in the Royal Academy in London caught the attention of the actor Brad Pitt, who commissioned his own portrait. Davidson's portrait of Pitt in Washington DC's Smithsonian Portrait Gallery prompted Time Magazine to commission a portrait of the then German chancellor Angela Merkel, which graced its Woman of the Year cover in 2015. The following year, Davidson received a  commission. from Co-Operation Ireland to paint the Queen, who unveiled her portrait at Crosby Hall in London.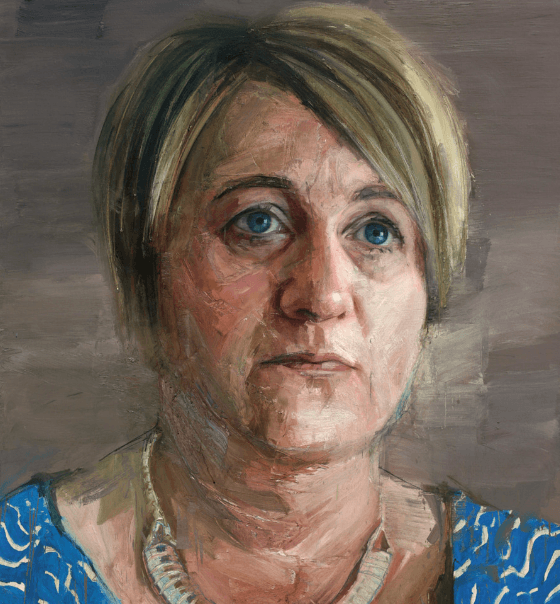 From "Silent Testimony."
Success has not made Davidson either complacent or one-dimensional. He could easily have spent his entire career painting portraits, but instead he continually challenges himself by painting different subjects  and exploring new techniques, rare for an artist who has found such great success in portraiture. In 2022, he won the RCSI Art Award  for "Glen," a sculpture of Glen Hansard, the songwriter, actor, vocalist, and guitarist for the Irish group the Frames.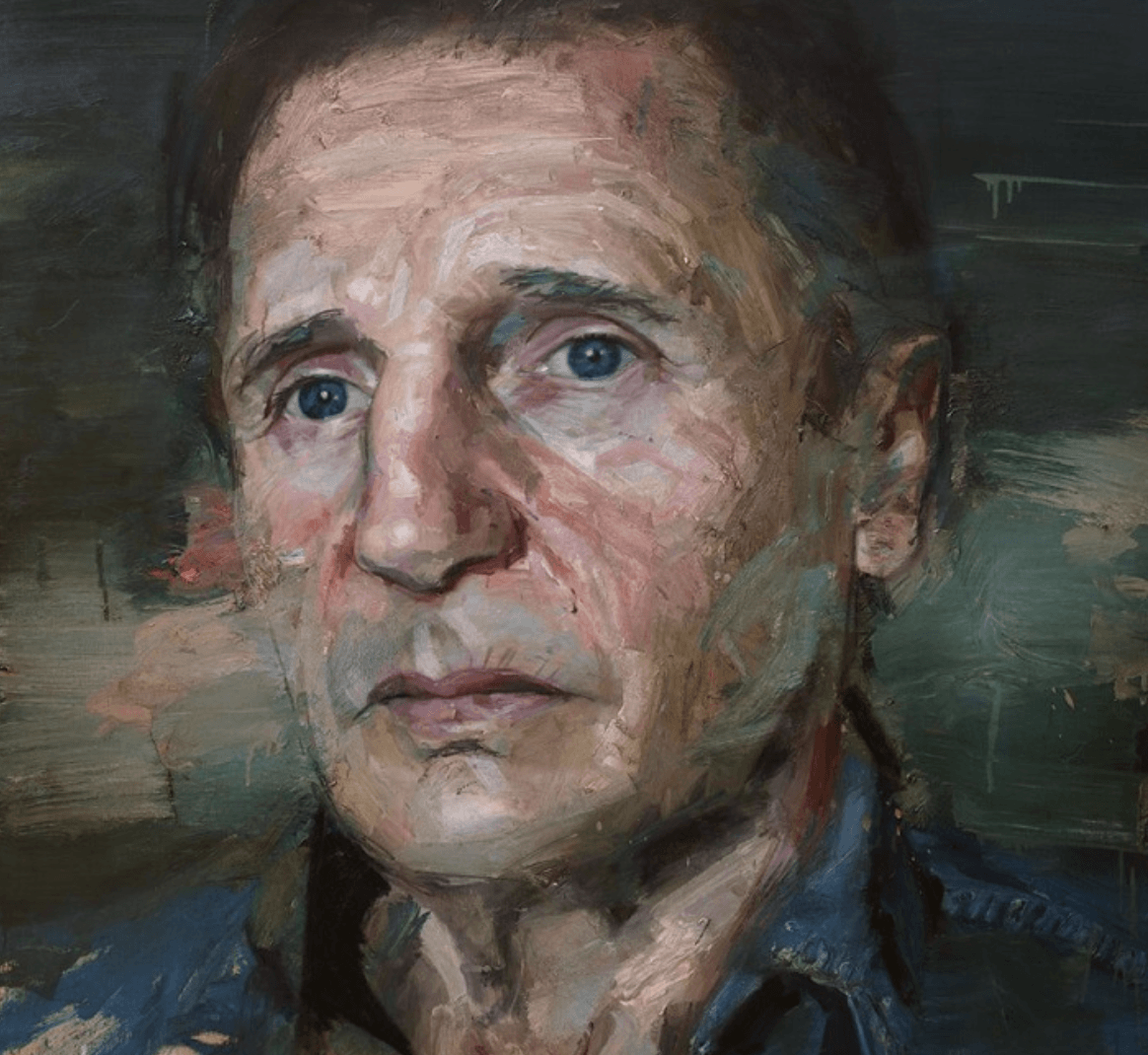 "Portrait of Liam Neeson."
Davidson believes he has never abandoned the childhood sense of wonder  that first led him to paint. Speaking about  a studio space located behind his home he said, "I'm at heart a wee boy just exploring. That's what this room is about. This is my space to play in. There's no point spending my life churning out the same stuff, no matter how good it is or how well people respond to it. That's what drives me to come in here. There's an element of chaos. It's kind of all in flux."  The show at The F.E. McWilliam Gallery & Studio wonderfully captures the creative chaos that is Davidson's art and makes the exhibition compelling viewing.