"David Trimble was a giant of politics, not only in Northern Ireland but nationally and internationally,"
So said Ray Hayden, a former special advisor to the Nobel laureate who died on July 25
"He stuck to his task with utter dedication and resisted whenever opponents tried to derail the process," he said. "He was a determined champion of peace and his legacy is there for all of us to see."
Hayden headed up Trimble's communications effort during the successful referendum in favor of the Good Friday Agreement in 1998 and his subsequent Assembly elections campaign.
He was recently in attendance at a bittersweet occasion that remembered those times — the Queen's University Belfast unveiling of a portrait of his former boss by Colin Davidson. It took place on June 27, exactly four weeks before Trimble's death.
"He looked frail, thin and unwell," Hayden said of the guest of honor, adding that there were video messages from former U.S. President Clinton, former British Prime Minister Tony Blair and current Prime Minister Boris Johnson.
"Former Taoiseach and friend of David's, Bertie Ahern, spoke warmly of the man," said Hayden, who has also served as a ministerial advisor to Reg Empey in the Northern Ireland government. "Bertie and 50 others later attended a private dinner in Riddell Hall, which is part of QUB.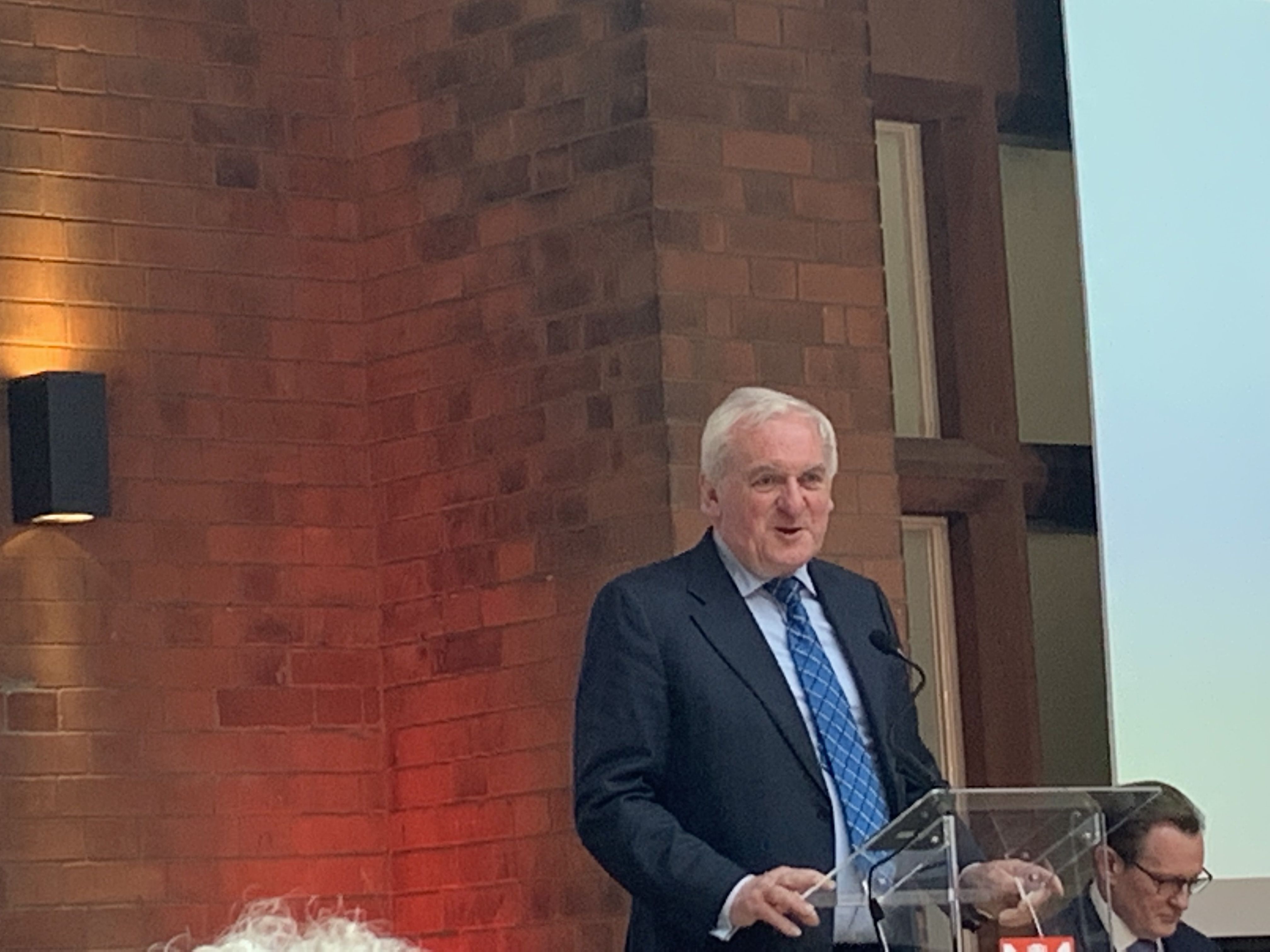 Former Taoiseach Bertie Ahern spoke warmly about his friend David Trimble at the June 27 event.
"The portrait by Colin Davidson was an amazing work and received widespread approval. Guests remarked particularly on the strength in his eyes, which the painter expertly captured,"  Hayden said. "Even though gravely ill, David's image managed to convey a resolute and determined countenance."
Earlier this year, Vice-Chancellor Ian Greer announced that a portrait of Trimble had been commissioned for the Great Hall, and it would appear beside that of the university's other Noble laureate, Seamus Heaney, as well as those of Mary McAleese, Baroness May Blood and Senator George Mitchell. 
Queen's announced, too, that it would honor its former law lecturer of 21 years with an annual Lord David Trimble lecture.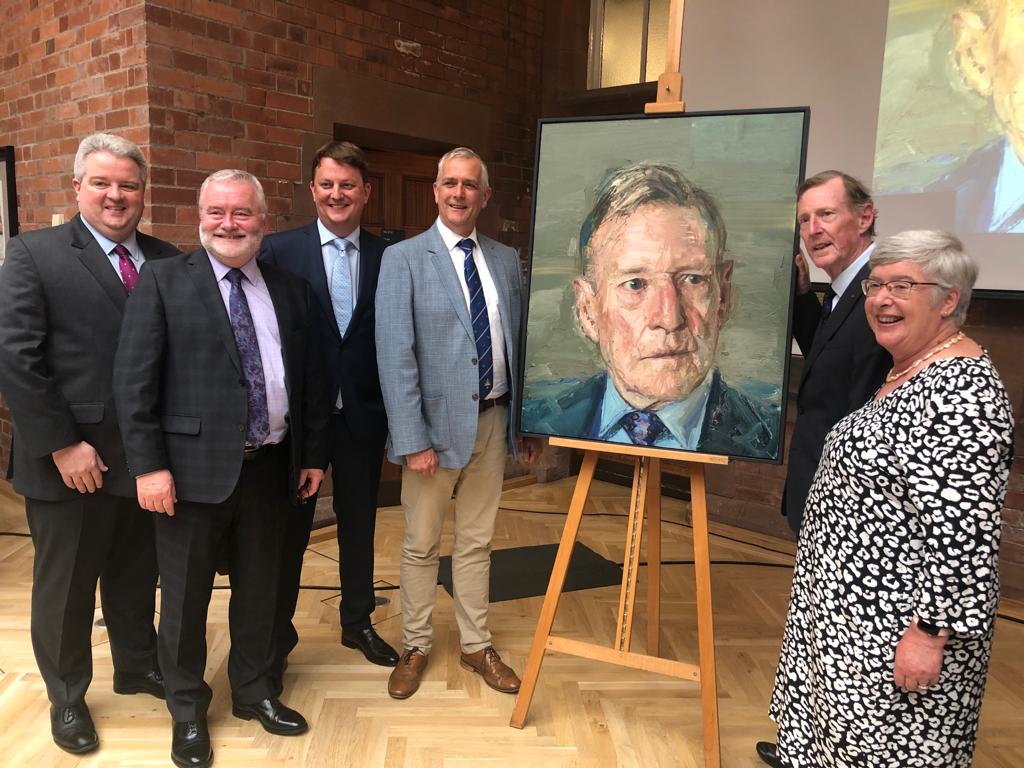 David Trimble, his wife Daphne and his former Special Advisors, including Ray Hayden, second from left, admire Colin Davidson's painting.
Interviewed at the event, Trimble said that almost 25 years on,"The Good Friday Agreement is something which everyone has been able to agree with. It doesn't mean they agree with everything, there are aspects which some people thought were a mistake, but the basic thing is that this was agreed. 
"That is there. People are actually not throwing the Agreement to pieces; their complaints are still based on the existence of the Agreement. They are not saying 'throw it out,' so that's the thing to bear in mind."
"After dinner," Hayden said, "one of David's Special Advisers, David Kerr, spoke of David's determination and leadership of the Ulster Unionist Party."
Added Hayden,  "He will go down in history as the finest leader Unionism ever had. My heartfelt sympathy goes to his wife, Lady Daphne, and children."
See also this Echo piece about a major retrospective of Colin Davidson's work currently showing at F.E. McWilliam Gallery and Studio, Banbridge, Co. Down