Meath 1-11; Dublin 0-12
Whatever about the Dublin men's team form all this year, the ladies went into this game looking the best team in the country as they sought a five in a row against a Meath side who had surprised everyone by climbing for the intermediate ranks last year to challenge for ultimate honors this campaign.
Meath were rank outsiders and if they had listened to the pre-match talk, they might have decided not to turn up for the game.
But their squad had a different view and manager Eamon Murray produced a side with such hunger that they devoured the oxygen around their Dublin counterparts. Such was the intensity they brought to Croke Park from the word go that opposing manager Mick Bohan generously conceded that he had never seen the like in all his time in charge.
Player of the match Vikki Wall led the defiance and her first solo run deep into the heart of the holders' defense drew a foul and a free which gave her side a lead they subsequently never surrendered.
They also gave new meaning to defensive set up by going all out against the Dublin kick-out. This rattled the blues so much that when Ciara Trant was unable to locate a free player outfield, her delivery was seized by Emma Duggan and the Leaving Cert student from this summer expertly lobbed the 'keeper to inject a great sense of confidence into the Royal challenge.
Those two early statements had Dublin gasping to comprehend what to do in the face of such constant pressure and attrition. Four points to the good, you sensed Meath had already a winning margin, mindful that Dublin had some serious stars such as Hannah Tyrrell and  Sinéad Goldrick opening up and creating and scoring in their forward division.
This time though, they could not compete with Meath's will to win and higher energy levels all across the park. The champions were five points behind by half-time and while they won the second half six points to three, by then they were the fly in the Meath web and were powerless to get out of it.
So almost against all logic, nine months after claiming the intermediate title, Meath are now senior champions.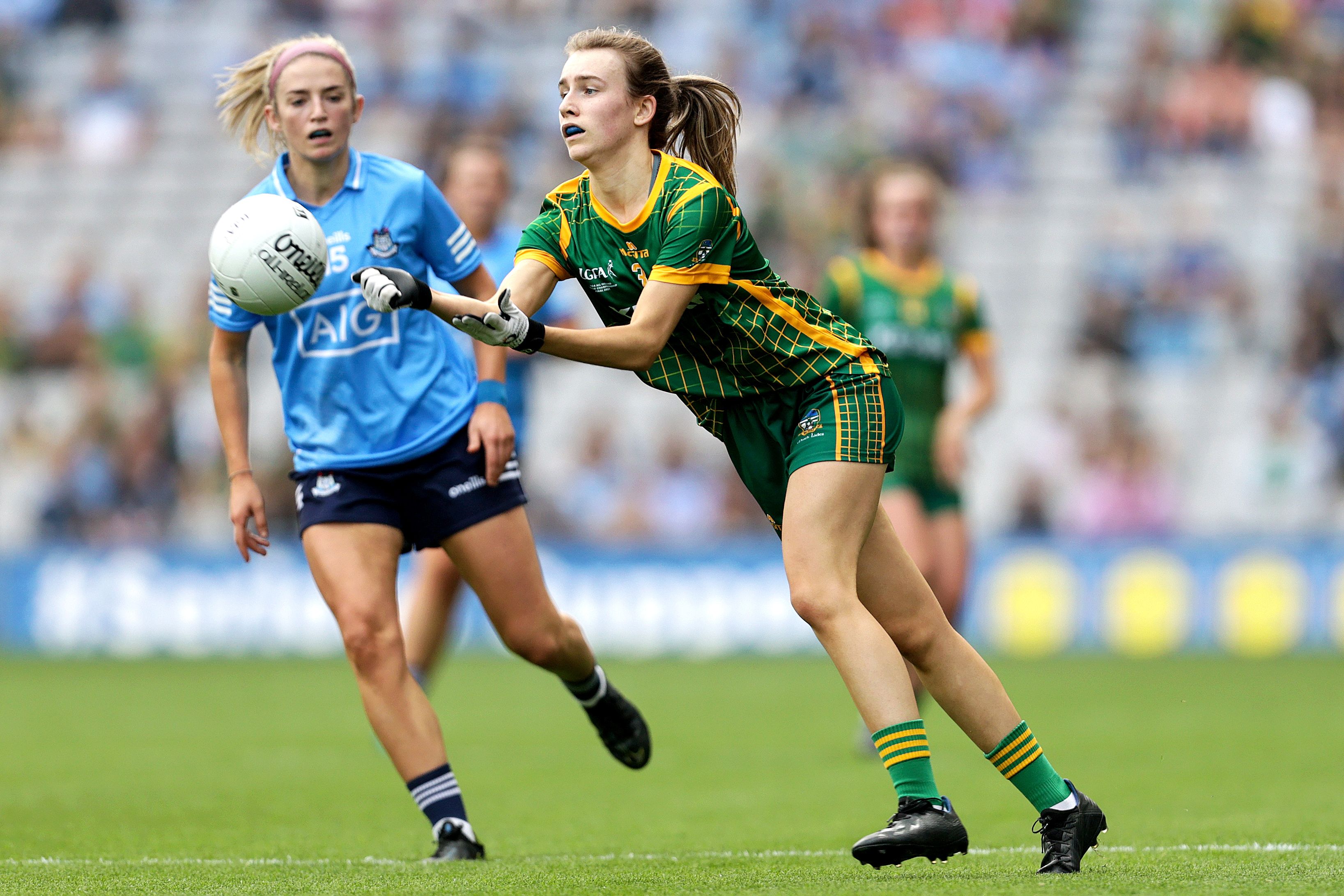 Meath's Mary Kate Lynch.
INPHO/LASZLO GECZO
Eamonn Murray must take an awful lot of the credit for the way he prepared his side both mentally and physically to out run and out think the Dubs, who had beaten all-comers in the previous five seasons.
Speaking afterwards he said: "We never questioned for one minute that they'd win, and I mean that. We knew this year that we'd win every game and we didn't worry about All-Irelands - we didn't think about them. Even the league final against Kerry we approached in the same way as today's game.
"We beat them at their own game and that's no harm. These girls have come on a long way with their physical strength, and we needed all that strength today to beat them. They're a class outfit, an unbelievable team. To be the best you have to beat the best and we certainly did that today."
Mick Bohan  was fulsome in his praise for the winners. "I have to take my hat off to Meath, I thought they were outstanding. I don't know if I saw that coming - maybe we didn't. I couldn't get over their intensity. It's the first team we've seen it up front. They certainly weren't overawed by the occasion and that's a testament to them and the work that's been done with them. It seemed to be a ferocious battle.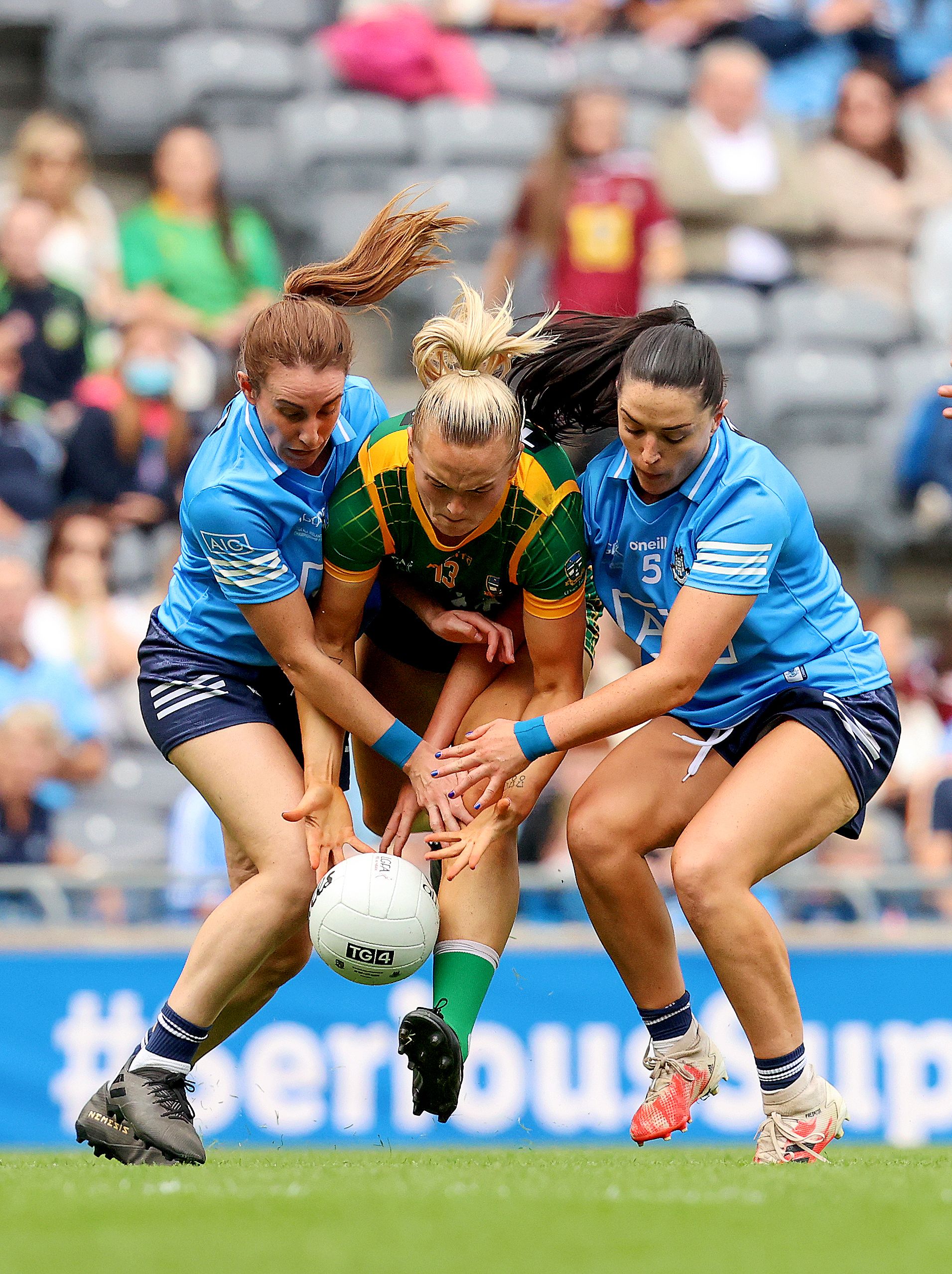 Meath's Vikki Wall is tackled by Siobhan McGrath and Sinead Goldrick of Dublin.
INPHO/BRYAN KEANE
"From my end I've been terribly lucky to have been involved with our group and the quality of people that we deal with and that doesn't change, regardless of whether we win or lose. This sport is so much more than a game and we're obviously hugely proud to represent the city in this capacity. Certainly over the last period of time, since I've been in charge, I think they've done a phenomenal job representing our city. I can say this with hand on heart that whatever we, as a management team, have given them in support they've given us way more."
Meath: M McGuirk; E Troy (0-2), M K Lynch, K Newe; A Leahy, A Cleary, S Ennis (c); O Lally, M O'Shaughnessy; O Byrne, S Grimes (0-3, 0-2f)), N O'Sullivan (0-3); V Wall, E Duggan (1-2), B Lynch (0-1) Subs: M Thynne for Lycnh (46), N Gallogly for Leahy (46), E White for O'Sullivan (59), S Melia for Lally (60)
Dublin: C Trant; M Byrne (0-1), N Collins, L Caffrey; S McGrath, S Goldrick, O Nolan; J  Dunne, L Magee; H Tyrrell (0-7, 0-2f)), L Davey (0-1), C Rowe (0-1); S Aherne (c) (0-1), N  Hetherton, S Killeen Subs: C O'Connor for Hetherton (28), O Carey for McGrath (31), N McEvoy for Killeen (31), K Sullivan (0-1) for Nolan (46), A Kane for Davey (55)