Mayo's Aidan O'Shea celebrates with Jordan Flynn after the game at Croke Park, Dublin.
INPHO/LASZLO GECZO
Mayo 0-17; Dublin 0-14
If ever a team deserved to the the architect of Dublin's downfall after their record run to six All Ireland titles in a row, then surely justice was done when Mayo became that county on Saturday last after extra time in the All Ireland semi-final at Croke Park.
No one saw it coming – the experts told us it was over at half-time when the champions led by 0-10 to 0-4 and seemed to be toying with their opponents.
Others said the seven up of championship victories was inevitable and that Mayo were merely providing a good workout for the likely joust with Kerry in the final.
Oh, you who assume too much too quickly! Well, you certainly got your answer in no uncertain terms this weekend, and while we are at it… don't write off Tyrone just because Kerry hit them for six in a league match earlier this summer.
And so to one of the few people who believed that even at half-time, all Mayo had to do was tweak a few things in their play and they could give Dublin a right old rattle, manager James Horan has proven himself a much underrated supremo, particularly in his second coming.
Unusually for him, he was more upset at the tackle that has ruled Eoghan McLaughlin out of the All Ireland final following surgery on his broken jaw after John Small's high second-half tackle.
Inexplicably, referee Conor Lane didn't even award a free – a blot on his copybook and one that will surely rule him out of officiating at big matches for the forseeable future.
Referring to the incident, he said: "I just thought the Eoghan McLaughlin one in particular, I was pretty close to it, I thought it was very dangerous. The way Eoghan fell, you know by the way a guy falls that they're in bother and the play just sort of went on. I was annoyed about that, yeah."
He was far more sanguine when it came to assessing the way the game itself unfolded which saw his team six points in arrears at the interval.
"We were probably tentative in the first 15 to 20 minutes. We got a bit caught in that time. Even with that, we had three or four very bad wides and we had a free that we missed. It could have been 0-10 to 0-7, even though we played very poorly but our energy wasn't what it usually is. We managed to lift the energy a bit for the second half and things take off from there, usually."
Dublin manager Dessie Farrell's view of proceedings really reflected something that had bothered him all year – he saw the very same failings in Saturday's All-Ireland semi-final as having been there all year. Yet he accepted it was "hard to diagnose" what had gone wrong with his squad this season.
It would be easy to say Dublin ran out of road but the reality is they were supreme on a long road that saw them go unbeaten through 45 championship games and they just ran out of petrol on their journey to a place called "Seven Up."
Farrell was responsible for guiding them to the last of their six in a row and it was arguably inevitable that the momentum would at some stage fail the big Dublin juggernaut on the All Ireland highway.
Referring to how they fell off after leading by 0-10 to 0-4 at the break, he said: "It was obvious we were very flat in the second half. We knew that Mayo - they had done it in the Connacht final as well - were going to come.We just found it difficult to get out past their high press and struggled to build any sort of momentum.
"A couple of mistakes and a couple of bad decisions made...I thought at one stage if we could get a score, it would ease that pressure and we could ride out the storm. We never could get that additional score that was going to put that safe distance between us. You could see it building then. It was very hard to disrupt their momentum, which they obviously generated significantly - and got the draw and then extra-time."
It not like Dublin's famed forward line to dry up in the manner than happened on the changeover – they only scored three second-half points, but none in the third quarter.
By getting to extra time, you felt that they would get their bandwagon rolling again, but aside from scoring the first (and only) score of that add-on game through Sean Bugler, they failed to raise a gallop.
Then when Colm Basquel saw black in the first period of extra-time, it was another serious problem for a side that was already finding it hard to cope with the Mayo physicality and sheer youthful athleticism.
Said Farrell: "The black card, really, when legs are tired and a lot of fatigue in the system, the black card at that stage was a killer. And it was very, very difficult for us to get the ball back. A black card at any stage is problematic, the way teams are capable of keeping possession, but particularly in extra-time, when there's a lot of tired bodies and tired limbs. It was exceptionally difficult. That probably spelt the death knell at that stage," he added.
As he said, the signs were there all summer as they huffed and puffed their way out of Leinster rather than put all pretenders to the sword. Meath thought they had them before Dublin pulled away at the end while Kildare were very competitive for long stages before their own failing came back to bury them in the end.
"It's hard to diagnose. It revolves around the lack of consistency across the lack of quarters that was hurting us and it manifested again," he stressed.
While they fell asunder in the second half, at the same time, things started to come together for Mayo with goalkeeper Robbie Hennelly landed  his first scores of the campaign starting with a 45, then a free, and then more memorably a second 45, at the second time of asking.
Probably they biggest single decision made by Horan was his substittution of skipper and talisman Aidan O'Shea midway through the second half. While it was a surprise move, it was the right move because subliminally it told the younger players that there was no hiding place and it was their time to step up.
And step up, they did. Corner forward Tommy Conroy threw off the shackles and fears that had stopped him playing his normal game either in last December's All Ireland final or for much of this match.
Now he was a hungry tiger running at the jaded Dublin defense and causing all sorts of panic… his incredible two points in this period lifted the whole green and red vessel. And if he was a handful in one corner, young Ryan O'Donoghue was an armful in the other.
He too took on the responsibility and kicked some majestic points from distance to turn the tide in the Connacht men's favor.
But it wasn't just this pair – there was a raising of performance all over the pitch as the men from the west went all in for the cause. Sub Darren Coen curled over a brilliant point  from an awkward angle but the important message from that score was the Mayo players were now backing themselves.
When Ryan O'Donoghue stuck over his fifth of the day to put a goal between the sides, the great Mayo support base rose as one to greet this unlikeliest of victories against the odds. There was no way back for Dublin – the killer goal they sought would not be pulled out of the hat for once.
All this achieved with their true scoring leader Cillian O'Connor and with Oisin Mullin a late withdrawal because of a calf injury.
And so as we salute and indeed thank Dublin for their unique contribution to Gaelic football, we also welcome Mayo into their 11th decider since 1989. Can they now overcome Kerry or Tyrone and bridge a 70-year gap all the way back to Sean Flanagan's double winners of '50-'51.
Dublin: E Comerford; M Fitzsimons, D Byrne, J Cooper; J McCarthy, J Small, E Murchan; B Fenton, B Howard; P Small (0-2), C Kilkenny (0-3, 0-1m), N Scully; D Rock (0-7, 0-2f), C O'Callaghan (0-1), C Costello Subs: C Basquel for Costello (49), T Lahiff for Cooper (51), S Bugler (0-1) for Scully (61), S MacMahon for Murchan (67), P MacMahon for MacMahon (76), R McDaid for Small (81), A Byrne for Howard (82), Costello for P Small (85)
Mayo: R Hennelly (0-03f); P O'Hora, L Keegan, M Plunkett; P Durcan, S Coen, E McLaughlin; M Ruane (0-1), C Loftus (0-1); D O'Connor, K McLoughlin (0-1), D McHale; T Conroy (0-3), A O'Shea, R O'Donoghue (0-5,  0-2f,  0-1m) Subs: E Hession for McHale (27), B Walsh for Plunkett (49) J Carr (0-1) for O'Shea (49), J Flynn for McLaughlin (57), C O'Shea for Loftus (64) D Coen (0-1) for Coen (75), Loftus for McLoughlin (81) B Harrison for O'Connor (87), A O'Shea for Coen (90)
Ref: C Lane (Cork).
Tyrone get extra week 
After a brief fear that there would be no second All Ireland football semi-final, the GAA has come up with a solution to Tyrone's Covid outbreak by pushing back their game with Kerry to Saturday, August 28.
That provides a win, win situation as it means Tyrone can compete at the cutting end of the competition and as importantly that Kerry will not now have to face a situation of playing in an All Ireland final with a five week lay-off and no match after the Munster final.
Both those situations would have damaged the race for Sam in most people's minds and President Larry McCarthy is to be commended for finding a solution to a difficult problem.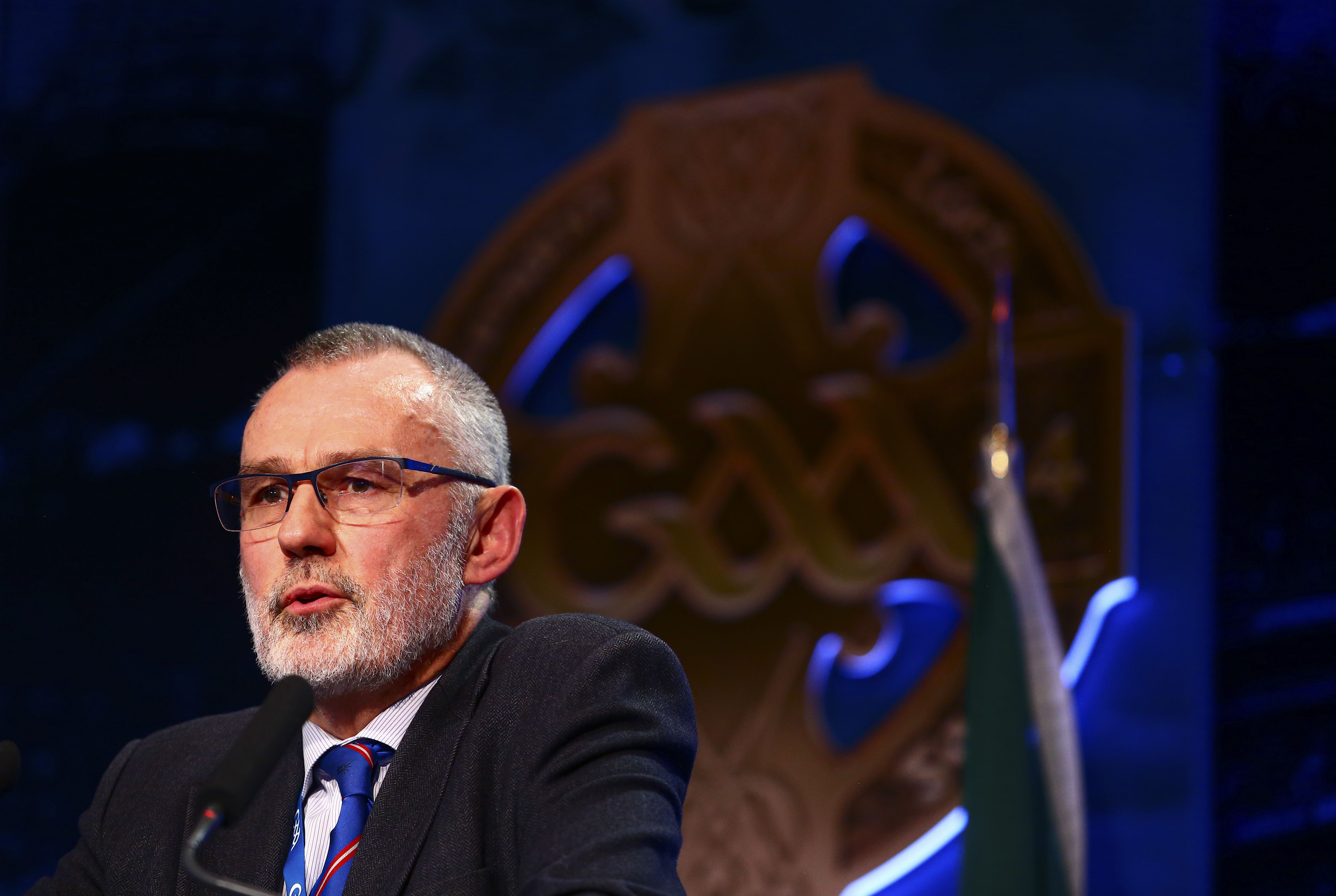 GAA President Larry McCarthy.  INPHO/KEN SUTTON 
Hopefully now it will come to pass that Tyrone players, who suffered at the hands of the virus, will get back to full fitness for the game against the Kingdom.
"The GAA would like to acknowledge the co-operation of all of the counties still involved in the championship and it looks forward to working with the government to finalise these arrangements," a statement read.
Tyrone with 21 players affected in one way or another  had decided to withdraw from the championship on Saturday but following further medical reports, the GAA arranged for a later date on which the game could be played.
Sheedy calls it a day
The second coming of Liam Sheedy and Tipperary manager is over as he and his full management team of Darragh Egan, Eamon O'Shea, Tommy Dunne and Eoin Kelly also informing the county board that they are stepping down en bloc.
Th former bank official can be happy that in both his stints at the helm, as he brought home the Liam MacCarthy cup, the latest two years ago when his side hammered Kilkenny by 14 points after Richie Hogan was sent off in the first half.
Hopes that he would be able to deliver back-to-back victories didn't materialise as his side failed to get beyond the quarter-finals stages in 2020 or again this campaign.
Tipperary County Board acknowledged his contribution stating: "Liam leaves the position today having brought great success to the county, guiding a great group of players to All-Ireland success in 2019. We wish him well in his retirement and we thank him once again for all he has done for Tipperary GAA and in particular Tipperary hurling."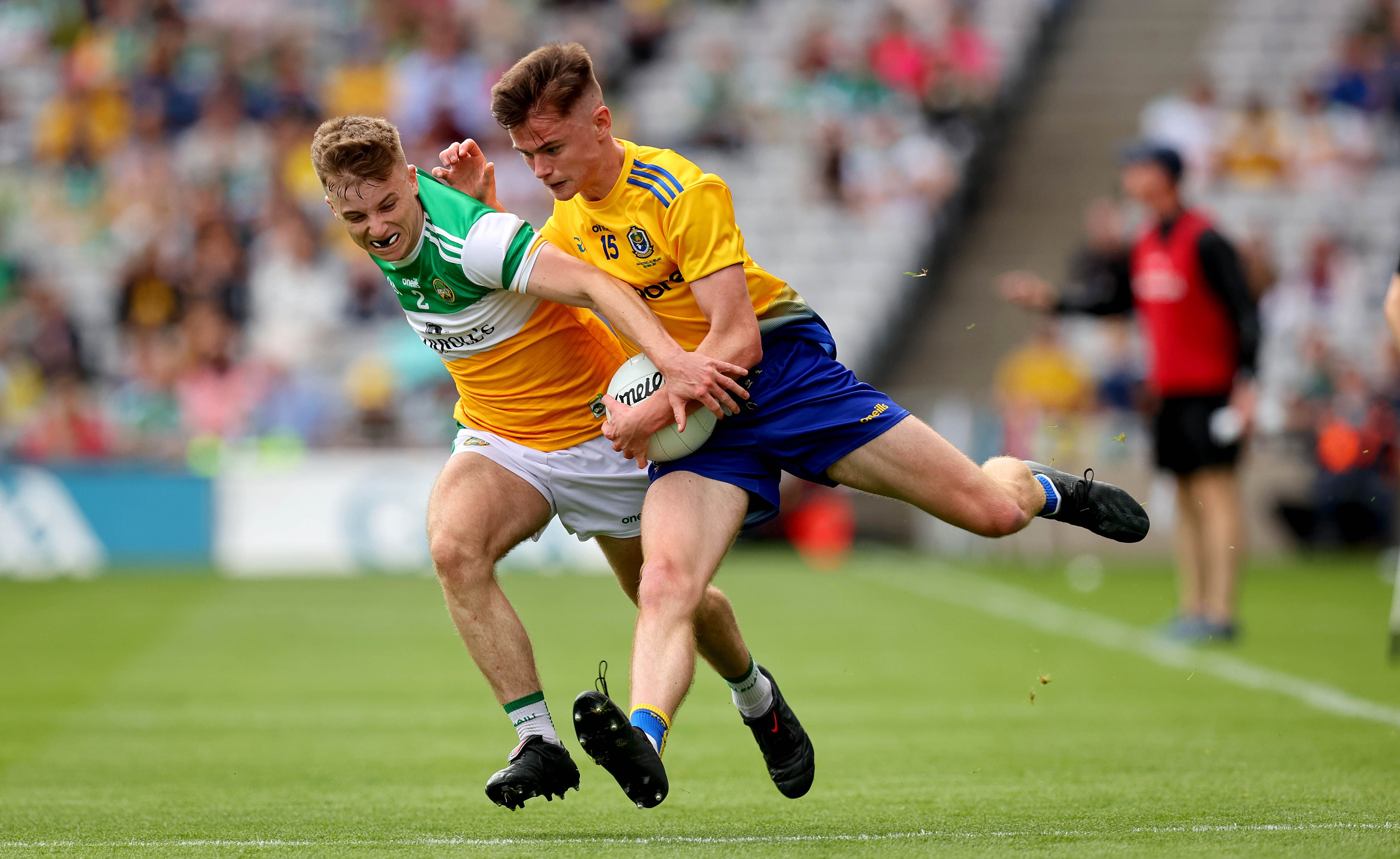 Offaly's Aaron Brazil and Darragh Heneghan of Roscommon GAA All-Ireland Under 20 Football Championship Final at Croke Park, Dublin. INPHO/RYAN BYRNE 
Faithful resurrection to take time
Offaly 1-14; Roscommon 1-11
The Faithful are back – but don't expect miracles immediately following the U-20s All Ireland victory over Roscommon in Croke Park on Sunday.
That's the advice of U-20 manager Declan Kelly who was however full of praise for how his charges had played against the Connacht champions.
"My main role has always been to get players through to the senior squad. Year on year we are getting three or four through. The expectation is there that these players will progress on but it will take time.
"It won't be until they hit 22 or 23 that you will see players establish themselves. The players that are called in need to be patient and that's where the challenges will be. We have lads that are 19 or 20 and they've now won an All-Ireland, and how they handle it will also be a challenge."
This was a great occasion for Offaly fans starved of success with a number of the players leading while younger colleagues followed them through the portals to All Ireland success.
Leading by two points at half-time, the game was still in the melting pot. However Offaly found a purple patch in the third quarter where they hit five points on the trot. Then when Jack Bryant crashed home an unstoppable shot following a great run at the heart of the defense from sub Keith O'Neill, they looked home and hosed.
However, the Rossies refused to roll over and mounted a grandstand finish in which they brought the margin on the scoreboard back to three points. Try as they might though, they were unable to find the goal that would have forced the game into extra-time.
Kelly praised his opponents for their never-say-die attitude: "Roscommon, in fairness in every game this year have finished very well. They got a goal and all of a sudden it was back in the melting pot again and we were hanging on a little bit at the end. We had enough done on the scoreboard to see it out.
"The forwards are in there to score and once the backs are doing their job it's up to the forwards to score. We certainly found our shooting boots in that third quarter and tagged on the scores that ultimately made the difference," he stressed.