Irish Cream Liqueurs, Part Two
You don't have to be Irish to drink Irish cream liqueur, but if you like the flavors of whiskey, cream, coffee, cocoa and vanilla, chances are you're already a fan! Here's a look at some of the newest brands.
Saint Patrick's Irish Cream comes from a distillery of the same name in County Cork that also makes potato vodka, elderflower and sloe gin, and cask strength whiskeys. Managing Director Cyril Walsh told me he moved into the Irish cream market when his parents, both Irish cream lovers, told him there wasn't enough whisky flavor in any of the other brands available. 
"I had to correct that injustice," he said. "From the outset, we were determined to use only our own mature Irish whiskey as the alcohol base instead of the Industry standard neutral spirit," a factor that he says contributes to Saint Patrick's unique flavor. "Another key point of difference," according to Walsh, "is our choice of full fat butter cream that's locally sourced from the Golden Vale, Ireland's very best pastures. Our unique approach has worked, as we won a Gold Medal in 2019 for our Irish cream at Blas na hEireann, (an organization that celebrates the best in the Irish food and beverage industry). 
As for Mr. Walsh's drinking preference, he said, "Personally, I sip my Irish cream over ice, but family members add others spirits as mixers! I think adding a spoonful of Irish cream over a Danish pastry is heaven on earth, and when it comes to dessert time, the possibilities are endless. Whenever a recipe calls for fresh cream, just switch out for cream liqueur. Life is worth living."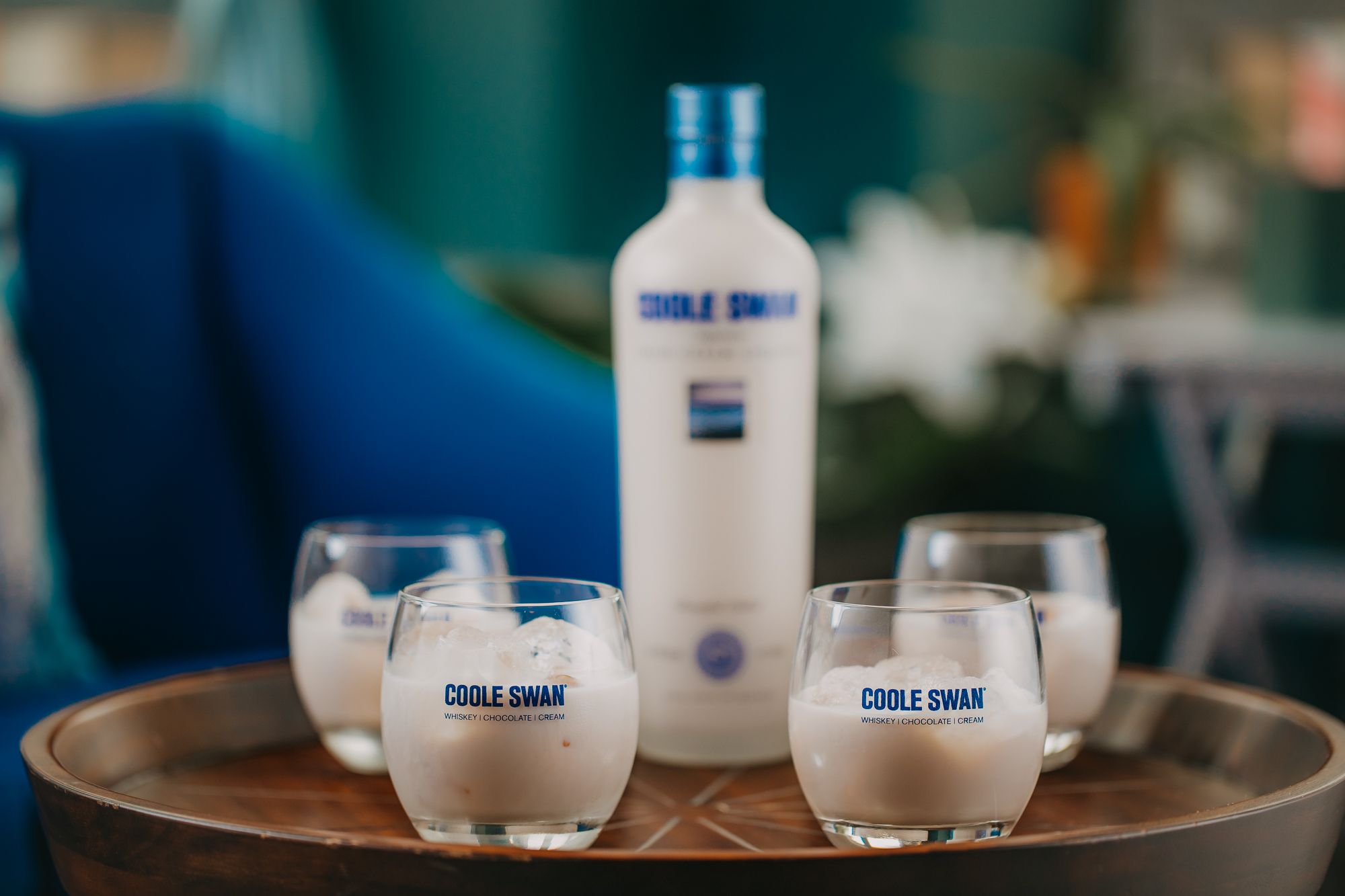 Whiskey from its own distilleries is, undoubtedly, a bonus when it comes to sourcing the finest ingredients for Irish creams, but cream runs a close second. For Five Farms Single Batch Irish Cream Liqueur, though, cream might actually be even more important!  For that reason, the newest brand in marketplace (it launched in 2018) uses milk from herds of Jersey Friesians and Holstein Friesians from five family farms located near the villages of Butlerstown, Timoleague, Ballinspittle and Kilbrittain in West Cork. After the milk is collected and delivered to the local dairy co-op. it's pumped into a silo to set it aside from the batches coming in from the hundreds of other farms in the co-op. This milk is then separated into cream, and within 48 hours of collection it's taken for blending with Midleton premium, triple-distilled Irish whiskey, a process that results in rich flavors of caramel, espresso and a hint of coconut. Five Farms' unique wide-mouth bottle, inspired by retro milk containers of the early 1900s, comes with a swing top closure and embossed detailing, adding to the uniqueness of this brand. Five Farms, which has a ten percent whiskey content as opposed to the usual one percent content in most other Irish creams, was awarded the Chairman's Trophy at the 2018 Ultimate Spirits Challenge and scored a record 97/100 in the 2018 World Spirits Challenge. Some 
 The only Irish cream brand that has a true chocolate flavor is Coole Swan, a luxury cream made with single malt Irish whiskey, cream and Belgian white chocolate. The name comes from one of William Butler Yeats' most well-known poems "The Wild Swans at Coole." with the graceful shape and color of the bottle inspired by the swans there. Since it was established in 2010, after reportedly 230 attempts "to get it right," Coole Swan has steadily grown in the world of international spirits. In 2020, Wine Enthusiast Magazine listed Coole Swan among the "Top 100 Spirits Brands" in the world and the "Number One" cream liqueur. It's made in County Meath and bottled in County Cavan. Because of its unique chocolate content, Coole Swan adds a beautiful flavor to drinks as well as desserts. 
Not all Irish creams are award-winners, though, but most are good choices for mixed drinks and come with Irish names like Molly, Ryan, Kavanagh, Calhan, O'Mara, Sheelin, Fennelly, Brady and Kirkland — yes, even Costco has its own brand.  
DETAILS
The price for a 750ml bottle of Irish cream ranges from $12 to $40, so there's one for every budget. Baileys, Five Farms, The Whistler and Coole Swan are the most expensive, coming in at around $30. 
Irish cream liqueurs have a shelf life of about two years from the time they're bottled and last only a few months after they're opened; some specify a shorter time; most suggest refrigeration. Check the "best before" date on the brand you buy. 
Not all brands are available in all states; some are specially bottled for large wine and spirits chain stores or supermarket chains. 
Most brands are between 15% and 17% alcohol by volume; 30 to 34 proof.

COOLE SWAN 1923
MAKES 1 DRINK
 This cocktail is a tribute to Irish literary giant William Butler Yeats, the first Irish person to be awarded the Nobel Prize for literature in 1923. 
2 1/2 ounce Coole Swan Irish Cream
1 ounce Peach and Orange infused vodka, such as Ketel One
1/2 ounce crème de menthe
Mint leaves, for garnish
1. Fill a martini glass with ice cubes.
2. In a shaker filled with ice, combine Coole Swan, vodka and crème de menthe; cover and shake. 
3.Strain into glass; garnish with mint.
FIVE FARMS MOCHA
MAKES 1 DRINK
5 ounces milk
2 tablespoons cocoa powder
2 ounces Five Farms Irish Cream Liqueur
1 ounce espresso
Whipped cream, for topping
Chocolate syrup, for topping
1. In a small saucepan heat milk; pour into a heatproof glass. 
2. Stir in cocoa powder, Five Farms and espresso. 
3. Top with whipped cream and drizzle with chocolate syrup.
COOLE SWAN WHITE CHOCOLATE CHEESECAKE
SERVES 12 TO 14 
 For chocolate lovers who are really chocolate lovers, this triple threat dessert combines white-chocolate flavored Coole Swan with melted white chocolate in the cheesecake and tops it with white chocolate sauce. Indulge as is, or add fresh berries if you wish.
For the crust
2 cups digestive biscuits crumbs, such as McVitie's brand
2 ounces unsalted butter, melted 
2 tablespoons light brown sugar
For the filling
6 ounces white chocolate
2 tablespoons heavy whipping) cream
3 (8-ounce) packages cream cheese, at room temperature
1 cup sugar
4 large eggs, at room temperature
1/2 cup Coole Swan liqueur
For the sauce
2/3 cup heavy (whipping) cream
4 ounces butter
8 ounces white chocolate
1. Make crust. Preheat oven to 375°F. Coat bottom and sides of a 9-inch springform pan with butter flavored nonstick cooking spray. Wrap pan with a double layer of aluminum foil.
2. In a medium bowl, combine crumbs, butter and brown sugar. Press mixture evenly onto bottom and 1 inch up sides of prepared pan; bake for 8 to 10 minutes, or until lightly browned. Remove from oven; let cool on wire rack. Reduce oven temperature to 325°F. 
3. Make filling. In a glass bowl, microwave chocolate and cream on HIGH for 1 minute; stir once. Return to microwave for 30-second intervals, stirring in between, until chocolate is completely melted and mixture is smooth. Let cool for about 5 minutes. 
4. In the bowl of a stand mixer fitted with a paddle attachment (or with a hand mixer), beat cream cheese and sugar on medium speed until smooth, stopping to scrape down sides. Beat in eggs, one at a time, beating well after each addition. Gradually beat in chocolate mixture and Coole Swan, beating just until blended (do not overbeat). Pour filling over crust; place pan on baking sheet.
5. Bake for 45 to 50 minutes, or until center is almost set and firm to touch. Remove from oven; let cool on a wire rack for 10 minutes. Run a knife around sides of pan; release sides. Cover with plastic wrap and refrigerate for at least 3 hours or overnight.
6. Make sauce. In a small saucepan, bring cream and butter to a gentle boil. Remove from heat; stir in white chocolate until melted and smooth. Spoon over slices of cheesecake.
 Margaret Johnson's "Recipes" page expands this year to "Ireland Hopping: Adventures in Food, Drink, and Travel." For further details on her work, or to order a signed cookbook, visit irishcook.com