In the media thingy this week are two newly-remastered reissues, Máire Ní Chathasaigh's "The New-Strung Harp" (1985) and Mick Moloney's "We Have Met Together" (1973).  Each tells a story about a musician at different stages in their creative development, both reissues enhance and present their source material wonderfully and both will be of intense interest to traditional music fans. 
 "The New-Strung Harp" was a game-changer in the world of harp music.  Prior to its release, the harp's role in Irish music was conservative and essentially constrained to a particular range of repertory and style.  This, until Ní Chathasaigh came along and redefined what the instrument could do, changing the game.
 A first-class musician, Ní Chathasaigh stands sui generis––one of a kind!––in the world of harp playing.  From Bandon, Co. Cork, she grew up in a world of music, taking up the instrument when she was 11 and developing a technique suited to playing dance music, which was not the convention for harpists at the time.  It was a truly groundbreaking approach.  In her early career, she accrued all sorts of well-deserved awards and accolades at the Oireachtas, the Fleadh Cheoil na hÉireann and the Killarney Pan-Celtic Festival.  After many teaching accolades and acclaimed albums (including this one), she was awarded the Gradam for "Traditional Musician of the Year" in 2001.  And she continues to be an important musician, teaching, recording, and touring frequently.  She's an absolute legend.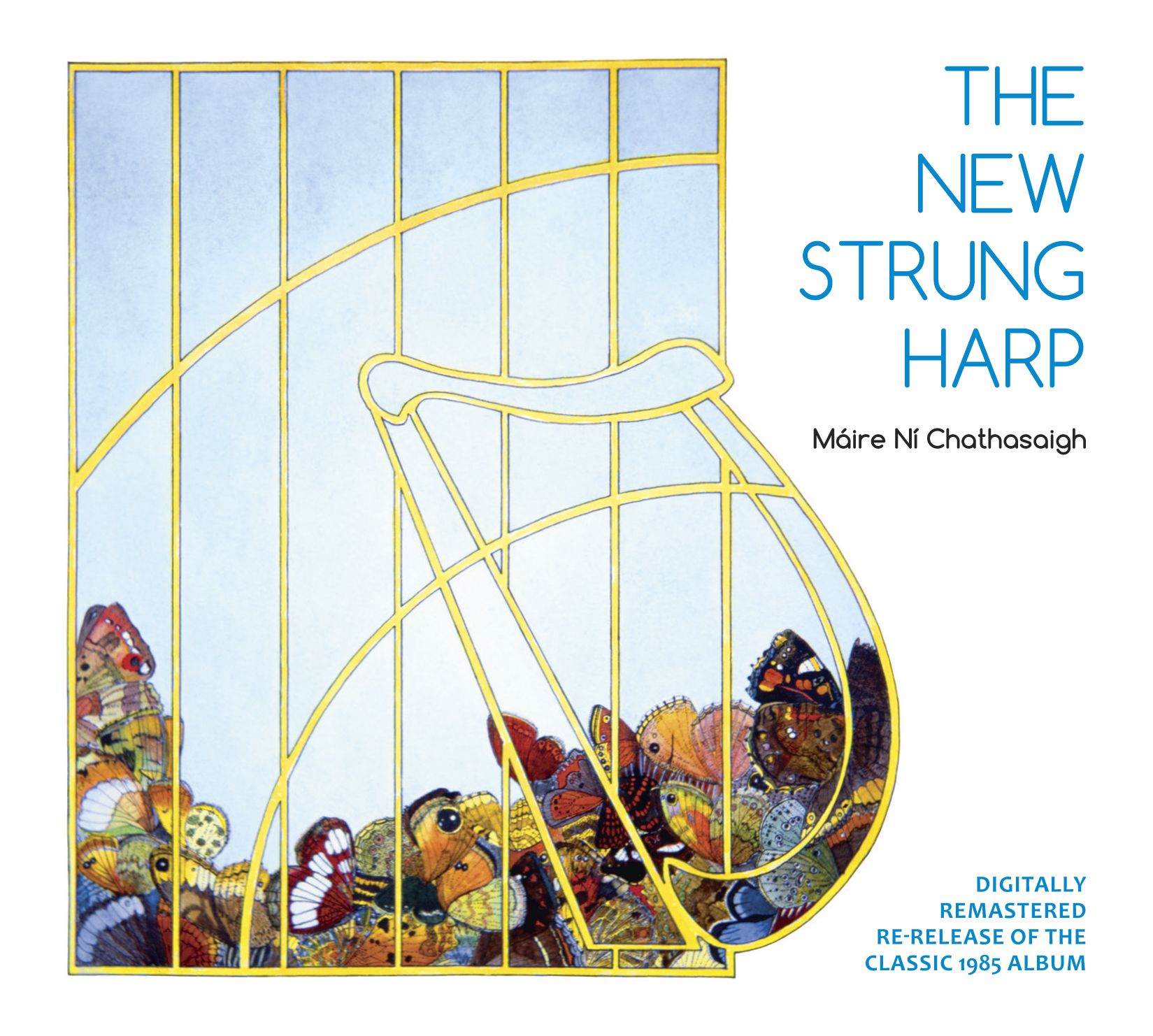 An excellent candidate for reissue, "The New-Strung Harp" was the first harp album that featured traditional Irish dance music and truly represented something new for the instrument.  The music here is as sublime now as it was when it was released.  It includes Carolan & Bunting tunes (as might be expected), songs (where she's joined by her siblings Nollaig, Mairéad, and Greg in outstanding fashion), and a group of dance tunes that are beautifully rendered.  The remaster really makes the music sound fabulous.  The depth of Ní Chathasaigh's interpretation of "Carolan's Farewell to Music" jumps out of the speakers and dance tune tracks like "Humours of Ballyloughlin" and "The Gander in the Pratie Hole / Queen of the Rushes" sound amazing. 
 "The New-Strung Harp" is a wonderful album and this superbly done re-release will surely bring refreshed and well-deserved attention to this important album.  Traditional music fans will love it and should be considered essential listening if you're a harp player or a fan of harp music!  To learn more and purchase, visit here.  Highly recommended!
 Mick Moloney's "We Have Met Together" is a different, but no less desirable, sort of album.  Like Ní Chathasaigh, Moloney was a first-class musician and teacher, a brilliant producer and an absolute legend in the field.  As has been said many times since his death last year, no one individual—save for the great Francis O'Neill––has had as substantive an effect on Irish music in America.  And although this album is utterly fascinating, I find it a true portrait of an artist in a transitional stage of his development.  
 What I think is most interesting about "We Have Met Together" is how easily one can hear the scope of Moloney's artistic vision and really, the trajectory that he would follow for the rest of his life.  The "bones" for basically all his future work are lying throughout this album, plain as day.
 For example, you can hear what I mean in his banjo work.  Although his technique would improve over the next decade, the ideas and daring in his playing were already in place and just about ready to break out. 
 "Belfast Town" is another excellent and perhaps even more illustrative example.  It's a song about inequality and injustice and a rather nice one at that.  But if you're familiar with Moloney's more recent work, you'll find yourself immediately transported to his take on Harrigan's "McNally's Row of Flats," a far more sophisticated artistic effort, when he sings of things like the effects of "men without compunction" and the "many a filthy tenement in districts fallen down." 
 Compare Moloney's later work to "Farewell to the Rhondda" a song about the 1972 Welsh miner's strike.  The way its constructed and phrased suggests that it easily could have been written by Con Carbon, one of Moloney's favorites who was known as the "Minstrel of the Mine Patch," in Pennsylvania in the 1890s. What I love about these two tracks is how well they express the hardship of the Irish experience and how strongly their subject matters that represent Ireland resonate with and reinforces the cultural lessons about the Irish in America that Moloney taught over decades.
 Then there's the anti-war song "The Fields of Vietnam." Written by Ewen MacColl, it's bracing lyrically and makes an important point about liberty and humanity that was surely needed when it was released.  But in hindsight, it suggests that the seed of Moloney's more recent humanitarian work in Vietnam and Thailand and his affinity for southeast Asia had already started to germinate as far back as 1973 and would only really began to reach maturity shortly before he died.
 Indeed, there is a lot here that lays the early groundwork for the artist Moloney would become.  But at the same time, there are elements here that I think he would have eventually distanced himself from.  For example, the synthesizer on "The Fields of Vietnam" sounds dated.  (But would Lankum use the same sound to different effect on one of their tracks?  Perhaps!)  Further, "The Invisible Man" is a song that seems to represent a mishmash of influences.  Is there a Beatles thing going on?  A Pentangle approach to arranging?  Who's to say, but these elements combined with the echo effect on words like "disappear" and "existing" definitely feels strange in light of his later work.
 "Vi Skal Ikkje Sova Burt Sumar Natta" is also a particularly interesting track.  Sung in Norwegian – which is interesting in itself – it opens with a guitar line that is clearly lifted from the theme to the TV show "M.A.S.H."  As the track develops, it goes into what the liner notes (rightly) describe as an "acid folk jam."  Again, not something you'd likely hear in Moloney's later work but certainly out of sync with the more traditionally oriented solo banjo tracks that appear elsewhere on this album.
 And who knew Moloney sang as Gaeilge, which is what we hear on "Bean Pháidín" and "An Gaoth Andheas."  Both are quite nice but very different from the rest of his work.
 Despite all this, Moloney's artistic vision and historian's sensibility is clear, possessing the same sort of charm that permeated really everything he did.  It's just a fascinating album to hear, particularly if you're as acutely familiar with Moloney's work as many readers of this column are.
 "We have Met Together" was an album Moloney didn't talk about often and I think its existence will take some fans by complete surprise. By 1973, he'd left the Johnstons, was living in London and was just about to uproot and commit his future to the United States and the study of folklore at the University of Pennsylvania.  Add a first solo album to the mix and you find a real pivot for someone who wasn't yet 30.  The product of a transitional life moment, this album nevertheless shows that the ideas, interests, and affinities that would consume Moloney's later years were already in place.  A lot to consider with this one, and absolutely worth checking out, especially if you love Moloney and his work. To learn more, visit here.