Stephen Kenny will remain in charge of the Republic of Ireland team for the final three games of their Euro 2024 qualifying campaign and the friendly against New Zealand on Nov. 21. 
At a press conference in FAI headquarters in Abbotstown last Thursday CEO Jonathan Hill said that Kenny's future would not be discussed until a review meeting after those games. Hill said: ''We want to qualify for major tournaments, the public want it, the FAI want it and football in Ireland needs it so we are of course disappointed to have lost the last two games. 
"These will be discussed at the next FAI board meeting at the end of September as is normal after all international windows," he added. "Whilst we might not have achieved the results we hoped for during this campaign, with qualification for the tournament set as a goal at the outset, I know the managers and players are fully focused on the remaining matches this year  and they will prepare for and deliver those matches accordingly."
Hill said, "Once those matches are played, as with the women's World Cup campaign, we will then conduct an in-depth review of the campaign in its entirety and after the final friendly match in November against New Zealand. The board will then meet to consider this review and the next steps.'' 
He would not confirm that Kenny would be in charge if Ireland were to qualify a play-off for Euro 2024 reiterating that review would take place following the November international window. At this stage our chances of making the play-offs rest on our results in the last Nations League and results in other groups. Last week's decision by the FAI means that the friendly against New Zealand in November will be Stephen his 40th  game in charge. He has won only ten of his previous 36 games.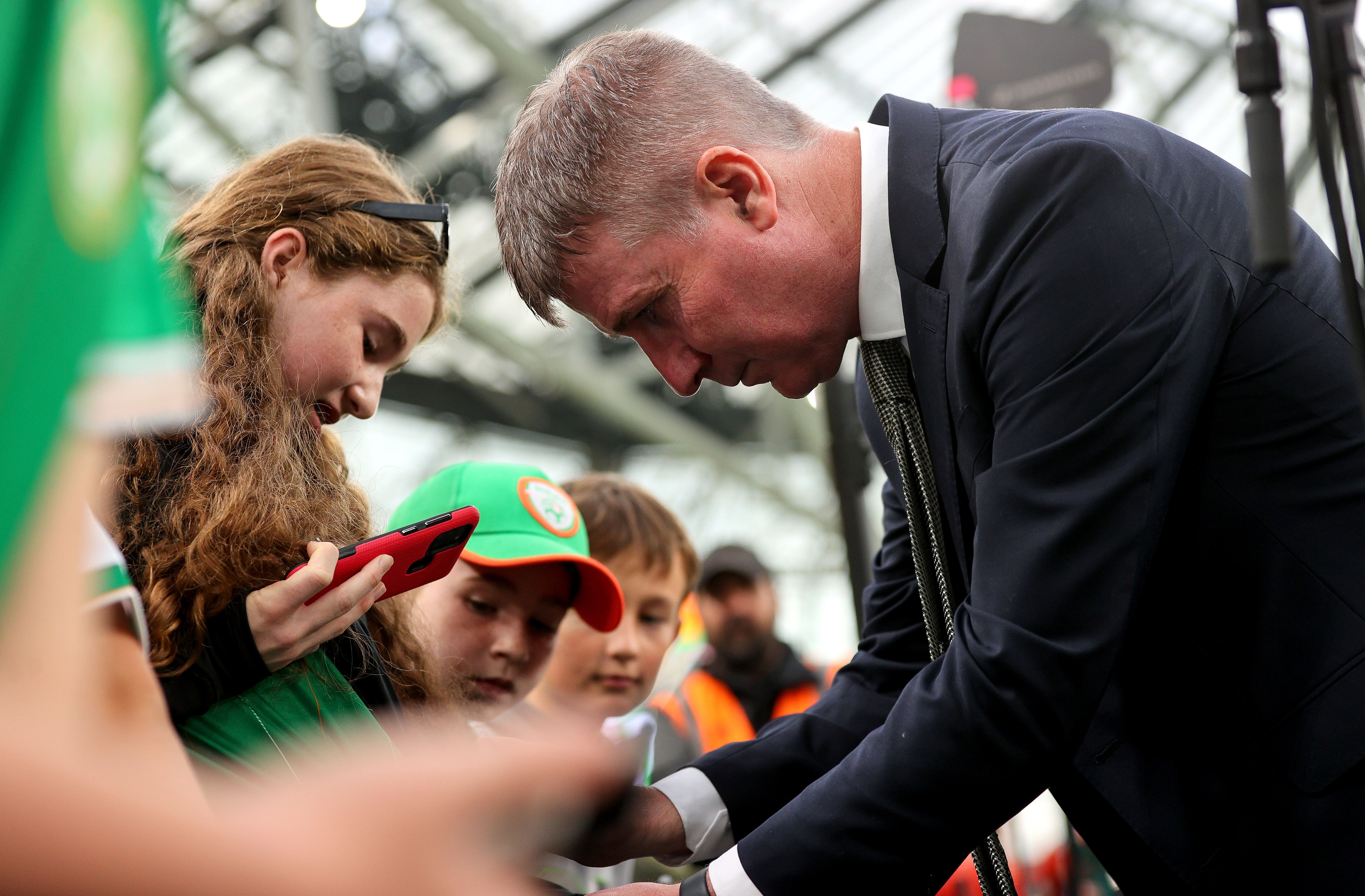 Stephen Kenny signs autographs for young fans. [Inpho/Ryan Byrne]
GAA STICKS WITH
JULY FOR SF FINAL
A proposal to move next year's All-Ireland senior football final back a week to the first weekend of August was defeated by a large majority at a recent GAA Central Council meeting. It means that football's showpiece game will remain in July and that the National Football Leagues will commence at the end of January 2024 with the divisional finals due to be played at the end of March. The football championship will begin on the weekend of April 6/7. The proposal to add a week to the inter-county calendar by extending the date for the All-Ireland football final to the first weekend in August received just 32 per cent of votes. I was speaking to a well-known club player last week and he said that the split season is popular with the players as they can now plan their holidays and if they are county players and exit the championship early then many head to the USA for summer work. 
Meanwhile a working group has been appointed to re-evaluate All-Ireland final days in Croke Park. It will address a range of issues, focusing on programme costs, curtain-raisers, presentations, and all other activities on the day. This year has seen scrutiny placed on the timings of jubilee team presentations, with many calling for this event to take place at half-time on finals days in front of a full house as in the past, rather than introducing the legends at 1.30 p.m. when very few supporters are in the stadium. The lack of a curtain-raiser has also been brought up. Former Galway footballer John Tobin will spearhead the review group, along with the GAA's national player development lead Jack Cooney and director of coaching and games development Shane Flanagan. The views of former stars like All-Ireland winning managers Billy Morgan and Pat Gilroy plus former All-Ireland winning captain Michael Murphy will also be taken on board.
GLEESON TO COACH
SQUAD FOR N.I. GAME
History will be made at the Aviva Stadium on Saturday when the two Irelands' women's teams meet for the first time at the Dublin 4 venue. It's also a first-ever game in the new Nations League game for both teams. Normally the Republic of Ireland women play their home games at Tallaght Stadium where they sometimes drew attendances of close to 6,000. But following the departure of Vera Pauw it will be interesting to see what support there is in the country for the girls in green at the Aviva where the capacity is 51,000. Eileen Gleeson, a former Irish player, will be interim manager of The Republic on Saturday and for the away game against Hungary in Budapest on Sept. 26. 
Gleeson's coaches will be former Irish goalkeeper Emma Byrne and former Irish international Colin Healy, who has managed Cork City in the League of Ireland. It will also be a first game in charge of Northern Ireland for Australian-born Tanya Oxtoby, who replaced Kenny Shiels as manager a few weeks back. The soccer game has a 1 p.m., start which will allow sports fans to get home in time to watch the Rugby World Cup game on television between Ireland and South Africa at 8pm.

DERRY SEARCH
FOR NEW BOSS
The Derry County Board will have to step up the search for a new manager after it emerged that Ciarán Meenagh would not be making himself available for the vacant role. Meenagh, who took over as caretaker manager during the summer after Rory Gallagher's departure a few days before the Ulster football final against Armagh in May as he took time away to deal with personal issues. Meenagh, who is from Tyrone, had been a member of Gallagher's backroom team in the previous three years, having also worked  with Gallagher's predecessor Damien McErlain for two years before that. Meenagh who is  currently manager of Tyrone club Loughmacrory, led Derry to win the Ulster final and got them to the All-Ireland semi-final where they lost to Kerry.
NEW DALYER PLAN
Yet another planning permission has been lodged by Dublin City Council for a redeveloped Dalymount Park that will have a capacity of 8,049. A previous design was set aside due to cost inflation and the decision by Shelbourne not to proceed with a proposed ground-sharing agreement with their north Dublin neighbors. The new plan will see the pitch rotated by 90 degrees. The new East Stand at the Tramway End will hold 3,155 and the West Stand at the School End  will have seating for 3,076, making a total seating capacity of 6,231. The North Terrace on the Connacht Street side will cater for 1,1109 supporters standing, with there will be room on the South Terrace for 719.  The projected cost, which will include dressing rooms and ancillary facilities is estimated at € 40 million . After many false dawns, this time round no estimated completion date has been given.

LILYWHITE FINALS
IN CARLOW OCT. 22
This year's Kildare senior and intermediate football finals will be played as a double-header at Dr. Cullen Park, Carlow on Oct. 22.  The county finals are being switched to the Carlow venue  due to the unavailability of St Conleth's Park in Newbridge which remains closed for redevelopment work.

 SEXTON WOULD MAKE
GOOD COACH: CULLEN
Leinster head coach Leo Cullen says the province will leave the door open for Johnny Sexton to return in a coaching capacity if he wishes. The Irish captain will retire after the World Cup and apparently has a job lined up outside of Rugby, but Cullen says that Sexton has what it takes to be a coach. Cullen said: ''Johnny has an amazing rugby mind. We have had numerous conversations on this topic. He just needs to figure out what works for him and his family because the level he is playing in the game there are so many demands on him in in his current role, being captain of Leinster and Ireland for a long time now. He just needs a bit of time, but he is an amazing rugby mind, so he would be a great asset.''
KERRY MANAGER
FOR BANNER CO.
Kerry-born Mark Fitzgerald is the new manager of the Clare senior football team. He replaces Colm Collins, who stepped down in June after ten years in charge. Fitzgerald, who played his club football with Kerins O'Rahillys in Tralee, took temporary charge of Limerick earlier this year when Ray Dempsey quit. He was in charge for the end of Limerick National League campaign and the championship, but then they gave the job to Jimmy Lee. 
Also Joe Canning will be one of Galway under 20 selector next year. Canning who worked with Fergal Healy at minor level for the past two years, will continue to work with Healy at under 20 level.