Annexing Grand Slams and even winning in New Zealand to become the No. 1 team in the official world rankings is certainly a massive step up by Andy Farrell's Ireland squad on the achievements of any team in green that has gone before.Yet, there is no doubt that the challenge ahead in the World Cup in France which starts this weekend will define the real standing of the current Irish panel as they seek to challenge the big guns in search of outright glory.
Without putting too fine a point on it, our record in every World Cup since the inaugural 1987 series in New Zealand and Spain have been grossly underwhelming.
Despite having set off to several editions of this competition with optimism coursing through our veins, it didn't take long for us to be sent packing with our tails between our legs.
Our best attempt has been to reach a quarter-final with a heroic failure on home soil against Australia in Lansdowne Road, the nearest we got to causing an upset and loitering for the latter stages of the competition.
With the way the lopsided draw was made - using the formlines of three seasons ago instead of current performances, Ireland will have to be at their best firstly to qualify from the group stages and then to advance against a stacked opponent - it will be either holders New Zealand or hosts France at the quarter stages.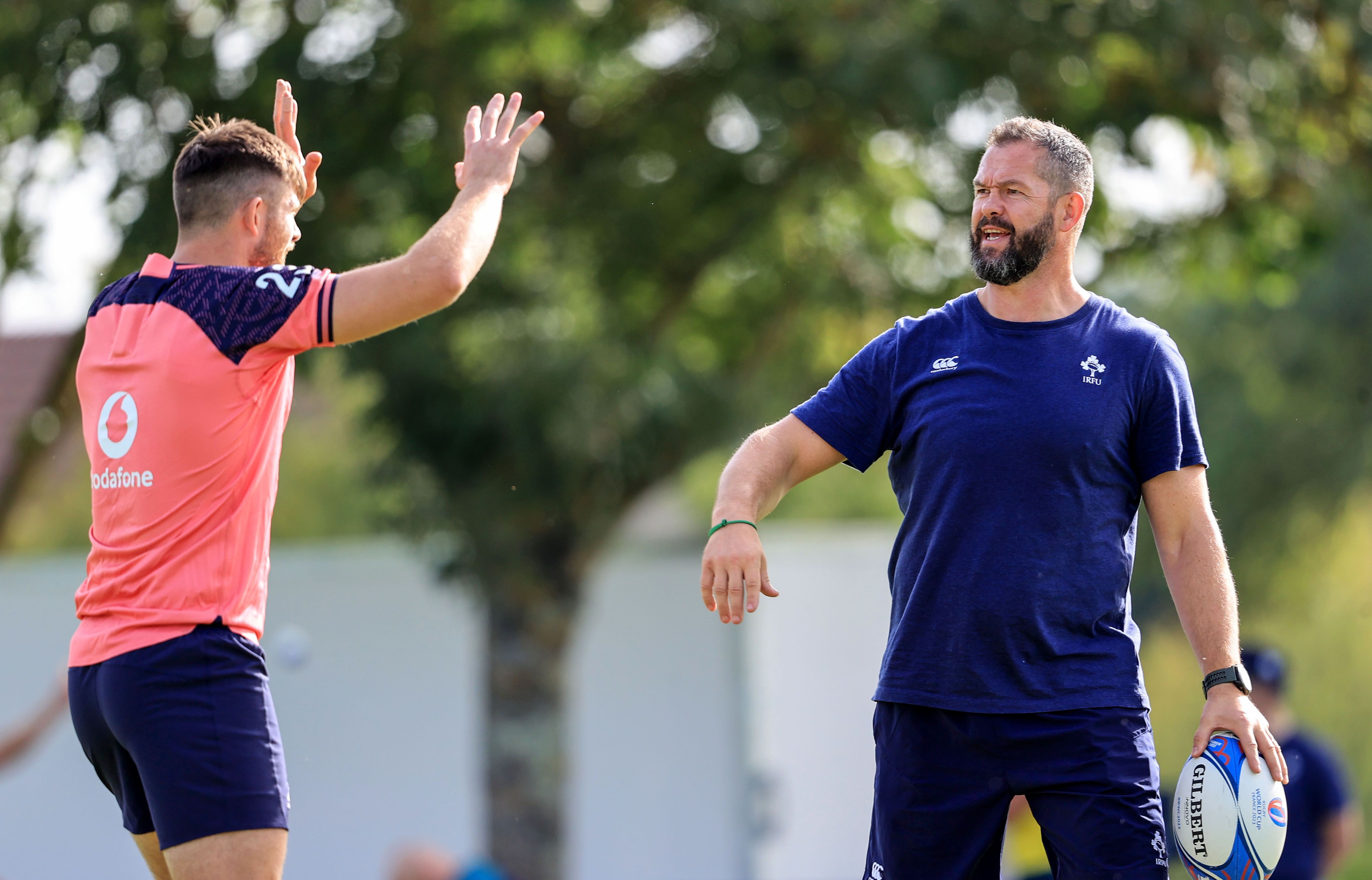 Ross Byrne and head coach Andy Farrell at Ireland Rugby Squad Training, Complexe de la Chambrerle, Tours, France, on Tuesday. [Inpho/Dan Sheridan]

So while England and Australia and Wales might be finding it hard to win a game lately, the draw means that two of these underperforming countries have a much better chance of getting to the semi-finals than Farrell's charges have.
As Ireland settled into their headquarters in the French city of Tours last weekend, they did so knowing they are on a 13 game winning run but also cognizant of the fact that  they will be up against it after the games against Romania (who we play first this Saturday) and Tonga are over and we face the South African juggernaut and the trickiest of customers in Scotland in our remaining groups games.
The good news on the cusp of our first game was delivered by Farrell who stated that both injury doubts, hooker Dan Sheehan and back row utility man Jack Conan, were back training and ahead of schedule.
Both are invaluable to Ireland in different ways - Sheehan in the how he plays with the poise and pace of a center when gaining possession in the loose and Conan because of his heft and physicality which will be needed for the big boys from South Africa and the All Blacks, should we get to the quarter-final stage.
Sheehan suffered foot ligament problems when Ireland beat England in the Aviva Stadium warm up game and initially there were real fears that the dynamic forward could miss out on the tournament.
Speaking at the weekend in France, the Head Coach stated: "He was back running last week, he was flying along yesterday with the physios and he's certainly bullish within himself and so are the medics as well."
On Conan's improvement, he added: "Jack trained yesterday and obviously end-stage rehab is always about being able to back it up the next day, so we'll see how that goes."
Farrell's preparation for this World Cup has seen him challenge the Irish squad to take on learning scenarios and see how they cope. Such character-building exercises saw him accept a three-test series in All Blacks stadia around New Zealand and by throwing in two Maori "tests" on that tour in 2022, it meant that fringe players too were exposed to the highest level of concentration and expectation.
That Ireland recovered from losses in both the Maori and All Black first tests to win the next Maori encounter while a 2-1 win over the three tests against Ian Forster's squad showed they had learned how to cope with adversity and overcome it in historic fashion as Ireland won on New Zealand soil for the first time.
The former England rugby league and rugby union player has drilled it into players that they must expect the unexpected, such as Cian Healy getting injured in the last warm up game.
"You hear me constantly say 'best laid plans' and all that, it's 100 percent that at a World Cup. And the ones that get flustered with all that, because they're not ready for all different types of permutations, are the ones that lose the plot," Farrell said.
"The key to progressing in a competition like this is staying calm, keeping your feet under you and making sure that you just roll with the punches and be the best version of yourself no matter what happens and have no excuse mentality.
"We've tried to put ourselves in those type of positions before and we know what's coming through," he emphasized.
Four years ago, Farrell or "Faz" as his staff and players call him, witnessed first hand how expectation can turn sour when part of Joe Schmidt's backroom team in Japan.
The shock of losing to the hosts and being sent home early meant that he had time to plan on what was best for a group in the four year cycle that has followed, through Covid and all the problems that  a manager faced.
The main difference between him and the man he replaced was the amount of trust he placed his players to think for themselves in match situations rather than referring to the tightly controlled Schmidt game plan.
Farrell also had to decide on the key playing personnel and in choosing to keep Johnny Sexton, Conor Murray, Keith Earls  and Peter O'Mahony as leaders, he was proven right as these elder statesmen have set down the rules that the newer generation of Hugo Keenan, Mack Hansen, James Lowe, josh Van der Flier,  Caelan Doris, Andrew Porter and Gibson-Parke have followed.
In between, the likes of  stand-in skipper James Ryan, Tadhg Furlong, Iain Henderson and Tadhg Byrne have matured into leaders and world class operators, meaning that overall this Ireland team possesses a range and depth of personalities to do the right thing in most situations, regardless of the strength of their opponents.
When asked how the squad had come together since the last World Cup, the Head Coach said honestly: "You know, we probably didn't know the total plan, you have to roll with the punches in that regard, don't you?
"I think the right way for me anyway is to grow and develop competition as we go, and then when we get to something like this, watch and learn."
Undoubtedly, he is happy that despite injury and suspension, his on-field general Johnny Sexton has arrived in France fit and raring to go. After a three-match ban for comments to the officials following Leinster's loss to La Rochelle in the Heineken Champions Cup Final in June, it means he was unable to play any warm-up games so he may see action in our so-called easier two games before facing up to the Springboks. Word is he might even line-out in our Pool B opener in Bordeaux this Saturday..
Speaking ahead of the games ahead, Sexton said: "It's good just to be back available for selection and we'll see how the next few days go. Hopefully I can get in some match minutes but we'll see. We know it's obviously a tough pool and I want to get some games in, but it's what's right for the team as well. I'm just looking forward to it now."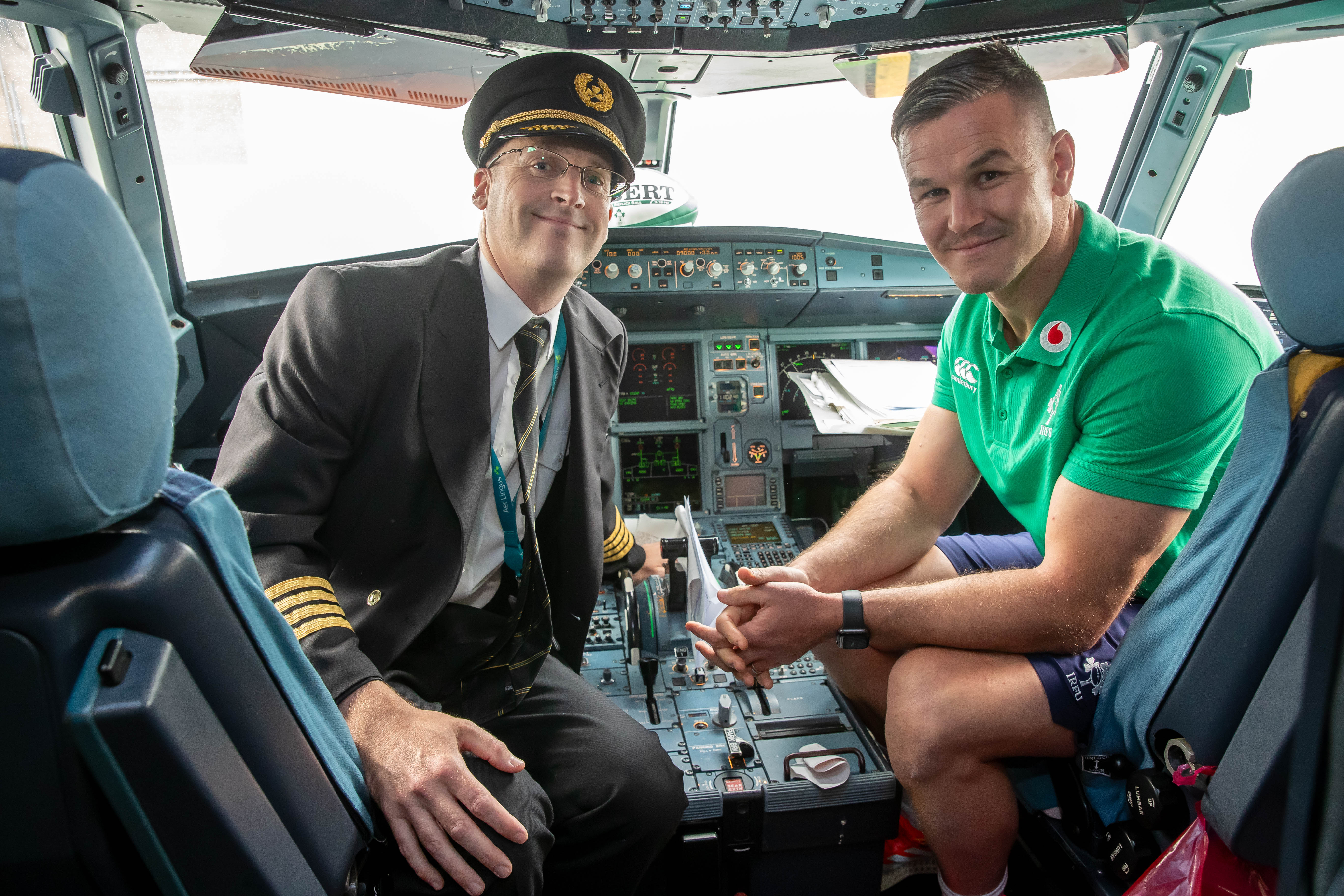 A massive 12,000 fans turned up to welcome the Irish team to the local stadium in Tours FC's Stade de la Vallée du Cher. A carnival atmosphere permeated the occasion with brass bands and local singers welcoming the Irish group who later spent over an hour signing autographs and posing for selfies with young and old alike.
However the squad eschewed the opportunity to undertake a light training session in front of the crowd due to the state of the grass which had been badly damaged by a fungus infestation.

IRELAND GROUP B FIXTURES
Saturday, Sept 9 IRELAND v Romania (Kick-off 9.30am US Eastern time)
Saturday, Sept 16 IRELAND v Tonga (3pm US Eastern time)
Saturday, Sept 23 IRELAND v South Africa  (3pm US Eastern time)
Saturday, Oct 7 IRELAND v Scotland  (3pm US Eastern time)