Irish American Writers & Artists' second summer salon at The Ellington saw another robust turnout and another great lineup of readers and presenters. It also provided a precursor to a number of events in the fall season, including the Eugene O'Neill Lifetime Achievement event (see below). Author Anthony Murphy (recently featured in the Echo and at IAW&A's publication showcase in June) hosted, gracious and charming with his "Northern" drawl.
Poet Ron Vazzano started the evening with a personal essay about a long-ago venture into summer stock theater, a seasonal evocation and fond remembrance of a transformative experience, 50 summers ago.  In previous salons Ron read poetry, and his poetic sensibility shone through in his prose as well. Ron's online MuseLetter is now in its 18th year. [https://ronvazzano7.wixsite.com/mysite] He is a member of the Independent Writers of Southern California and the Italian American Writers Association.
Next, writer and educator Mary Lannon read from her short story "They Teased Me About Him," about a college girl's strange interaction with her landlord. As always, Mary's wry humor leavened the tension. The full story was recently published in a Sheila-Na-Gig anthology. Lannon's unpublished novel "Tide Girl," a dystopian satire, was named a 2023 finalist for the PEN\Bellwether award for socially engaged fiction.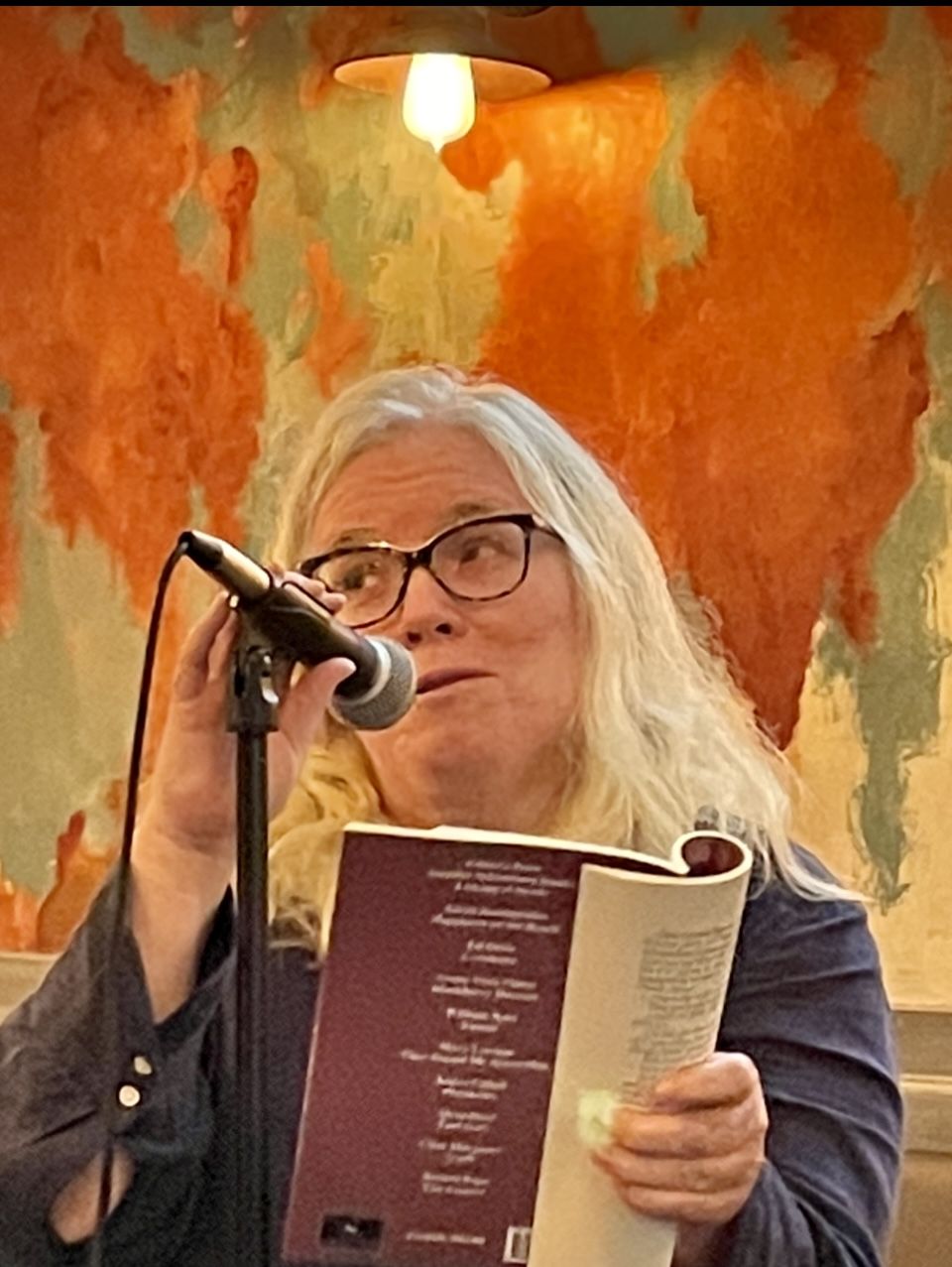 Mary Lannon.
Kate MacLeod followed with a dramatic monologue and a descriptive meditation. The monologue, "Abby's Letter to Love," depicted a Gen-Z woman in dire straits through a letter written for a high school English class assignment. Kate's reading presented the style as well as the diction of the character – someone who's only used to texting writing in a formal mode, and inadvertently revealing the contours of her life. The reading also demonstrated that in addition to being a talented writer, Kate's got real dramatic chops. The meditation, "And this was the last thing I saw..." evoked a psychedelic sunset vision, leading to a philosophical musing on the nature of chaos. 
The first half ended with the Kennedys, the husband and wife folk-rock duo whose songs bring a refreshing twist on the genre. They started with the wistful "Late September Breeze," followed by "The Sky Doesn't Look Right," which may have been prescient when written but now feels like an evocation of Summer 2023, and "Headwinds," the title track on their new album (their first in five years). [https://www.kennedysmusic.com/]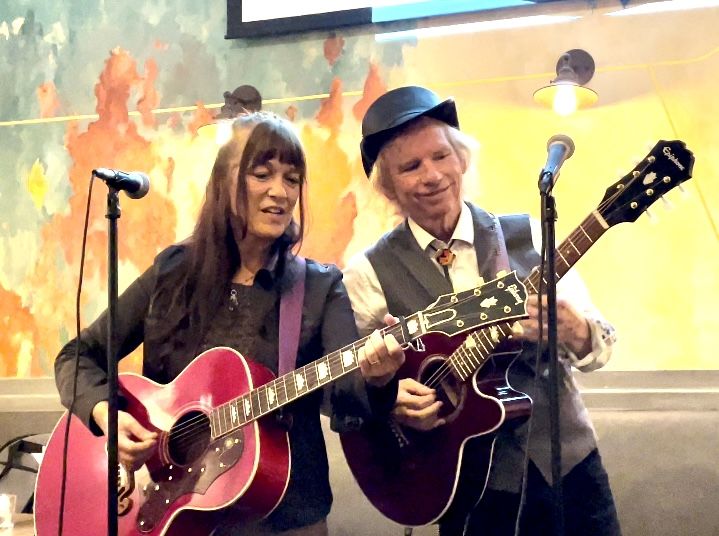 The Kennedys.
After a brief break, longtime Salon presenter Bernadette Cullen shared some poems, including several about memory: "How to Look at a Blade of Grass," "Once There Was the Color Blue," and "Loss." Host Anthony noted Bernadette's work was "evocative and lofty." Cullen has worked as a reporter and as a college adjunct, and says she is "now working to become a poet," but "it's taking longer than expected." Her reading proves she's far more accomplished than she lets on.  
Thom Molyneaux followed with a lively and well-paced reading of James Thurber's "The Night the Bed Fell on My Father." The piece is a selection from his play "Me and the Monologue," but it was also the first monologue Thom performed as a professional actor back in the day; as he says, "way back in the day."
Next up, longtime Salon committee member Maureen Hossbacher read two poems on the subject of loss, "Angels in Heaven" and "What I Need Is a Cat," and two more on the pleasures of being "New York City Born" and childhood summers in "Ode to Rockaway Beach, Circa 1950s," another piece reflecting on nostalgic memories of summers gone by. 
IAW&A board member John McDonagh had the crowd in stitches when recounting his experience auditioning for CBS's "Amazing Race." And though he and his partner, a fellow cabbie, were flown out to L.A., they did not end up taking part in the intercontinental competition. John's play "Off the Meter" is about driving a Yellow Cab for the last 40 years. He has just finished sold out shows in Albany ,Woodstock and at An Beal Bocht in the Bronx. He will taking the show to the Jersey Shore at the end of the month and to Donegal, Cork and Dublin in October.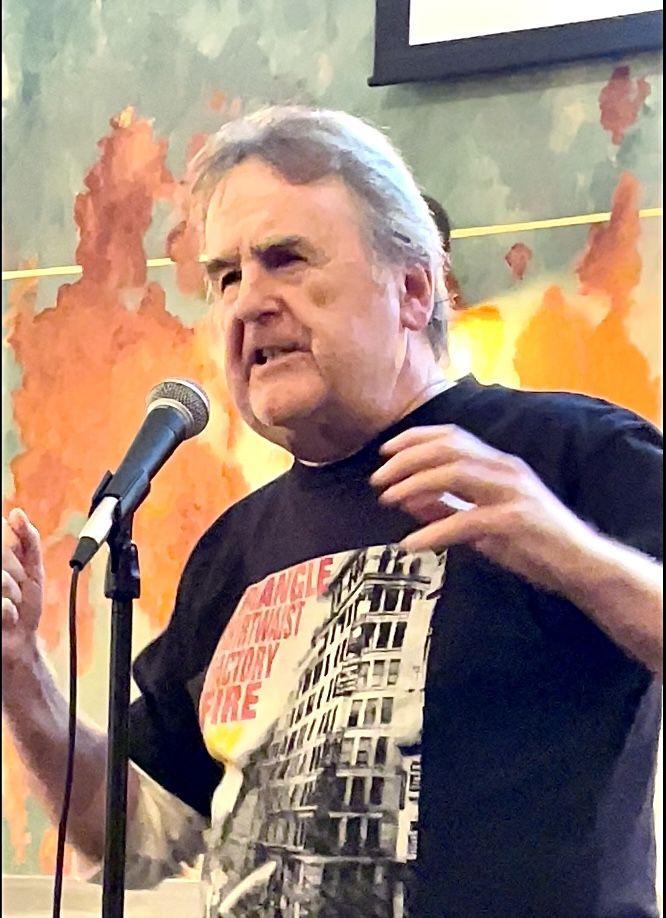 John McDonagh.
The Kennedys returned to the stage to round out the evening with a few sing-along favorites, the folk anthem "If I Had a Hammer" and a rousing group rendition of "Wild Mountain Thyme," in honor of Malachy McCourt who was unable to make it. In all the evening was another showcase of IAW&A members' talent, with a convivial atmosphere engendered by host Anthony Murphy.
As noted above, the Salon was a precursor to a number of upcoming events, including a special tribute to Sinéad O'Connor on Oct. 2, hosted by Yvonne Cassidy at the cell theatre, and our annual Eugene O'Neill Lifetime Achievement Award event on October 16 at 5th & Mad (7 East 36th Street, just East of 5th Avenue). This year's honoree is the beloved NY Times columnist Dan Barry. Click here for tickets.