Just about a year ago things were going pretty well professionally for Kevin McCabe Jr. Since 2012 the Queens native had been working his way up the ladder with the Battery Park City Authority and was doing interesting and important work as the groups Chief Resilience Officer.
In his position McCabe was responsible for protecting the vulnerable New York City neighborhood that had been ravaged by Superstorm Sandy just a decade ago from the vagaries of future storms.
McCabe Jr., now 38 years old, had been in the position for just two years when he decided he wanted a change.
Kevin McCabe Jr. '03, who is the director of strategic initiatives for the Ukraine Children's Action Project (@UkraineCAP), recently worked with Ukrainian volunteers to purchase and refurbish six school buses in Poland, and donate them to Chernihiv, a city in northern Ukraine.… pic.twitter.com/cqcjFRsU1u

— Xavier High School (@xavierhs) April 4, 2023
The War in Ukraine was on everyone's radar and, McCabe Jr. told the Irish Echo, "I was interested in any opportunity where I could help and just got interested in finding meaningful work with purpose and frankly, any opportunity where I could help to any degree."
With that in mind McCabe Jr. approached Dr Irwin Redlener, who with his wife Karen Redlener, founded Ukraine Children's Action Project (UCAP) in May 2022.
Out of that approach McCabe Jr. took on the job as Director of Strategic Initiatives for UCAP.
The Ukraine Children's Action Project focuses on helping injured children in Ukraine, and founder, Dr. Irwin Redlener, and member John Cusack join Morning Joe to discuss.https://t.co/NrljJKG3Rl

— John Cusack (@johncusack) December 24, 2022
McCabe Jr. describes UCAP as, "a non-profit initiative established to assess and support the urgent needs of displaced children who escaped the Russian invasion last February." 
The job required a move to Warsaw, Poland. For McCabe Jr., who attended graduate school in Trinity College, Dublin and later, spent two years working in London, the move to Europe was no cause for concern.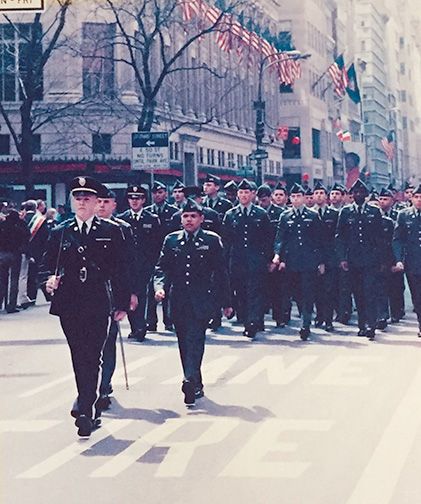 In fact, McCabe Jr., says of the Polish capital, "I love it. I'm looking to build a life here."
McCabe Jr. notes some of the projects that UCAP have been involved in include
the purchase of hundreds of computer tablets, for kids who need them for online education, being widely distributed to 4th and 5th grade students.
"We have also partnered with a local organization in Ukraine funding Recovery Camps, providing psychological services for women and children directly impacted by the violence of war and who still suffer related trauma."
.@IrwinRedlenerMD and wife Karen Redlener, co-founders of the Ukraine Children's Action Project, discuss Ukraine's ongoing humanitarian crisis w/ @NicolleDWallace pic.twitter.com/AGfjdmNh3Z

— Deadline White House (@DeadlineWH) January 20, 2023
UCAP has also worked to secure financing for a new Youth Enrichment Center in Lviv, Ukraine. McCabe says that the Center will "serve displaced children, ensuring they get the education they need during this tumultuous time so that their generation does not become forgotten in the midst of this crisis."
"I do not want to overstate my role in this. Helping where I can on the communications, cranking logistics as needed. But I am certainly not the most valuable player on this team by any means."
Those are just some of the programs UCAP is working on, in addition to what McCabe Jr. calls the "advocacy component." McCabe Jr. says that part of the mission is to "ensure that through our actions and through our presence Americans don't lose sight of really what's going on there."
The Ukraine Children's Action Project is a four-person operation and McCabe Jr. makes sure to point out that UCAP does not run these programs, rather the group's role is that "we essentially fund these programs that we vet in person. So our job is to ensure that their money goes to the right cause and that it's reputable and that its money goes where it's supposed to go. And that's where we come in."
Earlier this month, 5th-grade students who have fled war-torn communities received computer tablets from @UkraineCAP to enable them to access their new textbooks and participate in online learning. To date, 500 have benefitted. @kredlener @IrwinRedlenerMD #childrenofukraine pic.twitter.com/thswxTkhkb

— Ukraine Children's Action Project (@UkraineCAP) January 26, 2023
In addition to McCabe Jr. and the founders, Ukraine native Yulia Kardash completes the quartet, serving as Regional Director from Ukraine. As for his own role, McCabe Jr. told the Irish Echo "in my capacity right now, as Director of Strategic Initiatives, I help with their communications and social media and project oversight when needed."
McCabe Jr. believes that UCAP is just starting to scratch the surface in terms of what programs we can begin to fund and he takes pains to deflect credit for the organization's work, pointing to
"the private programs in Ukraine that my colleague has been managing. The co-founders are very hands-on, so I do mean that they run the show.
"I do not want to overstate my role in this. Helping where I can on the communications, cranking logistics as needed. But I am certainly not the most valuable player on this team by any means."
That modest outlook may well come from McCabe Jr.'s upbringing as the youngest of an Irish-American family of four from the Queens neighborhood of Forest Hills.
Today the Head of @UNESCO in #Ukraine came to #Lviv to meet the authorities & support the population following the tragic bombing of a historic building located in the buffer zone of the #WorldHeritage site which caused many civil victims.

UNESCO strongly condemned this attack. pic.twitter.com/8dFlRviCCN

— UNESCO Kyiv (@unesco_kyiv) July 7, 2023
And while McCabe Jr. told the Irish Echo that "frankly, I was always proud of being an American," he was sure to emphasize that he and his three older sisters "were always in tune with our roots."
Those roots were firmly planted in Queens, where both of his parents were born, his father into a family of 12.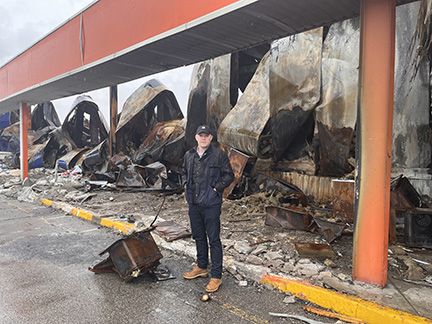 In 1962 McCabe Jr.'s grandfather, Francis McCabe, founded the Irish American Association of Queens. Two generations later McCabe Jr. honored those roots as a four year member of the Irish American Society at Xavier High School from and he recalls that one of his proudest moments was leading the 2nd battalion of Xavier High School's Army JROTC regiment at the Saint Patrick's Day Parade in 2003.
McCabe received his MBA from Trinity in 2019 and was honored to be selected to give the opening remarks at the Trinity MBA reunion this May. As he told fellow-grads:
"By adopting a philosophy of being a positive force for good by seeking to "put in more than we take out", my time at Trinity inspired me to understand the importance of finding impactful and meaningful work."
Readers can donate to the Ukraine Children's Action Project online.