Musical history buffs have fiercely debated over the last hundred years as to who was the original "Darlin' Girl from Clare" epitomized in the delightful Irish song written by the legendary William Percy French, (1854-1920).
In French's lyrics her name is "Kate Flynn", and little is known whether this is a literary device or an actual person that songwriter French loved and admired.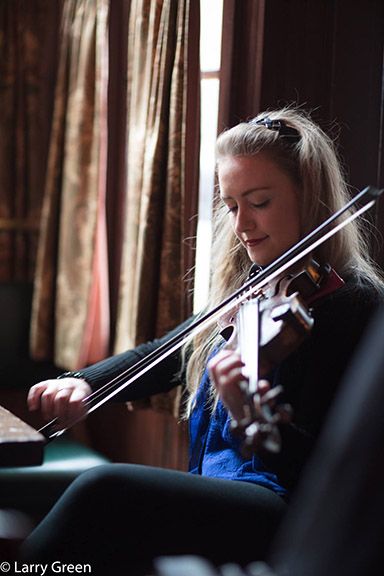 But there is now a talented young lady from the tiny village of Ruan, Co Clare, who has bragging rights as a latter-day "Darlin' Girl from Clare". For Eimear Arkins is rocketing in to Irish trad musical stardom with her fiddling, singing in Irish and English, dancing, story-telling, and lilting
Arkins is an award-winning musician, singer and dancer with eleven Fleadh Cheoil na hÉireann titles to her credit. She has toured extensively with international music organizations, and if you live on planet Earth she's performing near you soon in Chicago, on PBS, St. Louis, Irish fests all over the world, (she'll be "checkin' out the craic" at the Willie Clancy fest in Clare in July), and a whirlwind of other gigs this summer and into fall as she preps her newest album.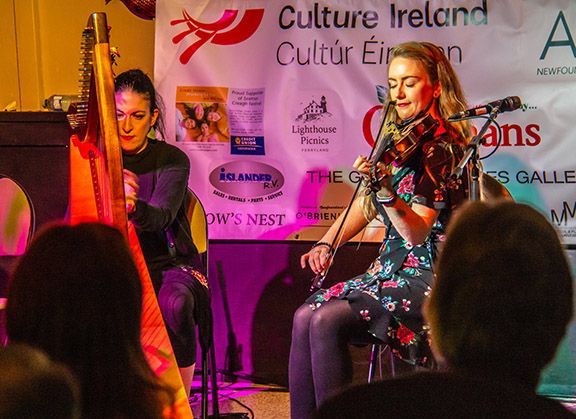 Full disclosure, I've toured back to Éire twice with Eimear in the past with guests from our Hibernian Radio show and we are now planning another rendezvous this October. Third time's a charm!
Make sure to join us tomorrow, 1 - 2pm, for our next Friends Lunchtime Lecture with docent Seamus Ruane. This will be an illustrated talk titled "Lord Charlemont and his 'Darlin' girl from Clare" pic.twitter.com/pZw59xxkVF

— The Hunt Museum (@HuntMuseum) February 26, 2018
Her roots in the Banner County go back to her dad Joe Arkins, who met and married her mother Concepta in The Ennis Drama Society. Then along came Eimear and her brother Connor, and that's when the music began.
Eimear Arkins ag casadh 'An Spailín Fánach' ar shráideanna na hInse. Fine singing from @FleadhTV in Ennis. pic.twitter.com/uNZdgXHga2

— TG4TV 🏳️‍🌈 (@TG4TV) July 22, 2018
"Both of them were interested in music and my dad sang, and still sings and my mom signed me up for tin whistle lessons when I was five."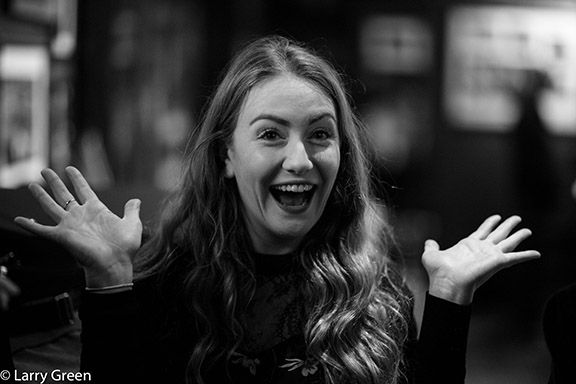 Something clicked and the next thing you know Eimear went on a couple Comhaltas tours with her father and Irish Rambling House. "He would emcee the shows, sing a song or two as well, usually humorous songs, those are kind of his specialty."
Before she was a teenager Eimear had the bug. "There were a lot of different shows and opportunities to perform around Clare. The first one I got involved in Ennis was Cois na hAbhna. There used to be a show there at least once a week where several musicians, local singers, and dancers, would perform. It happens twice a week now in Ennis, but I got involved when I was maybe eight or nine."
She caught on quick with the Irish language as well. "My mom was a high school Irish teacher and my dad's brother was an Irish teacher in the same school…so there was always a presence of Irish in the house and we would speak some Irish at home."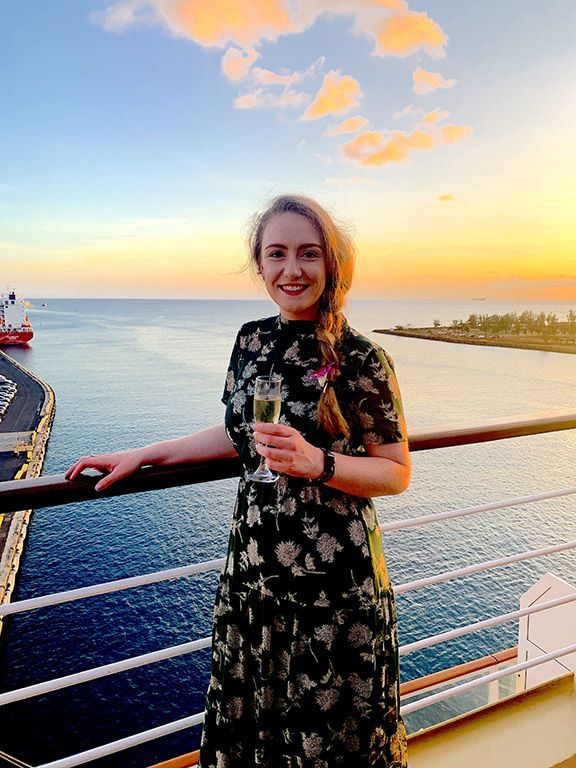 Eimear sez, "I've been singing for as long as I can remember."
Having Eimear on our annual pilgrimages to Ireland is a unique experience because she rides the bus with us and hits the pubs and spontaneously erupts in song and dance and stories all along the way.
She tells me, "It's always a great time meeting new people and it can be emotional as well. Talking to people who've come out to hear Irish music because of their ancestral connection or because they were born in Ireland and they've been living in America for a while and they miss home, and some people have really heartwrenching stories. It really warms my heart to be able to bring them a little taste of home when I'm performing."
Eimear brings all of that and more with her music, singing, dancing, but especially when she lilts. "Lilting" is an old Irish style of singing, that arose in defiance of Cromwell's ban on Irish music and instruments.
When Eimear lilts, it takes you back eons with a rhythm and rhyme that surely time traveled back to Percy French. You can feel it and hear it here (if you're reading this online) or google "Eimear Arkins lilting". She'll find you, just like she found Mr. French! Sure she's the Darlin' Girl from Clare!