County Kildare is often called "the centerpiece of Ireland's Ancient East," with every town and village packed with heritage sites ranging from early Christian monuments to medieval abbeys and Norman castles. Famous residents like Strongbow, St. Brigid, Ernest Shackleton, and Arthur Guinness have strong links to Kildare, and visitors can follow any number of "trails"— touring routes dedicated to specific areas of discovery. More than 100 stone or palisaded castles were built in Kildare in Norman times, including Kilkea Castle in Castledermot, now a 4-star hotel, where I checked in for my stay in this charming part of Ireland.
The castle dates to 1180 and was in the same family for nearly 800 years. While it has operated as both a hotel and an inn in the past, it fell on hard times after Ireland's financial crash, leaving it empty and cold and the community around it missing the lovely centerpiece of the area. Enter Boston construction mogul Jay Cashman, who announced in 1999 "I'd like to go buy a castle [in Ireland]." Along with his wife, Christy, he turned that idea into reality — and then some — with the reopening of Kilkea Castle in 2017 after five years of restoration work. With its history, setting, and design, Cashman said, "All I had to do was breathe life back into it. The bones were here, it just needed some work. You know, we all love a castle. We just don't want it drafty." Trust me, it's not!
Kilkea Castle has been fully refurbished in a style that combines medieval decor and modern chic, with the castle itself leaning toward the "medieval" (11 bedrooms, a luxurious drawing room, grand dining room, and castle bar), while the original carriage house and stables have been converted into 24 modern bedrooms and suites. New three-bedroom, self-catering lodges appeal to families, golfers (a golf course and club house were added during the restoration), and anyone looking for a castle atmosphere with facilities for tennis, skeet shooting, and equestrian pursuits.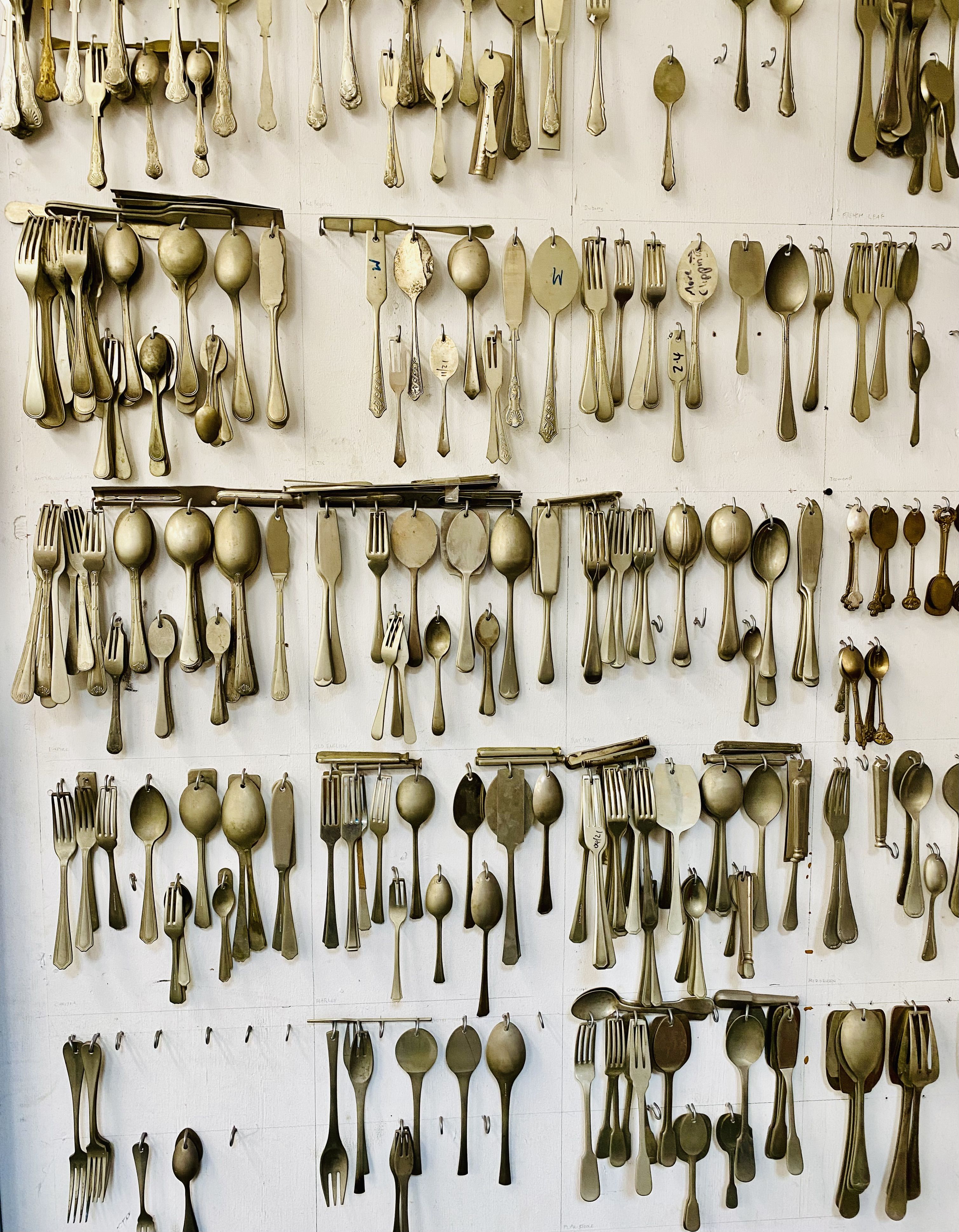 Cutlery molds at Newbridge Silverware.
The surrounding history was the focus of my pursuit, and with the recent addition of St. Brigid's Day added to the Irish holiday calendar, I decided to follow "St. Brigid's Trail" and headed to Kildare Town to learn more about Ireland's foremost female saint. For anyone not familiar with St. Brigid, her feast day is linked to the Celtic festival of Imbolc, heralding the return of spring on February 1. She founded a monastery for both men and women in Kildare in 470 AD, and Irish missionaries and migrants carried her name and spirit across the world. Today pilgrims and visitors come to Kildare to walk in Brigid's footsteps and visit landmarks like St Brigid's Cathedral and Round Tower, Solas Bhride, a purpose-built center dedicated to her spiritual legacy, and St. Brigid's Well on Tully Road.  
Every visit to Ireland requires a little retail therapy, and there's no better place to satisfy it than in Newbridge. Whitewater, the largest regional shopping center in Ireland, is located here, along with Newbridge Silverware, a company that's been at the forefront of cutlery and giftware design and manufacture since 1934. A fascinating factory tour details its history.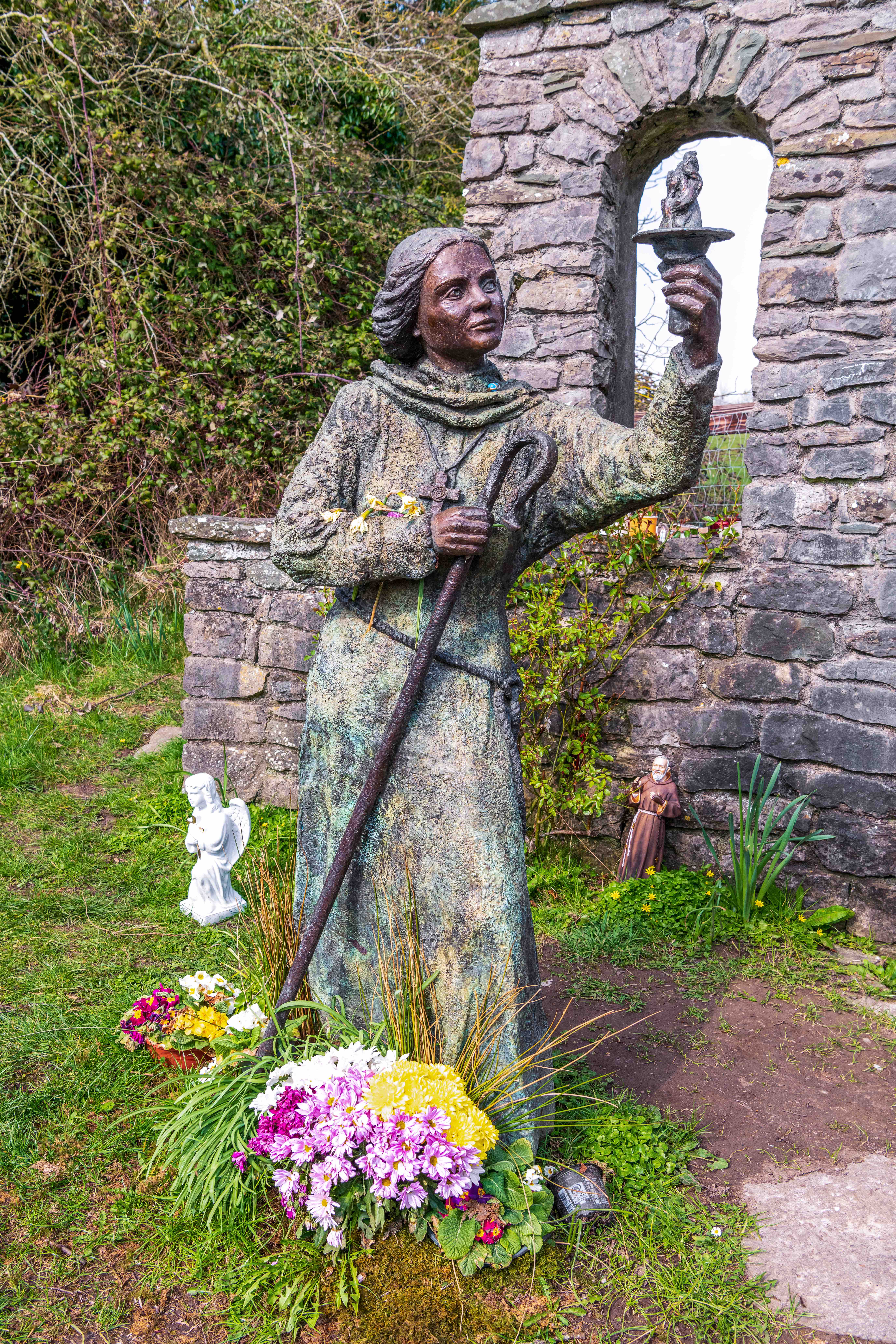 St. Brigid's Holy Well.
At the turn of the twentieth century, Newbridge was a thriving garrison community. The cavalry barracks in Newbridge was the largest overseas base in the British Empire, housing over 3,000 troops. Great economic activity grew around the facility, in particular metal linishing skills. This all changed when the army vacated in 1921, leaving a huge economic vacuum in the area. The new Free State Government, aware of the economic difficulties throughout Ireland, encouraged the setting up of new manufacturing enterprises in the non-traditional areas outside the major cities. At Newbridge, a committee to encourage local industrial development was formed, and they found the solution in the metal forging and linishing equipment left behind by the army.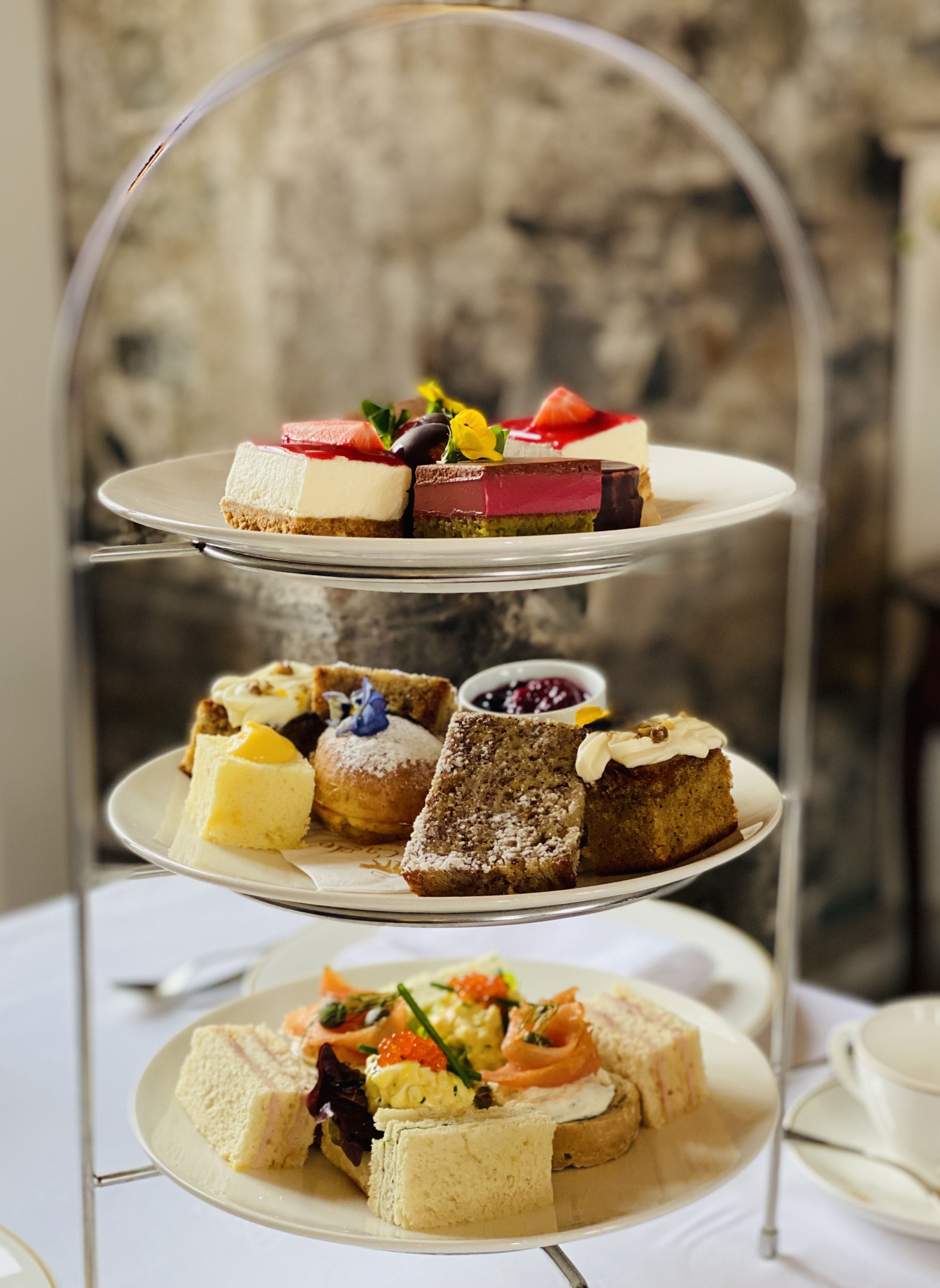 Tea at Kilkea.

The Newbridge Cutlery Company was formed, later becoming Newbridge Silverware, and the complex now offers, along with the factory tour, a stunning retail space, year-round Christmas shop, Domo's Emporium (restaurant serving breakfast, lunch and afternoon tea), and The Museum Of Style Icons (a mini museum that houses fashion collections and artefacts that once belonged to style icons such as Audrey Hepburn, Marilyn Monroe, Princess Grace, the Beatles, and currently, a collection devoted to Princess Diana, "Fashion from the Wardrobe of The People's Princess." 
After a lovely day in Kildare, I headed back to the castle, just in time for tea! If whiskey tasting is more your style, you can do that too! (Kilkea Castle, Kilkea Demesne, Castledermot; kilkeacastle.ie)