A beguiling time has swooped by from the skies, as one play flew over the chicken coop at the Irish Arts Center this weekend, from April 28-30, in the tale of "A Very Old Man with Enormous Wings," a staged recital of childlike enchantment, drawn from the words of Gabriel García Márquez. 
On the wings of these last, tempestuous April showers, the Kildare-based Riverbank Arts Centre has flown over to perform a precocious piece of panto—a U.S. premiere directed by Dan Colley and adapted by Colley, Manus Halligan and Genevieve Hulme-Beaman—that warmed New York audiences with ticklish laughter, tenderfoot ingenuity and a little marvelous magic.
Inspired by the curiously puzzling fiction of Márquez, "A Very Old Man with Enormous Wings" tells the perplexing plot of Pelayo and Elisenda, a husband and wife by the seaside, and the odd chronicle of their lives. 
After some days of (quite coincidental) downpour, an infestation of crustaceans and the near-death of their child, Pelayo stumbles upon the peculiar appearance of a very old man with enormous wings, or an angel—a celestial relic stranded on his shores.  For reasons of both fear and fortune, Elisenda and Pelayo choose to hold the very old man hostage, cooped up with the poultry, and the ensuing events thereafter span from absurd, to poignant, to quietly sublime. 
Narrated by two bashful rascals, a lanky near-mute (Manus Halligan) and the loquacious mouth of the play (Karen McCartney), who gawkily emerge from the wings to literally build a small world before our eyes, as through the eyes of a child. Purposed as a one-act monologue-mime compendium, this play's duo impresses with performances funneled through a merry-go-round of amusement, in song, diorama, video, and mumming puppetry.
From within a deceivingly-simple set (design and props by Andrew Clancy)—a desk and chair, a cabinet of trinkets and gizmos, venetian blinds, a loop pedal and microphone—sprouts the imaginative landscape of a pop-up picture book, unfolding and engaging audiences, which entwine schoolyard scenic props with interactive technologies, to effortlessly playful effects. 
 Through impromptu vocal recordings, livestream video projections of performer POVs, and layers of ominously emotive sound (composed by Alma Kelliher), all equally elevate the emptied stage into a spectacle of sensory surprise. 
This fidgety, crabbily-kidding cast of two flies us through a dreamy hour of storytelling, which by its gentle and intricate nature suspends us timelessly in many senses. Sometimes moments feel longer than they are, some things happen and end more quickly than expected, and some moments feel as though time has hung still, with you happily timeless in it. 
 In their roles, Karen McCartney and Manus Halligan are two birds of a feather, and their dynamic ability to exchange the separate spectrums of performance, McCartney's evocative speech and Halligan's physical expressiveness, create an enrapturing multi-dimension of story, under the canopy of Márquez. It must be certain that the actors' greatest accolades were received when, throughout the performance, the children and grown-ups so often laughed in unison. 
 While somber symbolism and embittered metaphor abound, such as the morality of a man and the worth ascribed to his life, audiences have been sternly forewarned not to read between the lines of this play, or go digging for richer meanings; but rather to remark on nothing and observe the mysterious beauty of a life, from bookend to bookend. For such disclaimers as this, it is right not to doubt the wisdom of children.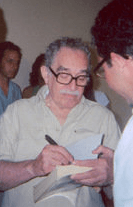 Marquez's magical realist masterpiece has found its perfect rendition as theatre in Riverbank Arts Centre's production of "A Very Old Man with Enormous Wings," as the intersection of clever creativity within Irish theatricality and the poetic reality of Márquez (pictured above) make such splendid harmony of this production. 
"A Very Old Man with Enormous Wings" is a tall tale of enjoyment for all, to the very old and the very young alike. Where this play flies away to, time will tell.