Starting this week with the sad news of the untimely passing of Barry Lynch. Lynch was a gifted multi-instrumentalist, involved over the years with a variety of groups including Saoirse, Black Bush and Bad Articles.  He also was part of putting together "People in Harmony," a cross-community choir that (among other things) performed for President Clinton at the White House in 1998.
 Recently, however, Lynch had become widely known for his work with the Armagh Rhymers.  An integral member of the group, he was a beloved figure known for his leadership and affability.  His contributions to the Rhymers were substantial.  He not only added to their live performances, but he also produced the group's brilliant recent album "Volume 2" and contributed substantially to it musically.
 Lynch's passing elicited innumerable tributes, but perhaps none as powerful as that of Rhymers performer Annie June Callaghan's, who described him as a "lighthouse of a man" and "a beacon of strength and a shining light in this world."  It's a shocking loss and he will be sorely missed.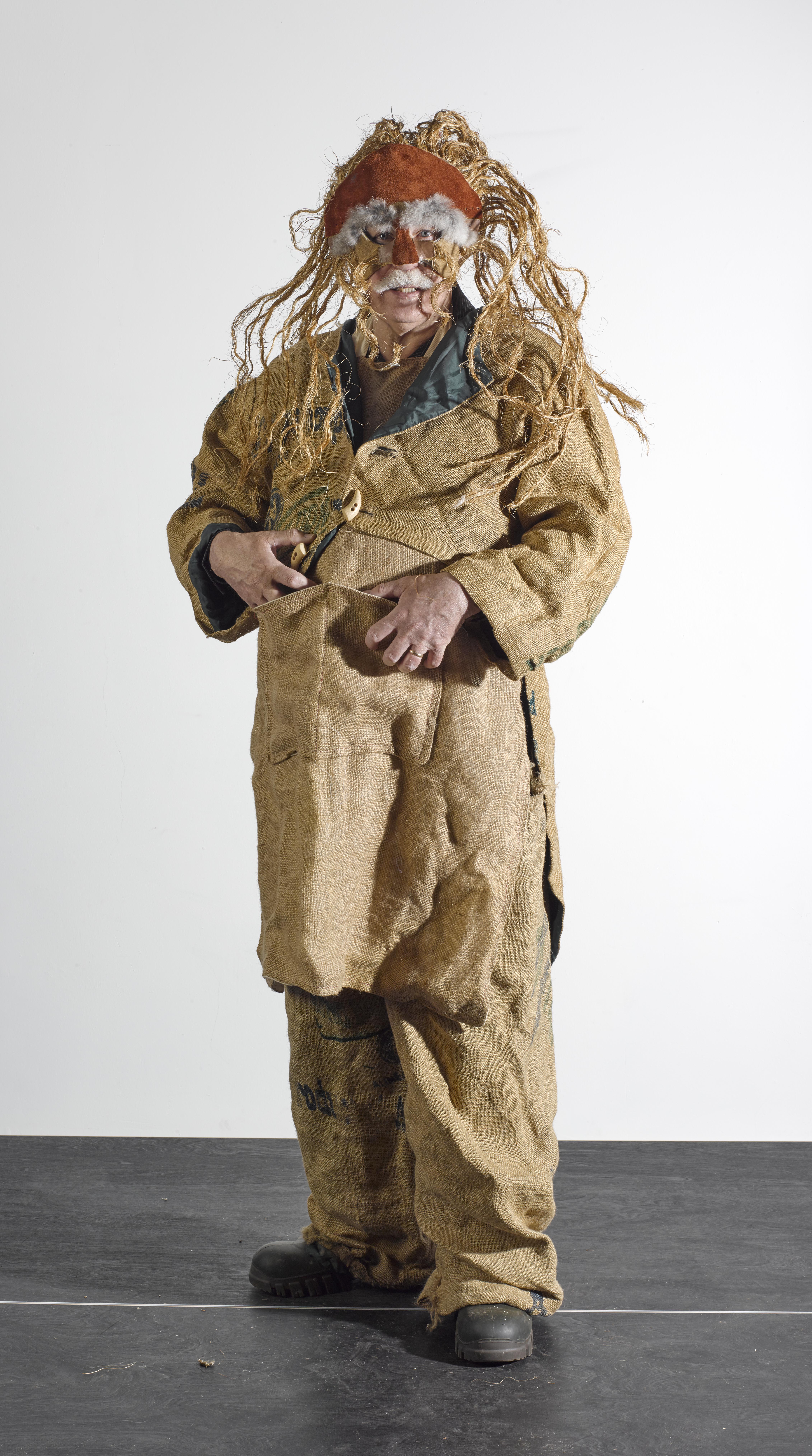 Barry Lynch became known for his work with the Armagh Rhymers. [Photo by Bryan Rutledge]
The world of Irish music also lost Gerry Finneran. Finneran, who has family rooted here in New York City, was a founding member of Leitrim's Glenfarne CCÉ branch and considered "the heartbeat" of that community.  Friends and family remember him for his stalwart preservation and promotion of traditional music and for his stout support of the GAA.  He, too, will be greatly missed. Condolences to his friends and family, may he rest in peace.
 On the play deck this week is the eponymous album from Eight Feet Tall, a group that includes instrumentalists Dan Accardi (button accordion; The Ivy Leaf) and Armand Aromin (fiddle, voice, dance ; The Vox Hunters), and dancers Rebecca McGowan and Jackie O'Riley (co-creators of From the Floor [https://www.fromthefloordance.com/ ] and 2022 Mass Cultural Council Fellows in Choreography).  This album includes mostly instrumental dance music, but that it's been made with the creative input of dancers and weighs music and dance equally, which makes it a compelling project and one that I think will inspire anyone who loves Irish dance.  Because how sensitively the music and dance are fused, I also think it will appeal to the more hard-core sort of traditional musician. There is a lot to love with this one.
 To start, it's an interesting constellation of performers who really do offer something different, a notion the band acknowledges in the album's liner notes: "although much of traditional Irish music is dance music, the two often exist in separate spheres, brought together only in specific settings or moments. This album views dance and music as not just complementary, but fundamentally the same: sound organized rhythmically in time and space."
 The work here seems almost to be the extension of "From the Floor: A Visual Album of Irish Dance Music," an earlier project of McGowan and O'Riley's.  It was innovative not only for how it presented dance in specific, but for how the project was presented in general.  (Supporters were able to buy a beautifully done card that allowed access to the project.)  There is a kind of resonance here, but Aromin and Accardi's musical presence here takes things in a different and very pleasing direction.  The whole album is very rewarding to listen to.
 Take "The Humors of Tullycrine/The Promenade," a hornpipe and hop jig set that opens the album. The music and dance are both lovely, but digging into the track a little reveals a fascinating piece with a lot of research behind it. O'Riley's composed the dance solo that accompanies the hornpipe, and included in it a rake of named steps uncovered from a variety of historical sources.  The hop jig they play comes from the playing of Michael Gorman (the man whose memes serve as inspiration for sligo champion teens) and O'Riley & McGowan composed the accompanying steps which fit neatly into the track's overall feel.  At just over six minutes, it's an ambitious undertaking but one that works and is a great showcase for what the album is about.
 I also love tracks like "The Tyrone March" and "Maid in the Meadow," again for the lovely music but also for how thoughtfully dance and music have been integrated.  In the march, O'Riley and McGowan layer their dance lines in a way that one's steps complement the other's. Accardi's playing is particularly nice here and works wonderfully with the percussive steps.  In "Maid," the choreography is again constructed using historical sources, in this case learned from the dancing of Michael Tubridy/Dan Furey, Joe O'Donovan, and Patrick O'Dea.  Aromin's lilting (something he does elsewhere as well) and Accardi's accordion drive the dance nicely and give listeners something new to enjoy. 
 Aromin takes vocal lead on "Katie Cruel," the album's only song.  It's a great version and while Aromin sings it well, I find the well conceived accompaniment elevates his delivery.  Accardi's sparse melodic accompaniment leans heavily on the drone and fits well with the "walking" dance rhythm McGowan and O'Riley produce, helping to match the song's mood.  The overall effect is hypnotic.
 "Eight Feet Tall" is a charming and thoughtfully arranged album.  It's also different in outlook.  Giving music and dance equal prominence is a brilliant idea and the way O'Riley and McGowan, in collaboration with Accardi and Aromin, have led with their feet is admirable.  It's a great bridge between the music and dance worlds that really should be attempted more often – a handy album all together!  To purchase, which I suggest you do, visit https://eightfeettallirish.bandcamp.com.