This past fall, the Global Project Against Hate and Extremism (GPAHE) released a report on Ireland's growing far-right scene, pointing to the demonization of immigrants and refugees as one of the main issues fueling the fire.
Within months of our reporting, protests against immigrants and refugees spread across the country, led by many of the groups we profiled. Now, the anti-immigrant Irish Freedom Party (IFP), with links to white supremacists and an agenda that also rejects LGBTQ+ rights and laws against hate speech, plans to run candidates all over the country.
The growth of this far-right party and similar movements is a problem for the people of Ireland and, given current global trends, could be the start of yet another democracy under attack from growing far-right extremism.
We've already seen this trend in the United States and throughout Europe and these movements based on exclusion and bigotry need to be forcefully rejected. In January, Ireland's Taoiseach, Leo Varadkar, rightly said, "I just don't think there's any excuse for hatred being directed at anyone because of their nationality or their racial background or any other reason."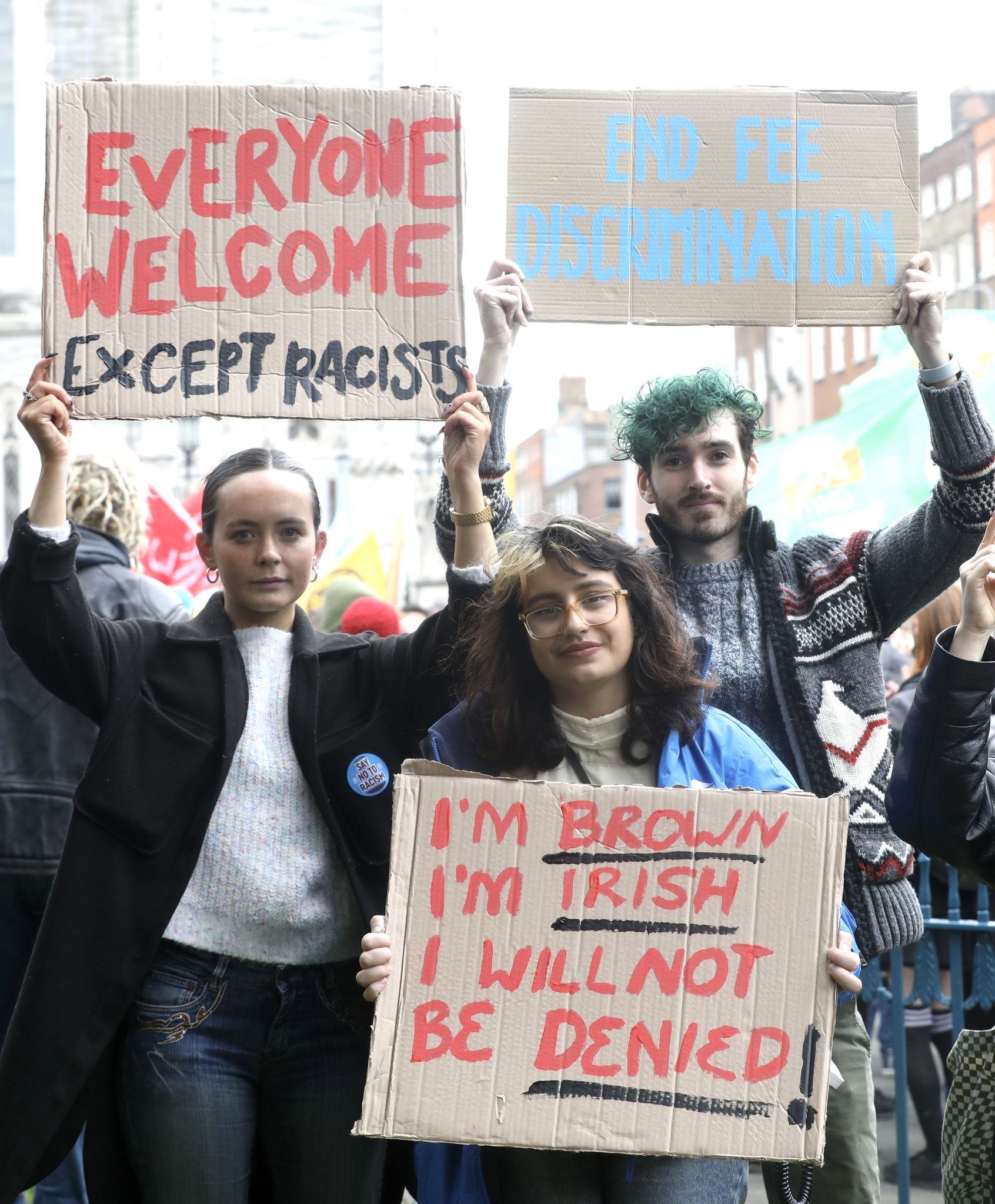 Ireland's President Michael D. Higgins also denounced the hatred: "What is unforgivable and must be opposed – publicly, vocally and unequivocally – are those who are trying to take advantage by sowing hate and building fear."
Ireland is not alone in experiencing a growing far right, something that is happening across Europe. The rise to power of the Sweden Democrats, a party founded in neo-Nazism, and Georgia Meloni, with her fascist ties in Italy, shows how significantly far-right movements have infiltrated the mainstream, usually by demonizing and dehumanizing immigrants to gain votes.
In other cases, specifically Hungary and Poland, anti-democratic and rights-restricting regimes are in control. And in the U.S., we cannot discount Donald Trump's influence over those who regularly stoke anti-immigrant sentiment.
In all these cases, far-right leaders have cynically endorsed the white supremacist Great Replacement conspiracy theory, which motivated mass shootings in Christchurch, New Zealand and Buffalo, New York among many others. This terrorism-inspiring lie asserts that white people are being intentionally "replaced" by immigrants in their home countries through a planned effort, sometimes laid at the feet of Jews or globalists.
Without a forceful response, Ireland could see the IFP, or similar political parties, enter government, or at a minimum pull politics to the right on immigration and human rights. If this party succeeds, it will join other far-right parties that have recently experienced rapid growth, including Italy's Lega Nord and Brothers of Italy, France's National Rally, Hungary's Fidesz, Spain's Vox, and the Sweden Democrats.
The growth of IFP needs to be watched. Indeed that's why we included it in our 2022 report Irish far-right hate and extremist groups. IFP didn't run any candidates in 2019, having failed to register as a party, but over the last few years it's gaining traction, and for the good of democracy and human rights, this must not be ignored.
What is driving the growth? Immigration, in particular an influx of refugees from the war in Ukraine, is set to be a major issue in Ireland's next election and, like many far-right and authoritarian-leaning parties throughout the world, the Irish Freedom Party is weaponizing the immigration debate to pit people against each other and grow their base.
While anti-immigration protests throughout Ireland have recently been in the news, IFP has been organizing them for years. In 2019, for instance, party leaders organized a protest in which 2,000 people marched in Oughterard, County Galway, against the founding of a refugee center. Their goal is clear: to grow their membership and build a powerful party that influences mainstream politics locally and nationally.
In the last few months alone, we've witnessed how the IFP and other far-right organizations, including House the Irish First, another group we named in our report, have planned, marketed, and participated in anti-immigration protests as a way to build up their name and base. It's working. According to the party leader, Justin Barrett, their membership has tripled in recent months.
It's not just immigration. The Irish Freedom Party was launched only a few years after Ireland legalized same-sex marriage and during a time when abortion was finally easier to access. The very genesis of the party was in reaction to growing human rights protections in Ireland.
A few years after the party launched, COVID likely added a boon to the growth of IFP as anti-lockdown protests brought together numerous groups including white supremacists and others associated with the Generation Identity movement (known for spreading the racist "Great Replacement" conspiracy theory) all natural recruits and partners for a nascent far-right political party. Its connection with one hate and extremist group in particular, Yellow Vest Ireland, helped widen its reach during COVID.
Other far-right leaders have taken notice. The UK anti-Muslim extremist Tommy Robinson arrived in Dublin last week to engage in the anti-immigrant protests. While not all welcomed him, some Irish far-right extremists recognized that regardless of country, they were fighting the same battle. And, even when not in person, these groups in Ireland and beyond use social media to stay connected and organize. Hatred against immigrants has been rife on Irish social media.
The growth of the far-right is not unique to Ireland, it's a problem for us all. The more interconnected far-right movements within and between countries become, Ireland - and other countries around the world - may stand to lose progress made on access to a wide array of human rights. That's one reason why the growth of IFP is something that even those outside of Ireland should watch.
But we can do something about it. Many in Ireland, including its highest political leaders, anti-racist organizations and local community groups, are leading the way in standing up to those
spewing hate against immigrants. We stand in solidarity with them. And GPAHE will continue to expose hate and networks between far-right political leaders and extremist groups in various countries so media, tech companies, politicians, and others can clearly name these groups for what they are - tools to push an extremist far-right and authoritarian-leaning agenda in Ireland and beyond.
Kirsten Bokenkamp has served as communications director for various national and state human rights organizations, including the Southern Poverty Law Center, ACLU of Montana, and Equality Virginia. She holds a Master's in International Affairs from Columbia University's School of International and Public Affairs.