Growing up in Ireland, St. Patrick's Day was always welcome. It was first and foremost welcome because it was a day off from school.
March 17 was an official holiday. To this day there are only three locations on the planet where St. Patrick's Day is an official holiday: Ireland, the entire island, and the island of Montserrat in the Caribbean. In the Canadian province of Newfoundland and Labrador it is a holiday on the nearest Monday to March 17.
That said, the holiday of my youth in Ireland was, well, understated.
Over time, however, Ireland has taken its cue from St. Patrick's Day in America – the biggest annual non official holiday celebration across the fifty states.
So now we have Ireland as a destination, not just for St. Patrick's Day, but for the month and time of year wrapped around it.
In America, March brings with it a presidential announcement proclaiming Irish American Heritage Month. And the Irish of America need little encouragement to celebrate this heritage. Indeed, the first St. Patrick's Day parades took place in colonial era New York and Boston.
Three thousand miles to the east, the March visitor can sample and embrace the origins of that heritage. Embrace, imbibe, eat, and take in the sights and sounds of parades and festivals the length and breadth of the island.
The biggest parade/festival is to be found, not surprisingly, in Dublin. And the 2023 parade is not wanting for ambition.
According to the parade and festival organizers website, this year's parade will be "driven by the values of community, diversity, youth and sustainability, will be the most ambitious ever, featuring breath-taking new artistic, interactive and aerial elements. 
And the continue: "On our national day of cultural celebration, St. Patrick's Festival invites those across the world to come together on Friday 17th March to collectively celebrate, share, laugh, perform, participate and remember that Mar a chéile Sinn (we are one), Embracing that unifying and inspirational theme of One, the National St. Patrick's Day Parade 2023 will shine a light on all the goodness that surrounds us."
The theme might be "one," but tens of thousands of marchers and spectators will fill the streets of Dublin on March 17.
That said, there are many other places that a visitor will find the spirit of St. Patrick afoot, and in the fresh March air.
Some devotees of Saint Patrick are inclined to tackle the incline that is Croagh Patrick in County Mayo.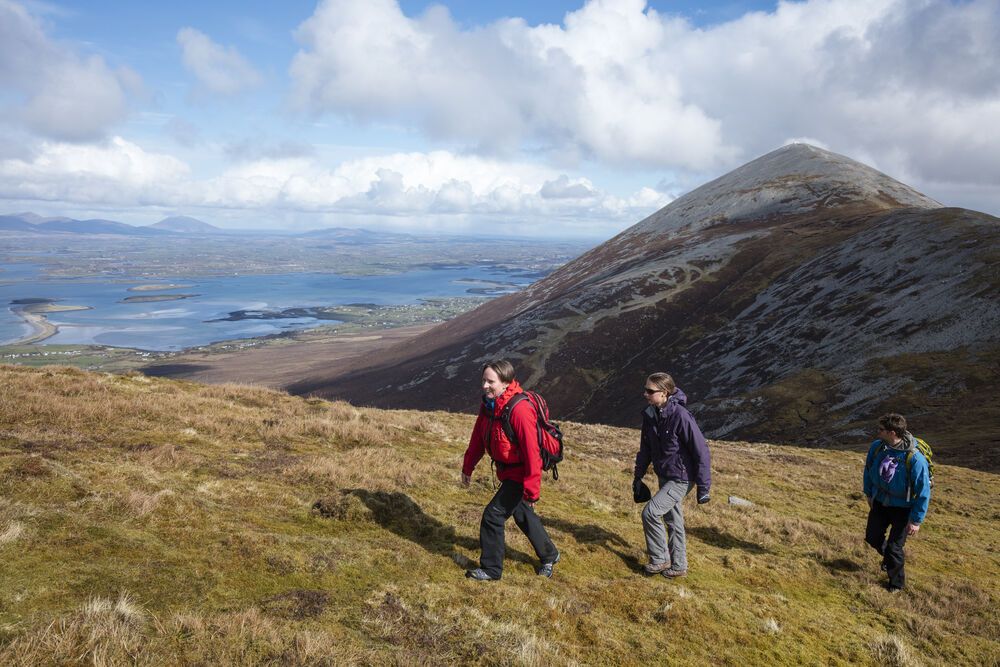 Croagh Patrick, Saint Patrick's Stack in English, overlooks spectacular Clew Bay. Saint Patrick is said to have fasted at the top of the mountain and there has been a religious structure on the summit since the Fifth Century. The present day oratory dates to the early twentieth century.
There is an annual pilgrimage, but ascending to the top is possible at any time of the year. That said, Croagh Patrick is a challenging climb and always check the weather before setting out.  Suffice it to say, reaching the summit is a guaranteed lifetime memory.
Ireland is rich in monastic sites and of course we have St. Patrick's to thank for such historical and spiritual largesse. A visit to the Rock of Cashel in County Tipperary covers but one of the island's many monastic landmarks.
It was here, according to the traditional account, where St. Patrick converted the King of Munster to Christianity. That would have been in the 400s AD.
The Rock of Cashel structures today are relatively modern; that would be the 12th and 13th centuries.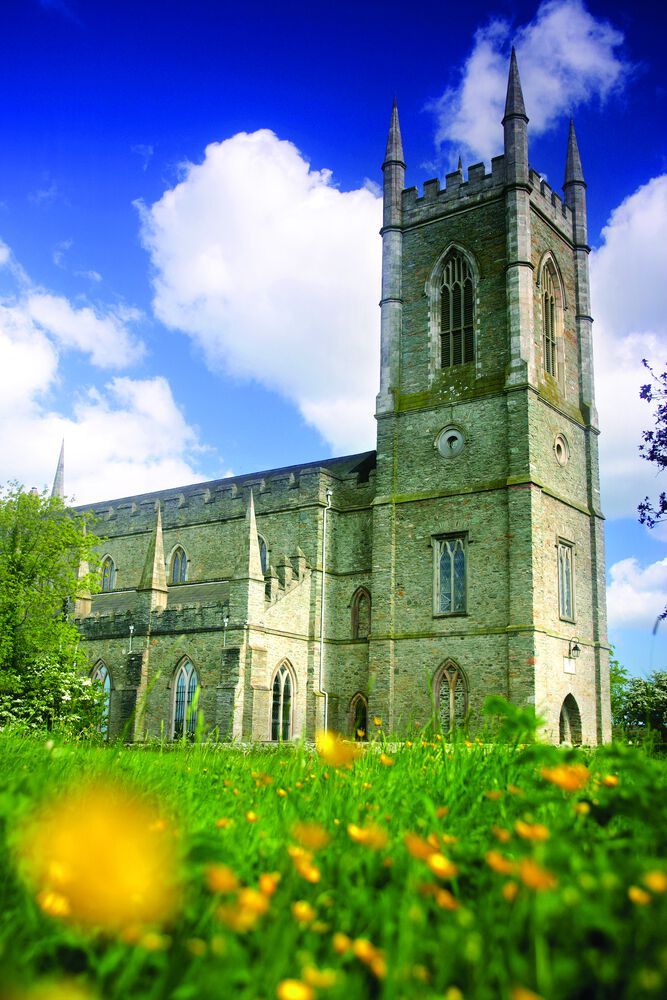 Well to the north, in Downpatrick, County Down, is what is widely believed to be the burial site of St. Patrick in the town's cathedral grounds. St. Patrick died in 461 is what is today Saul, County Down. The saint's grave is not fancy or ornate and is dominated by a large Mourne granite stone.
But from this spot you can imagine the influence of Patrick spreading to the far corners of the globe, spiritually, and in a more worldly sense.
And so, this extraordinary reach of an early medieval holy man has given birth to the idea that, on St. Patrick's Day, everyone is Irish - if they so choose.
This, for sure, is easier if you are lucky enough to be on the island of Ireland on March 17.
Here's a picture to wrap a plan around: A blazing turf fire in a cozy pub, a plate of whatever it is you fancy (bacon, cabbage and potatoes would be mine) a glass of your favorite beverage (Guinness for yours truly) and a good belt of traditional music. In this setting a bit of rain and wind outside would actually enhance the indoor relaxation though, of course, it's all cleared up outside when the time comes to leave.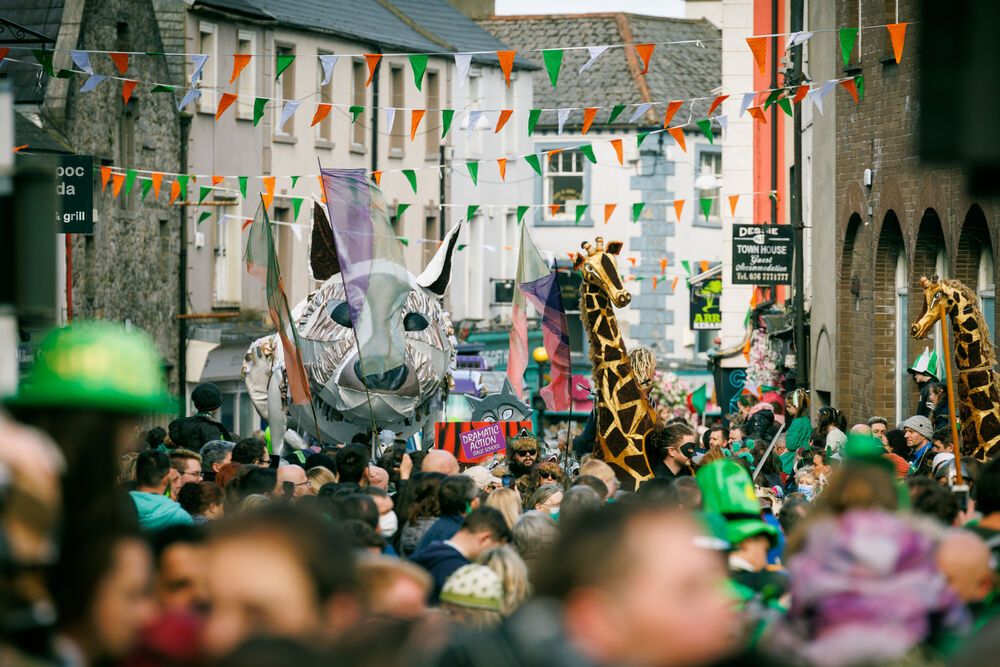 St. Patrick was not Irish. He was a Roman Briton, likely an inhabitant of what would be modern Wales or Scotland. Today, St. Patrick is a world citizen, a symbol of holiness and harmony. And good times.
And Ireland, a place that Patrick changed beyond recognition, is a country on the move, an island that embraces change, home of a people eager to share their culture and artistic creations, as evidenced, for example, in the prominence of Irish film in this year's Academy Awards.
But some things never change. And one is the unique pleasures that come with being in Ireland on the big Irish day in the middle of the year's third month. There's nowhere like it in the world. Lá le Pádraig sona daoibh. Happy Saint Patrick's Day to all.
More at www.discoverireland.com