They met "40 something" years ago, Rigoerto Torres told me, speaking of himself and his partner in art John Ahearn, while we chatted one recent afternoon surrounded by the legacy of the pair's work, Swagger and Tenderness: The South Bronx Portraits.
We shared this expansive space with near life-like representations of South Bronx natives, looking back at us from cerulean blue walls, or set on the floors of the exhibit, figures sitting or standing like neighbors on the block.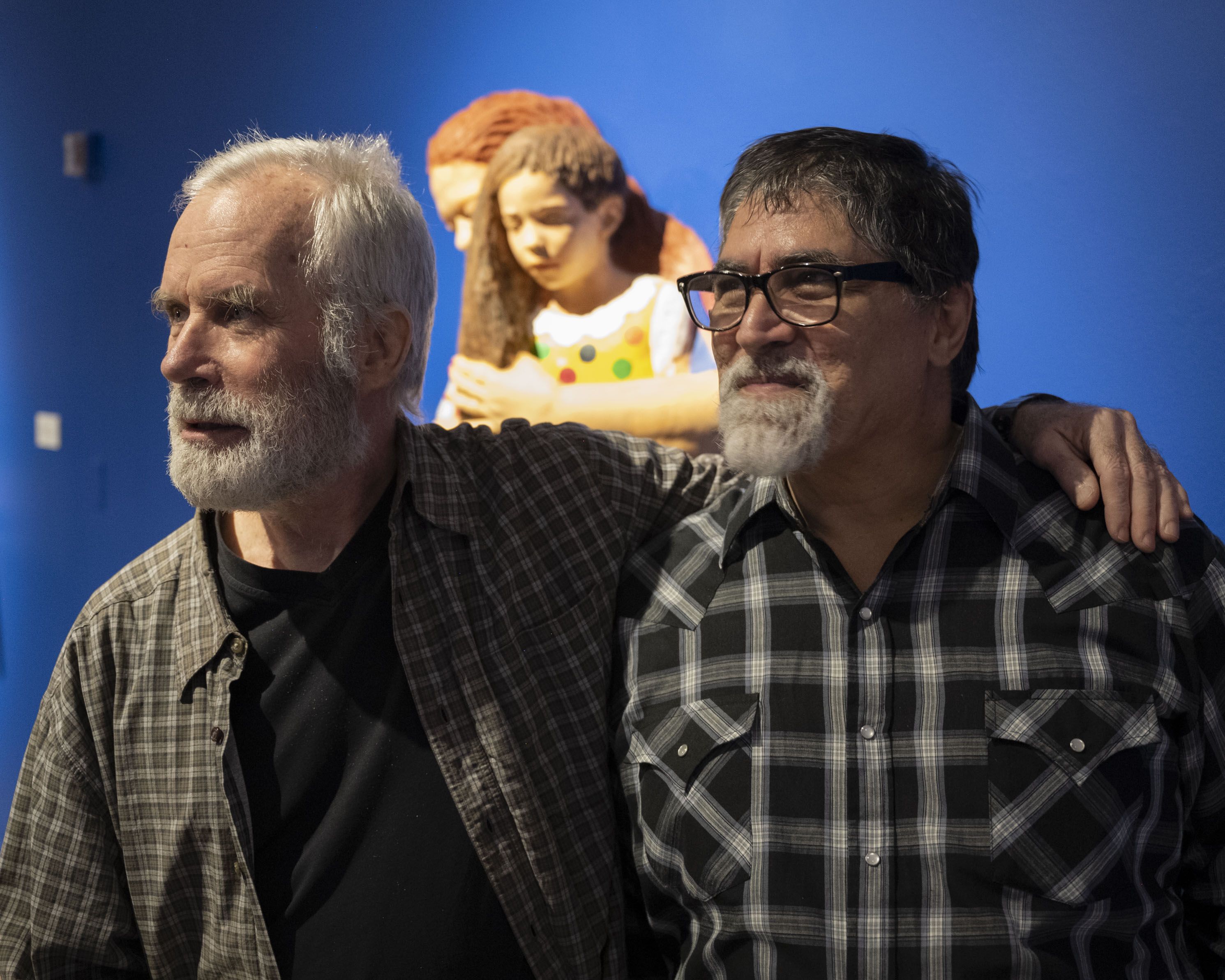 On one wall a graffiti artist holds his spray paint cans in his arms like a bouquet of flowers.
Nearby, three siblings stand each on the shoulders of the other. Torres' children. Elsewhere his daughter is a mermaid. A fortune teller, a liquor store owner, surrounded by bottles, locked in storage for decades, freed after all these years for this show.
"Swagger and Tenderness," at the Bronx Museum, brings back the beauty of a struggling community. https://t.co/ESM6P4K8uk

— The New Yorker (@NewYorker) January 2, 2023
Colors are bright, vibrant, most of the faces joyous. These figures were cast in the years between 1979 and 1985, created during a time when many had given the South Bronx up for dead. And while the calendar had flipped from the 1970s to the 1980s, this remained the borough of the, "The Bronx is burning," the borough of aggressive squeegee men frightening Yankee Stadium patrons driving home to the suburbs.
The borough that housed the "Fort Apache" police station of motion picture infamy was still the Bronx that politicians toured to highlight all that was wrong with inner-city America. It was into this Bronx that Irish-American, upstate New York artist John Ahearn ventured that night "40 something" years ago on his way to Fashion Moda, then a new voice in the New York art world that operated on the maxim that art could be created by anyone, anywhere.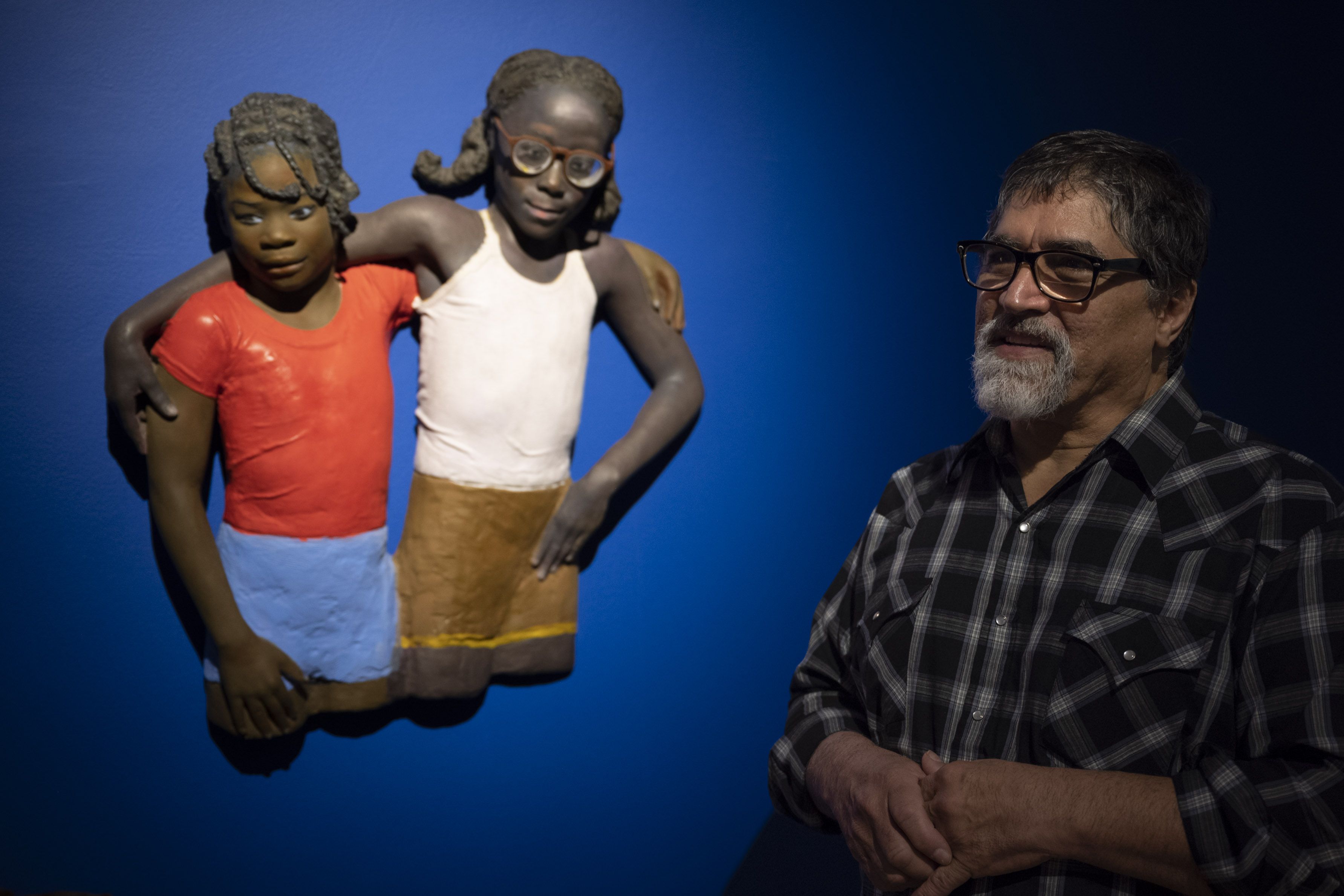 On that trip to Fashion Moda a taxi driver introduced Ahearn to a 17-year-old Torres, a Puerto Rican-born resident of South Bronx who was working at his uncle's factory making religious statues for the local botanicas, a shop that sells religious artifacts and often flowers and herbs.
SWAGGER AND TENDERNESS:
THE SOUTH BRONX PORTRAITS BY JOHN AHEARN & RIGOBERTO TORRES. #art #sculpture #exhibition https://t.co/iR65TnxsGk pic.twitter.com/NbWZf1chNY

— An Artist Is (@anartistis) January 7, 2023
"His cousin Wally," Ahearn confirms when I ask about the taxi driver and that first meeting. Ahearn, enthusiastic and energetic in conversation, then brings another of Torres' relatives into the conversation. "David was another cousin," he starts, explaining that "a major piece was done before I even met Rigoberto, of his cousin."
Ahearn remembers the night well. "His cousin was wild and flashy, right. Rigoberto was like, solid, just perfectly solid. So I met Rigoberto, and I said, "this is the one."
"David is a wonderful guy," Ahearn emphasized, "but Rigoerto has; he has a very solid character. And I could feel that when we did a casting together after I'd only met him for a few minutes, at this place Fashion Moda." 
The pairing was ideal. Ahearn, close to 10 years Torres' senior, knew the New York art world; Torres knew the people and the streets of the Bronx.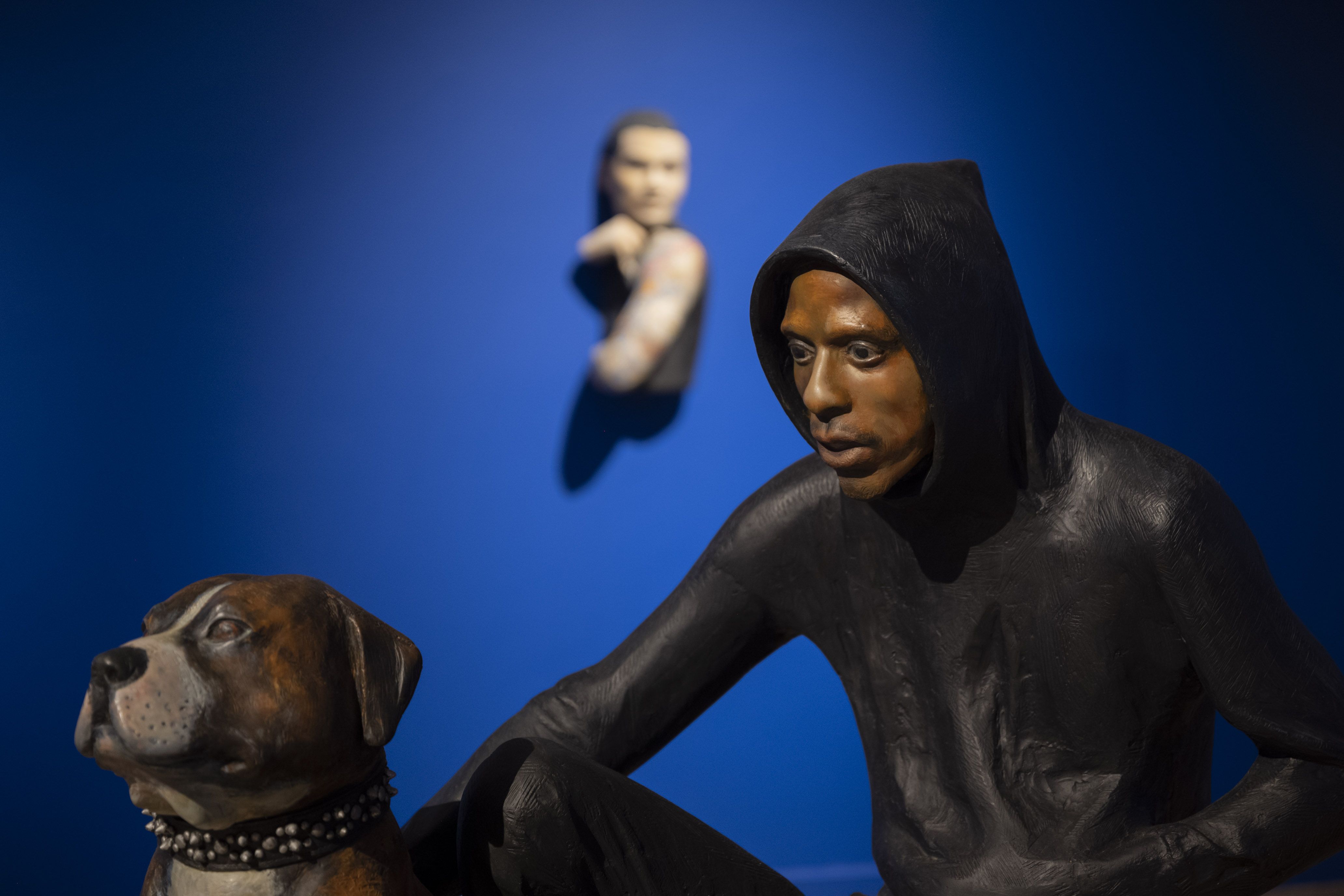 Soon the pair was setting up on those very streets, life-casting locals. 
Achingly moving, touchingly beautiful & deeply respectful works of art portraying community of The Bronx by John Ahearn & Rigoberto Torres. Great to join @Chief_JHart Mark & Gillian to tour the @BronxMuseum to view #BronxSwagger 🙌 Certain nominees for Irish Arts Awards 28 April. pic.twitter.com/Su2ATIfaqA

— Máirtín Ó Muilleoir (@newbelfast) January 28, 2023
Torres recalls, "I was working for my uncle in the factory. And then I met John and we got together and then I helped him a little bit. I just finished high school, I figured, what's my life going to become now? So I decided to see what happened with John. So I said, 'let me borrow some sculptures, and some material.' Let me go do this in the middle of the street in my neighborhood, on Walton Avenue."
Photographs and video show the process as it happened on the sidewalks of the neighborhood. A subject lays on a table covered with what looks like plaster but is actually jeltrate, a substance Torres tells me is used to make dental molds. Straws are placed in his or her nose so they can breathe.
Ahearn notes that "people could just walk by and see it on the street. But it doesn't look like an art opening does it?" 
I made the mistake of suggesting that the locals must have been happy to be a part of these works only to be upbraided by Ahearn.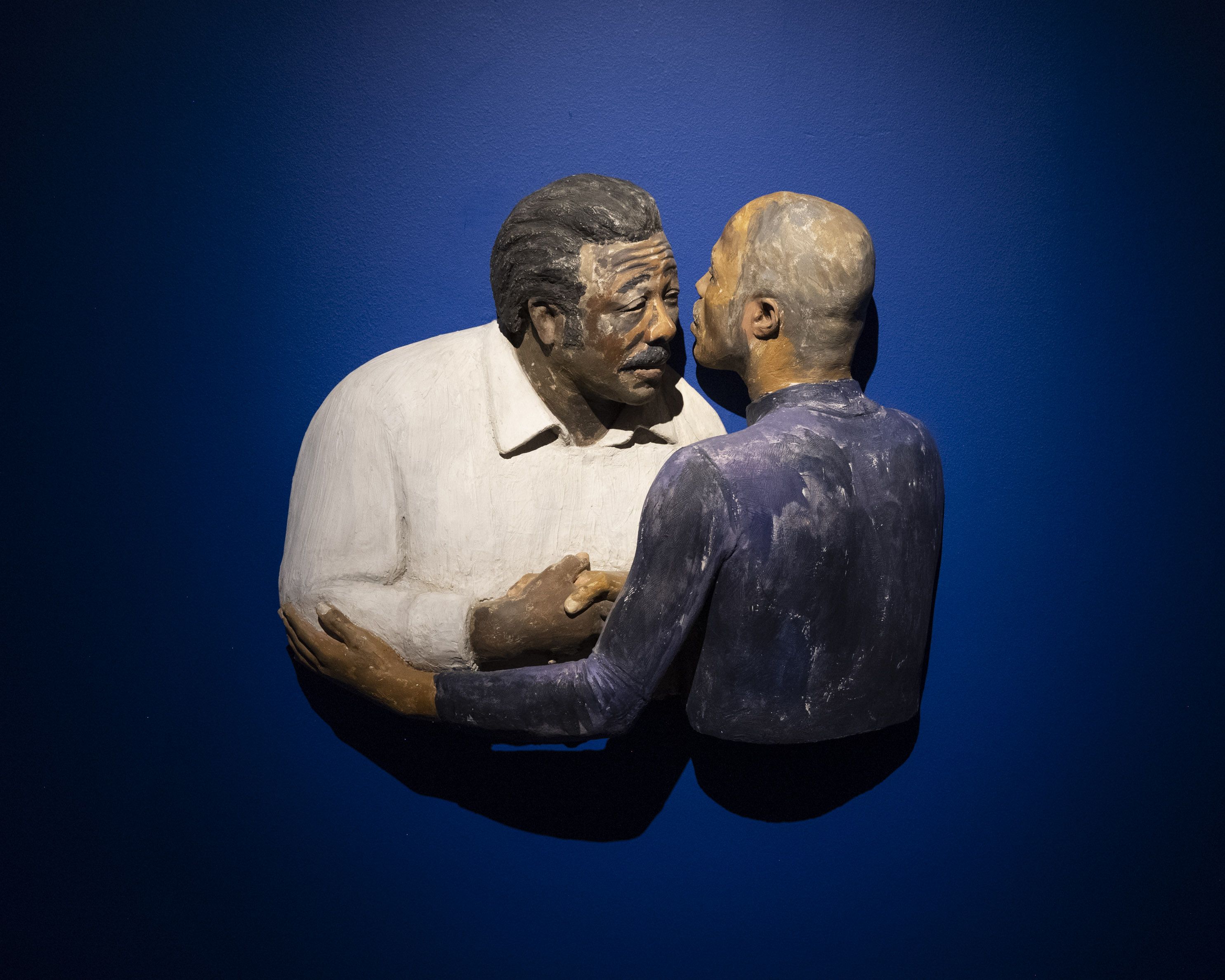 "Do you think I'd fall for that?, Ahearn began. "You throw me something like, that's like someone said, 'do people really love you?', you know what I mean? So you said, was it good to the community? Is it meaningful to them, the community, that you're putting this on the outside? And I say, well, is it meaningful to the artists to be accepted by the people? How does that feel to the artists to be accepted by people in a neighborhood? And, and how did the artists feel if the work is hanging in people's homes. Because they took it home and put it on their wall? How does that feel? That feels very deeply satisfying, and important to my identity of who I am? 
You see, that's different than saying, they love it. No, I'm not saying they love it. I love that."
John Ahearn and Rigoberto Torres at Charlie James Gallery pic.twitter.com/KV1siPIdwO

— lester monzon (@fromlester) January 29, 2023
All photos by John Wilkens.
Swagger and Tenderness runs to April 30, 2023 at The Bronx Museum of the Arts, 1040 Grand Concourse, The Bronx, NY 10456