The Irish Repertory Theatre have announced extensions for the first two productions of their 2023 season.  Currently in performances on the Francis J. Greenburger Mainstage, "Endgame," by Samuel Beckett and directed by Ciarán O'Reilly, will now play an additional four weeks of performances through April 9.
"The Smuggler began performances on the W. Scott McLucas Studio Stage on Jan. 18, as part of the 2023 1st Irish Festival, and opened Jan. 26. Written by Ronán Noone, directed by Conor Bagley and starring Michael Mellamphy, "The Smuggler" will play an additional two weeks, ending its run March 12.
"Endgame" stars Bill Irwin, John Douglas Thompson, Joseph Grifasi and Patrice Johnson Chevannes.
The New York Times in a Critic's Pick said this production by the Novel laureate Beckett's work is "sly, vivid and pulsingly alive"; "Thompson and Irwin play off each other like an existential vaudeville duo, wringing moments of superb physical comedy,: the New Yorker said, "[that] keep us rapt until the very end"; in the Irish Echo, Kevin Phoenix wrote: "Through grim gags and heart-gouging performances from this veteran cast, O'Reilly's direction exposes anxieties about the disposal of an aging society, the decline of the body, and reverses the feeble and foolhardy for the funny, dragging audience enthusiasms along through this melancholic comedy."
The New Yorker said that "The Smuggler" is a "terrific one-man, one-act play… Mellamphy is a dynamic presence, shifting easily among male and female roles and a variety of accents, while showing off some damn impressive cocktail-mixing moves." 
In the Echo's review, Phoenix said, "Portrayed in the form of seaside lore, Bagley's direction achieves the rare challenge of flicking a subtle spotlight onto a crime against national identity that is uncomfortably, distinctly American. Whether one turns a blind eye to Tim's wrongs or brandishes him a traitor will plant audiences in their own personal line in the sand."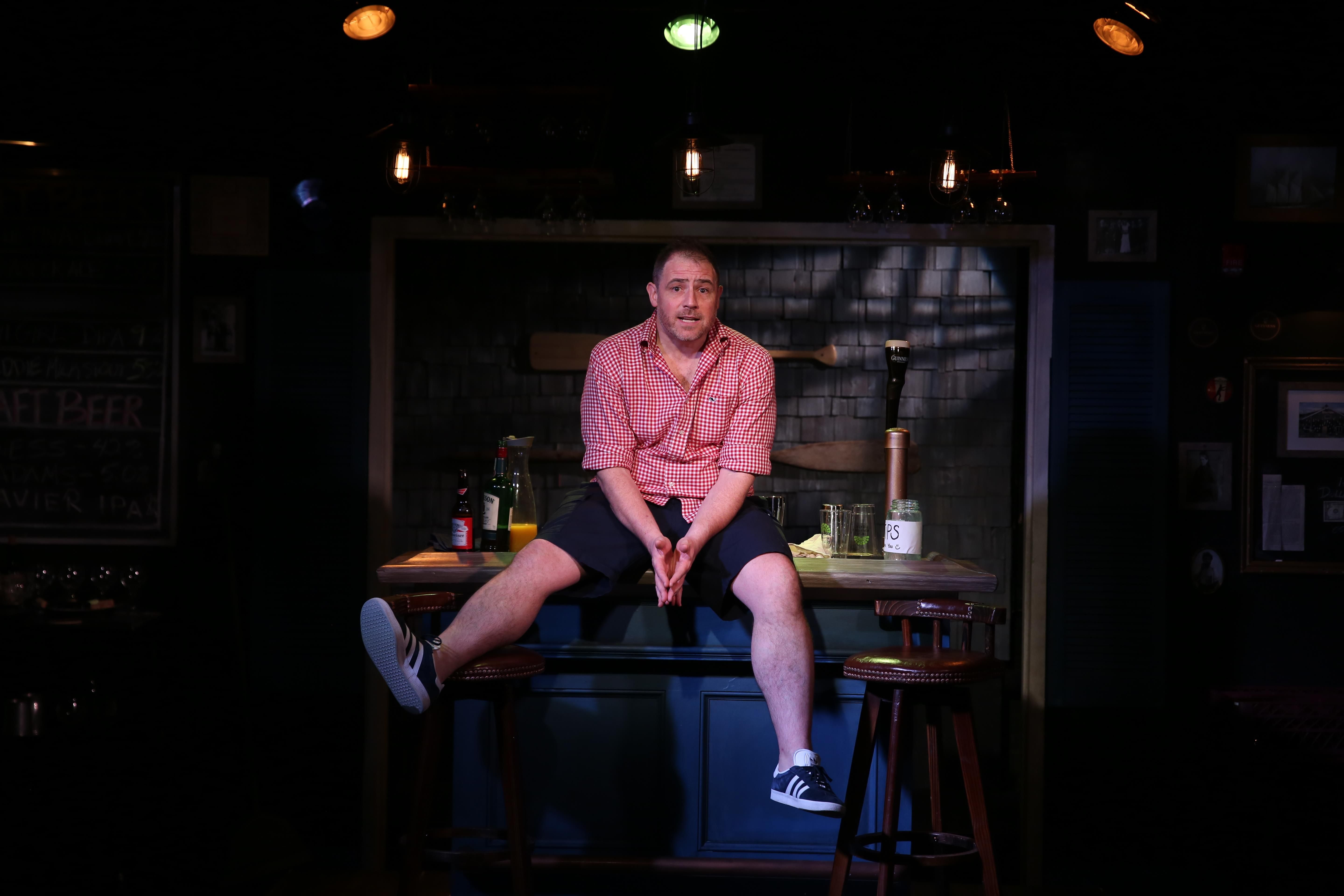 Michael Mellamphy in Irish Rep's 2023 production of "The Smuggler."  [Photo by Carol Rosegg]