Fans of "Derry Girls", the hilarious TV show out of the North of Ireland that ran for years with the wacky antics of a group of Catholic school girls during "the Troubles," might mistake Áine Mallaghan for the wise cracking Michelle from the show.
 
Áine attended Loreto Convent Grammar School in Omagh, County Tyrone growing up and says "Derry Girls, that was my childhood!"
 
It served her well. Today, Aine is the Vice President of Development for The Ireland Funds. And just like the character Michelle on Derry Girls, she's sassy and funny, albeit a whole lot smarter and yes, très chic. You gotta hear the delightful accent of this Northern Irish gal, she's music.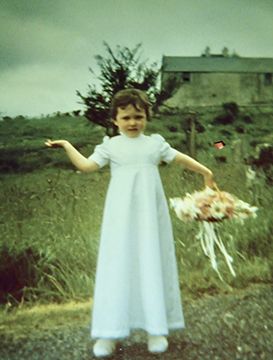 Aine grew up in Pomeroy, a tiny village, where she was the oldest of seven.
"I grew up in a very nationalist area in Tyrone, so you only met Catholics, we didn't meet anybody from the other side until I was 16 or 17 years old…yeah so that was literally my life going to convent school, being stopped by the soldiers. They would get on the bus and search the bus, they would come and search your house."
 
Her family is still there. "My parents live in the exact same spot where my grandma was born."
 
Áine now lives in the cozy, Chicago South Side village of Tinley Park, with her husband Pat Carr, whose people were all from County Down. He's a retired U.S. Air Force Group Commander/Major who just happens to be the Tinley Park Village Manager. And he wears it well. 
We were delighted to welcome @ainemallaghan and Siobhán Gallagher @TheIrelandFunds to @Barnardos_IRL yesterday. They enjoyed a tour of our Tivoli centre from Project Leader Sharon and heard about the transformational impact services have on children and families in this area 💚 pic.twitter.com/8HniR5sBwB

— Mary Gamble (@MsMaryGamble) August 26, 2022
Tinley Park is a little bit like Brigadoon, with a heavy South Side Irish moxie all its own. My old pal Matt Walsh is the Chief of Police. Pat Carr and his late cousin Michael were on our radio show years ago and Michael hosted our group of forty for lunch in Newry, where they treated a bunch of old South Side bust outs like royalty. 
 So these are great people altogether. 
 
Áine was working with Invest Northern Ireland out of Tyrone when she was offered an opportunity to join them in New York City. "Well I just loved the job when I got there,"  she says.
Two years later she opened their office in Chicago. After 18 years with Invest Northern Ireland she was recruited to head the Chicago office of The Ireland Funds.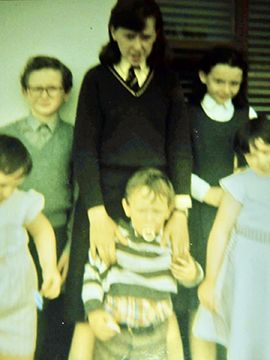 "In a nutshell, we work with over 3,000 organizations across the island of Ireland, north, south, east, and west. And they're all charities and they're doing very, very important work, so all the fundraising comes from the diaspora here in the USA," says Áine.
 
Áine runs things in Chicago and ten other States in matchmaking Irish Americans who have flourished as Yanks, but yearn through their Hibernian pride to give back to their compatriots in need, whether it's physical, spiritual, arts, culture, all of it benevolent philanthropy.
 
"Their ancestors came from Ireland and probably sacrificed a lot to get here, it goes back many generations. And it's great to find those Irish Americans who want to give back. And it really comes back to your ancestry and your roots and, as we like to say, the beat of the ancestral drum. People are still connected to Ireland by that beat."
 Indeed they are.
 
"We want to keep people connected to Ireland."
Special thanks to all our attendees at this mornings #networking event hosted by @SkylightFG @CleIrishNetwork @BACCOhio @GlobalCleveland and to Aine Mallaghan from @InvestNI_USA for speaking #collaboration #SisterCityCle #irishdiaspora 🇮🇪 🇺🇸 🇬🇧 pic.twitter.com/bCAp31dACW

— Mark Owens (@IrishInCle) May 3, 2019
 Pat and Áine met cute. She set up a business lunch which he was 45 minutes late for and he rang her as she was getting ready to leave, and yes she was fuming. He begged her indulgence and finally arrived, and they chatted for the next two hours. Both GAA enthusiasts, they had many friends in common. They stayed in touch over the next year, and he finally asked her to dinner. "He waited a year, and then, 'what is wrong with this guy?'"
 
Exactly four years later they got engaged in Ireland on the same date as that dinner. "We got married in 2018."

 
The royal couple of Tinley Park are now happily ensconced in their castle with Áine's Shih Tzu "Snoop Dog." And Áine continues doing good with The Ireland Funds. 
 
The Ireland Funds recently honored 90-year-old Sister Rosemary Connolly from Misericordia Heart of Mercy at their annual dinner. The Ireland Funds also help a small percentage of U.S.-based charities.
"That's something that my CEO, Caitrona Fottrell, is very bullish about," Aine explains.

 
The Ireland Funds depends on those of us who hear that ancestral drumbeat, calling all of us. 
 
Can you hear it?