It began as a collected series of interviews with regular Americans. Four years later, in 1978, it was a musical that was nominated for six Tony Awards.
That was a brief Broadway run, but "Working" has lived on as one of the most popular, audience-pleasing of modern musicals, in productions ranging from community and regional theater to a triumphant City Center Encores! revival in 2019.
And now the non-fiction musical inspired by  broadcaster, historian and author Studs Terkel's "Working: People Talk About What They Do All Day And How They Feel About What They Do" gets its latest treatment by 26 cast members of the St. Jean's Players, one of New York's longest-established non-profit theaters, performing continuously since the mid-1970s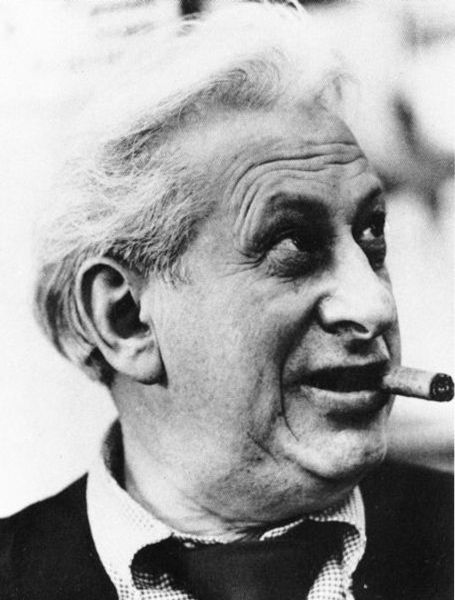 Studs Terkel in 1979.
"If I could've been what I could've been, I could've been somethin'", sings out the cast of The St. Jean's Players' production of this rousing and essential show.  "A writer . . . a baseball player . . . own a little farm . . ."  
But, in the lyrics of Mikki Grant, one of the songwriters, life intervened—marriage, health, money—and instead, they did what most Americans do—got a job. "Working: A Musical" is an ode to the satisfaction, pride and frustration that comes with the singular activity that occupies the greatest part of our lives: earning a living. 
 As the world transformed over the decades since its original creation, "Working" was revised and updated by its creators to include characters in such occupations as tech support, philanthropy, and, via a new song added in 2012 by Lin-Manuel Miranda ("A Very Good Day"), nanny and elder-caregiver.  
The musical, adapted by Stephen Schwartz and Nina Faso, with additional contributions by Gordon Greenberg, features songs by Grant, Miranda, Stephen Schwartz, Craig Carnelia, Mary Rodgers, and James Taylor, whose song "Millwork" was recorded by himself, Bette Midler, and Springsteen among others. Its lyrics remain as close as possible to the original words and thoughts of its real-life interview subjects.
"Working: A Musical" will be performed six times only, from Nov. 3 – Nov. 12, at Julia Richman H.S. Theater, 317 East 67th St. (2nd Ave.), Manhattan.  The theater is handicapped accessible.  Tickets are $35, $25 Seniors 65+ and Children through age 18.
For performance schedule and to order tickets, visit www.StJeansPlayers.org.
Pat's journey
Following his critically-acclaimed one-man shows "The Man in the Woman's Shoes" (2015) and "I Hear You and Rejoice" (2018) comes the premiere of Mikel Murfi's "The Mysterious Case of Kitsy Rainey" at the Irish Arts Center, completing the masterpiece trilogy chronicling his beloved Sligo through the wanderings of small-town cobbler Pat Farnon. 
Each story stands on its own, but it is possible take the journey with Pat and see all three on the same day: Nov. 11 or Nov. 18. (See the website for ticket reductions).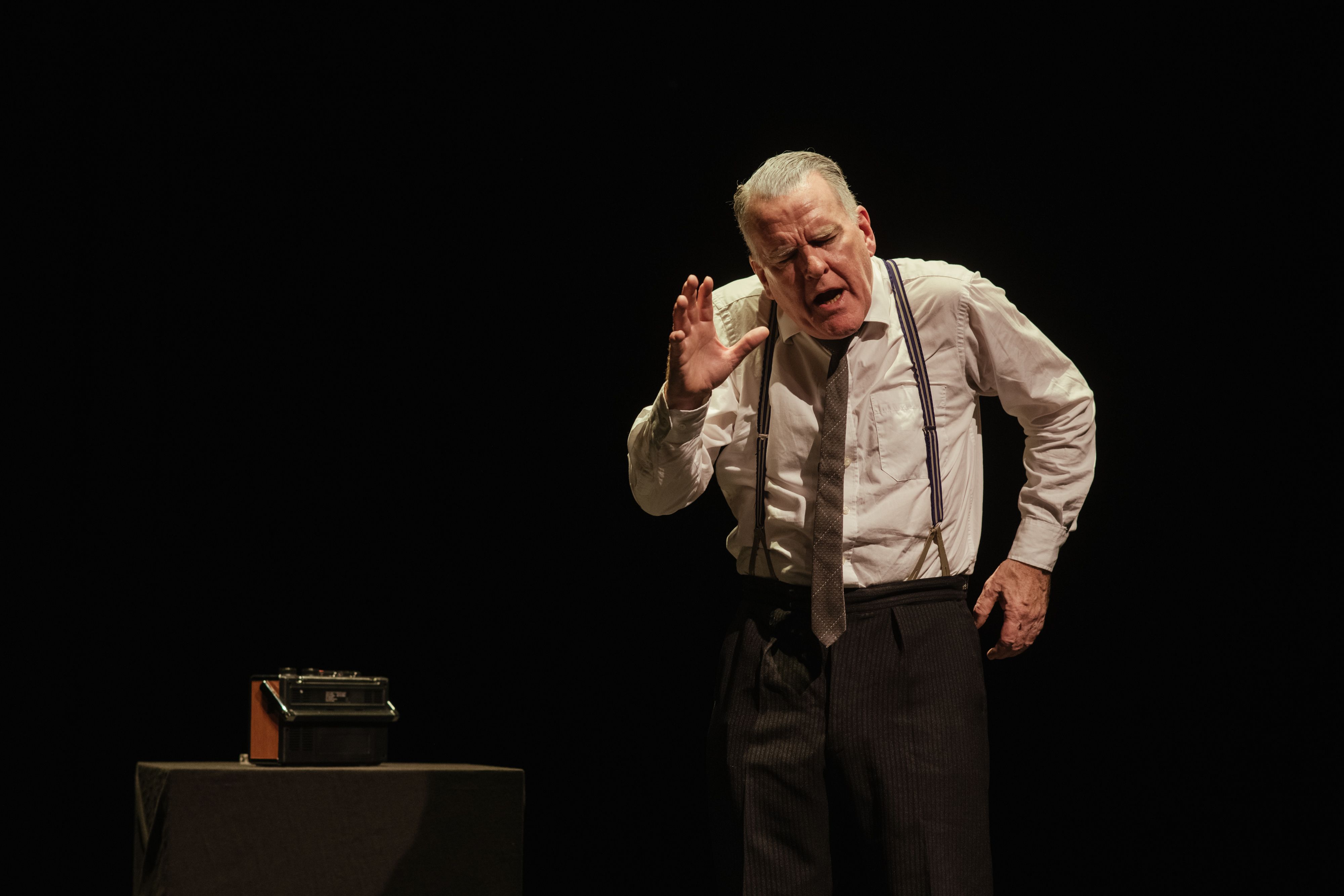 Mikel Murfi at the Irish Arts Center. [Photo by Gili Benita]
In "The Mysterious Case of Kitsy Rainey, Pat, who married in his later years, finally decides to "lift the lid" on the life lived by his Kitsy prior to their union, all while facing down his own reckoning. It completes Pat Farnon's journey in a most unexpected way. Performances are on Nov. 1, 4, 5, 10, 11, 12, 15 & 18.
In "The Man in the Woman's Shoes," Pat walks the five miles into his "metropolis," populated with no-necked water diviners, sporting savants, loudmouths, and preachers.
It was previously described in a New York Times Critic's Pick as "Astonishing...this is a high-top performance." 
Performances are on Nov. 2, 4, 8, 11, 16 & 18
In "I Hear You and Rejoice" we meet Kitsy.
Says Pat, "Once in a lifetime, a woman the likes of Kitsy comes along and when she does, the universe has to expand to accommodate her." From the football field to the chapel floor, Kitsy always has the final word.
In a New York Times Critic's Pick, the writer said, "It's impossible to resist the gale theatrical force as Mr. Murfi presents his heroine through a multi-angled prism, with body language as precise, condensed and evocative as Morse code."
Performances are on Nov. 3, 9, 11, 17 & 18.
Border cops
Belfast's Kabosh is bringing its production of Laurence McKeown's "Green and Blue" to the New York Irish Center, 1040 Jackson Avenue, Long Island City, for two nights only, Wednesday and Thursday, Nov. 15 and 16, both at 7 p.m.  The New York premiere features original cast members James Doran and Vincent Higgins and is directed by Paula McFetridge, Kabosh's artistic director.  Andrew Hume is the producer.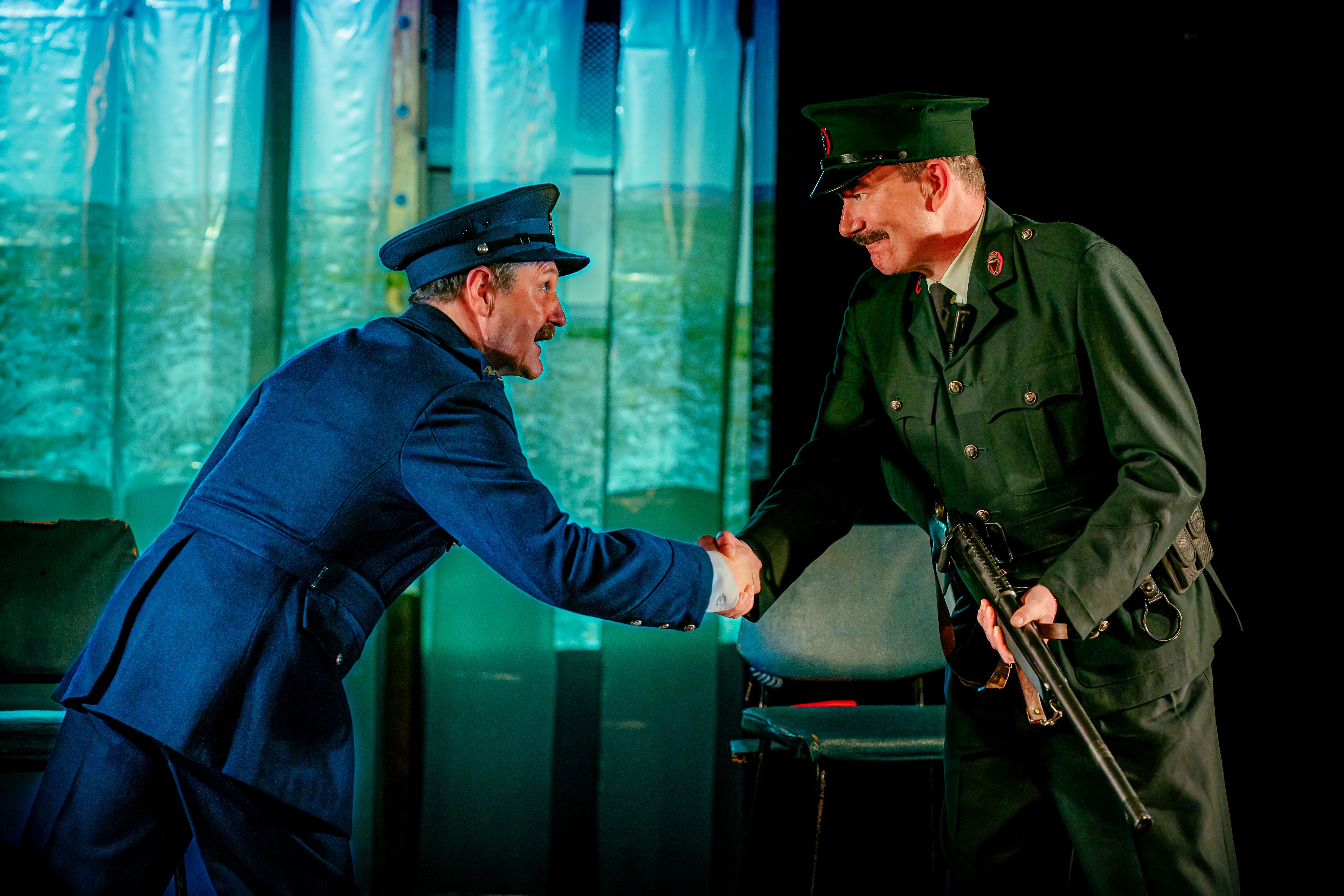 James Doran, left, and Vincent Higgins. [Photo by Jack Ollila]
Set in 1994, just before the IRA ceasefire, the show springs from the real-life experiences of two police officers on either side of the Irish divide as they patrol the invisible line in the ground that splits the island in two.  Doran plays Garda officer Eddie O'Halloran, originally from West Cork, patrolling the Monaghan side of the border in the Republic of Ireland, while Higgins is David McCabe, an RUC officer whose experience of patrolling the Fermanagh side in Northern Ireland is vastly different from his southern counterpart.