A Boston conference has heard that business leaders who took part in last month's trade and investment mission to the North of Ireland witnessed a region transformed by 25 years of peace. 
And addressing the 15th annual Golden Bridges conference in Boston on Friday, U.S. Special Economic Envoy to Northern Ireland Joseph Kennedy III — who led the high-powered delegation — said the positive change had been drive by American companies which now employ almost 32,000 people in the region. "That's thousands of families supported, roofs over heads, food on plates and kids in school," the Special Envoy told him home town audience. 
And he revealed a poignant moment from a panel discussion during the trip which resonated deeply with the American visitors who were attending a reception at Stormont. Panellists were Mark Durkan (SDLP), Lady Trimble (UUP), Eileen Bell (Alliance), Gerry Adams (Sinn Féin) and Peter Robinson (DUP).
"I was asked on short notice to moderate," explained Congressman Kennedy. "Gerry and Peter were seated next to each other at the far end. And as I walked up to the microphone, I said, well, this is going to be interesting. Towards the end of that panel, Peter said – he turned to Gerry and said – that looking back, his single biggest regret was that they didn't start talking earlier.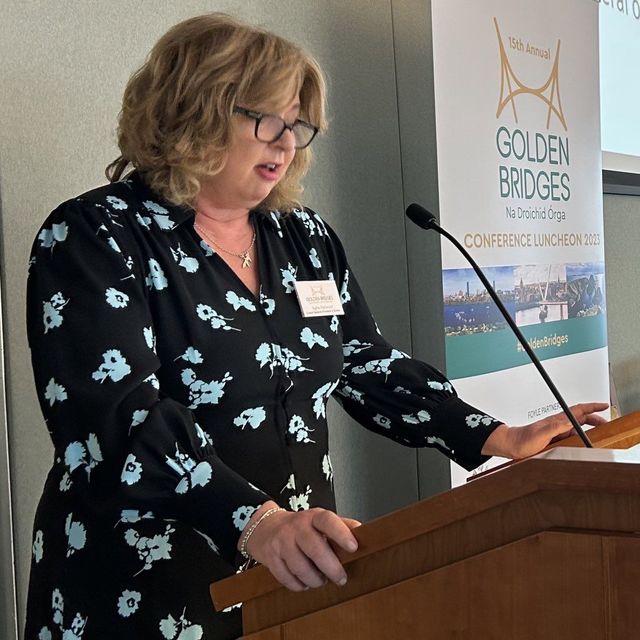 "And I think about what would have transpired during that time if these two had been talking during that awful period of silence. The hurt and loss."
Thank you to every member of the Northern Ireland business delegation - it's hard to think we could have packed more into two and a half days, but come back and we'll try! pic.twitter.com/LKmnWOY7dQ

— Joseph Kennedy III (@USEnvoyNI) October 27, 2023
And he contrasted that 'silence' of the past with the sounds of the new Northern Ireland. 
"Today, its not the silence that echoes. (the air is) filled with the Game of Thrones theme, Samson and Goliath at Harlan Wolff rolling down the tracks, Collins Aerospace cranking out airplane seats, trade convention after trade convention and laughter at the latest quip from the Derry Girls – for those who can understand them."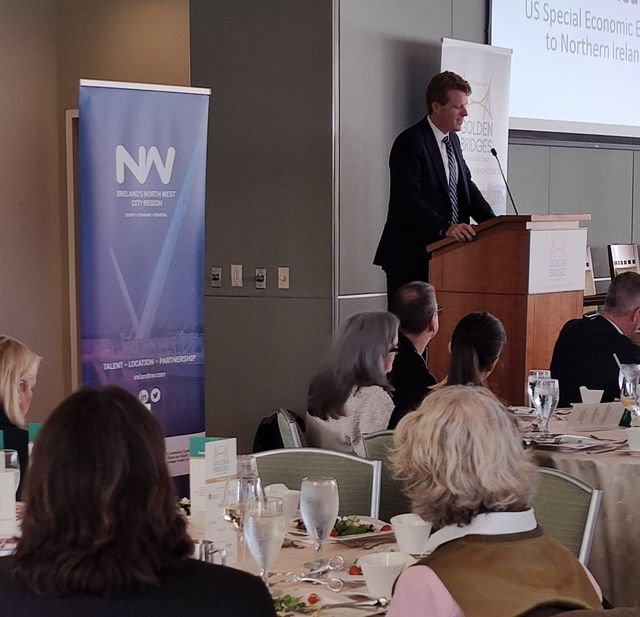 During the Special Envoy's mission, New York Comptroller Tom DiNapoli announced another $50m commitment to the North of Ireland, giving another fillip to the region's business sector. 
The business and political leaders from the Boston area attending the annual gathering linking Massachusetts and Northwest Ireland — were told their work has a strong precedent. 
"Long before the Belfast-Good Friday Agreement was signed, the eyes of Boston were turned towards Derry and the Northwest to help bridge the divide between communities with much-needed investments," he said. "Boston-Derry Ventures was launched by John Hume in the 1980s to stimulate trade and economic hope in the region. The Foyleside Development, opened close to 30 years ago, was one of the shining results of those early efforts." That mantle was taken up anew by Boston business titans following the signing of the peace accords, he stated. 
"By the time of the agreement in 1998, plans were already in the works to reward the process with a peace dividend. Ted Kelly, born in Belfast, brought Liberty Mutual of Boston to Northern Ireland, jump-starting a massive investment by financial services companies from the U.S. in the region."
It was a privilege to join @dcsdcouncil, @donegalcouncil, Alpha Innovation, StimOxyGen and Laniveen at #GoldenBridges to discuss a new era of innovation in the Northwest. Panel expertly chaired by @MartinaCurtin. pic.twitter.com/48HtmL1Dk9

— Andrea Haughian (@Andrea_Haughian) November 17, 2023
Others had followed Kelly's trailblazing lead but the Special Envoy cautioned against relying on Irish American sentiment alone to deliver economic investment. 
"It's true that many of the U.S. executives doubling down on peace to invest in Northern Ireland have family roots on the island," he said. "They long to be a part of something bigger than themselves – to create a foundation of broader prosperity and lasting peace for all communities. (However) while shareholders might respect the sentiment behind President Biden's call – not to mention my mission – to up the U.S. ante in the region's economy, they don't necessarily buy it. Corporate leaders like Ted Kelly may have soft hearts, but they have hard heads for business. The fact is that companies are doing good and doing well in Northern Ireland."
But in an echo of the famed 'ask not what your country can do for you' speech, Special Envoy Kennedy made a impassioned appeal for Irish Americans in Boston to do more to foster mutually beneficial transatlantic links. 
"What more can be asked? Especially of Irish America? Let's start with your sons and daughters. Let's establish stronger educational exchange programs and promote semesters abroad in places like Derry's Ulster University campus. Massachusetts alone is blessed with academic bounty, from Harvard to Babson, UMass, Northeastern, MIT and Boston College. There are over 200,00 students alone in the Boston area. We should be building a bigger academic bridge to the Northwest."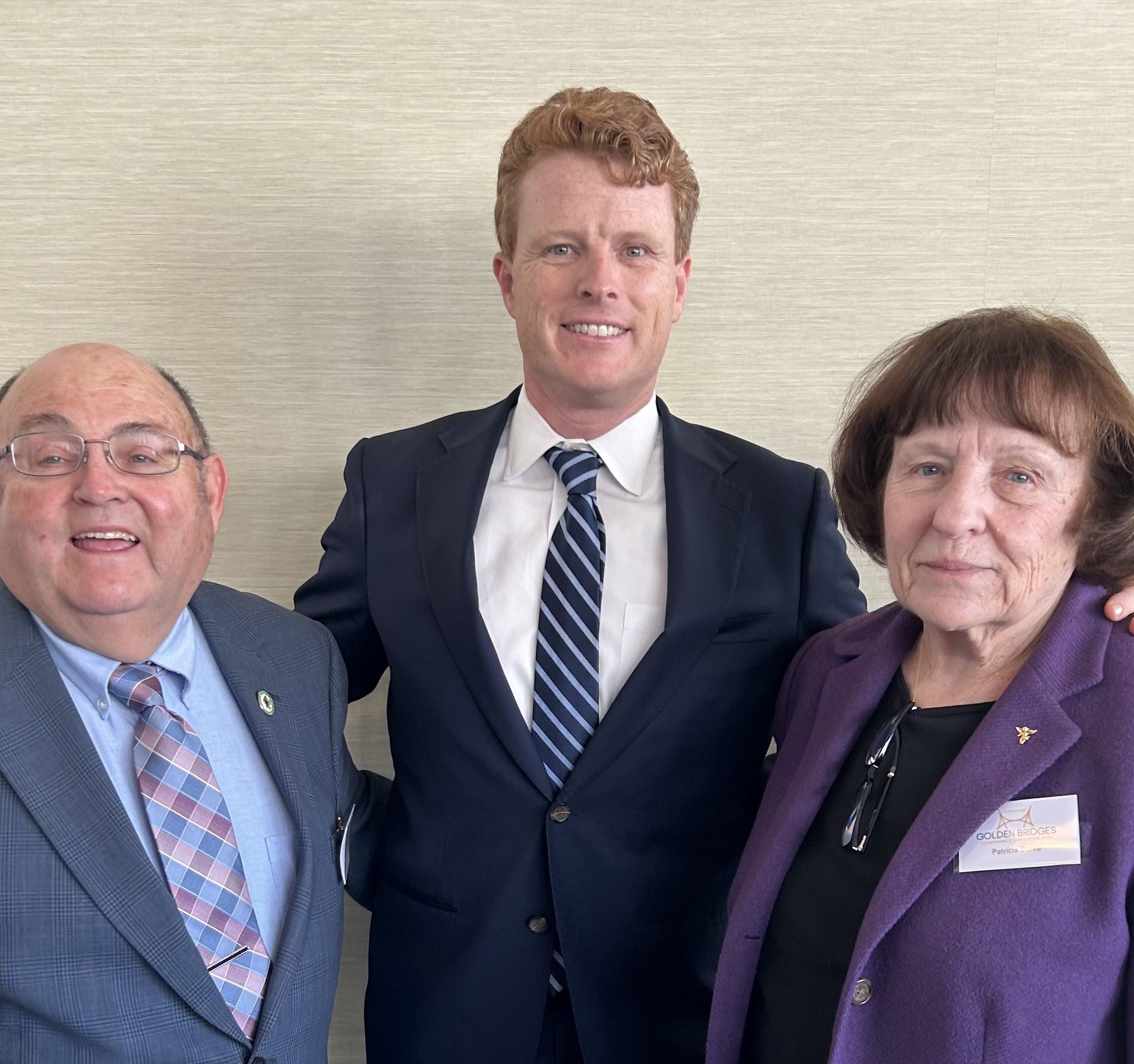 He added: "Tourism is well established in the region but there are unrealized opportunities in expanding sports tourism – not just GAA games athletes, but also soccer and lacrosse and basketball, with high school and college players engaging in cultural and historical tours as well as competition.
"Cultural exchanges can contribute enormously to the economy but they are too few and too infrequent. Let's face it, as much as we like to celebrate the economic surge powered by coding and science, the human spirit thrives on the arts. It's also true that not everyone is going to find a job in a clean room.
"Places like Derry and Belfast are used to making things. Researchers are coming up with innovations in clean tech in a region with 50 per cent of the power coming from renewables. But small steps by companies like Artemis are bringing battery manufacturing jobs to employ young people. That ship being built by Harland & Wolff? An order from the British Navy.
"There is much progress to talk about in Northern Ireland but so much more to do," he concluded. "And thanks to the people in the room, my job is much easier."The Special Envoy's keynote to the Golden Bridges conference luncheon was followed by panels on investment in Northwest Ireland addressed by representatives of both Donegal and Derry City and Strabane councils as well as by Tourism Ireland head in North America Alison Metcalfe, Invest Northern Ireland head in the Americas Andrea Haughian, the Northern Ireland Bureau Director Andrew Elliott and Atlantic Technological University Chair Maura McNally. 
You can see more about Golden Bridges online.