In retrospect, it's easy to see the hand of God working in our lives.
James "Duke" Lynch grew up in St. Philip Neri parish in Chicago. He earned the nickname "Duke"  because of his idolization of the late film star John Wayne. In 1960 his cop dad, Frank Lynch, took him to see the John Wayne film The Alamo for his 10th birthday. 
The kid was enraptured by the film and the steady machismo of its star. 
He was so moved by the three-and-a-half-hour film that he ditched school for the next 61 days to sneak down to the Jeffrey Theatre to watch matinees. Sister Rosina was not happy and Duke had to repeat fifth grade. It was about this time he also earned the nickname "Alamo".
In high school, "The Sands of Iwo Jima" inspired Duke to follow in the steps of Sgt. Striker: He signed up for the Marine Corps in 1968. Next stop: Vietnam.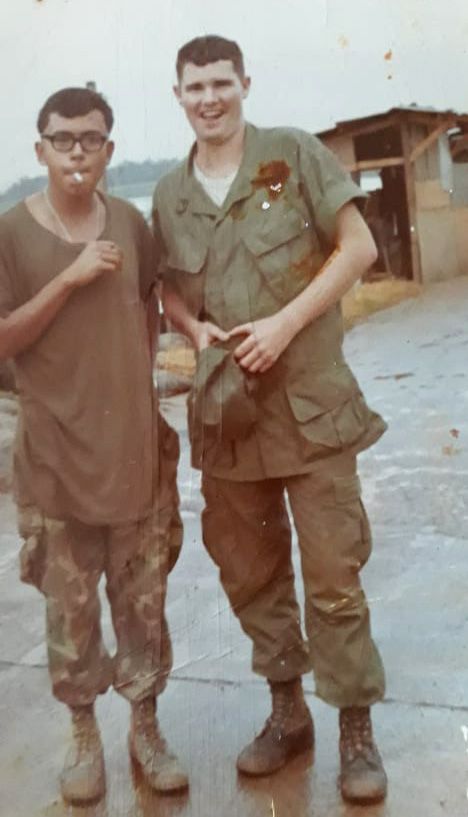 "I got wounded; the point man tripped a booby trap. Him and the guy behind him got killed," he recalls. "I was the radio man, my squad leader, Eddie Avery, God bless him, pushed me into a rice paddy. I lost my knee and part of my hearing."
"Duke" Lynch was hustled into a Medi-vac chopper, which then took on enemy fire and tilted sideways, dumping Duke back into the jungle, breaking his other leg.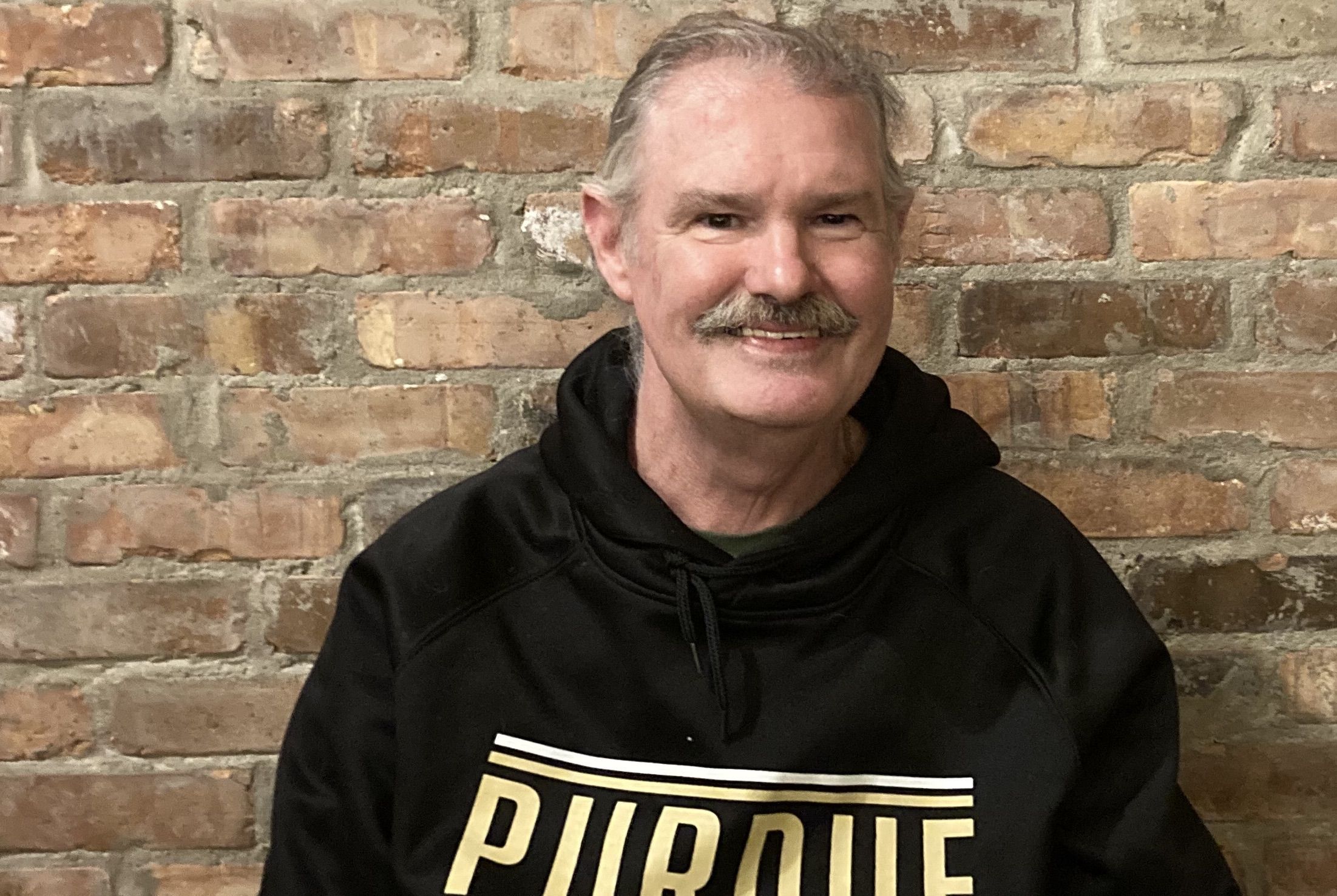 After recuperating in Hawaii, they sent him back to Nam for another 13 months. At the end of his tour, he was getting out of the marine corps at El Toro in California. "We were in the Enlisted Men's club. The phone rang, it was John Wayne, who lived in Newport Beach, inviting some marines to his barbecue. The Marines sent a bus for them. 
"There were 20 drunk marines. Duke was out on the lawn, he said 'Come on in guys, the beer is in here!' I said my life's complete. We were there for three or four hours; well we were drunk when we got there. Ed McMahon was in the basement! I gotta tell ya, I had a Sgt Major who was in Korea and Vietnam, medal of honor winner, and he was crying, when he met The Duke."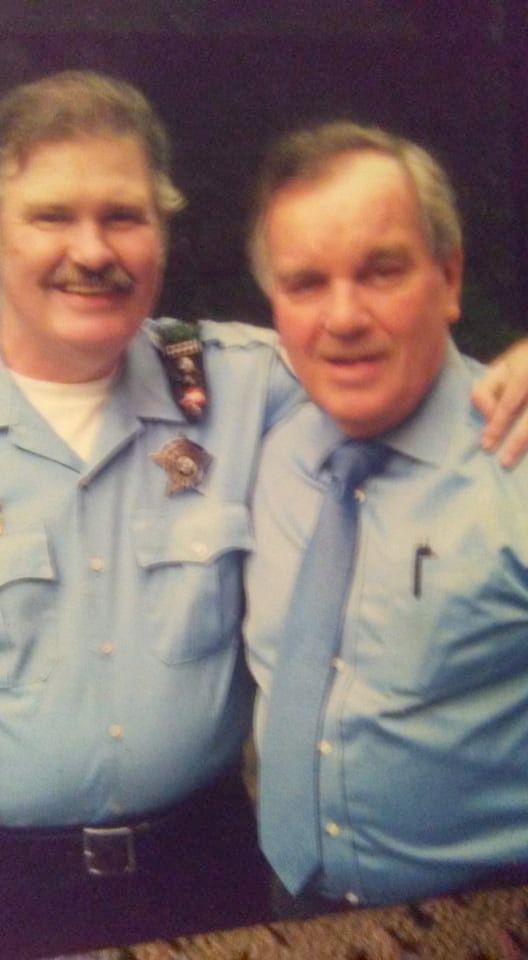 Lynch was still pretty banged up from his wounds when he got out of the service but the Irish Mafia of Chicago got him on the cops. He entered the police academy at age 20.
"I got shot in 76. They were robbing a liquor store. We had one-man cars then and no vests. I killed the one guy runnin' out, he was armed, shot him right in the head. It was a good shot, and I went over to see if he was dead and the second guy came out and shot me, right in the gut. I remembered back in Vietnam they always said if you're ever shot in the gut, 'it's Blake and Lamb time,' (South Side funeral home). But had the greatest doctor, Dr. McCarthy born in Ireland, County Wicklow. He saved my life, came into my room smokin' a cigar."
When John Wayne died in 1979, "I called my wife and said, 'I'm going to California!" and she said, "If you go, don't come back!" I said he's only gonna die once."
After the funeral, "Duke used to drink in a bar in Newport beach, and I got one of the guys to tell me where it was. It was very private, it was like eleven o clock in the morning, so I knock on the door and this guy comes out and I'm in my dress blues uniform, with my ribbons, and my bronze star, and I said, 'listen, you gotta, let me in'...he sez 'you can come in but don't bother anybody and remember what you're here for'. Jimmy Stewart was there, and I was in Viet Nam when his son was killed over there, Ben Johnson was there, Hugh O'Brien, James Arness from Gunsmoke, and Duke's daughter came to the bar and she remembered me. Luckily I was still drinking then, I don't know if I could handle it now. I am sober, 37 years and in AA."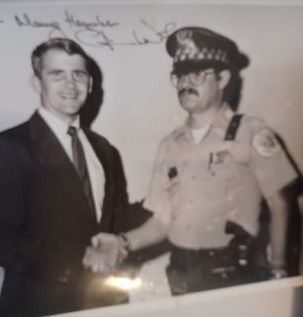 After 24 years on the job, Duke got on the mayor's bodyguard detail, "I was there 15 years", Mayor Richard M. Daley "was great to me, he called me Duke."
Last November Duke was diagnosed with stage 4 cancer and started chemotherapy. He is sanguine in this battle, maybe his last. 
"Cowards die many times before their death, the valiant never taste of death but once."