A diving effort at the goal line by Ryan Carmichael to knock in a crossing pass resulted in the only goal of the match as Hofstra prevailed, 1-0, over Binghamton in Vestal, N.Y. last Tuesday in men's soccer. That was the fourth goal of the season for the junior from Portadown, Co. Armagh. Hofstra is now 5-2-1.
 Dean Lewis curled a shot from 22 yards out into the upper left corner of the cage in a 3-0 Lock Haven victory over Shippensburg at home last Wednesday. Lewis, a sophomore from Belfast, has four goals this season. The Eagles are now 3-4-2.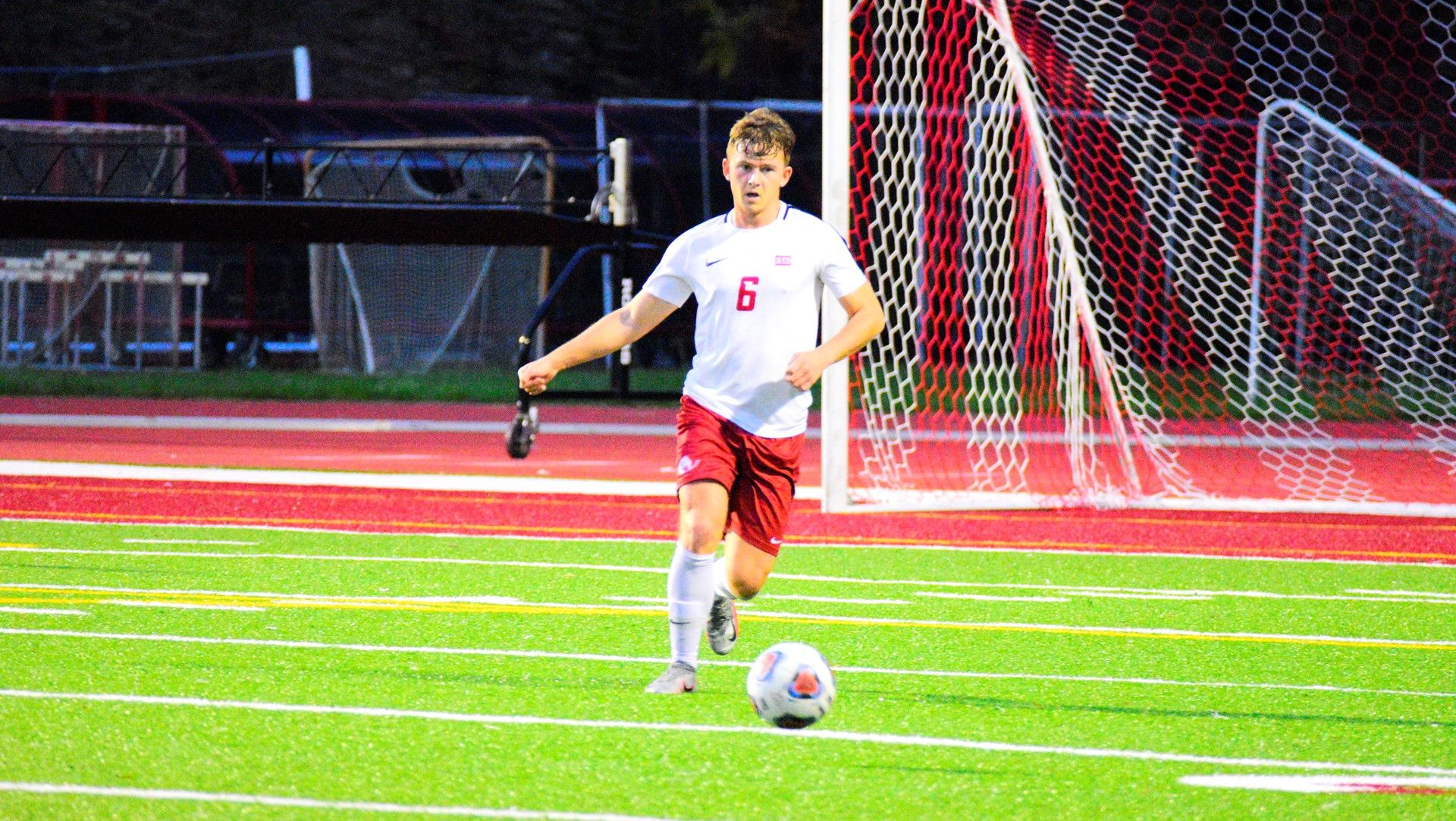 Dean Lewis.
 Paddy Burns scored the first and fourth goals of the match in Notre Dame's 4-0 victory over Chicago State at home last Wednesday. Burns is a junior from Crumlin, Co. Antrim. The Fighting Irish are 3-3-1.
 Conor Pugh scored twice in a 4-0 Virginia Tech shutout of Longwood in Blacksburg, Va. last Tuesday. The Dublin junior has three goals this season for the Hokies (1-6-1).
 Davenport posted road victories over St. Cloud State, 4-0, on Friday and Upper Iowa, 3-2, on Sunday. Matt Whelan, a senior forward from Cork was in the midst of the scoring action in both contests. He scored the third and fourth goals against St. Cloud State, the first of which was fed him by teammate Eoin Broughan, with the next on a penalty kick. Broughan is a junior from Ashbourne, Co. Meath. Whelan earned two assists against Upper Iowa. The Panthers are now 3-5-1.
 Cathal Coyne and Robbie Lyons both scored a goal and picked up an assist as Campbellsville defeated Lindsey Wilson, 3-1, in Lebanon, Tenn. on Sunday. The Tigers, coached by Dublin native Shane Kelly, are now 4-1-1. Coyne is a junior from Castlebar, Co. Mayo, while Lyons, a sophomore, hails from Dublin. 
 Killian Griffin, a Waterford junior, scored the only goal that mattered as West Alabama defeated Delta State, 3-0, on the road Friday. From there, the Tigers moved on to Mississippi College, where they engaged that rival in a 1-1 tie. Griffin set up the first goal. West Alabama is now 2-2-4. 
 Brevard's Sam O'Callaghan got in on the scoring in a 3-0 Tornados win over Berea at home last Wednesday. The backfielder from County Wicklow notched his tally (his first of the season) in the 24th minute. Brevard is now 4-3-0. 
 Odhran Lawlor, a freshman from Moate, Co. Westmeath, earned his first collegiate point when he got credit for an assist in Fort Hays State's 4-0 takedown of Ouachita Baptist in a Thursday home match. Teammate Tadhg Walsh, a freshman from Dublin, also dished out on another Fort Hays tally. Gerry Cleary has the Tigers at 4-2-3.
 Sean Kerrigan, a sophomore from Sligo, converted a penalty kick in Mercyhurst's 4-0 road win over Pitt-Johnstown on Saturday. He now has nine goals for the Lakers (9-0-1) this season. 
 Coach Barry Farrell's Irish connection accounted for all the offense in William Carey's 2-0 win over Blue Mountain in Hattiesburg, Miss. on Saturday. Jamie Wynne, assisted by Caoimhin McConnell, scored the first goal with Brandon Bermingham getting the second. Bermingham is a sophomore from Drogheda, while his teammates are freshman – Wynne from Dublin and McConnell from Antrim. Farrell's Crusaders are 5-1-1.

WOMEN'S SOCCER
 Aislinn Meaney had a foot in three of the four goals notched by Noreen Herlihy's Indiana (Pa.) Crimson Hawks as they took care of Pitt-Johnstown, 4-2, in a Wednesday road victory. Meaney is a senior from Ennis, Co. Clare. Herlihy has Indiana at 2-1-4.
 Mick D'Arcy's Central Connecticut State Blue Devils quickly reversed a three-match losing skein to begin September with three consecutive victories. Roma McLaughlin, a senior from Greencastle, Co. Donegal scored what proved to be the winning goal in a 2-1 triumph over LIU. A 1-0 win over Wagner saw the match winner occur in the fifth minute on a give and go on which Aoife Horgan, a sophomore from Ballybunion, Co. Kerry, earned an assist. Horgan then accounted for the Blue Devils' fifth goal in Sunday's 6-0 thrashing of Stonehill. CCSU is now 5-5-0.
 A long counter from Sarah Haddock to a teammate resulted in the second goal of the match for Cumberland (Tenn.) in a 4-3 loss to Lindsey Wilson on Sunday. The Phoenix fell to 6-2-0 with the loss. 

FIELD HOCKEY
 Albany enjoyed a 5-1 victory over visiting California on Friday. Hannah Mangan, a senior from Dublin, was in goal for the Great Danes and made one save. Robyn Murray, a senior from Enniskerry, Co. Wicklow, earned an assist on one of the goals for Albany (6-3).
 Siofra Murdock, scored a goal – the third of the match and her second of the season – in Harvard's 3-0 triumph at home over Boston University on Sunday. She is a junior midfielder from Dublin. 
 Rachel Houston's goal in the 57th minute didn't affect the outcome of Rutgers' home match against Michigan on Saturday but did save the home team the humiliation of getting shut out on their home turf. The stat sheet notes that the senior from Hillsborough, Co. Down scored the goal using "extra effort in front." Rutgers is now 6-4 overall and 
2-1 in the Big Ten. 
 Clodagh Ferry set up the only goal that really mattered in Syracuse's 6-0 defeat of Dartmouth at home on Sunday. She earned her assist in the match's eighth minute. Eleventh-ranked Syracuse is now 8-2. Ferry is a graduate student from Dublin.