Matt McClean became the first man from Ireland to win a USGA amateur title when he scored a 3 & 1 victory over Hugh Foley in the U.S. Mid-Amateur at Erin Hills in Wisconsin. The victory secures spots in next year's Masters and U.S. Open for the 29-year-old optometrist who plays out of Malone Golf Club near Belfast.
            The Irish pair easily qualified for the match play portion of this tournament by finishing within the top 10 in stroke play. McClean shot 72 and 66, while Foley shot 66 and 70. They kept on going through four rounds of match play and then qualified to meet each other in the 36-hole final round by scoring 3 & 2 semifinal wins.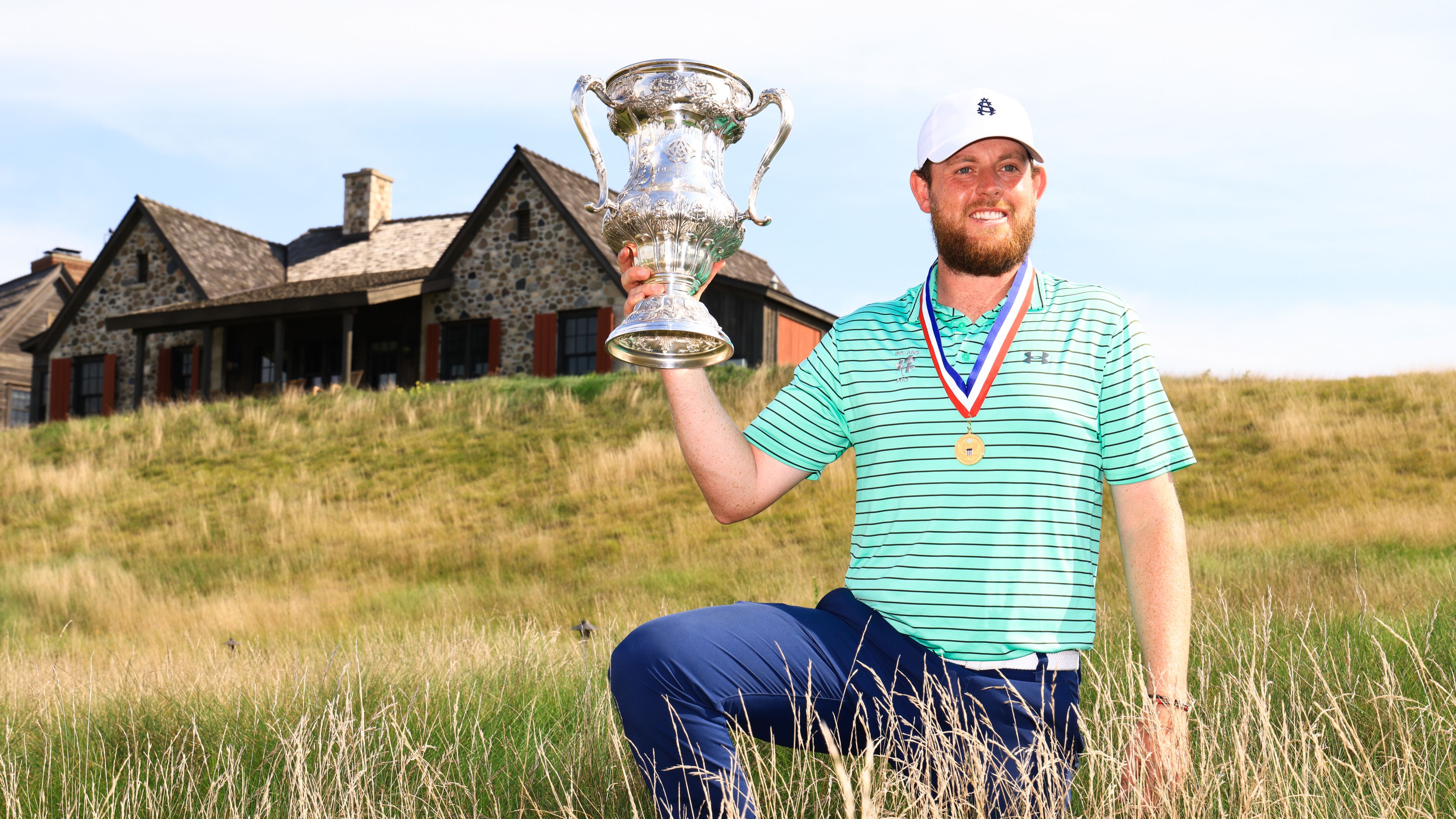 Matt McClean. [Photo by Steve Gibbons]
            At times, McClean looked as if he might run off an insurmountable lead in the final round, but Foley kept reeling him in. After a birdie-3 at the par-4 30th hole, McClean was five up with five holes to play. But Foley wouldn't die. He won the next three holes to trim McClean's lead to 2 up. They played the 34th hole evenly and then McClean salted the match when Foley bogeyed the 35th hole.
            Never, however, did McClean allow himself to believe he'd put Foley away.
            "At any point in the match I didn't think it was over because I know sort of firsthand what he does and what he can do," McClean said of Foley. "He played pretty good. He got a couple bad breaks on the way around. He holed a couple putts, I holed a couple putts. We sort of missed a few putts each, but he definitely got a few sort of unfortunate breaks on the way around, and they sort of went my way today."
            Only by a passing suggestion did McClean consider entering this competition for the 25-and-over set.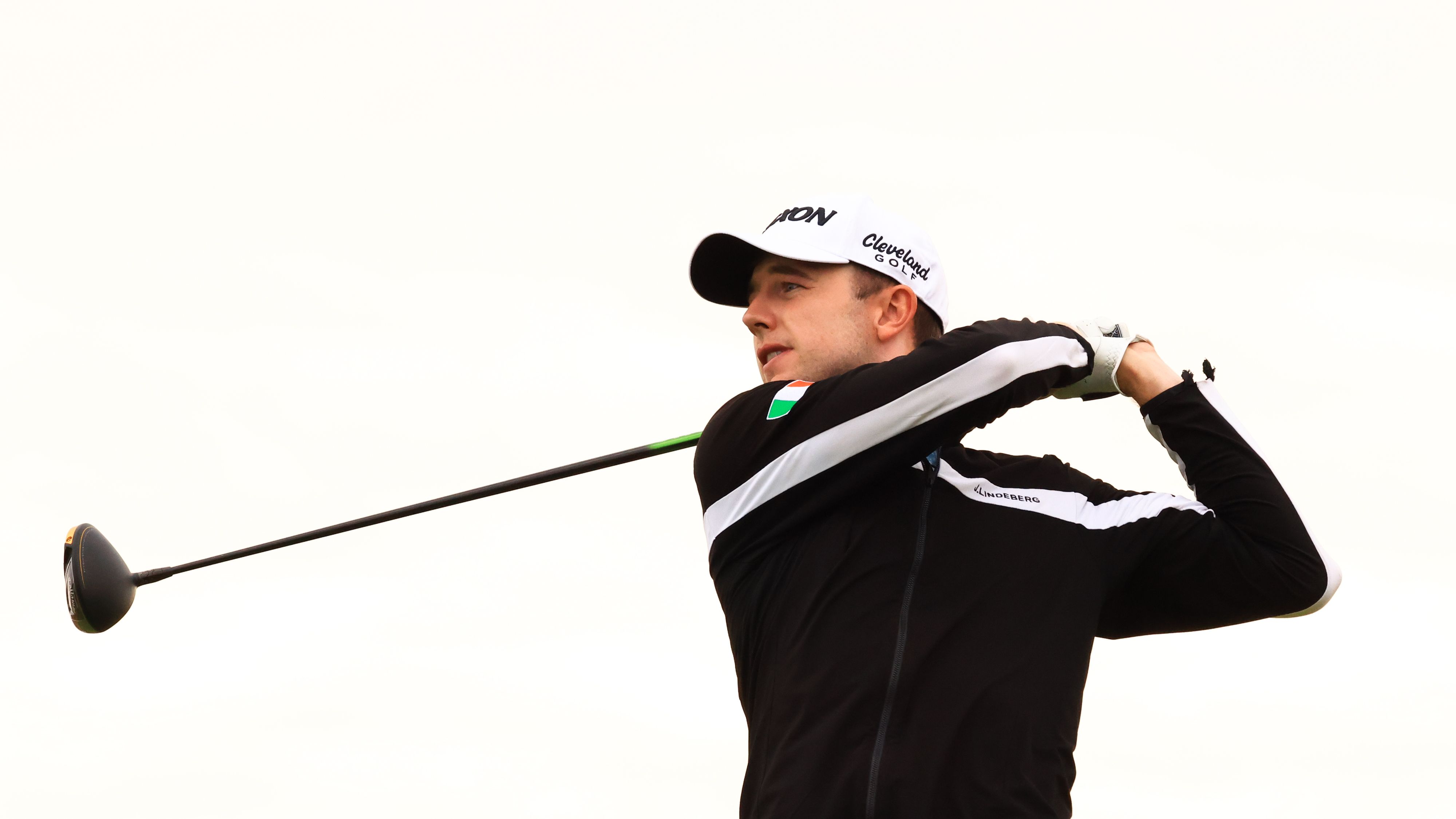 Hugh Foley. [Photo by Steve Gibbons]
            "To sort of think that a year or maybe less, six months ago, I probably wasn't fully aware of the competition, and just had never thought about it," McClean said. "One of the guys from the Ireland team said, 'U.S. Mid-Am is on this year at Erin Hills; we should probably go.' I was like, 'Yeah, we should probably go.' So, it wasn't my idea initially, so I thank him for sort of bringing up the idea."
            Foley was complimentary of McClean. 
"I made a late charge there, decent back nine. Almost put the nail in the coffin. That's when I had a little bit of a run and freed up. But he held up great with those pars there at the finish. Yeah, he deserved it today."
LADIES EUROPEAN TOUR
            The KPMG Women's Irish Open was resurrected this year after a 10-year hiatus. Leona Maguire gave the galleries at Dromoland Castle a rooting interest, although she couldn't quite close the deal.
            Klara Spilkova won a playoff on the first extra hole over Ursula Wikstrom and Nicole Broch Estrup. Maguire finished a stroke behind them at 13 under par, having shot 67, 75, 65 and 68.
            Dromoland's first two holes – both par-4s – gave Maguire more than she could handle as she lost five strokes to par there over the tournament. She began the final round two strokes off the lead but began the round bogey-bogey. She turned her fortunes around at the seventh hole with the first of six birdies but that wasn't quite enough.
            "I gave it my very best shot today especially on the back nine," Maguire said. "I was just a little bit too far back after Friday, but if you would have told me I'd finish on 13-under-par on Friday night I would have taken it.
"There has been some great golf played. The Irish fans had a lot to cheer about this week, they've come out in their droves, and I think the first KPMG Women's Irish Open in ten years has been a great success."
EUROPRO TOUR
            Stuart Grehan came within a stroke of making his second playoff appearance in three weeks in the Wright-Morgan Championship at Clevedon Golf Club in England. Rounds of 67, 66 and 69 left him a stroke shy of the duo who went an extra hole to settle matters. Third money did bump the pride of Tullamore Golf Club up two spots in the Order of Merit, from ninth to seventh place.
            The Tour Championship at Lough Erne in Enniskillen, Co. Fermanagh beckons next month. As the final installment in the Tour's calendar, it will be Grehan's last chance to secure a spot on the 2023 Challenge Tour.
            Consecutive rounds of 71 caused Dermot McElroy to miss the cut by two strokes. He dropped from second to third on the money list.