Almost 24 years ago an elegant Irish pub took up residence in the Avondale neighborhood on Chicago's Elston Avenue, in the former home of the infamous "Oinkers" dive bar.  Oinkers catered to bikers and bimbos who sometimes performed in the very popular "fashion shows", and the gaudy pink pig's head cartoon sign announced to the world "dis is a classy place!"
But change was coming quickly to Avondale and Oinkers had to make way for the actual classiest Irish pub/restaurant in town, "Chief O'Neill's Irish Pub - the pub you've been practicing for."
The genesis for this jewel in the crown of Chicago's Irish pubs began her life as Siobhan Collins in Sliabh Luachra, the Hill of the Rushes bordering counties Cork, Kerry, and Limerick. She was the fourth of ten children, an arts lover and champion flute player whose journey of discovery eventually led her to Chicago.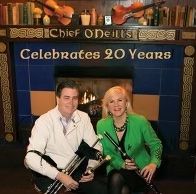 She met another musician at the Milwaukee Irish Fest, a young man named Brendan McKinney, and thus began a romantic, artistic, and culinary partnership that continues today. But first they opened an insurance agency together. 
And did quite well! But Siobhan was restless. "We worked hard, won numerous awards, trips here, trips there. People just bought insurance from us. We were shocked. And then one weekend out of thin air I said, 'Why don't we just do something to at least have fun on the weekends? And Brendan said, 'Well, what might that be?' And I said, 'We should open a little Irish pub where we can go and play our music on the weekends."
A remark like that to the jaundiced eye, could be the trigger to start polishing the dueling pistols, but no, Brendan liked the idea and both McKinney's jumped into the fray. Sure, you own a successful insurance agency, two kids and another on the way, why not go for broke in the bar biz?
Watch Kieran McKinney prepare our famous steak and Guinness pie on WGN this morning! https://t.co/OKanFgqgom

— Chief O'Neill's Pub (@ChiefONeill_Pub) March 15, 2019
But at this point, something else came into play. The property had been a public house going back to the 1890's. It was just down the street from the old stomping grounds of a legendary Irishman, the one and only Francis O'Neill, born in Tralibane, near Bantry in County Cork.  At the age of 16 he signed on as a cabin boy on an English Merchant vessel, met his future wife on a voyage to New York and in 1873 they settled in Chicago, where Francis became a policeman.
O'Neill served as Chief of Police in Chicago from 1901 to 1905. A piper himself, Chief O'Neill recruited many traditional Irish musicians onto the police force, and he wrote several books, including O'Neill's Music of Ireland, containing almost 2,000 musical compositions. He is now credited with "saving the soul of Ireland" by writing down the music when it had heretofore been passed down only orally.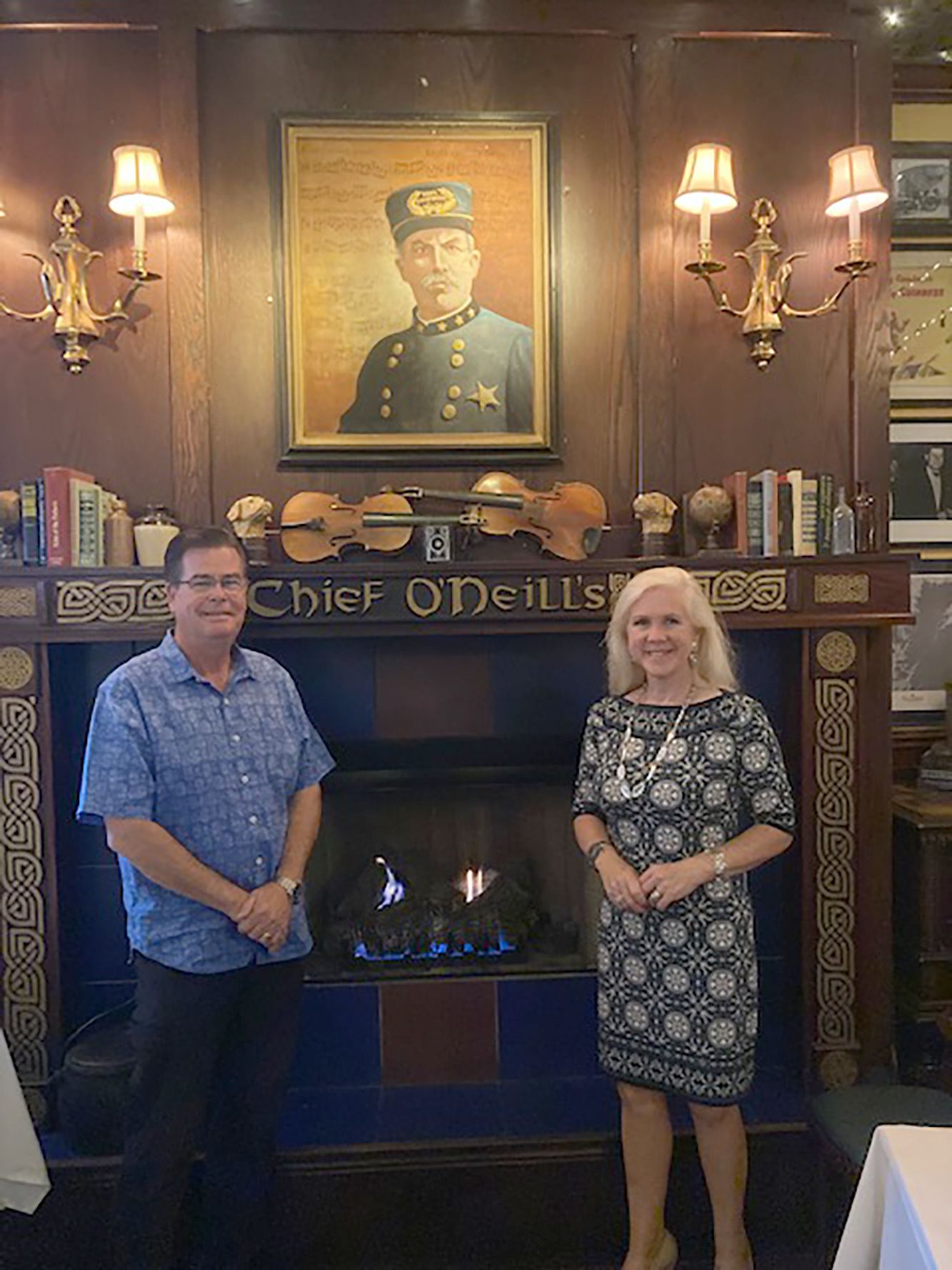 Could the spirit of Chief Francis O'Neill been working to help Siobhan and Brendan McKinney with their pub?
It sure seems that way. They threw their hearts and souls into the pub, imported all the woodwork from Ireland, canvassed the neighborhood to build support for their pub, and asked Father Keneally to lead the Emerald Society bagpipe band down to the street for the blessing of their new Chief O'Neill's Irish Pub. It was instantly a hit!
Sure, there have been tough times like the recent pandemic and when they first opened the Chicago Tribune food critic gave them "four forks", but they didn't know that until 300 people showed up on a Wednesday night out of the blue.
The set lists for tonight are set! The Affiliates and I are playing a fundraiser for my daughter's school at Chief O'Neill's Pub in Chicago. Ticket entry gets you access to an open bar. Playing for drunk teachers and parents? Let's do it! pic.twitter.com/APzVBXFWMp

— Phil Yates (@philipayates) March 25, 2022
But 24 years later it's a mecca for Irish culture in Chicago.
Some of the biggest names in Irish Trad music have performed here including Liz Carroll, Aoife Scott, Bohola, The Friel Sisters, Paddy Homan, John Williams, and Katie Grennan and they've hosted TV shows like Our Irish Pub, and films like Road to Peridition.
Generations of families have celebrated "first date", engagement party, rehearsal dinner, wedding, christening, First Communion, and Confirmation here as well as funeral luncheons. 
Some of the help even claim to have seen the ghost of Chief O'Neill, or maybe that's just an excuse not to work until the haunting hour closing time. But his spirit is here and felt by all who keep coming back.
Brendan and Siobhan call it "the pub you've been practicing for" and Brendan reminds us "practice makes perfect!"