rIreland has thirty-two counties and four ancient provinces, but only one kingdom — The Kingdom of Kerry! Renowned for its gorgeous coastline wrapping around its famous "ring," breathtaking mountains, and cinematic lakes, County Kerry is one of Ireland's most popular tourist destinations. My grandmother was born outside of Killarney in a small townland near Rathmore, so I've been visiting on and off since 1984. On my latest sojourn, nine of my closest friends (my children and grandchildren, ages 7 to 14) joined me. Fortunately, we found something to please everyone, from our first day in Dingle to our last day on the Shannon Ferry heading north to Clare. This "Ireland Hopping" is not intended to be a "must see" for your family, only a peek into what worked for us!
One of County Kerry's most well-known tourist routes is its famous "Ring" (technically the Iveragh Peninsula), a 110-mile-long driving/walking/cycling circuit that, in addition to its wealth of scenery, historic sites, beautiful beaches, and seaside towns, often begs this question: which way to go? Because of its popularity, especially during the tourist season when the roads clog with tour buses, the narrow roads make it somewhat difficult for passenger vehicles to navigate. Consequently, tour buses run in an anti-clockwise direction out of Killarney, following the N72 to Killorglin, picking up the N70 through Glenbeigh, Cahersiveen, Waterville, Caherdaniel, Sneem, and Kenmare. Traveling by car, it's recommended that drivers travel in the opposite direction. These are only suggestions but, indeed, our mini coach followed the route from Killorglin.
Where to stop along the route depends, of course, on personal interest, so with children and first-time visitors to Ireland on board, the Kerry Bog Village (kerrybogvillage.ie) ticked all the boxes — Irish Wolfhounds and Kerry Bog Ponies for the kids, period thatched cottages, and Irish Coffee at the Red Fox Inn for adults! Located in Ballincleve, halfway between Killorglin and Glenbeigh, the open-air museum explores the rural side of Irish life. A bit like Bunratty Folk Park in County Clare, but on a much smaller scale, the emphasis here is on Ireland's rural culture, customs, and living conditions from the Famine years to the late nineteenth century. A display of rural farm equipment, five furnished thatched cottages — Jeremiah Mulvihill's turf cutter's dwelling, Jack Bell O'Sullivan's forge, Phil McGillycuddy's stable, Denny Riordan's laborer's cottage, and Paddy Browne's thatcher's house — and information on the surrounding boglands made for a delightful stop on the Ring. 
After a few more stops along the way — in Cahersiveen to pay homage to Ireland's greatest politician, Daniel O'Connell "The Liberator," who was born in the town in 1775, and Waterville, where three of the golfers in the family played a round — we continued on to Parknasilla Resort in Sneem for a three-night stay. 
 Playwright George Bernard Shaw, a visitor himself in 1909, described Parknasilla like this: ". . .a place of long sea views and intricate walks between ferns and fuchsias, rock and rhododendron, to burnt our castles lost within the woods and along the various fingers of land that point west into the warm Atlantic, this place does not belong to any world that you or I have ever worked or lived in . . .it is part of our dream world!" Heady stuff, I know, but the resort, which is set among 500 acres of islands, inlets, and woodlands and flanked by the Kerry Mountains and Kenmare River, could not be more beautiful. 
 Approaching from the village of Sneem, the resort is located on a wide curve in the road that invites you in "to stay a while" — and why not? There's something for everyone in the grand hotel, which started out in 1895 in a building owned by Bishop Charles Graves. The current structure, designed in a simplified Scottish baronial style, was built with romantic high-pitched roofs, gables, and tower, all faced in local stone. It eventually became part of the Great Southern & Western Railway hotels and renamed The Great Southern Hotel, Parknasilla; in 2006 it was renamed Parknasilla Resort & Spa (parknasillaresort.com). 
The golfers enjoyed the 12-hole course of open and tight fairways with spectacular water views; and most of the adults took advantage of the wellness facility with Elemis Spa. Everyone in the family loved the walking trails (there are ten trails ranging from walks along the water's edge to interior woodlands, especially the Fairy Trail, where you search for at least 20 "homes" inhabited by the Parknasilla Fairy community), kayaking, bike riding, archery, boating, and its two terrific restaurants — fine dining Pygmalion and casual Doolittle Bar.
For a fine finish to our time in Kerry, the ladies enjoyed afternoon tea at the elegant Park Hotel Kenmare (parkkenmare.com), a delightful reward, we thought, for all that family time!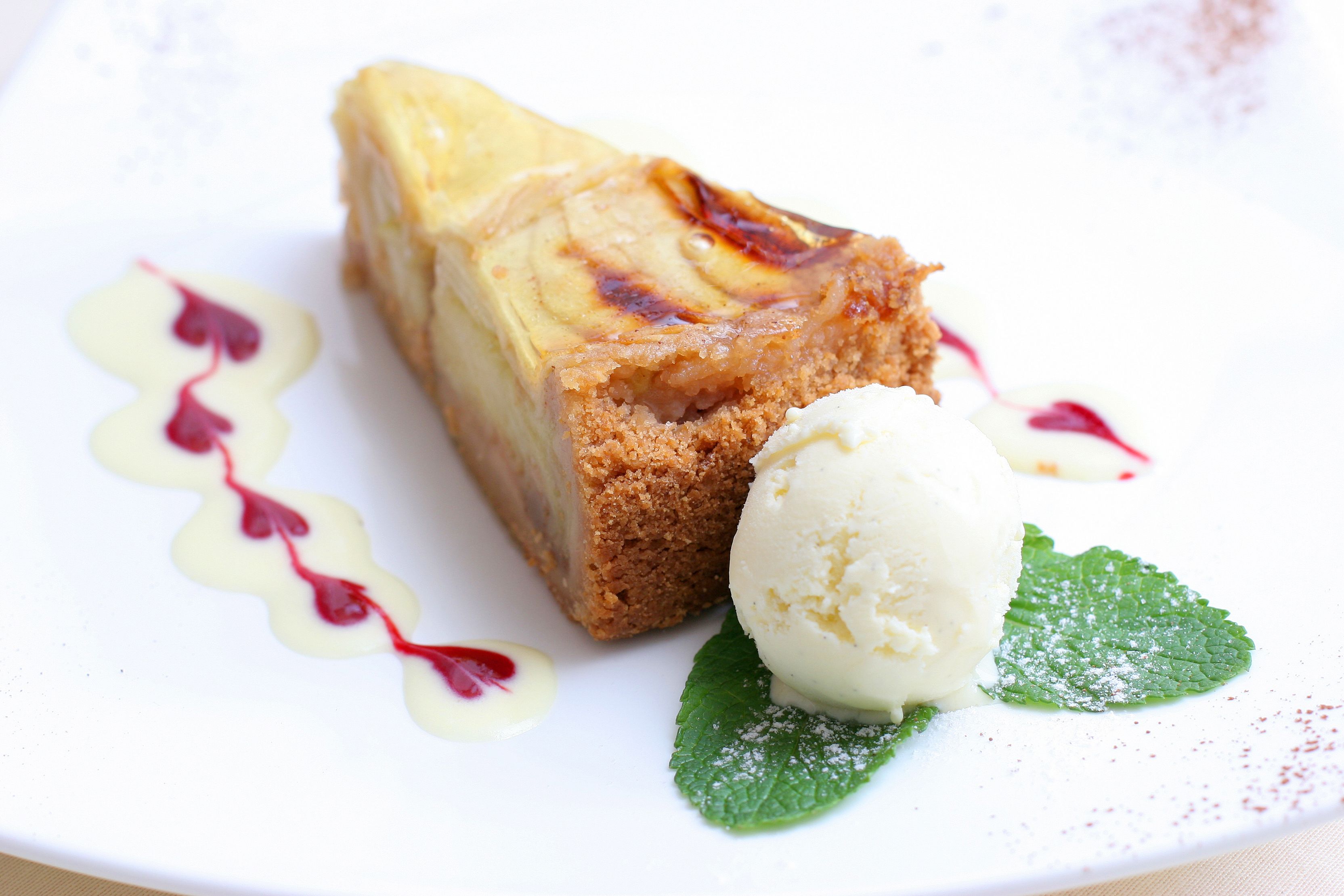 KERRY APPLE CAKE
SERVES 8 to 10
 This traditional apple cake is perfect with a cup of tea or coffee. I learned to make it at the Dingle Cookery School (dinglecookeryschool.com) a few years ago and enjoyed it again on my recent visit to The Kingdom.
4 ounces butter 
1/2 cup sugar
2 large eggs
2 tablespoons milk
2 cups self-rising flour 
4 large Granny Smith apples, peeled, cored, and cut into thick slices
1 tablespoon brown sugar
2 teaspoon nutmeg
2 tablespoons flaked almonds
Whipped cream, custard, or vanilla ice cream, for serving
1. Preheat oven to 325°F. Spray a deep 9-inch round pan with non-stick cooking spray or line with parchment paper.
2. In a large bowl, beat butter and sugar with an electric mixer on medium speed until light and fluffy. Beat in eggs and milk; sift in flour. Mix well; stir in apples. (The mixture will be quite wet, so add more milk if needed).
3. Transfer mixture to prepared pan; sprinkle with brown sugar, nutmeg and almonds. Bake for 30 minutes, or until top is browned and apples are tender. Serve warm with whipped cream, custard or ice cream, if desired.
 Margaret Johnson's "Recipes" page expands this year to "Ireland Hopping: Adventures in Food, Drink, and Travel." For further details on her work or to order a signed cookbook, visit irishcook.com.