Frontrunning appears to be the way to go when professional golf touches down in Ireland. For the most part, that is. 
 Two weeks after Todd Clements went wire to wire in the Irish Challenge at The K Club, Ewen Ferguson pulled a similar feat in the ISPS Handa World Invitational at Galgorm Castle in Ballymena. 
 In the companion women's event, which was played alongside the men's competition, Amanda Doherty led through three rounds only to stumble on Sunday. Sweden's Maja Stark pulled away to a five-stroke victory. Leona Maguire finished 10 strokes behind in 10th place. 
 Ferguson, of Scotland, opened with a course-record 61 that was devoid of bogeys and included eagles to open and close the back nine. He played his second round at Massereene and wasn't nearly as crisp, shooting even-par 70. Yet, he still held the lead.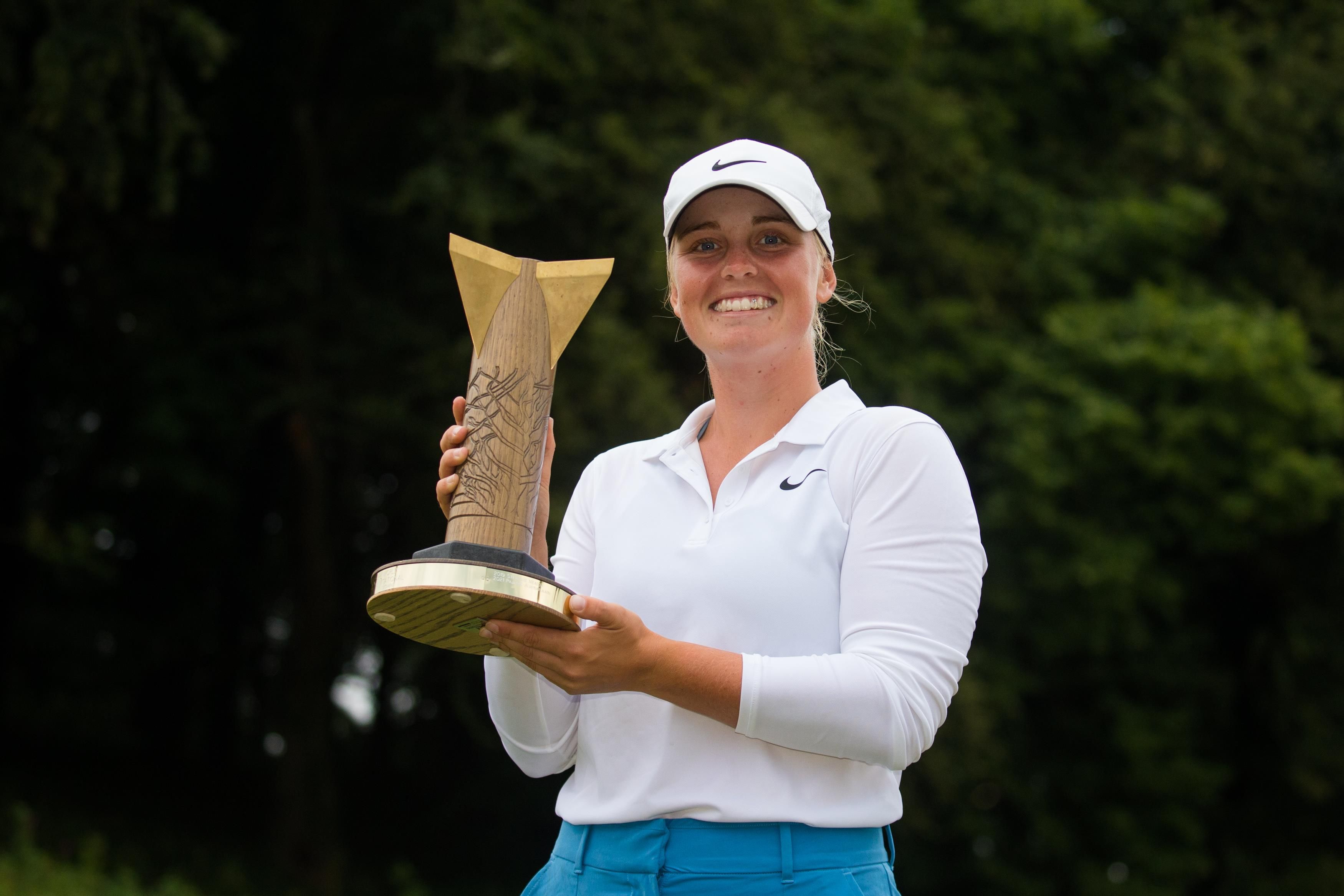 Maja Stark displays her trophy after winning the ISPS Handa World Invitational at Galgorm Castle in Ballymena. LADIES EUROPEAN TOUR
 Back to Galgorm for the weekend, Ferguson played as well as he had to so as to maintain his advantage, shooting 68 on Saturday and 69 on Sunday. At 12-under-par for 72 holes, he had three strokes on fellow Scot Connor Syme and Spain's Borja Virto, who shared second place. 
 Playing the hare isn't all that it might be cracked up to be as Ferguson testified after Sunday's round. 
 "It's not easy," Ferguson said. "Every night, you're going to be thinking, 'I'm leading, I'm leading.' Last night's sleep wasn't too great. It was bloody roasting as well."
 The temperatures modified some on Sunday and Ferguson had his second victory on the DP World Tour. 
 Tom McKibbin topped the Irish contingent. He worked out a share of 10th place at 6-under-par 274 (69-72-66-67), six strokes behind Ferguson. 
 David Carey also went the distance despite bleak spells of consecutive bogeys. At 2-over-par 282 (67-73-68-74), he earned a share of 34th place. He played his first round at Massereene and had a relatively benign time, suffering just one blemish. On Friday at Galgorm, he bogeyed each of the fourth through seventh holes. Then, on Sunday, he fell prey to seven bogeys against three birdies. 
 Doherty led the women's event through rounds of 67, 67 and 72. The Florida State grad from Georgia actually was 2-under for Sunday's round through 16 holes until she finished double bogey-bogey to drop to eighth place. 
 Stark was on fire, however, shooting 63, a women's course record for Galgorm. She notched 10 birdies with not a dropped stroke. In fact, dropped shots weren't holding her back over the first three rounds, as she came up with just one bogey on each of Thursday and Friday, with only a double bogey staining Saturday's card. She was coming up short of birdies, an ailment she remedied on Sunday. 
 Stark especially appreciated competing in front of knowledgeable galleries.
 "I love playing in front of people that know when a shot is good and when a shot is bad," Stark said. "I really enjoy the honesty we get."
 The victory in this event, which was co-sanctioned by the LPGA and the Ladies European Tour, provides Stark with playing privileges on the LPGA Tour. 
 "Finally, I can play on the LPGA and that's where I want to be," Stark said. "I did not expect this at all. If you told me a year ago that I would have a win on the LPGA, I would not have believed it. Any win is special, but I think this one means just that much more because of the co-sanctioned thing and getting more attention, playing with the guys and everything that comes with that."
 Maguire was in contention through rounds of 68 and 69, but Saturday's 76 left her playing for pride on Sunday, when she shot 68. She started Saturday's round well enough with birdies at the first and third holes, but she gave those and more back with bogeys at the fourth and fifth, topped off by double bogey at the sixth. She played the rest of the round a stroke over par. 
 "I really didn't have any 'A' game this week," Maguire said on Sunday. "I think last week [at the Women's British Open] took a lot out of me. I was probably a bit tired coming into this week and not ideal prep with the two courses and not a lot of rest. Let yesterday get away from me, got a bit frustrated yesterday."
 Stephanie Meadow missed the cut by four strokes after posting rounds of 76 and 72. Olivia Mehaffey shot 75 and 80 to earn a weekend off. 

U.S. WOMEN'S AMATEUR
 Annabel Wilson of Lurgan, Co. Armagh advanced to the semi-finals of this country's top tournament for the amateur set at Chambers Bay in Washington. Wilson, who will be entering her senior year at UCLA, lost 2 and 1 to Monet Chun. 
 Wilson got through stroke play with consecutive rounds of even-par 73 that provided her a four-stroke cushion into match play. She got through the round of 64 with a 5 and 4 victory over Fiona Xu, followed by a 4 and 3 triumph over Julia Misemer. In the latter match, Wilson went 5 up after just eight holes. Misemer won the ninth and tenth holes but stalled thereafter.
 The round of 16 match against Katie Li looked like another cakewalk for Wilson as she went 3 up after just five holes. But Li rallied to even the match at the 12th hole. Wilson, however, rallied, winning 13, 14 and 15 en route to a 3 and 2 victory.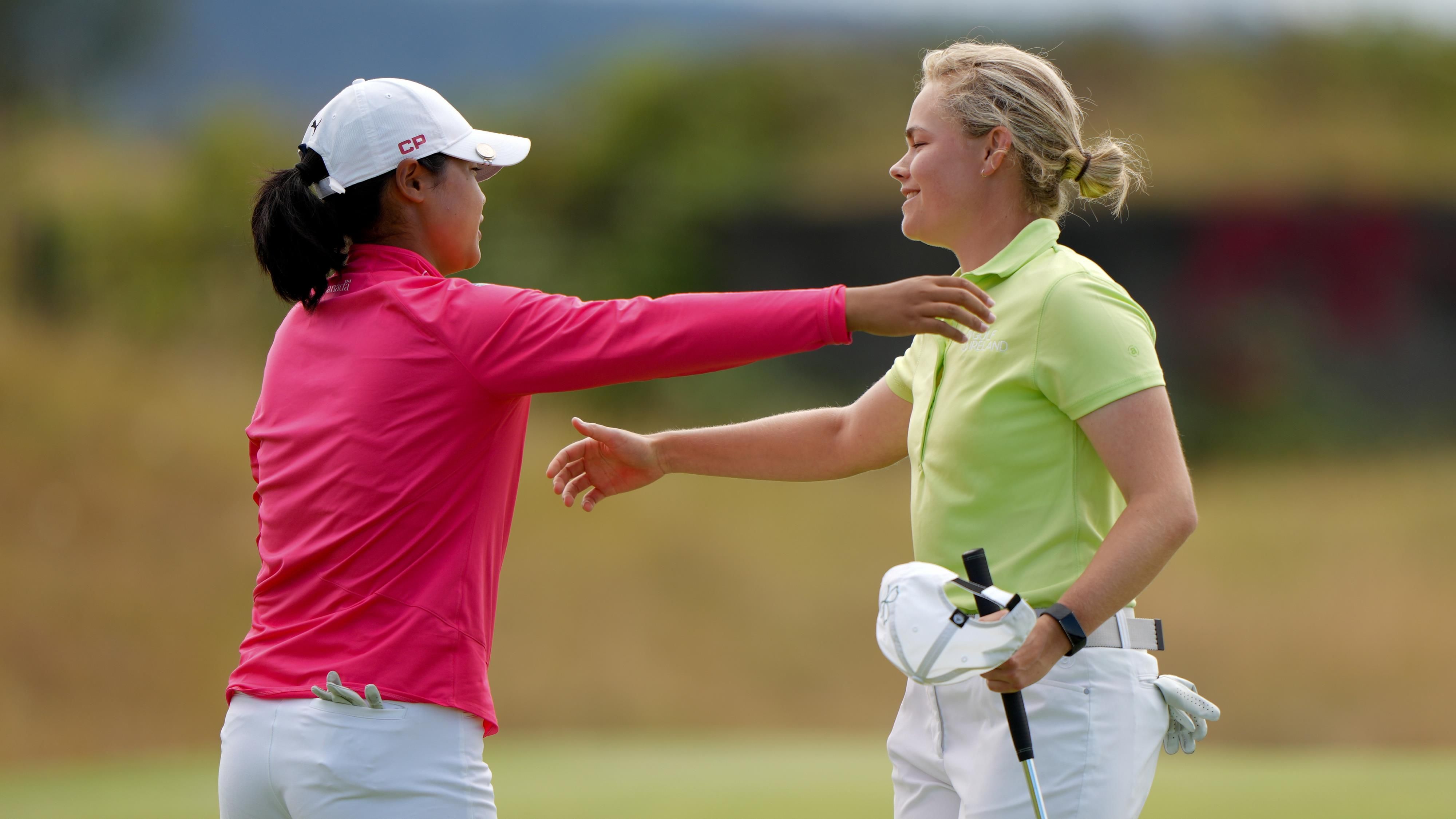 Annabel Wilson, right, congratulates Monet Chun after Chun's victory in the semifinal round of the U.S. Women's Amateur at Chambers Bay in Washington. DARREN CARROLL
 Again, a late charge by Wilson led to a 3 and 1 win over Catherine Rao in the quarterfinals. Through her four matches to this point, Wilson had won the first hole, a 444-yard par-5. So, losing the first hole to Chun in semifinal play perhaps served as a portent. 
 Wilson came back to win the second hole to tie the match, but she didn't win another hole until the tenth, which enabled her to close Chun's lead to one hole. Chun, however, won 13 and then held Wilson at bay thereafter. Chun was a 2 and 1 winner after 17 holes. 
 Chun would go on to lose in the 36-hole final round, 11 and 9, to Saki Baba.
 Wilson became the first Irish woman to reach the semifinals since Mary McKenna in 1980, who also was eliminated at that stage. 
Wilson had an inkling upon arriving in the Pacific Northwest that she might have a big week ahead of her. 
 "I did a lot of prep over the summer, and I came into the week probably hitting it the best I've hit it in a while," Wilson said. "I felt like I had a good week coming and I'm just having fun, hitting some nice golf shots, holing some good putts."

PGA TOUR
 The first round of the FedEx Cup playoffs, the St. Jude Championship, came and went with barely a whimper from the Irish trio. 
 Shane Lowry was the only one of the three to make the cut in Memphis. He cleared that hurdle by three strokes after consecutive rounds of 68, and then posted rounds of 71 and 69 on the weekend to finish tied for 46th place, 11 strokes off the low number shared by Will Zalatoris and Sepp Straka (Zalatoris won the playoff on the third extra hole). A pair of double bogeys on Saturday blighted his round. 
 Rory McIlroy and Seamus Power both missed the cut. Rounds of 70 and 69 put McIlroy on the sidelines for the weekend. He was trending in the right direction on Friday, playing his first 11 holes three strokes under par but two bogeys over his last four holes set him back. 
 Power signed to rounds of 71 and 73, the latter of which was especially ugly with six bogeys over a stretch of nine holes mid-round. The trio soldiers on to this week's BMW Championship in Wilmington, Del. 

PGA TOUR CHAMPIONS
 Early during Friday's opening round of the Boeing Classic in Snoqualmie, Wash., it became apparent that watching Padraig Harrington's round could become as exhausting as actually standing in his FootJoys and striking the ball. 
 Harrington birdied the first two holes but fell back to even with bogeys at the third and fourth. He then went birdie-bogey-birdie-bogey before registering his first par at the ninth hole. Making the turn in even par, the roller coaster ride leveled off some with just a bogey over the next four holes before he ran off birdie at three of the four finishing holes. 
 Friday's 70 left Harrington in contention, a state that remained after Saturday's 69. But a double-bogey 5 at the ninth hole on Sunday pretty much finished off any title aspirations. He bogeyed 10 before running off four birdies to close out a round of 71. 
 At 6-under-par for 54 holes, Harrington finished tied for 14th place, nine strokes behind Miguel Angel Jimenez, the victor. 
 Darren Clarke was also in with a chance after rounds of 71 and 66. Like Harrington, his Sunday round came apart in the holes around the turn. Consecutive bogeys at the seventh and eighth holes as well as a double-bogey 6 at 12 spelled his demise. He finished a stroke behind Harrington in joint-17th place. 
 This circuit crosses the country to pitch its tent in Endicott, N.Y. this week for the Dick's Sporting Goods Open.