On Monday, Aug. 15, Manhattan's famed Friars Club was the setting for Irish American Writers & Artists' First Annual Stephen J. Fearon Humor Salon. Hosts Sarah Fearon and Marian Fontana put together a spirited evening that was both commensurate with the auspicious setting and a fitting tribute to Stephen J. Fearon, IAW&A's pro bono legal counsel instrumental in forming the group, who passed away earlier this summer. 
The presenters at this Salon all brought humor, but they also offered a broad range of emotion beyond simple amusement, which seemed appropriate for the times we've all been enduring these last few years. This dynamic was exemplified when Sarah Fearon and Marian Fontana opened the night with a song based on "New York, New York," accompanying themselves on ukuleles and trading perspectives about the pandemic. When they sang "I want to wake up, in a city we used to know/ Where we don't have to wear a mask, to say hello" the audience's laughter came after a heartfelt sigh, suggesting that we needed the communal moment as much as we need the laughs.
Sarah Fearon, comedian, actress, writer and real estate agent, is a member of the Friars Club as well as the board of IAW&A. Her hilarious standup routine included material based on New York life, including the realities of COVID and real estate. (Her one person show "2B: A Bottomless Cup of Real Estate Crazy" was performed at the Friars Club.) You can find out more about her work and upcoming performances at www.SarahFearon.com.
Karen Daly, another IAW&A board member, followed with a fascinating history of the Friars Club. Her deep dive into the lore of the organization, and the current location, provided a unique perspective into New York's place in the entertainment world, past and present. And though it was not intended as a humorous piece, Karen's charming delivery and asides about the antics of previous Friars made her essay a perfect fit for the mood of the night.
Poet Marcia B. Loughran took the stage next, joking that a humor-themed evening was a daunting challenge for a poet, but then demonstrating that she was more than up to the task. She read three poems about marriage, each using concrete details to create ironic and also heartfelt observations about relationships and life. Marcia is a nurse practitioner and a proud resident of Queens, and you can find out more about her work including her collections "Still Life With Weather, My Mother Never Died Before and Other Poems, and Songs from the Back-in-the-Back" at https://marciabloughran.com.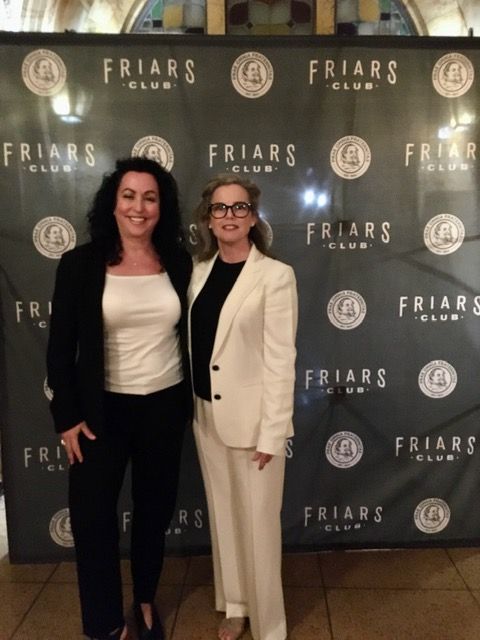 Marian Fontana and Sarah Fearon. [Photo by Lizzie Donahue]
Co-host Marian Fontana returned to the mic, with a non-fiction piece called "The Rug" about a beloved dog that literally leaped into their car when she was eight years old. Once again, the presentation followed the night's trend of combining laughter and sorrow. The various stories of the dog, known as "Rug," interacting with the family, culminated in a tragicomic funeral for the dog when Marian was a teenager, and everyone in the family struggled to contain their laughter despite losing the beloved pet. Marian is a writer, playwright and performer. Her story about Rug demonstrated why she has been published in places like the New Yorker, Vanity Fair, Salon.com, and the Boston Globe, and her plays have been produced by places like Playwrights Horizons. For more about Marian, go to www.marianfontana.com.
Playwright, actress, and longtime IAW&A member Sheila Walsh delivered a captivating piece about "the craziest thing" she ever did – becoming an "old lady." Her observations about life, the joys of being able to say "no" to whatever she wants but also to savor what she loves, as well as the benefits of having perspective on the past, were warm and sincere while still being clever and uplifting. Sheila's eloquent observation on how the ups and downs of her youth all contributed to making her the woman she is today, and her pride in that accomplishment,  resonated with everyone in the audience, regardless of their age. 
Cabbie, monologuist, radio host and IAW&A board member John McDonagh had the crowd roaring with his tale of how he brought a version of his show "Off the Meter" to the acclaimed NPR storytelling series "The Moth." Though it may seem an easy transition, John had to overcome various obstacles including tragic stories of dying dogs and insulting the series' creative director. John will be performing "Off the Meter" at the Greek Cultural Center in Astoria, Queens on Sept. 23-25, then he'll be part of the Sean O'Casey Theatre Festival in Dublin. http://www.offthemeter.net/.
Marcus Goldhaber, musician and all-around entertainer, performed a new song in the jaunty style of old-time music halls, a bit of musical advice to suppress your feelings. His banter as he accompanied himself showed why he's considered a consummate showman, with accolades from Hot House Magazine, BroadwayWorld.com, Jazztimes, All About Jazz, People Magazine and WNYC. His music has been featured in films and performed by a wide range of performers, and has been an emcee all over NYC, most recently at the Cotton Club. Marcus is a member of the Friars Club, and can be seen every Sunday at Room 623 in "Mostly Marcus." For more information, visit https://www.marcusgoldhaber.com.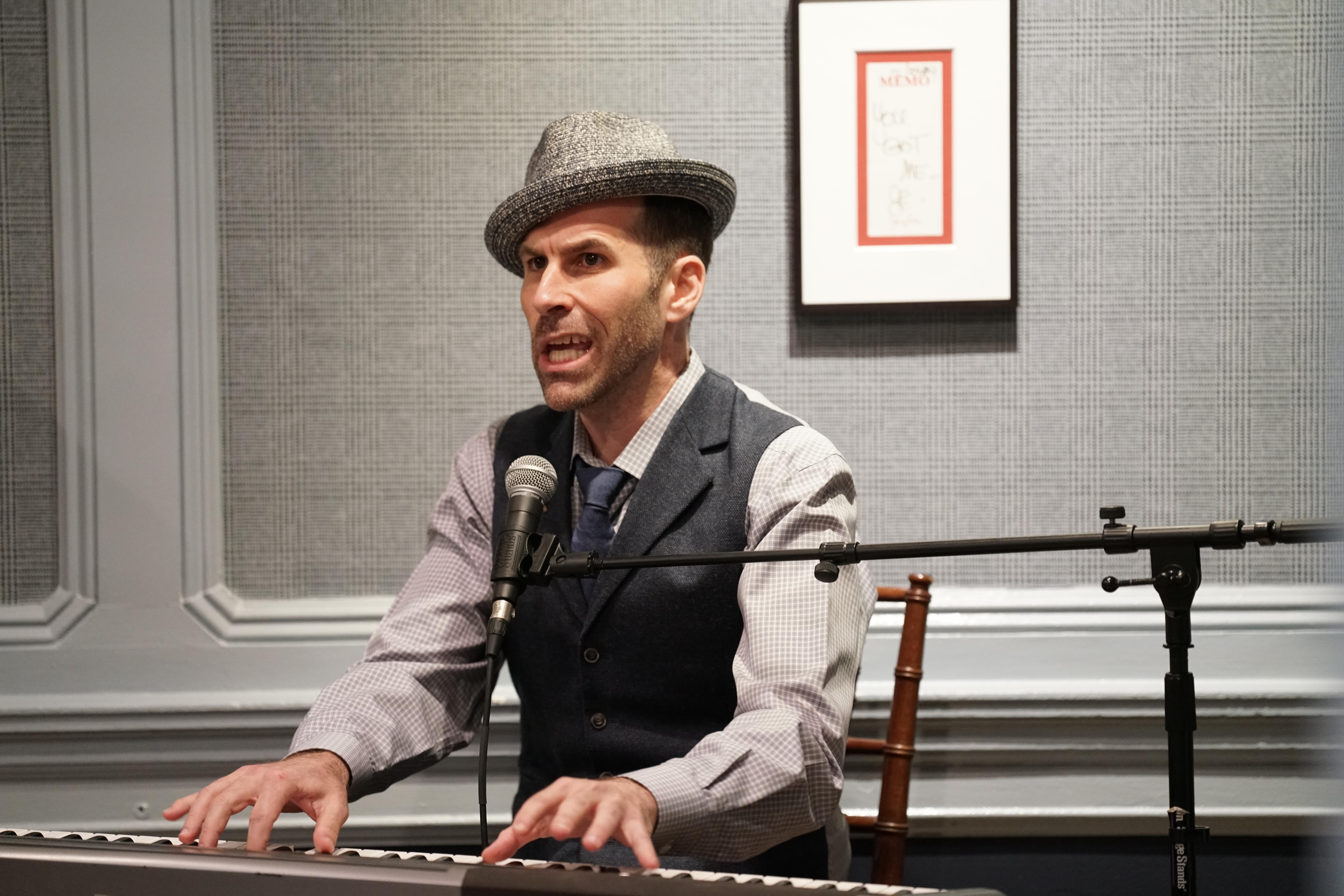 Marcus Goldhaber. [Photo by John Kwok]
Next, the multi-talented Lizzie Donahue delivered a rapid-fire comic set on topics ranging from her own family, Irish Catholicism, being lesbian and the differences between Irish-Americans and Irish-Irish, including lots of spontaneous interaction with various audience members. Lizzie's theatrical work "A Barn Play" was produced by UP Theater, and she's currently at work on a memoir with the working title "Enough About Me."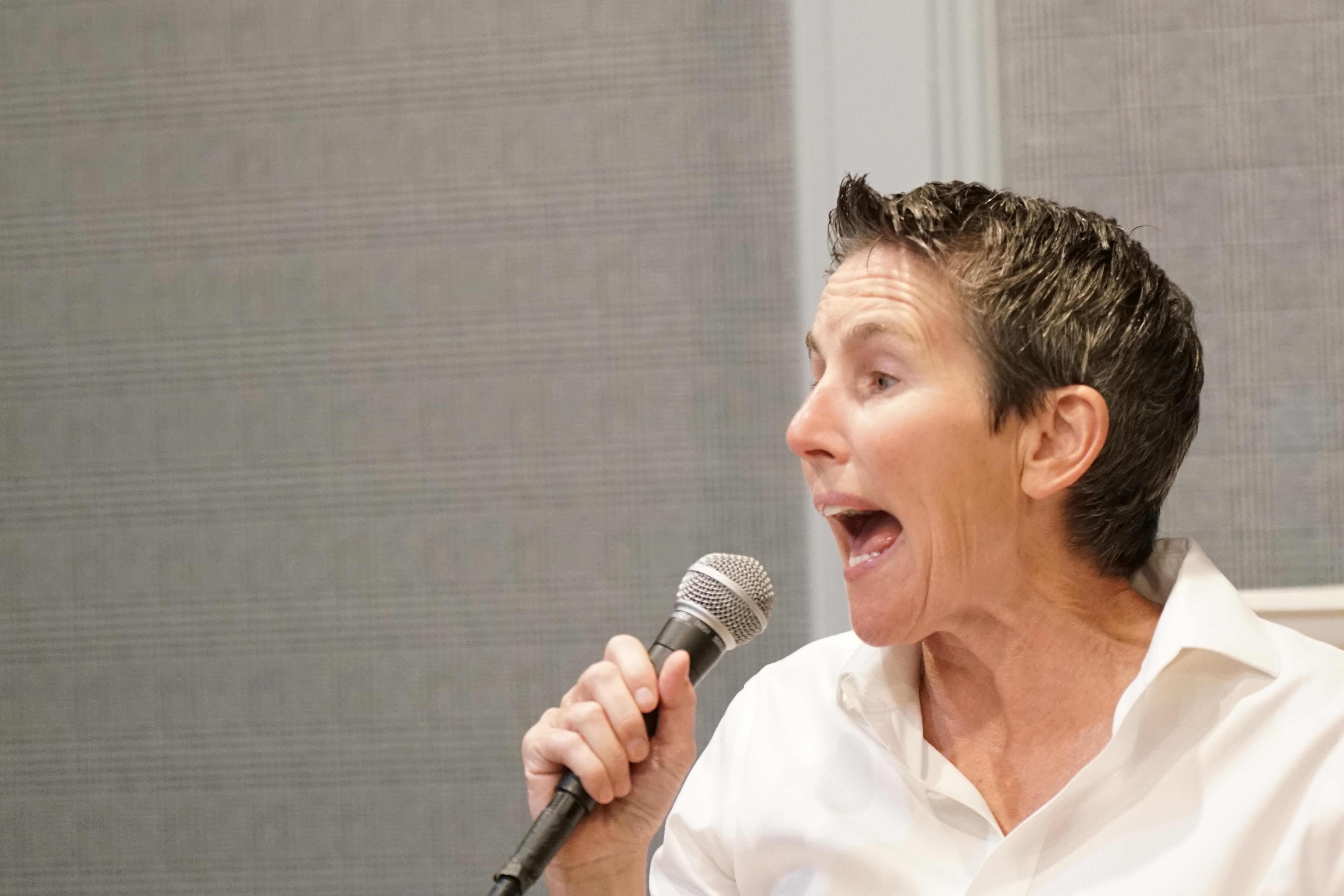 Lizzie Donahue [Photo by John Kwok]
Jazz saxophonist and longtime IAW&A member John Gordon prefaced his story with a smooth and soulful rendition of "Summertime" on the alto sax. He then told the story of meeting Jay McShan, a noted jazz pianist who gave Charlie Parker his first big job. Because of an airline screw-up when returning from the Oslo Jazz Festival, Jon ended up having a deep conversation with Jay McShan who delivered pearls of artistic wisdom and philosophy along with a substantial quantity of Aqvavit (a Danish liquor). You can learn more about his distinguished musical career and his several books at https://www.jongordonmusic.com/ .
The evening concluded, as most of our Salons do, with the inimitable Malachy McCourt, who delivered several jokes about the former president and then told the story of a Limerick politician noted for speaking entirely in malapropisms. Malachy led the crowd in a rousing rendition of "I Don't Work For a Living," one of the funnier songs in his "sing-along" repertoire.  Thus, sufficiently uplifted, the audience moved from the George Burns Room down to the bar in the Barbra Streisand Room, and the First Annual Stephen J. Fearon Humor Salon reached its rousing conclusion.
Watch the IAW&A website (https://iamwa.org/) for more upcoming events, including the annual Eugene O'Neill Lifetime Achievement Award gala on Oct. 24 at Rosie O'Grady's. This year's honoree will be musician and author Larry Kirwan.