First things first: after a long time away, the brilliant Karan Casey is launching her U.S. tour, Sept. 1-18. With the help of Niamh Dunne (fiddle, vocals) & Seán Óg Graham (guitar), she'll be singing songs from her recent "Hieroglyphs That Tell the Tale" and will also debuting new material.  Exciting stuff!  The tour will start in Vermont and go as far south as North Carolina, with many stops along the way, including Joe's Pub in New York City on next Tuesday, Sept. 6.  For all tour dates and locations, visit her website here.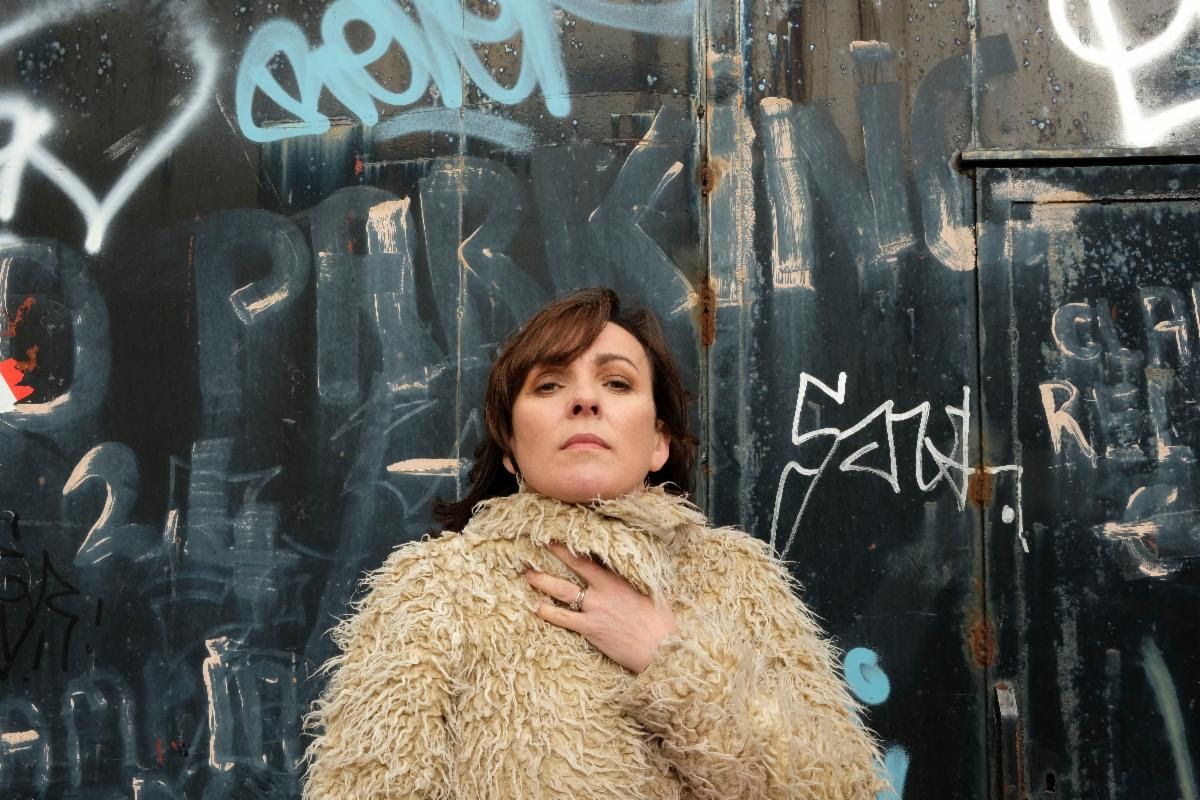 Karan Casey's U.S. tour begins this week. [Photo by Amelia Stein]
In the player this week is Bua's new album "a shelter from the rain / foscadh ón mbaísteach."  Its cover features a modern take on the sort of "romantic wee humble cottage" Paul Henry was known for painting (done here in grand style by Jesse Smith), its open door, ready to take a wet, weary listener into a sonic rambling house of sorts.  And with the press of the play button to gain entry, one finds oneself presented with a lovely selection of instrumental and vocal tracks from one of America's top groups that will energize traditional music lovers.
Bua are Devin Shepherd (fiddle), Brian Miller (guitar/bouzouki), Seán Gavin (uilleann pipes, flute, whistle), and Brian Ó hAirt, four of America's finest traditional Irish musicians.  With three priors, "Down the Green Fields" (2011), "An Spealadóir" (2009), and "Live at Martyrs'" (2006), it's been a minute since we've heard anything from the band.  I mean, we've got select albums from individual members, but nothing together as a unit, which is a shame.  (Perhaps the pandemic hideaway had something to do with that!)
For those not familiar, Bua prides itself on "celebrating the unique sounds of Chicago's early Irish music community harkening back to the turn of the 20th century" and there are certainly tunes there to satisfy that itch.  Tunes sourced from the great Johnny Henry, Johnny McGreevy, Francis O'Neill, Eleanor Kane, and Edward Mullaney & Patrick Stack are all part of the story here.  But the band also draws from elsewhere, like Seamus Ennis, PJ Conlon, Seamus Begley, Tommy Reck, and Paddy Taylor. It's a lovely selection, overall
 As you might imagine, the instrumental tracks here are top tier.  Shepherd, Gavin, Ó hAirt, and Miller really have spectacular chemistry – there's great warmth in their playing – and they share a well-defined vision for what traditional music should be that benefits even a casual listener. 
 Take, for example, "Nóra Críonna / …" and "Pretty Peggy Annie / …," a set of jigs and a set of reels, respectively.  Both have a brilliant pulse and are played with great beauty.  The nuances of the tune versions are there for the aficionado to discover, but the instrumentation, pacing, and presentation are entirely accessible and will warm the heart.  Other tracks, with changes in instrumentation, have their own charms. For example, Gavin's piping is a welcome feature on "Johnny Henry's / …" and "Another Jig Will Do / …" and changes the blend in a way that enlivens the track and gives the album additional variety.
 Of the 13 tracks, five are songs. Ó hAirt takes the lead on each one and he's in excellent form.  As always, his phrasing's fabulous, but I find there's a maturity in his voice that gives the album an added new dimension.  One of the things I've always liked about Bua's music – indeed, one of the band's great strengths – is the care they put into to backing a song.  You hear it on the band's earlier albums, and on albums like Miller's "The Falling of the Pine" (with Randy Gosa), and it's definitely here, adding greatly to the whole.
Take "Caisleán a'tSléibhe," for example.  Ó hAirt certainly carries the song, but the way they've floated a beautiful whistle-led harmony over an airy and bold guitar backing is lovely.  It is tasty, tasteful stuff that gives the song an engaging bit of heft.  Similarly, Gavin's approach to the pipes backing on "A Chaipín-ar-leathstuaic, a'bhfeacaís na caoire? / …" is minimalist and well-controlled, which gives Miller's some space to work that complements Ó hAirt's singing.  The not-at-all suggestive song "An Hide and Seek" has a similar sort of approach, this time leaning on fiddle and whistle, that's engaging as well.
 "A shelter from the rain / foscadh ón mbaísteach" is another superb offering from one of the country's outstanding bands.  The music here is learned and it's played by musicians who clearly have the deepest respect for the tradition, not just as it exists in Ireland but as it developed in America.  Gorgeous phrasing, beautiful tempos, inviting playing – what more could you ask for?  Be ready to purchase this one when it launches on Bandcamp on Sept. 2, you won't be disappointed.  To learn more, visit https://buairishmusic.bandcamp.com/