Some welcome news to start this week's column. Beginning this September, the New York Irish Center in Long Island City, Queens, will be hosting Don Meade's monthly "Blarney Star" concerts of traditional music.  The inaugural show will happen Friday, Sept. 23, and it will feature Ivan Goff (uilleann pipes and flute) and Katie Linnane (fiddle) and include Catherine O'Kelly and students from the Annemarie Acosta School of Irish Music and Dance.  The New York Irish Center is one subway stop into Queens from Manhattan's Grand Central on the 7 train and features lots of excellent nearby restaurants and pubs for your pre- and post-show patronage.  For more information and to book your tickets (which is recommended), visit www.newyorkirishcenter.org.
 This week I've been listening to "Tobar An Cheoil," an utterly delightful album of flute and harp music from the duo Draíocht.  Draíocht is June McCormack (flute) & Michael Rooney (Harp), a pair of truly lovely folks who make music that has the veneer of simplicity, but which is in fact full of depth and nuance.  The harp/flute combination is a special one because it lives from a very particular tonal rage that is evocative for many who hear it.  If it's a taste of Ireland you're looking for, this is the album for you.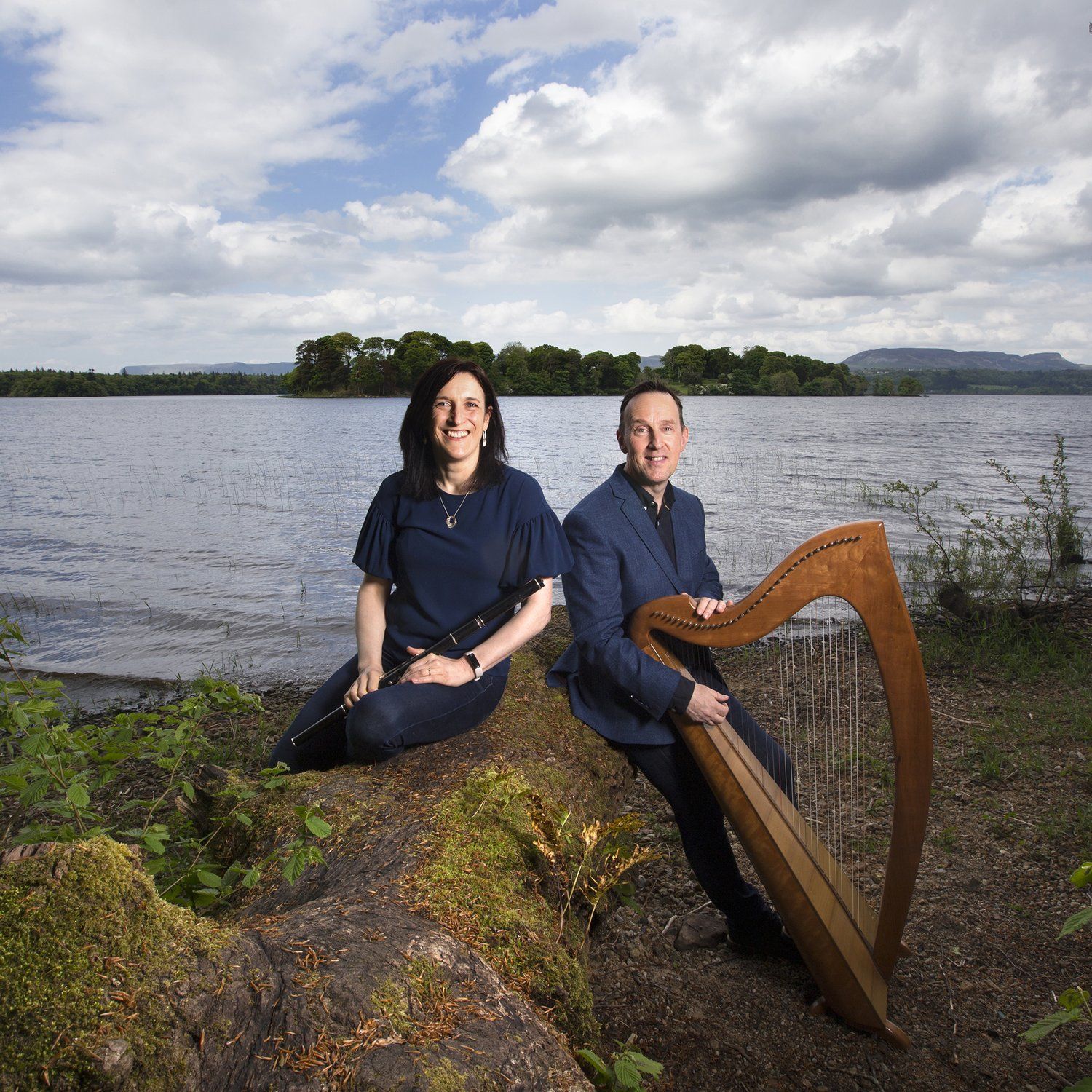 June McCormack and Michael Rooney.
       "Tobar An Cheoil" is McCormack and Rooney's third release as Draíocht (the first two being "Land's End," 2006 and "Draíocht," 2004) and while those two releases were critically acclaimed the pair have impressive individual backgrounds.  From Ballintogher, Co. Sligo, McCormack, is a member of the Dartry Ceili Band, has two volumes of flute tutors, and was the senior All-Ireland flute champion in 1998, the same year she was named TG4's "Young Musician of the Year."  Rooney, who is originally from Scotstown, Co. Monaghan (he's now based in Sligo), is a gifted harp player and a prolific composer.  He's collected several of his tunes into a book, has also published four solo harp suites as well thirteen further suites for harp and ensemble/orchestra. TG4 named him "Composer of the Year" in 2017.
      There is a lot to love with this album.  The basic affinity between the two instruments is plain to hear, but McCormack and Rooney bring a strong intuitive sense of each other's music to the table and use that to accentuate the great warmth in their music.   For example, take the track "McGivney's Favourite / The Bird's Hornpipe."  It starts with Rooney playing solo.  Here, his phrasing, rhythm, and harmonies are so enjoyable to hear, but when McCormack joins, her biting tone and light touch blends with Rooney's harp wonderfully and brings a different sort of life to the track.  This kind of dynamic interplay lights up selections including "The Lark On The Strand / The Boat To Bofin" and "The Boys Of Ballisodare / The Devil's Chimney" as well.
The two's shared brilliance also gives great life to Rooney's compositions, of which 12 are included here.  Of these, I particularly like the clan march and reel pairing "Flight of the Earls / The Ulster Reel."  Both come from suites he's written, and paired here give a great sense of Rooney's style.  Another lovely track of originals is "Eamhain Mhacha / St. Patrick's Way."  Featuring a slow air & slip jig, we get a somewhat more modern melodic sensibility (with harmony to match) in the slow air, but all of this floats on a subtle and very tastefully done chamber string arrangement (which features Maria Ryan & Lucia Mac Partlin, violins, and Aoife Burke, cello).  McCormack doesn't join until the slip jig, but when she does the track comes into crisp focus.  I also quite enjoyed "Planxty Castle Leslie," a tribute to harpist Turlough O'Carolan that evokes the baroque era and again put the harp forward in a subtle chamber string arrangement.  Lovely stuff!
 "Tobar An Cheoil" is full of gorgeous music. McCormack and Rooney are top tier players who share a beautiful vision of what the harp and flute can be together and Rooney's compositions shine, really lifting up an already top tier selection of tunes.  Definitely recommended, especially for the harp and flute players out there, but really for anyone who likes their music rich, with an airy touch.  "Tobar An Cheoil" was released on June 27 and is currently available through Draíocht's website, www.draiochtmusic.com.