Delegates to the third annual Big Irish Campfire heard Iona University President pledge to build a community "steeped in Irishness" which is "driven by a spirit that is alive".  
Delivering the keynote address at an awards luncheon which followed a morning of debate and discussion at the New Rochelle campus of Iona University, President Séamus Carey said the college welcomed its description as 'Irish America's University'.
"Instinctually, I welcomed the description, especially given my own background, but it also makes a lot of sense when one considers some of the details of the Iona story," he said. 
Congrats to @aerlingus @cietours & all the Cara Medal awardees at today's Big #IrishCampfire event held @ionauniversity Sponsored by @IrishEcho @newbelfast with great panel discussions showcasing that Ireland is very much back open for business. pic.twitter.com/22LuBudz7J

— Tourism Ireland US (@Media_IrelandUS) August 20, 2022
"The Christian Brothers were founded in the early 1800s by Edmund Rice. In response to the devastating effect of the penal laws on Irish children, Rice gave up his business to focus on educating the poor children of Waterford. He saw education as the only way they would ever escape poverty and destitution. In 1940, the Christian Brothers brought this movement to New Rochelle, and opened the doors of Iona.  
"The Brothers who founded Iona recognized a deep spiritual affinity with another Irishman, St. Columba, who also changed the world through education. In 563 A.D., centuries before Edmund Rice began teaching, St. Columba responded to a crisis in his homeland by establishing a monastery on the Isle of Iona. Along with the monks who followed him, they cultivated and spread knowledge throughout Europe and played an instrumental role in preserving and promoting Western culture through the Dark Ages.  
The Brothers who founded Iona adopted Columba as their patron saint, along with the name of his
If the irish had royalty, this is how they would be treated - with generosity, fanfare and big hearts. Míle buíochas le hOllscoil Iona as an fháilte mhór a chuir siad roimh teachtaí ag an Tine Mhór Champa. Thousand thanks to Iona for such a warm welcome & kudos to great Pipe Band pic.twitter.com/ohBSeBPDsM

— Irish Echo Newspaper (@IrishEcho) August 20, 2022
"For the past 82 years, Iona has been inspired and guided by this legacy of St. Columba, Edmund Rice, and the Christian Brothers."
Gerry Adams tells Big #IrishCampfire that @POTUS should move to appoint promised Envoy to North of Ireland in Campfire Chat at @ionauniversity Maureen Bennett moderating discussion with @GerryAdamsSF & @RepBrendanBoyle pic.twitter.com/z4oeqoLG5P

— Irish Echo Newspaper (@IrishEcho) August 19, 2022
But Dr Carey said Iona's legacy was meaningless unless it translated it gave agency to the university's work today.   
"Our identity is a question not only of the goods we value, but also where we stand in relation to them. This framework makes it possible for us to make good decisions. To lose or lack such a framework is to have an identity crisis," he told the Campfire audience.   
"We know who we are"
That's @ionauniversity President Dr. Seamus Carey, on what guided decision making during pandemic, keynote speaker at today's Big #IrishCampfire held at #Iona, Sponsored by @IrishEcho
Held at @ionauniversity @IrelandinNY@WVOXRADIO pic.twitter.com/oUunPf6xGz

— Ken Kraetzer (@KenKraetzer) August 19, 2022
"At Iona, we cherish our heritage and the legacy that has been legacy handed down by the Christian Brothers. We build on that legacy and our identity by the commitments we make each day to what we value.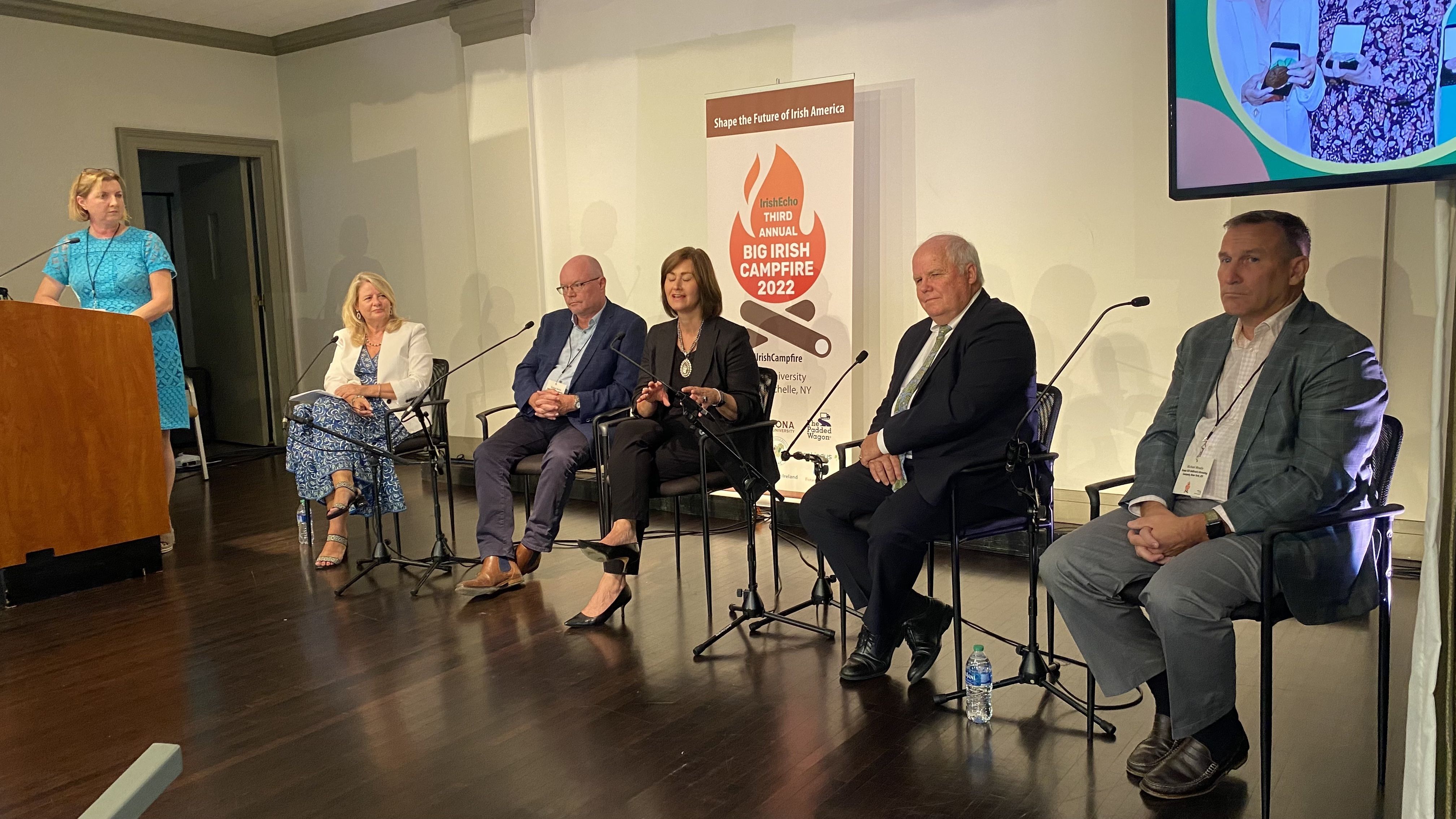 "Love for the world and working for its renewal is what motivated the global movements initiated by St. Columba and Edmund Rice. At Iona, we are committed to creating a learning environment in which our students can engage in learning processes that help them to understand their highest goods and aspirations and gives them the confidence to pursue them. Through this work and these commitments, we carry forward the legacy of Columba and Rice.
"We are looking to build a community that is driven by a spirit that is alive."
The Iona President – who played Gaelic football and hurling for New York, at a time when he was the only American-born player on the teams — said it was key "to reinforce patterns that are alive". 
Rob Walsh, former NYC Small Business Commissioner, reinforces the importance of supporting #smallbusinesses whenever and wherever we can. #irishcampfire pic.twitter.com/lYA3VaFuOi

— Brian Moran (@brianmoran) August 19, 2022
"The more living patterns there are, the more alive a community is. Iona is a vibrant community that is sustained by new patterns we have created such as the new Murphy Green in the heart of our New Rochelle campus. The Murphy Green brings people from across the community together to engage in conversation, share ideas, and enjoy performances. It encourages and promotes living patterns in a space that was previously an underutilized parking lot that could only accommodate lifeless patterns.   
Similarly, we are creating living patterns on our new campus in Bronxville – the future home of the NewYork-Presbyterian Iona School of Health Sciences. Not only is this school paving the way for a whole new approach to collaborative health care education, but it also brings the Iona mission to life in service to others."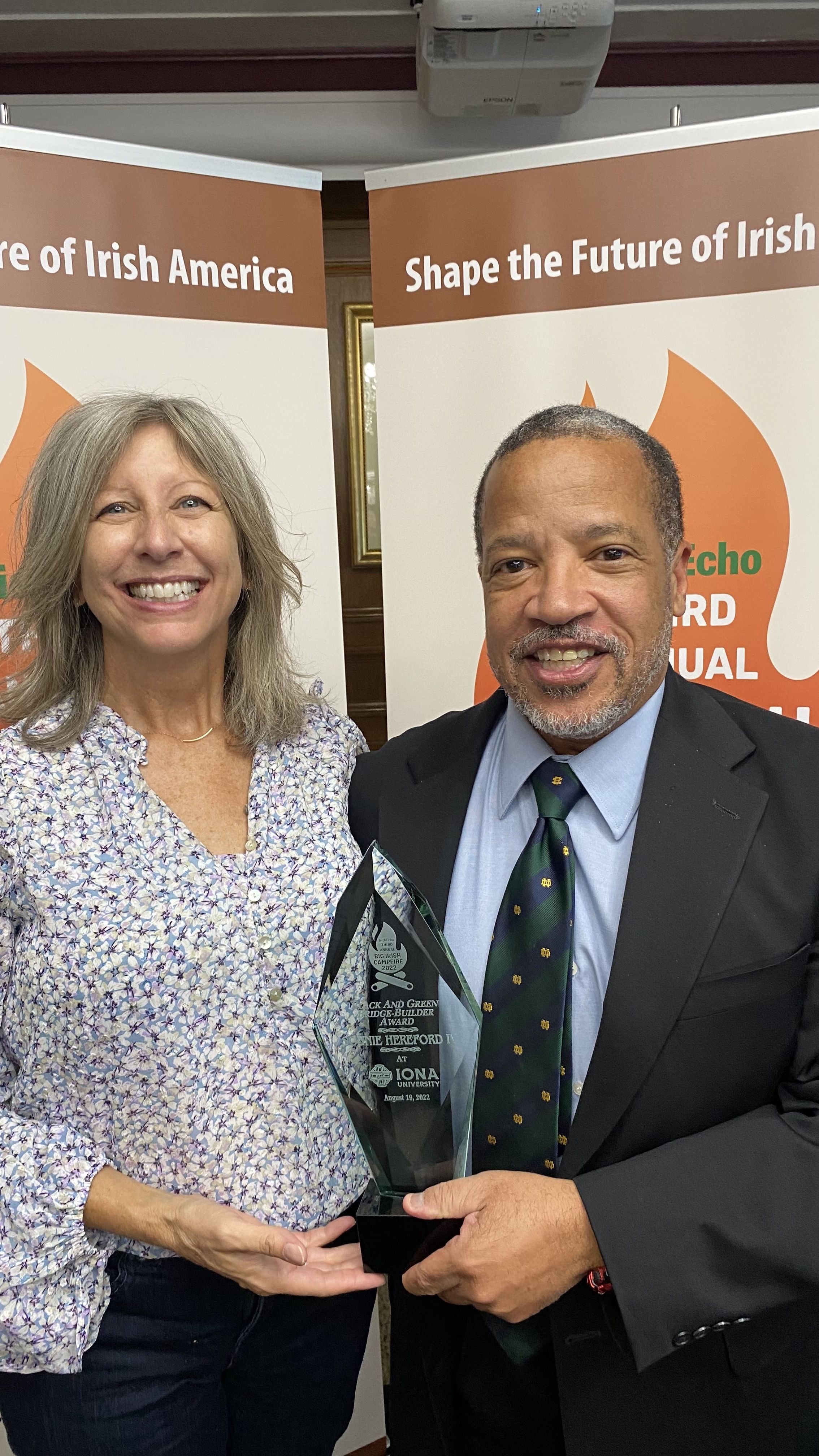 Iona graduate Joseph M. Murphy, a legendary figure in Irish American who founded Country Bank and is a serial donor to the university (most recently funding Murphy Green), was among attendees at the Campfire luncheon. 
Concluded Dr Carey: "Iona students carry forward the legacy of Edmund Rice and the Christian Brothers by taking responsibility for and renewing the world.  Iona University has made important strides over the past three years in the face of significant headwinds. Our ability to move forward is grounded in a strong identity, a commitment to the values and aspirations we inherited from our founders, and a deep faith that sustains our work. These values constitute the moral framework that guides our work. It is in this spirit that we continue to carry forward our Irish legacy, steeped in the history of St. Columba, Blessed Edmund Rice and the Christian Brothers. We do this work out of a love for the world, an obligation to preserve and renew it, and a devotion to the flourishing of our students."
Among the groups represented in-person at the third annual Campfire were the AOH, the LAOH, the San Francisco United Irish Cultural Center, the Irish Pastoral Center of Boston, the Emerald Isle Immigration Center, the Irish Arts Center of New York, the Friendly Sons of the Shillelagh in West Orange, NJ, the Irish American Heritage Museum of Albany, NY, the Sober St Patrick movement, the Irish Business Organisation of New York, Ireland's Great Hunger Bord, the Grand Council of United Emerald Societies, Project Children, the Irish Heritage Center of Cincinnati, the Coalition of Irish Immigration Centers, the Celtic Junction Arts Center of St Paul, MN, the Gaelic American Club of Fairfield, CT, the African American Irish Diaspora Network, Ireland's Great Hunger Museum of Fairfield, CT and the American Irish Legislators Society of the New York State Legislature.