Middleweight Nico Ali Walsh finally got his KO over Reyes Sanchez last Saturday, flattening the only man to go the distance with him thus far in the second round at San Diego's Pechanga Arena. 
A thudding left hook to the body at 2:45 of the stanza earned Ali Walsh an impressive victory at the same venue where his grandfather, the great Muhammad Ali, suffered a famous loss – and broken jaw – to Ken Norton in March 1973.
Ali Walsh-Sanchez I had gone the four-round distance at Madison Square Garden last November with the former taking as much punishment as he dished out en route to a majority decision. There were no knock downs then in what was Ali Walsh's third pro fight.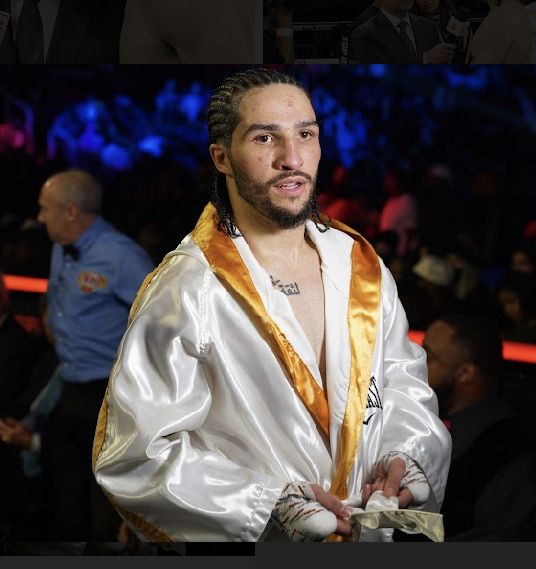 Nico Ali Walsh.
In the rematch, Ali Walsh, in his first fight with new trainer Kay Koroma, was dominant from the first bell. He outboxed Sanchez in the first round and was in control in the second heat when he landed a paralyzing left hook to the liver. Sanchez dropped to the canvas and was counted out.
The young victor, who's 22, improved to 6-0 with 5 KOs. Ali Walsh has now stopped every opponent he's faced.  Sanchez, eight years older, meanwhile dropped to 7-3 [3 KOs].
"I feel amazing. This was a special win because it was a rematch," said Ali Walsh. "It's everything I've been working towards. My hard work is now showing in the ring. I want everyone to see that it's a new me.
"It was so gratifying. Timothy Bradley called it in the fighter meetings. It was a beautiful shot. It was the shot I was looking for. It was the shot I was dreaming about, and it happened because I worked so hard for it."
Nico has Irish roots on both sides of his family. He's the second son of Muhammad Ali's twin daughter Rasheda. Muhammad Ali's maternal great-grandfather was one Abe Grady who emigrated to America from Ennis in the 19th century. Nico's father is Irish-American Bob Walsh.
GALWAY HOMECOMING
Kieran Molloy, one of Las Vegas-based Top Rank's young exciting Irish prospects, is gearing up for a raucous Galway homecoming fight this fall. 
According to Irish-boxing.com, Top Rank and management company Conlan Boxing are exploring the option of a Molloy fight in Galway in October, "meaning one of Galway's most successful amateurs could top a show in his home county in just his third fight."
A junior middleweight, Molloy is coming off  a second round TKO of journeyman Evgenii Vazem [9-36, 7 KOs] in Belfast on Aug. 6, that upped his record to 2-0 [2 KOs].  He landed a four-punch combination, punctuated by a right hook to the body, that put Vazem down for the count at 1:23.
"It was a dream Irish professional debut for me," Molloy told Irish-boxing.com. "Conlan Boxing and Top Rank are hopefully going to run a show in Galway in October. I want to headline once a year in Galway going forward and build our way up to Pearse Stadium."
Molloy's Irish Top Rank stablemates include world featherweight title contender Michael Conlan, welterweight Paddy Donovan and featherweight Kurt Walker.