It's 1979 at the outset of Joseph Goodrich's mystery novel "The Paris Manuscript" and Ned Jameson's daughter has persuaded him to move in with her and her family.
While clearing out the basement of his Bucks County, Pa., home, the ailing 85-year-old finds a trunk containing souvenirs, photos and a forgotten journal. Memories are soon resurrected about a traumatic episode in 1919, when Ned was first married.
His romance with Daisy Lynch, who was born into an Irish family in Brooklyn, began in France when he was a wounded soldier and she a nurse on his ward. After a period of recuperation at home in his native Midwest, Ned returned to make a life with Daisy in Paris. The young couple proved to have a knack for falling in with interesting and sometimes famous people, the novelist Marcel Proust among them. Their life, however, was pitched into turmoil when a society blackmailer was shot and killed at a party hosted by close friends. Ned, a newspaperman, had various reasons for involving himself in the case – not least its possible links to Daisy's brother and an American intelligence officer of their acquaintance. Meanwhile the famed novelist, who it turned out had once been a close friend of the dead man, wanted to help the young American solve the crime.  
As he prepares to move from his old home, Ned recalls the decades with his true love, Daisy, but is also forced to reconsider the mysteries at the heart of the murder of Harry Burke one night in Paris long ago.
Novelist and essayist Peter Quinn said, "'The Paris Manuscript' is a suspenseful, elegantly told tale of death, desire and history that unfolds with mounting and irresistible momentum. The evocation of Paris in the wake of the Great War is utterly convincing. This is a gem of a mystery, cut precisely, shaped expertly, polished masterfully, a wonderfully faceted story that is both poignant and riveting."
I recently asked Goodrich some questions about "The Paris Manuscript" and his career generally.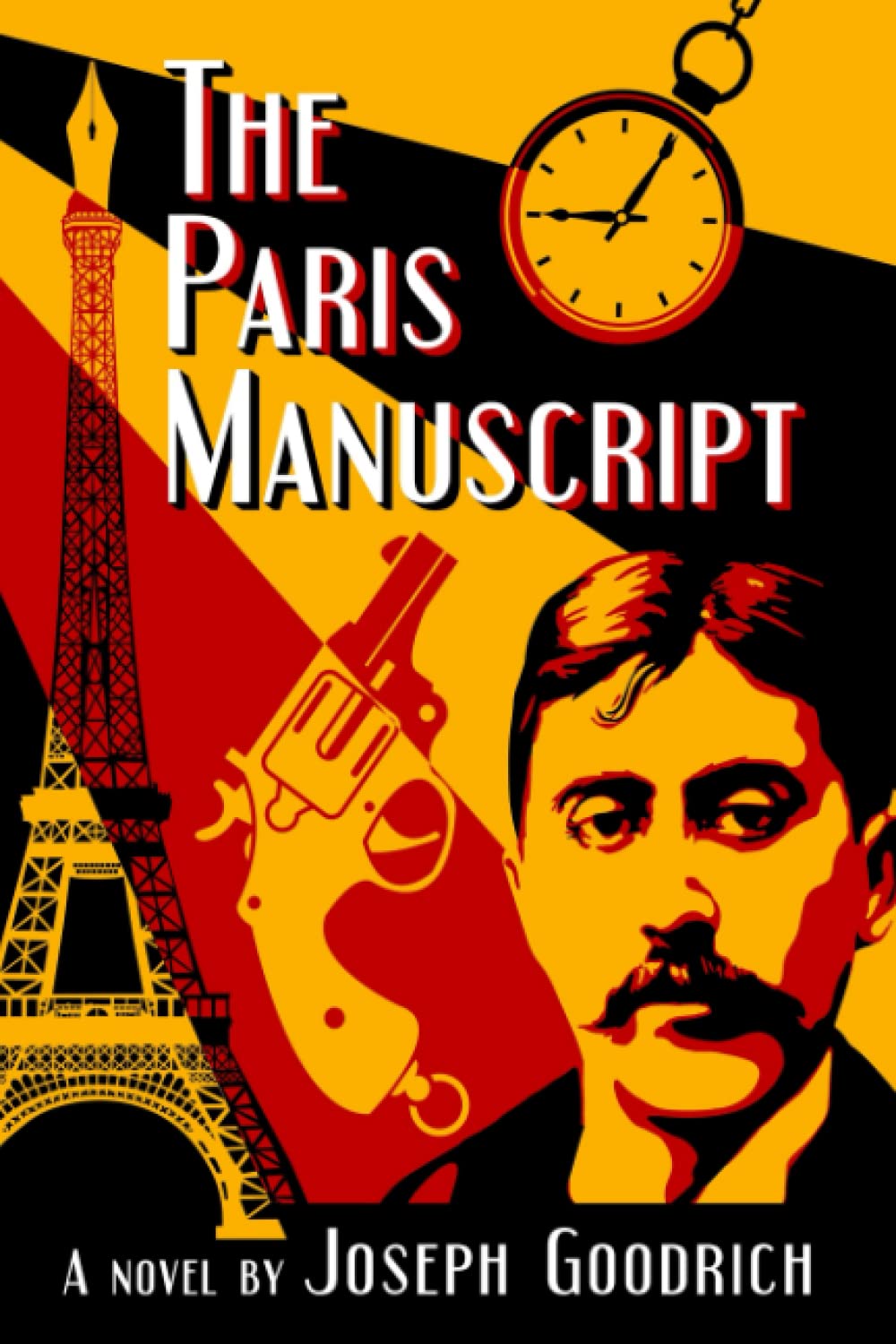 The novel is a terrific read. It's your first, is it not?
I'm delighted you enjoyed it! It is, indeed, my first novel – the first published, I should say. Almost any first novel is, I suspect, preceded by at least one unpublished novel. In my case there were two, one written when I was around 20, the other when I was considerably older. A good portion of my life as a writer has been spent as a playwright, but I returned to fiction over the last decade and have published any number of short stories since then.
Marcel Proust is a compelling presence in "The Paris Manuscript." How closely is the character based on the man himself?
I was a devotee of Proust and his work long before I thought of using him as a character in a mystery, so I had a great deal of research at hand. I've taken very few liberties with the facts of Proust's life and his world, and I believe the same holds true for my psychological portrait of the man. The ideas he expresses about friendship, about his writing, about society – all are drawn from the real Proust. Among other things, I hope the book might persuade the reader to venture into Proust's novel, which for my money is the greatest of all time. Sorry, Mr. Joyce! I'm glad you found him compelling – Proust was a complicated, highly eccentric figure, and if the book captures some of what made him interesting, I'm pleased. He was truly one of a kind.

Did you have any particular approach to or philosophy about recreating a world of a century ago and of 40 years ago?
I look for the world behind or beyond the familiar notions we have of a specific time or place. Forty years ago isn't so hard to recall, since I was sentient then; a century is tougher. In writing about a veteran of what used to be called "The Great War," I had the great good fortune to draw upon the memories of my grandfather, who'd been a doughboy in France. When I was a boy we'd sit on the front porch and he'd tell me about his time in France, circa 1918. 

Who are your influences in the genre?
My taste in the genre is fairly catholic – with a small "c," that is. I enjoy the classic country house murder as well as fast-paced tales of urban violence. Ellery Queen's work from the 1940s and '50s has long been a favorite of mine, novels like "Calamity Town," which I adapted for the stage and was produced at Vertigo Theatre in Calgary in 2016, and "Cat of Many Tails." Ross Macdonald's "The Zebra-Striped Hearse" and "Sleeping Beauty" are part of a series featuring Southern Californian private investigator Lew Archer and are among the gems of the latter-day hardboiled strand of American crime fiction. Macdonald's subject was the effect of the past on the present and the interplay between the two – which, in its own way, is definitely part of "The Paris Manuscript." Barry Gifford's "Port Tropique" is a short, gnomic tale set on the noir side of the street and one I return to on a regular basis. 

What are you working on now?
I have a draft of a new play to examine and revise, and I just finished the draft of another novel, of all things – another trip into the past; this time it's Los Angeles in the late 1930s, and involves a studio fixer who finds himself enmeshed in the pro-Nazi/fascist underground that flourished in the city those days. And still does today, I fear. 
The question about recreating the past brings to mind some of the things I discovered about the City of Angels in the course of writing the new novel. Union Station, the iconic Art Deco train station, didn't open until May 1939. Before then the major L.A. train station was the La Grande station. That year also saw the Formosa Café arrive on the scene. Because the majority of my story takes place in 1938, neither of these places can be used. One has to search for more obscure or once-popular-and-now-forgotten venues.
I also have some notes for a new short story, and will do something with them in due course. Part of the writing process is being open to what demands to be written; we can make all the plans we like and many times those plans are what we do. But the surprising, out-of-the-blue project – and the excitement it creates – is one of the pleasures of writing.
On a different front, I'll be participating as a reader of fiction, mine, at a new series called Story Night NYC, which will take place at the Churchill Tavern on the second Monday of each month beginning Sept. 12. I'm not yet sure when I'll be up to bat. I'm looking forward to it whenever it happens.