Some unfortunate news to start: Seamus Tansey, the Sligo flute great, has passed away.  A true master, Tansey was one of the music's finest musicians, and his opinions, storytelling and teaching were the stuff of legend.  He will be missed by all.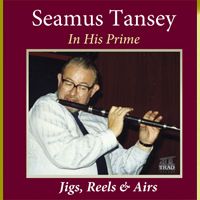 A couple of quick, accordion-related Willie Clancy Week announcements.  First is that "Paddy O'Brien 1922-1991," a retrospective CD of the great Tipperary button accordion player and composer, just received a Willie Week launch.  Released by the O'Brien family, it contains 24 tracks, 21 of them featuring Paddy's accordion playing and three that feature his father Dinny on the fiddle.  I've only just received it, am looking forward to having a close listen in the coming days, and will feature it here in this column sometime in the near future.  In case you can't wait, it's available through Custy's online at custysmusic.com.
Another item that launched at Willie Week, and also available through Custy's, is the "The Jackie Daly Collection of Original Irish Tunes."  Another one of the tradition's great accordion players, Daly was born in Kanturk, Co. Cork, influenced by Jim O'Keeffe, a fiddle player from Ballydesmond and a pupil of Pádraig O'Keeffe's.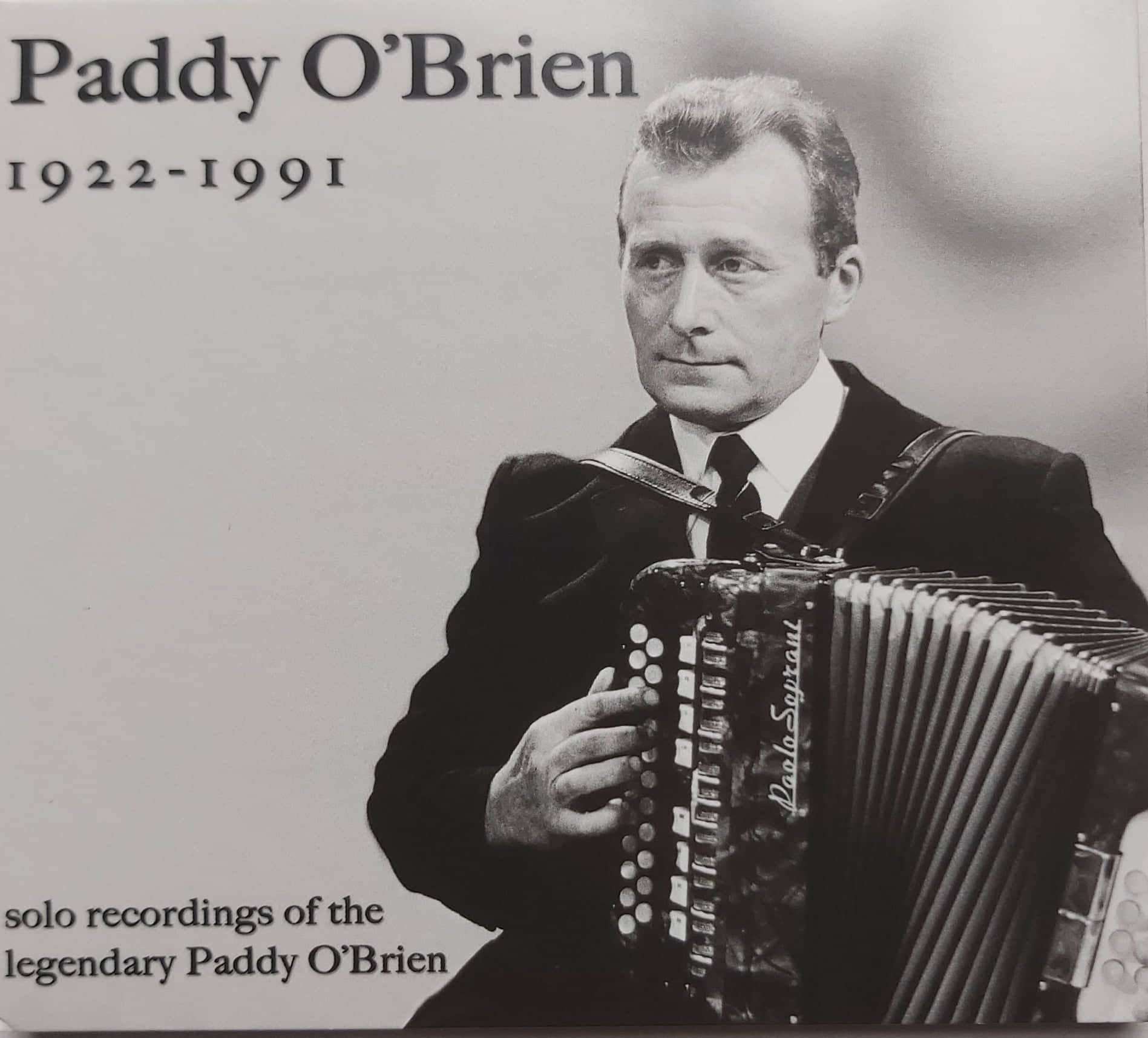 The new book features over 200 compositions from the Sliabh Luachra legend and includes jigs, reels, hornpipes, waltzes, and planxties in addition to the slides and polkas you would certainly expect from Daly.  In case you need a reminder, Daly was a member of legendary bands including De Danann, Patrick Street, Buttons and Bows, Arcady, Reel Union and Kinvara, and this book will be a must-have for many.
In the player this week is Bríd Harper's new CD "Inis."  This, her second solo album, is a neatly presented collection of high energy fiddling that fans of Harper's music will embrace with open arms and one that will excite fans of traditional music in general.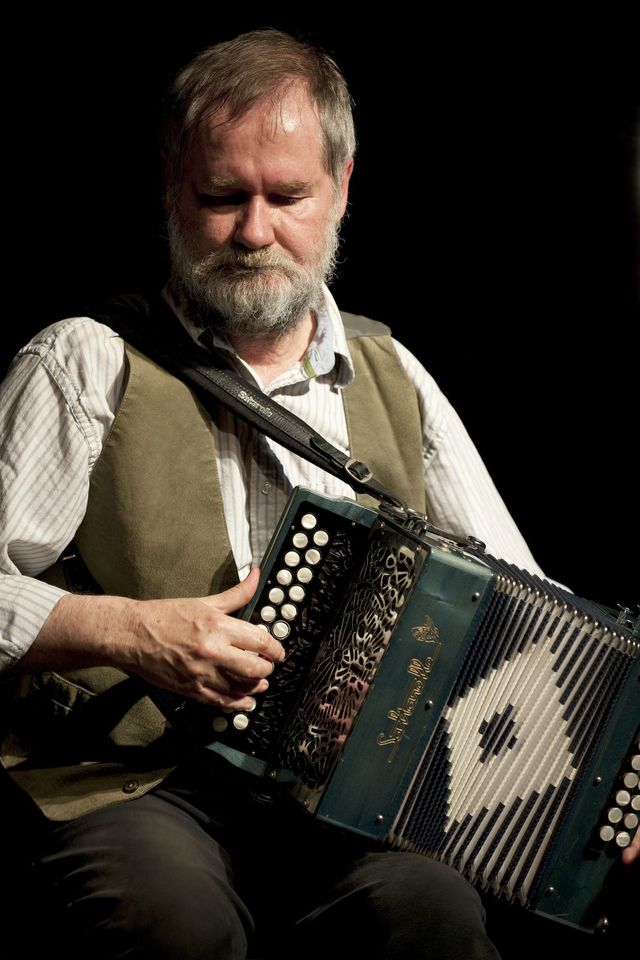 Jackie Daly.
Now living in Tyrone, Harper comes from Castlefinn, Co. Donegal, where she grew up immersed in the music. Her name became widely known in 1988 after winning the triple crown of fiddling, the Senior All Ireland fiddle champion, the Oireachtas na Gaeilge and the Fiddler of Dooney.  These days, she's a member of UAINE (with Tony O'Connell, Lisa Butler, and Paul Meehan), a band that released their fabulous album "The Dimming of the Day" in 2020, and of SíFiddlers, a collective of 13 female Donegal fiddlers.  Over the years she's performed with some of the finest musicians around today, including Dermot Byrne, Steve Cooney, Tony O'Connell, Arty McGlynn, Nollaig Casey, Maeve Donnelly, Harry Bradley, John Doyle, Sylvain Barou, and Nicolas Quemener.
Barou (flute, uilleann pipes, duduk; sylvainbarou.com) and Quemener (guitar) join her on this album, as does Ronan Pellan (cittern and viola da gamba), which makes for a very special supporting cast.
The music here is brilliant.  Harper leads the way with her powerful, expressive and very stylish playing, but she's framed it wonderfully through a beautiful selection of really fabulous tunes – including some of her own – and tasteful, minimalist arrangements that highlight her top shelf playing.
The tracks are uniformly strong and extremely pleasing to listen to.  The album starts boldly with a pair of Tommy Peoples tunes, "Waiting For A Call / La Cosa Mulligan," that she plays alone and with great drive.  She follows those with "The Abbey Tavern / Bailey View," a pair of Charlie Lennon tunes to which she gives a breezy feel.  Quemener's playing matches her expression here perfectly.
 There are lots of great tracks to mention.  I really love "Paddy Kelly's No. 4."  Harper's playing on it is inventive, effortless, and a pleasure to hear.  "Waltz For Hughie" is one of Harper's own and it's lovely, Quemener's playing again gives her fiddling a gentle lift.  She follows it with Joe Liddy's "The Garavogue," which makes for a great pairing.  
 One of the album's standout tracks for me is the air "Ag Breathnú Ar Na Féileacáin," followed by the jigs "The Whistling White Horse / Port Dún Ulún," all of which are Harper compositions.  The playing on this track is incredible.  The feeling Harper puts into her air is moving, with Quemener's guitar and Barou's flute work adding to the track substantially.  (There's another air set on the album which is stunning as well; your preference may be different than mine!)
 Barou deserves special mention.  Even though he's not the album's featured player, the tracks on which he appears, like "Maude Millar / …," the barndances, and "Duke Of Gordon's Birthday / … " all take on a special kind of charm when he appears.  He's a superb player whose tastes seem to match those of Harper.
Finally, a track that will surely attract attention will be "Mrs Judge," the album's Carolan tune.  The arrangement stands out here because it's far larger and more ambitious than anything else on the album and has a conspicuously "baroque" feel.  The viola da gamba is a welcome inclusion, and sits very nicely next to the fiddle and flute.   The music here is stately and nothing short of gorgeous.
    Harper's just an extraordinary musician.  Her fiddling is not simply beautiful, it's artful and easy to enjoy.  She has wonderful taste and does an excellent job balancing older, better known tunes, with chestnuts of more recent vintage.  All of this makes "Inís" a takeaway album for anyone who loves traditional music, as it has "pure drop" energy with contemporary flair.  Great stuff, indeed. For more information on how to purchase, visit her here.