Some quality time spent with Pete Cowan got Darren Clarke back on track and he responded not only with his first top-10 finish of 2022 but a win in the British Senior Open at Gleneagles in Scotland. 
 Clarke had to birdie the 72nd hole on Sunday to salt the victory. Padraig Harrington shot a back-nine 30 on Sunday to reach 9-under-par, which is where Clarke was when he teed off on the final hole. 
 Clarke then struck a long eagle putt from off the fringe to just over a foot from the pin. He then drained the birdie putt for the win. 
 After posting a bogey-free first-round 65, which situated him a stroke off the lead, Clarke either led or shared the lead the rest of the way, shooting rounds of 67, 69 and 69. Bogeys were few (five) as were the number of par-5 holes at Gleneagles (just two). But he took almost full advantage of them, amassing seven birdies out of eight opportunities, giving just one back on Sunday. 
 Harrington was never far back as he posted rounds of 66, 69, 69 and 67. He took a far more aggressive approach than did Clarke, with 10 bogeys, one double bogey and 21 birdies against five bogeys and 15 birdies for the champion. 
 Harrington began the final round three strokes behind Clarke, a deficit that increased to six by the time he made the turn, a matter all his doing as Clarke, two groups behind, was playing evenly. 
 Then, Harrington caught fire. Six birdies coming in had him waiting in the scoring tent after signing his card to see if he'd have more golf to play or even a trophy to hoist. But Clarke soon enough scuttled those visions.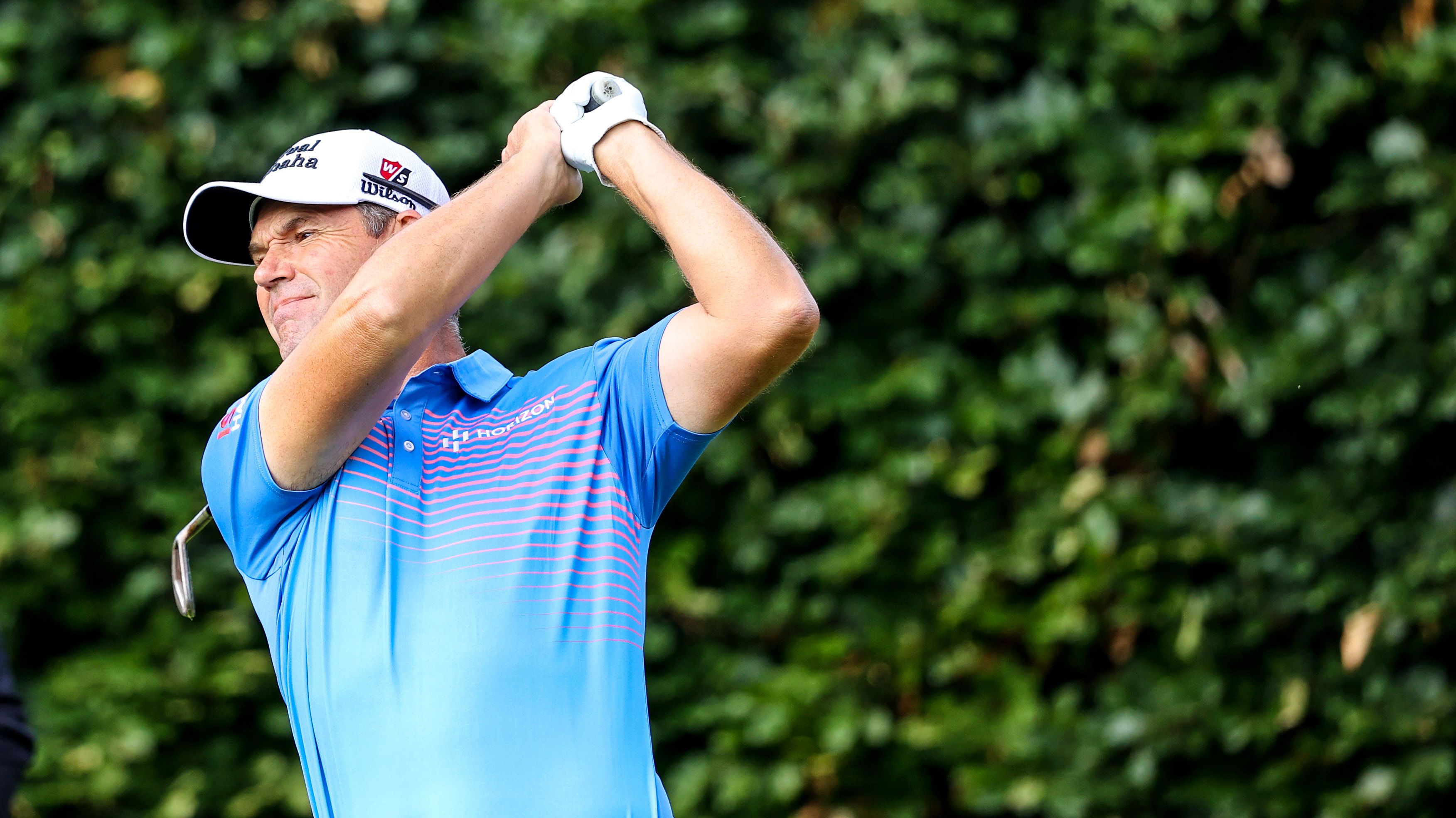 Padraig Harrington. [Inpho/Ben Brady]
This wasn't just another feather in Clarke's well-festooned cap. 
 "I've made no secret that I wanted to win this more than anything," Clarke said. "From when I turned 50 [he's 53], this is the one you wanted to win, so I could set it beside the [British Open]. Pretty good feeling right now. 
 "Very privileged to get my name on The Open trophy and the Claret jug and now to get my name on this one as well and go beside some legends of the game. I feel very humbled and very honored."
 The rainy conditions on Sunday [play was halted for a spell late in the round] didn't stand in Clarke's way. 
 "It's what I grew up playing in," Clarke said. "Don't make it any easier but, you know, at the start, it was a bit of a battle."
 As for the long putt at 18, the idea of going with that blade instead of a wedge was something of a no-brainer for Clarke. 
 "I had grown up playing links," Clarke said. "That's no big deal, isn't it? We all know that. I did that, something similar, last year in Sioux Falls, South Dakota to win on the Champions Tour. At the time, seemed the percentage shot going up a slope. Didn't want any spin on it and no point trying to chip it with anything."
 As for Cowan's help, which Clarke solicited the previous week at St. Andrews, it all came down to keeping things simple. 
 "He got me with a more simple swing thought and I was able to get out of my own way," Clarke said. 
 Clearing his head was another tactic that worked to Clarke's advantage. 
 "When I won some of my biggest tournaments, The Open, WGCs, I had a sense of calmness," Clarke said. "I don't know where it comes from because if I'd been able to grab a hold of it a few more times in my career, I probably would have won a few more times. But this week, I had that calmness again. I think it comes from being accepting, knowing that I hit some poor shots now and again, I'm not going to hole that many putts or whatever. And when you're accepting, it's easier just to amble along and accept the outcome."
 Combining humility with his skill set is a trait that serves Clarke well.
 "Fulfilling your dreams is a very lucky thing and I've been able to do it a few times in my career," Clarke said. 
CHALLENGE TOUR
 At various points during the Big Green Egg German Challenge, any one of Tom McKibbin, John Murphy and Dermot McElroy were in position to challenge for the lead. Ultimately, joint-14th for McKibbin was the highwater mark among that trio. 
 The Holywood teen opened with a bogey-free 67 but followed that with 73, in which he plastered five bogeys on his card. He settled down over the final 36 holes, shooting 72 and 68, with only three hiccups over the weekend. He finished nine strokes off the low number. 
 Murphy became prominent after a second-round 66, which followed an opening 71. Saturday's 79 [eight bogeys and a double], however, blew him out of the water. He recovered on Sunday, shot 69 and took a share of 43rd place. 
 McElroy, fresh off his Europro Tour win, got off to quick starts in his rounds, only to stall. Rounds of 71, 70, 70 and 73 entitled him to a piece of 39th place. 
 Ruaidhri McGee never got high enough on the leaderboard to be considered a threat but managed a serviceable showing that was good for a share of 21st place. He cobbled together rounds of 70, 71, 72 and 68, helped along by a couple eagles. 
 This circuit visits the K Club this week for the Irish Challenge. 

LPGA
 The much-anticipated return to Europe for Leona Maguire and Stephanie Meadow fell a bit flat at the Evian Championship in France. Meadow fared best, finishing tied for 40th place, having shot rounds of 71, 69, 71 and 68. That left her 12 strokes on the south side of Brooke Henderson's winning score. 
 Maguire never really found a groove as she struggled through rounds of 70, 71, 74 and 71. That left her a couple strokes over par for the event, consigned to a share of 65th place. 
 Meadow moves on to Scotland for this week's Scottish Open at Dundonald in Ayrshire, while Maguire takes the week off in anticipation of next week's Women's British Open.