Let me be the first to remind you that, depending on when you read this, there are about 156 days until Christmas! Shocking, I know, but you can get a head start on shopping for all the cooks in your family by taking advantage of the "Christmas in July" preview of my newest cookbook "Festive Flavors of Ireland." However, if you've barely digested your Fourth of July BBQ and think it's too early to start thinking about Christmas (shopping or eating), here are a few recipes from the cookbook that are as delicious throughout the summer as they are during the holidays. Visit www.irishcook.com to order signed copies (see the ad in today's paper).
MIXED GREENS WITH CASHEL BLUE, ROASTED BEETS, & CANDIED PECANS
SERVES 6 to 8
            The recipe for this salad comes from Kerrygold, the company that imports Irish butter and cheese, including Cashel Blue, Ireland's first farmhouse blue cheese. At Christmas, the colorful red and golden beets, blue cheese and shiny red pomegranate arils give this salad a holiday touch; however, with beets in season now, it's also a great salad for the summer months.  While there's a little effort involved in roasting the beets and making the pecans (both can be done well in advance of assembling), the results are well worth it. This recipe is included in Chapter Two, "Best Beginnings: Starters, Soups & Salads."
CANDIED PECANS
3 tablespoons light corn or golden syrup, such as Karo or Lyle's
1 1/2 tablespoons sugar
3/4 teaspoon salt
1/2 teaspoon ground black pepper
1/8 teaspoon cayenne pepper
1 1/2 cups pecan halves
BALSAMIC VINAIGRETTE
3/4 cup extra virgin olive oil
1/4 cup balsamic vinegar
1 1/2 tablespoons honey
1 teaspoon Dijon mustard
Salt
Ground black pepper
SALAD
3 small golden beets
3 small red beets
2 tablespoons extra virgin olive oil
5 ounces mixed baby greens
1/2 cup pomegranate arils (optional)
1/2 cup candied pecans 
1/2 cup crumbled Cashel Blue cheese 
ONE Make pecans. Preheat oven to 325°F. Coat a baking sheet with nonstick cooking spray.
TWO In a large bowl, whisk together corn syrup, sugar, salt, pepper and cayenne pepper. Add pecans; stir well to coat nuts. Spread out on prepared pan. 
THREE Bake for 5 minutes; stir with a fork to distribute coating. Bake for 8 to 10 minutes more, or until pecans are lightly browned and coating is bubbling. Spread nuts out on another baking sheet or piece of parchment paper; quickly separate nuts before letting cool completely. (Can be stored in an airtight tin for up to 2 weeks). 
FOUR Make vinaigrette. In a small jar, combine olive oil, vinegar, honey, mustard, salt and pepper; shake to blend.
FIVE Make salad. Preheat oven to 400ºF. Cut green tops and root ends off beets. Toss golden beets with 1 tablespoon olive oil and wrap in a foil packet. Repeat process with red beets. 
SIX Place beet packets on baking sheet and roast for 45 to 60 minutes, or until beets are easily pierced with the tip of a knife. (Roasting time can vary depending on the size of beets; larger ones can take up to 90 minutes to roast). Set aside until cool enough to handle. Remove beets from packets. (To prevent hands from staining, wear gloves or rubs skins off under cold running water). Cut beets into quarters.
SEVEN In a large bowl, toss mixed greens with half the vinaigrette; toss in beets. 
EIGHT To serve, arrange greens and beets on salad plates; sprinkle with pomegranate arils, pecans and cheese. Pass remaining vinaigrette. 
HAM, SWISS & MUSHROOM STRATA
SERVES 8 TO 10
            I include this recipe in Chapter Five, "Yuletide: Celebrating the Twelve Days of Christmas." It includes suggestions for post-Christmas celebrations such as St. Stephen's Day, Boxing Day and Nollaig na mBan (Women's Christmas). This strata and the quiche that follows are a great way to use up holiday leftovers like cheese and ham. For best results, refrigerate the strata (the name means "layers") for at least two hours or overnight 
4 tablespoons extra virgin olive oil, divided
2 large shallots, finely chopped
4 Portobello mushroom caps
1 ounce unsalted butter
1/2 cup chopped flat-leaf parsley
1 loaf brioche, challah or French bread, cut into 1-inch pieces 
10 ounces Emmental, Gruyere or Jarlsburg cheese, cut into 1/2-inch pieces
6 large eggs
3 cups milk
1/2 cup heavy cream
1 teaspoon salt
1/4 teaspoon ground black pepper
ONE In a large skillet over medium heat, heat 2 tablespoons oil. Add shallots; cook for 5
minutes, or until softened but not browned. Transfer shallots to a medium bowl.
TWO Cut mushroom caps in half; slice halves into 1/4-inch-thick slices.  Return skillet to medium heat; melt butter. Add mushrooms; cook, stirring frequently, for about 10 minutes, or until softened and browned. Transfer mushrooms to bowl with shallots; stir in parsley. 
THREE Coat a 13 x 9-inch baking dish with nonstick cooking spray. Place half of bread cubes in dish; top with two thirds of mushroom mixture. Sprinkle with two thirds of cheese. Cover with remaining bread, mushroom mixture and cheese.
FOUR In a large bowl, whisk together eggs, milk, cream, salt and pepper. Pour evenly over strata, making sure to moisten all bread cubes on top. Wrap securely with plastic wrap; refrigerate at least 2 hours or overnight.
FIVE Preheat oven to 375F. Bake strata, uncovered, for 90 minutes or until golden brown and puffed. (Check strata after 60 minutes; if top is getting too browned, cover dish loosely with foil.) Remove from oven; let cool a wire rack for 5 minutes before cutting into squares. Serve hot.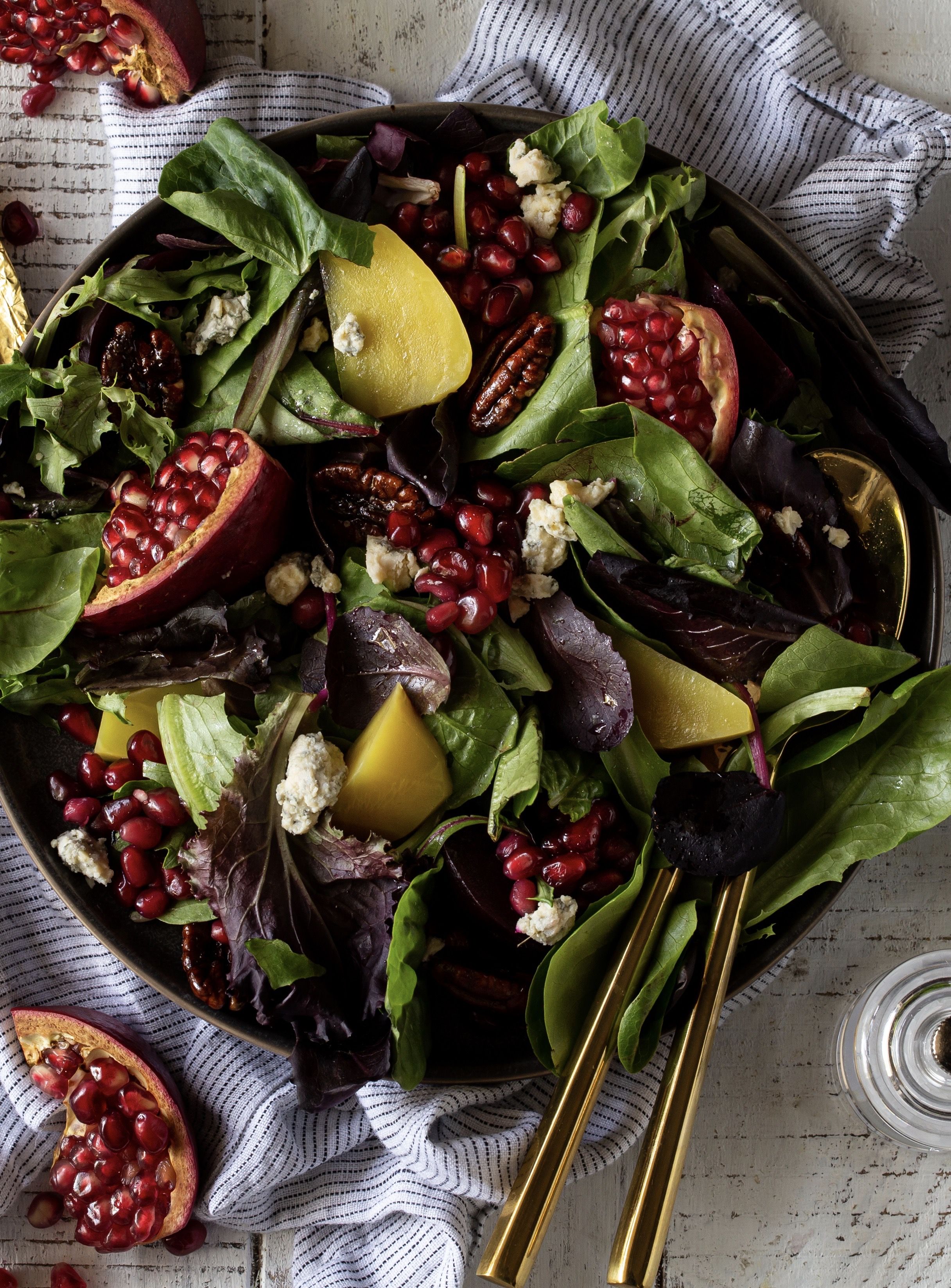 HAM & CHEESE QUICHE
SERVES 6 to 8
            Use a refrigerated pie crust for the bottom of the quiche or bake it without a crust for the same delicious flavor.  
1 refrigerated pie crust (optional)
2 tablespoons wholegrain mustard, divided
8 ounces chopped ham 
8 ounces shredded Cheddar cheese
2 tablespoon chopped fresh chives
6 large eggs
3/4 cup heavy (whipping) cream
Ground black pepper
ONE Preheat oven to 375°F. Slowly unroll crust (if using); place in an ungreased 9-inch glass pie plate. Press firmly against side and bottom. Fold crust under and press together to form thick crust edge; flute edges (do not prick bottom or sides of crust). Bake for 10 to 12 minutes, or until lightly browned; let cool on a wire rack. 
TWO Brush 1 tablespoon mustard over bottom of crust to seal; sprinkle ham, cheese and chives over crust..
FOUR In a medium bowl, whisk together eggs, cream, remaining 1 tablespoon mustard and pepper; pour over crust. Place pie plate on a baking sheet
FIVE Bake for 35 to 40 minutes, or until filling is set (if edge of crust browns too quickly, cover with foil or pie crust shield after 15 minutes to prevent excessive browning). Remove from oven; let cool for 15 minutes before cutting into slices. Serve warm or at room temperature.
Margaret Johnson's "Recipes" page expands this year to "Ireland Hopping: Adventures in Food, Drink, and Travel." For further details on her work or to order a signed cookbook, visit www.irishcook.com.