Top-10 finishes in each of the year's majors would count as success for almost any professional golfer. But not for Rory McIlroy, who completed this rare feat by finishing third in the British Open at St. Andrews. The hurt is compounded by the fact that he went out in the final pairing on Sunday, tied for the lead.
McIlroy didn't so much lose the tournament as have it wrested from him by Cameron Smith, whose torrid putter resulted in five consecutive back-nine birdies that helped him defeat playing partner Cameron Young by a stroke, with McIlroy another stroke back in third place.
McIlroy was prominent throughout the Open, his 66 on Thursday exceeded only by Young's 64. Friday's 68 kept him relevant, and he reached the top of the board on Saturday, when he again shot 66, punctuated by an eagle-2 at 10, where he holed out on a bunker blast.
 "I was just trying to get it somewhat close," McIlroy said. "Anything inside 10 feet, I felt was going to be a really good shot. It just came out perfectly. It was skill to get it somewhere close, but it was luck that it went in the hole. You need a little bit of luck now and again, especially in these big tournaments and that was a nice bonus."
Tied for the lead with Viktor Hovland going into Sunday's round, McIlroy extended his advantage to three strokes after a birdie at 10. But there would be no more birdies for McIlroy (nor bogeys for that matter), as Smith began chipping away.
When Smith birdied 13, he took a share of the lead and went ahead at 14 for good. Then, Young eagled 18 to move into second place, pushing McIlroy down another peg.
"Disappointed, obviously," McIlroy said in response to a question about his emotional state after ceding the championship. "I felt like I didn't do much wrong today, but I didn't do much right, either. I'll rue a few missed sort of putts that slid by. But it's been a good week overall.
"I can't be too despondent because of how this year's went and this year's going. I'm playing some of the best golf I've played in a long time. So, it's just a matter of keep knocking on the door and eventually one will open. I'll be okay. At the end of the day, it's not life or death."
McIlroy indicted his putting eye for the paucity of birdies (two) on Sunday.
"I kept hitting good putts," McIlroy said. "I hit a good putt on 13, 14, 15, 16, 17. I was hitting good putts. They just weren't dropping. There's a lot of putts today where I couldn't just trust myself to start it inside the hole. I was always starting it on the edge or just outside, thinking it was going to move. More times than not, they just sort of stayed there."
McIlroy also noted after Saturday's round how he fed off the challenge that Hovland presented as his playing partner. The Norwegian did McIlroy no such favors on Sunday as he shot 74 to finish tied for fourth place, six strokes behind Smith.
McIlroy will now take the next three weeks off and await the FedEx St. Jude Championship in Memphis, which kicks off the three-event playoff series.
NO NEED FOR EINSTEIN
Shane Lowry's tone was similar to McIlroy's after he wrapped up a share of 21st place, 11 strokes behind Smith. Rounds of 72, 68, 69 and 70 left him to lament another opportunity gone.
When Lowry ran off consecutive eagles – both on pitches – around the turn on Saturday, he appeared to be on his way to the top of the leaderboard. He gave almost all of that back, however, with bogey at three of the next seven holes.
"I felt like I was in the tournament," Lowry said on Saturday about the aftermath of his eagles. "And did well to play my way out of the tournament from there. Pretty annoyed and pretty pissed off, to be honest. Wouldn't take Einstein to figure out what went wrong on the back nine. My putting was horrific."
A rather middling Sunday round was the coda to Lowry's discordant tune. Interestingly, were you to remove the ninth and tenth holes from his cards, you'd see 64 holes of even-par golf. The par-4s around the turn accounted for nine strokes off par.
"I've not been far away," Lowry said after Sunday's round. "Look, it is what it is. It just shows you where I am and where my mental state is at that I'm pissed off at finishing [21st] in a big tournament like this. Would have been happy to have it five or six years ago, but not anymore.
"I love these weeks. It's what I play golf for. It's what I get out of bed in the morning for. Just another eight or nine months without one [is disappointing]. So, I'll be counting down the months to the Masters again."
David Carey went all the way, finishing tied for 62nd place, 17 strokes off Smith's score. He strung together rounds of 72, 67, 73 and 73. The Alps Tour stalwart lodged in the top 20 during Friday's round but found the slope slippery over the weekend. He criticized himself after Sunday's round for poor club selection over the last two rounds.
"We'll just have to see where I go from here," Carey said. "It would be nice to get into another big event soon and try push on from this experience."
COMPOUNDING AND CHASING
Missed cuts were on the menu for Padraig Harrington (69-78), Seamus Power (73-75), Ronan Mullarney (73-78) and Darren Clarke (79-75), who were unable to shoot even par or better, which would have qualified for the weekend.
Harrington was in contention on Thursday during a round which left him "shattered" physically, although he reported that he felt alright on Friday. But circumstances were against him then.
"It was one of those days," Harrington said after Friday's 78. "A couple of bad drives early on didn't help for the rest of the day. I hit a couple of bad putts. It didn't matter what I did after that. If I hit a perfect putt, it would miss. I would say that everything that was compounded was compounded today."
Power struggled with the winds.
"I wasn't swinging my best coming in, but I was managing," Power said. "But this week, it's a lot of left-to-right winds, where I've struggled and I'm just losing them right on the wind, which is obviously the worst miss around here. And then … you're afraid of that and you overcompensate, and you're kind of chasing your tail a little bit. That's what happened. That's golf sometimes."
Mullarney got to the upper reaches of the leaderboard on Thursday when he reached 3-under-par after eight holes. But he backslid precipitously, with only one more birdie (on Friday) wedged in among several bogeys.
EUROPRO TOUR
Dermot McElroy made a huge step towards earning Challenge Tour status for 2023 by winning the CPG Classic at Belton Woods in Grantham, England. The Ballymena golfer posted rounds of 65, 67 and 66 to stand three strokes apart from his nearest rival after 54 holes.
McElroy played steady golf throughout, suffering only three bogeys across the three days. He entered the third and final round a stroke off the lead and was helped bigtime when overnight leader Greg Dalziel opened the round bogey-bogey-double bogey. From there, McElroy had only to limit his mistakes, which he did, taking bogey only at 14.
McElroy now tops the Tour's Order of Merit. He needs to maintain a top-5 finish by season's end to advance to the Challenge Tour. He finished seventh last year.
Regardless, McElroy is in this week's Big Green Egg German Challenge and next week's Irish Challenge at The K Club. If he maintains his form at the next level, he could render all the mathematics moot.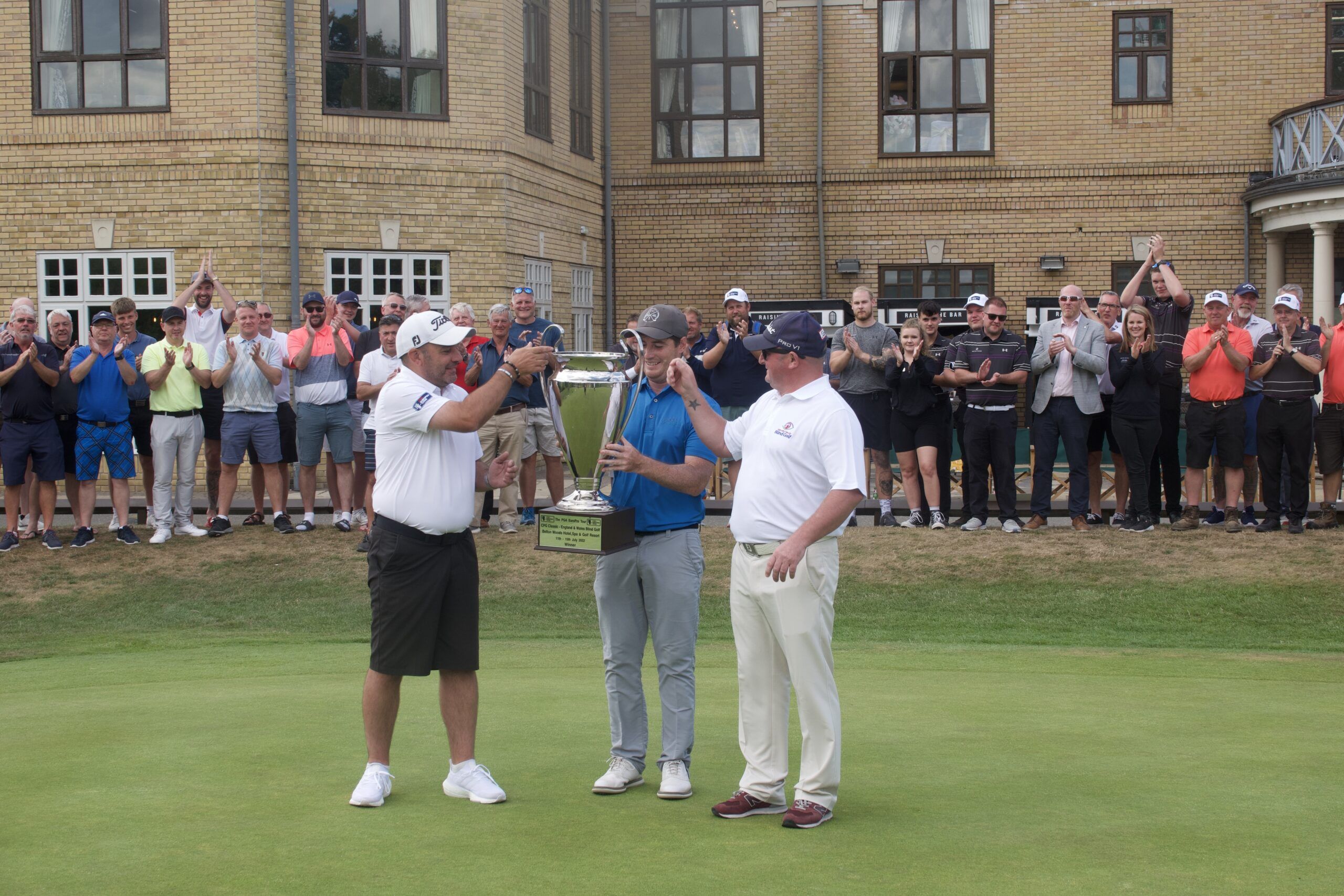 Dermot McElroy, center, accepts the trophy upon wining the CPG Classic in Grantham, England. EUROPRO TOUR
CHALLENGE TOUR
Robin Dawson and Tom McKibbin were among a septet that shared 12th place in the Euram Bank Open in Austria. Dawson shot 70, 66, 68 and 72, while McKibbin shot 70, 68, 71 and 67. They finished six strokes behind the victorious Marc Hammer.
Dawson's result turned on his performance at two holes in particular – the par-5 seventh and the par-4 13th. He combined for six bogeys and two doubles there; the 10 strokes he lost to par there more than accounted for the margin by which Hammer outpaced him.
As for McKibbin, he seemed to be playing two entirely different courses. He never broke par on the front nine on any of the four days, yet came home in 31, 31, 32 and 30. He did so in streaky fashion, however, running off three consecutive birdies on Friday and four on Sunday.
Conor Purcell was another two strokes behind them in joint-24th place, having shot 70, 66, 75 and 67. The back nine bit him for four bogeys and a double on Saturday, the only day on which he gave up a stroke there.
McKibbin moved up to 28th place on the Tour's Road to Mallorca. Purcell now stands 75th, while Dawson, who made his first cut in six tries this season, is 166th. Ruaidhri McGee, who did not play in Austria, stands 26th. Top 20 at season's end earn DP World Tour cards for 2023.