"I think I ran out of something to read."
Aedín Moloney was 10 going on 11 when she picked up "Ulysses." 
"We were a no-TV house," the actor recalled, "Mammy was an avid reader; Daddy was on tour a lot.
"There were no preconceived ideas about what it was," said the only daughter of the Chieftains' founder and front man Paddy Moloney, who died suddenly on Oct. 12, 2021.
"I read out loud, have done since I was a small child," she said. "And I read 'Ulysses' out loud, certainly passages of it."
Moloney has become famous in New York in the 21st century for her one-woman performances at the mic reading from Molly Bloom's soliloquy, or Episode 18, called "Penelope," the final one in James Joyce's novel "Ulysses." 
She can't tell with certainty whether it was 2003 or 2004 when novelist and fellow Dubliner Colum McCann invited her down to the Bloomsday celebration on Stone Street outside Ulysses' Folk House.
"Would you read a bit of Molly Bloom?" he asked her.
"I said 'Sure!'" Moloney remembered. "I did and people loved it from the very first year."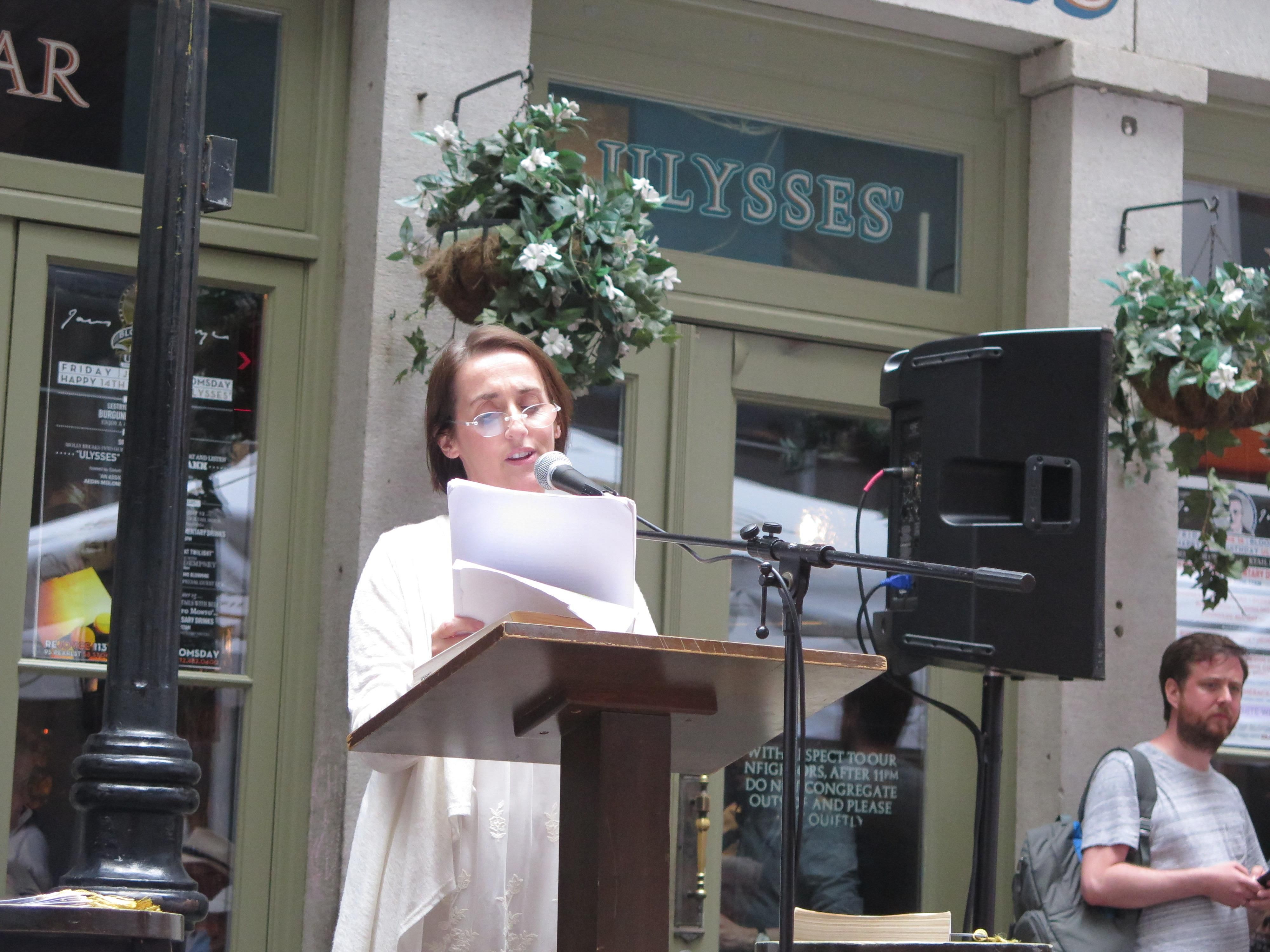 Aedín Moloney performing at the 2017 Bloomsday celebration outside Ulysses' Folk House on Stone Street in Lower Manhattan. [Photo by Peter McDermott]
The annual performances evolved into the stage adaptation "Yes! Reflections of Molly Bloom," which opened Wednesday night at the Irish Repertory Theatre.
It had its debut at the Irish Rep in the summer of 2019, and that was followed up by a Performance on Screen during the Covid-19 shutdown.
Her father's original music was added when she recorded an audio version, "Reflections of Molly Bloom," in 2017. 
In 2019, the National Book Award winner McCann got on board as a mentor and guide and "my inspiration."
John Keating is the director of the current production. "He brings a lovely gentleness to it," Moloney said. 
Feeling "fragile" and "vulnerable" in recent months, she said, "I wanted the comfort of old friends around me at this time in my life. 
"It's great to be in the rehearsal room. It's a delight. We go back to 1995," she said of Keating, who also lost his father in 2021. "We both got our equity cards together on the same show."
Now they're working together on the "Penelope" episode. "It's like a puzzle and I can see the puzzle," Moloney said. "There were veins or arteries of the monologue that I was particularly interested in. I believe they are the veins and the arteries to the heart of what it's all about."
Certain aspects of the frank sexuality have, in her view, been interpreted incorrectly. Her "multifaceted" approach tends to emphasize the distinctions Molly makes between "what pleases him [Leopold]" and "what pleases her [Molly]," with the latter being less about instant gratification.
"I don't perform it in a bed," Moloney said. "It's inside her head.
"Molly is looking for a purpose. It's a time when things are changing for her," she said. "Her age, her fertility, her children have gone, the relationship is over."
She also feels alone and isolated much of the time.
"We were never the same since," Molly says of the death of the couple's infant Rudy 11 years before.
Milly, her teenage daughter, has been sent away. Joyce captures well, the actor said, the complexities of the mother-daughter relationship. 
Molly, who is half Irish and part Jewish with roots in the Iberian peninsula, wants to find out more about herself. She journeys into her past to find herself, to reconnect with who she is, so as to be able to reconnect with her husband.
The actor said that women in two age categories seem particularly drawn to "Yes!" -- 18-30, and 60 and up.
You don't have to have to be familiar with "Ulysses" to enjoy "Yes!", but you will want to read the novel after seeing it, she predicted.
"It's relevant today," Moloney said. "It's as old as time."
"Yes! Reflections of Molly Bloom" from the novel "Ulysses" by James Joyce, is adapted for the stage by Aedín Moloney and Colum McCann; music by Paddy Moloney; directed by John Keating. It is playing through July 17. For tickets go to irishrep.org or call the box office at 212-727-2737.