Brian Glynn lost a split points decision to Matthew Pagan in his bid for a second Ring Masters amateur boxing title at Madison Square Garden's Hulu Theater last Thursday night. The Galway native, winner of the novice heavyweight title when the New York State-wide tournament was last held in 2019, was shooting for the 189 lbs [cruiserweight] Elite Male championship this time. 
A second Irish fighter, County Roscommon's Sarah Cunningham, also dropped a split points decision to the nationally ranked Yana Tolmacheva in the 132 lbs Elite Female category. 
Cunningham, who's 35, became the second Irish-born female after three-time Golden Gloves winner Ruth O'Sullivan to reach the final of a New York premier boxing competition.
And this Sunday [June 26], a youthful but strong Rathfriland ABC team from Co. Down with one All Ireland champion, three Ulster titlists and Antrim's best 125-pounder, takes on a USA Metro side at John's Gym in the Bronx.
SQUEAKER
 Glynn, who entered the Ring Masters as an unattached boxer, thought he'd bested Pagan after three exciting rounds. But alas, it was the Morris Park BC man from the Bronx who got the nod from the judges.
"We thought we'd done enough, but when you leave it in the judges' hands, it's a gamble," rued Glynn. "We exchanged punches and I landed some nice clean shots from range, but obviously some judges look for different things."
There were no knockdowns. "No damage taken," quipped Glynn, whose record dropped to 12-3.
To reach the final, Glynn had beaten southpaw Jawanda Taylor from New Rochelle's Champs BC in their second encounter of the double elimination competition.
The 32-year-old said he'll keep on training and hopefully fight a few more times this year. The goal is return to MSG next year for the 2023 Ring Masters finals. 
"It's always a great honor to fight in Madison Square Garden," he said.
Glynn made a triumphant Garden debut in 2019, defeating Jimmy Diamond of the Freeport PAL in the Ring Masters novice heavyweight final. The tournament was not held in 2020 and 2021 because of the Covid-19 pandemic.
Glynn moved States-side in 2013 and started boxing in January 2018.
GALLANT SARAH
Earlier on Thursday night, Glynn had watched Irish compatriot Sarah Cunningham battle with the #6 nationally ranked, and  #1 in New York, Yana Tolmacheva, only to get a bad call.
"I thought she won," he insisted. But she was fighting a lady who was ranked in the top 10 in the country. I thought Sarah won, so did most people who were sitting [near] me. "She did enough to win. She was controlling the action."
Representing the Church Street BC, Cunningham, who took up recreational boxing in 2017 and then answered the lure of the ring in 2018, fought her socks off on her MSG debut. 
Cheered on by her visiting parents from Ireland and numerous other friends and family, she turned it on after admittedly conceding the opening stanza to Tolmacheva of the Underground Boxing Gym.  
"She won the first round and I dominated the second and third rounds," said Cunningham. "It was the first time that I was fighting three-minute rounds."
Women boxers usually fight two-minute rounds instead of the standard three minutes for men.  
It was Cunningham's second loss to the 5-foot-two Russian she calls "little Mike Tyson" in the double elimination tournament.  All told, she had four fights in the Ring Masters, winning two and losing two to Tolmacheva – both split decisions. 
Prior to the pandemic, Cunningham, who was transferred to New York from London five years ago by her employers, the digital design and communications agency AKQA, had three competitive fights. She won them all. 
She's trained by Leo Morales and Moses Sanchez.
Ruth O'Sullivan, the first Irish woman to reach New York's top boxing tournament, hailed Cunningham's accomplishments, and that of other Irish female fighters.
"I'm really happy to see the support that she has behind her and I hope that she will keep at it," said O'Sullivan, Golden Gloves champion at 106 pounds in 2005, 2006 and 2009, and silver medalist in 2003 and 2008. 
"Irish women aren't inclined to quit. I definitely learned a lot more when I lost than when I won so it's a process. Irish women in boxing are having an amazing moment and I LOVE it!!! When I started boxing it was almost something I had to hide because people were so shocked by the idea. 
"Today it is celebrated and female boxers are held in high esteem and it's thrilling to watch this shift for women. The skill level keeps growing and Irish women in particular, Katie Taylor, kellie Harrington, Amy Broadhurst, and Lisa O'Rourke are dominating. It almost feels like this was a destiny for Irish women, there's some fire inside us that is fueled by the passion of boxing." 
IRISH CREAM 
At John's Gym in the Bronx this Sunday, some of Ireland's most promising teen talent squares up against a USA Metro select side.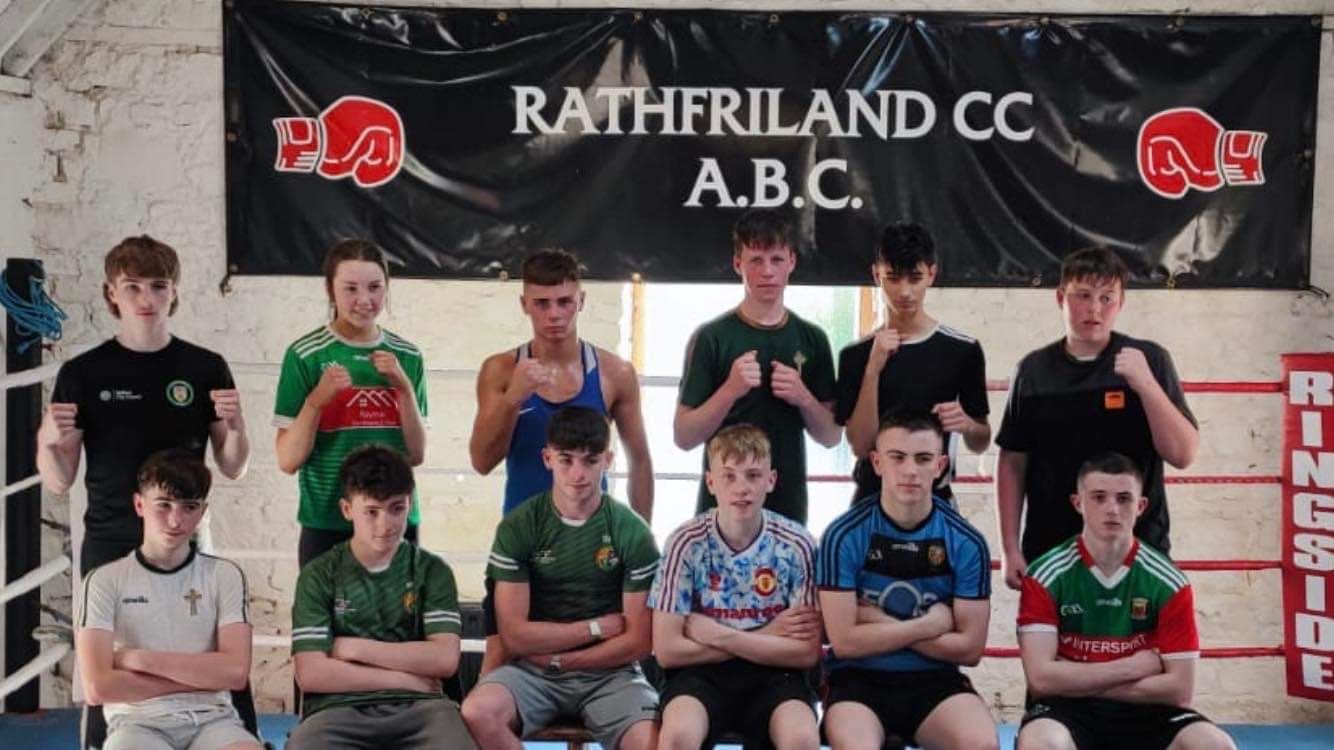 Members of the Rathfriland ABC who fight a U.S. Metro select side at John's Gym in the Bronx this Sunday, June 26. Standing, from left: Odhran Clancy, Rachel Sheppard, Leon McMahon, Liam Grant, Yaqub Kahlifa and Regan Devlin, Seated, from left: Lorcan Clancy, Bobby Shea McNulty, Donagh Keary, Louis Hill, Brogan McComiskey and Matthew McManus.
Everyone is in great shape and looking forward to the contests," said trainer Bobby Lavery. "We were in London at the weekend at the Haringey Box Cup where Donagh Keary won gold after beating two English champions and a European medalist in the final. Odhran [Clancy] won his semifinal but lost out in his final to an English champion."
 
Eighteen-year-old Keary is an All-Irish champion at 125 lbs, while Clancy, who's 17, is an Ulster champion also at 125 lbs. Sunday's match-ups are as follows [Irish fighters first]:
Yaqub Kahlifa [15yrs], Irish finalist at 119 pounds vs. Angel Ruiz [NYC Cops & Kids]
Liam Grant [16], 145 lbs vs Ari Robinson [Champs BC]
Ulster champion Odhran Clancy [17], 125 lbs vs Emmanuel Agramonte [John's Gym]
Ulster champion Louis Hill [17], 125 lbs vs.  RaLeek Born [EQBC]
Ulster champion Drew Fitzpatrick [17], 139 lbs vs. Ryan Zempotactl [Newburgh Hook]
All Irish champion Donagh Keary [18], 125 lbs vs. Christopher Quezada [unattached]
Antrim champion Leon McMahon [18], 125 lbs vs. Nicholas Alexander [John's Gym]
 
Tickets ae $25 and the first bout is at 2 p.m. John's Gym is located at 2323 Haviland Ave, Bronx 10462. The Irish team's visit is partly sponsored by New York-based construction company Navillus.